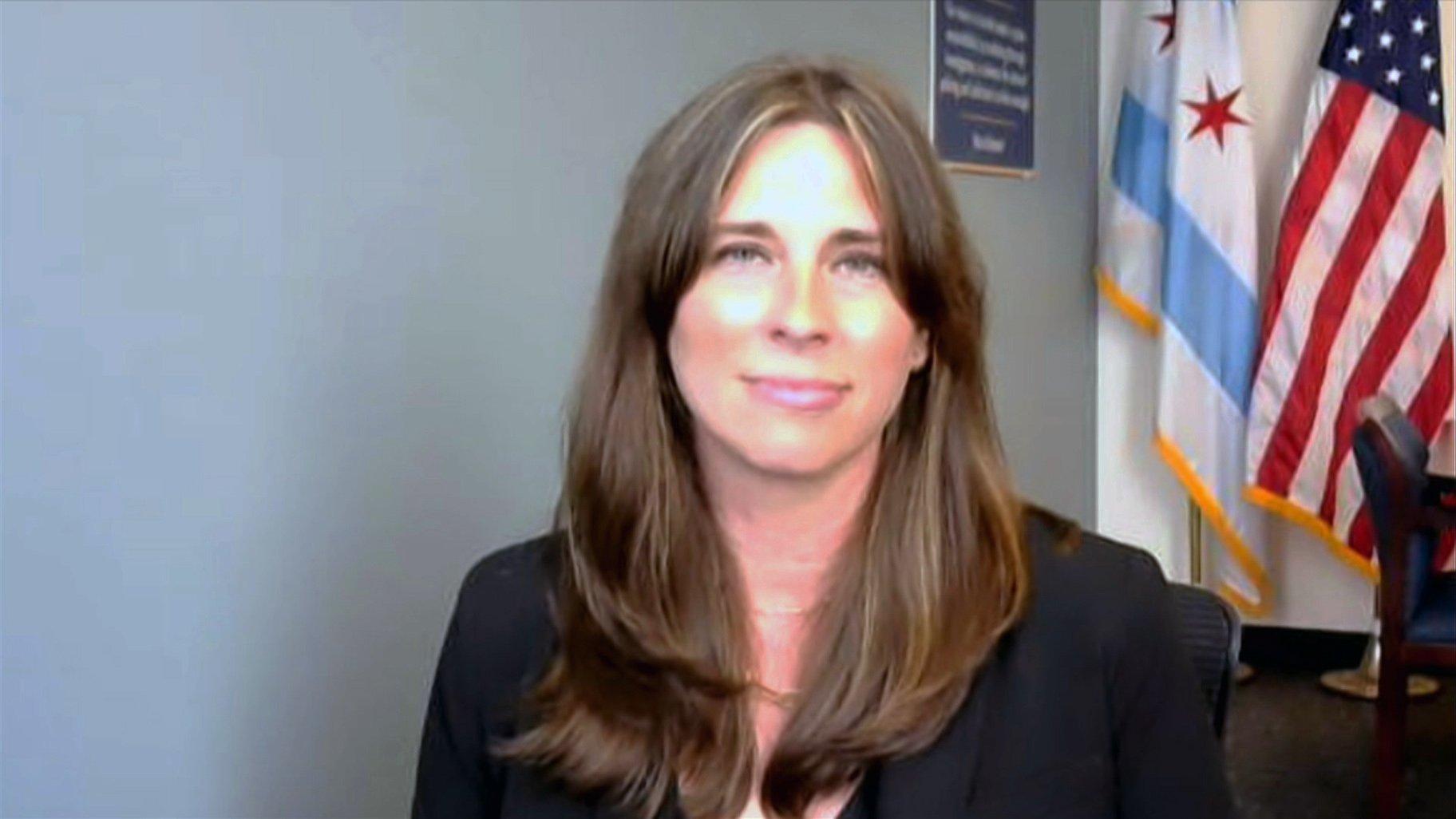 Andrea Kersten, interim chief of Chicago's Civilian Office of Police Accountability appears on "Chicago Tonight" via Zoom, July 21, 2021. (WTTW News)
Mayor Lori Lightfoot's pick to lead the agency charged with probing misconduct by members of the Chicago Police Department offered a "sincere and heartfelt apology" for releasing a report that recommended that Officer Ella French, slain in August, be disciplined for conduct during the botched raid of Anjanette Young's home in February 2019. 
Andrea Kersten, the interim head of the Civilian Office of Police Accountability, also known as COPA, said she particularly wanted to apologize to French's family and loved ones for the fact that COPA's report made French's "memory, legacy and sacrifice ... a matter of public controversy" while they are grieving her death.  
"I have profound regret and sadness that the work of our agency has in any way hurt the French family and those who mourn her and I will work steadfastly to ensure that a situation such as this never happens again," Kersten said during Thursday's meeting of the Chicago Police Board.
However, Kersten said it was false to suggest that COPA recommended French be disciplined after she was shot and killed during a traffic stop in Englewood on Aug. 7.
COPA completed its probe of the February 2019 raid of Young's home on April 27, sending a 163-page report that detailed more than 100 instances of wrongdoing to Superintendent David Brown for his consideration, Kersten said.
Brown "agreed with all of our findings and disciplinary recommendations on July 26" but the seven officers facing reprimands and suspensions and in one case termination were not notified until Nov. 9. COPA officials released the report Nov. 10, in keeping with its rules.
"When we release reports to the public, COPA does not alter a report or redact more information than the law permits," Kersten said. "The report that COPA publishes is the final version submitted to the department in support of our findings. Despite the overwhelming tragedy of Officer French's murder, there was no procedure by which to change our report or recommendations and no request was made to do so."
In its report, COPA found French "failed to timely activate her body-worn camera and failed to document the detention and search" of a man at the scene. After French's death, Young issued a statement saying French was the only officer involved in the raid who showed her any "dignity or respect."
Kersten said the uproar was evidence that officials should work to develop "a process for ensuring that a situation like this never happens again."
COPA's decisions cannot be swayed by public pressure or political considerations, Kersten said.
"Transparency is vital to public trust," Kersten said. "But it only works when it is consistent. You have to do it the same way every time, even when it is uncomfortable or hard."
Kersten's apology came 24 hours after Lightfoot said she should apologize for the release of the report recommending French be disciplined after her death, which the mayor called "tone deaf" and "unnecessary."
Lightfoot said Wednesday she was confident that Kersten would be confirmed by the Chicago City Council as COPA's permanent head if she apologized. Lightfoot, who headed the Office of Professional Standards under former Mayor Richard M. Daley when it was charged with investigating police misconduct, said Kersten was the most qualified applicant for the job.
Kersten has lead COPA on an interim basis since May, when she replaced Sydney Roberts, who resigned after Lightfoot repeatedly criticized COPA for taking 16 months to investigate the raid at Young's home. Video of the raid ignited a political firestorm that Lightfoot has yet to quench. 
Ald. Raymond Lopez (15th Ward) blocked Kersten's appointment from advancing at Wednesday's City Council meeting, because of the inclusion of French's name in the disciplinary report. He was one of 20 alderpeople who signed a letter to Lightfoot, objecting to Kersten's nomination.
Lopez also introduced a measure that would amend the rules governing COPA's operations to prevent them from recommending discipline for an officer later killed in the line of duty.
Lopez' proposal was also blocked from advancing, and even if approved, would not have prevented COPA from recommending French be disciplined for her role in the raid of Young's home because that recommendation was made in April, and French was killed in August.
Contact Heather Cherone: @HeatherCherone | (773) 569-1863 | [email protected]
---