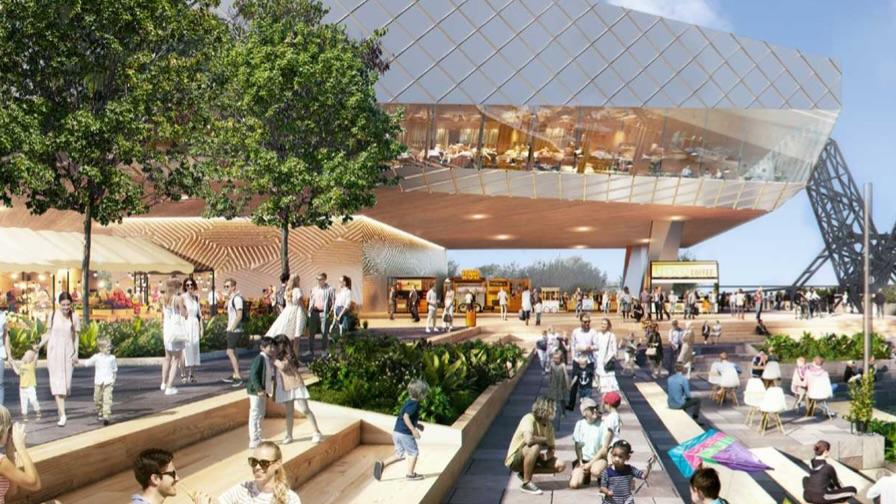 A rendering of the proposed Rush Street Gaming casino at The 78. (City of Chicago)
All five proposals submitted by three firms to build a casino and resort in Chicago would boost the city's economy and funnel approximately $200 million into the city's police and fire pension funds, significantly easing the pressure on the city's finances, while creating "thousands" of jobs, city officials said Friday.
Chicagoans will get their first look at the details of the five proposals at a meeting set for Dec. 16 to give each team a chance to make their pitch for their proposal while a team of city officials from a cross section of departments and consultants weigh the plans and make a recommendation to Mayor Lori Lightfoot, setting up a final pick in early 2022.
Mayor Lori Lightfoot said getting a casino off the ground in Chicago will "usher in a new and exciting era for our city."
Chief Financial Officer Jennie Huang Bennett said all five proposals from the three firms will be evaluated to determine which would generate the most revenue for the city, and spur the most economic growth.
Rush Street Gaming, led by Chicago billionaire and Rivers Casino Des Plaines operator Neil Bluhm, submitted two separate bids — one for a casino and resort at McCormick Place's Lakeside Center and the other south of the Loop on vacant land between the South Loop and Chinatown along the Chicago River set to be redeveloped by Related Midwest as The 78.
The Rush Street Gaming $1.3 billion proposal at McCormick Place would feature seven restaurants, a food hall, four bars and a renovated 4,200-seat Arie Crown Theater as well as at least 2,900 hotel rooms, officials said. In addition to access to the convention center at McCormick Place, the "dramatic Lakefront" casino will offer 2,600 slots and 190 table games.
If that proposal is selected by Lightfoot — and approved by the Chicago City Council and ratified by the Illinois Gaming Board — there would be no need for a temporary casino, since it could open almost immediately, according to Rush Street Gaming.
Rush Street's $2 billion proposal for The 78 would transform eight acres along Roosevelt Road into a "riverfront entertainment district" with a 300-room hotel, eight restaurants, a food hall, five bars and an observation tower along the river as well as Harbor Hall, "a multipurpose live entertainment venue" with rooftop space as well as 2,600 slots and 190 table games.
With his close ties to Chicago's political and economic leaders, Bluhm has long been perceived as the front-runner in the high-stakes craps game that will determine the future of Chicago's casino.
Lightfoot attended law school at the University of Chicago with Bluhm's daughter Leslie Bluhm, and they remain close friends.
However, Bluhm warned members of the Chicago City Council on Nov. 8 that allowing Chicago's pro-sports teams to build sports betting lounges at their home arenas would kneecap the long-stalled push just as it gets off the ground.
Chicago officials have declined to allow bars and taverns to offer video poker, with many officials saying they did not want those machines to drain revenue from a future casino.
Lightfoot said Wednesday she supported legalizing those lounges, despite Bluhm's opposition and concern that it will hurt a casino.
"I don't think it is materially going to be a problem," Lightfoot said.
That represents an about-face from May 2019, when Lightfoot urged state lawmakers not to allow Chicago's professional sports teams to offer sports betting at their stadiums, saying at the time that provision has "the potential to undermine the viability of any Chicago-based casino through the diversion of customers and revenue from a casino."
City officials are now confident that sports betting at Chicago stadiums, ball parks and arenas could co-exist since 96% of all sports bets are placed via a mobile app, according to Samir Mayekar, deputy mayor for economic and neighborhood development. 
A vote on a revised sports betting measure is scheduled for Dec. 7, setting up a final vote before the end of the year.
Bally's Corp. submitted proposals for two different locations for the casino-resorts, while the Hard Rock Casino submitted a single proposal for a casino and resort.
A $1.6 billion proposal from Bally's would build a casino on the south side of McCormick Place near DuSable Lake Shore Drive and 31st Street. But Ald. Sophia King (4th Ward) immediately objected to the proposal, saying it would complicate ongoing efforts to redevelop the former Michael Reese Hospital site into a new city neighborhood.
While King said that proposal should be eliminated immediately, Mayekar said it would be evaluated like the other four proposals.
Gov. J.B. Pritzker has said he'd rather not place a Chicago casino anywhere near McCormick Place or the city's central business district, telling newspaper editorial boards in September 2019 that he'd like to see the casino developed in an area of Chicago that has not benefited from the recent development boom downtown.
Bally's other proposal would spend $1.8 billion to build a casino and resort on what is now the Chicago Tribune printing plant and newsroom near Chicago Avenue and Halsted Street. Both proposals from Bally's would have a casino with 3,400 slots and 173 table games.
The final proposal comes from Hard Rock Casino, which proposed spending $1.7 billion to build a casino with 3,400 slots and 166 table games as part of the proposed One Central development, which relies on billions of dollars in state and city subsidies that have yet to be approved.
Contact Heather Cherone: @HeatherCherone | (773) 569-1863 | [email protected]
---