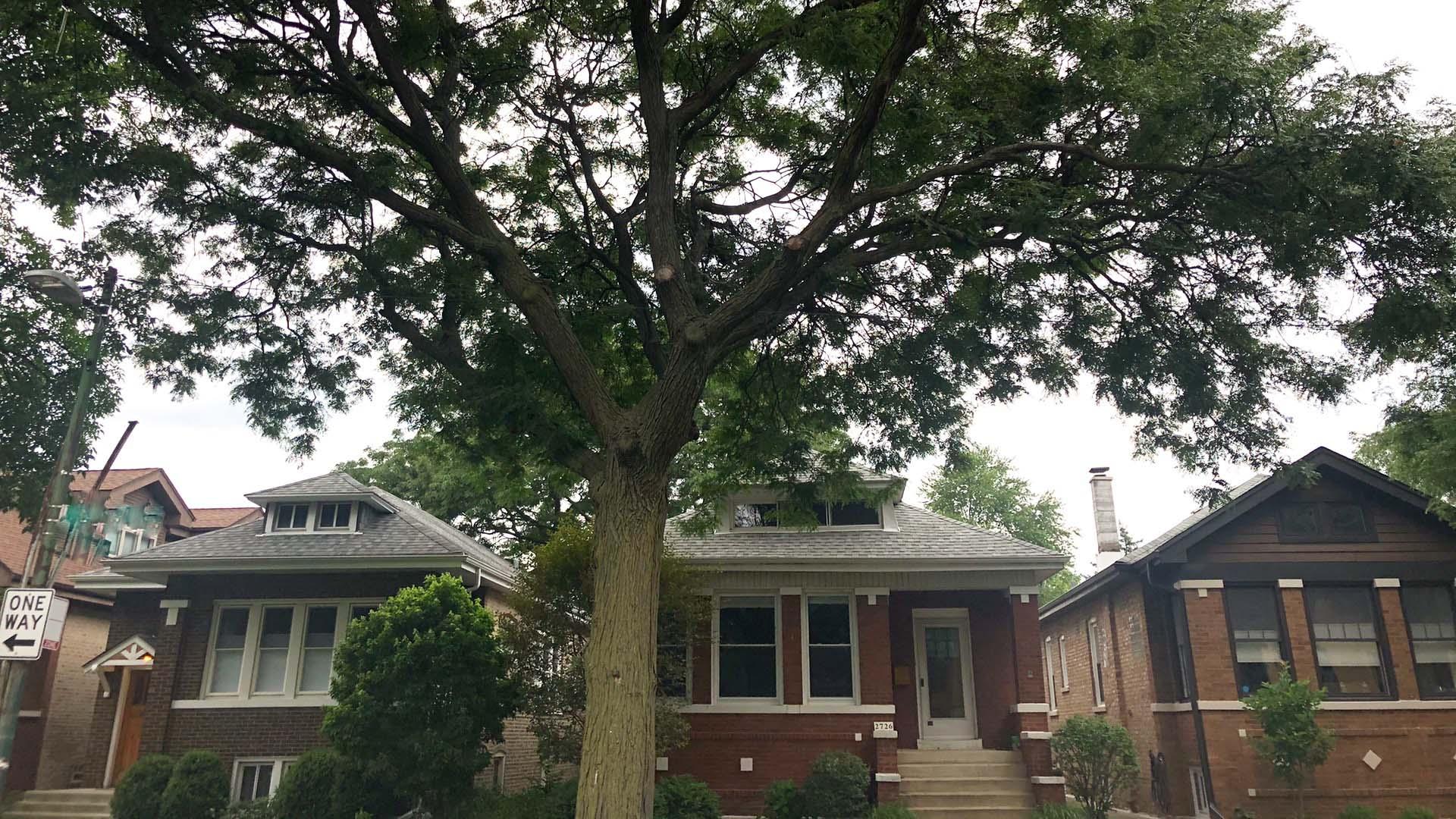 (Patty Wetli / WTTW News)
Chicago has a long history of segregation and racial inequity. Now, a new data analysis by the DePaul University Center for Journalism Integrity & Excellence shows inequity is rooted even in the planting of city trees.
Related: Chicago's 2008 Climate Action Plan Came Up Short, New Analysis Shows
Of the three agencies that plant trees in Chicago, two of them — the Department of Streets and Sanitation and Department of Transportation — record the geographic location where new trees are planted.
Analysis of that data, obtained via public records requests, shows the greatest number of trees were planted on the North Side between 2008 and 2020.
A comparison of regional data shows that twice as many trees were planted on the North Side than were planted on the South Side.
These regional disparities can also be seen in Chicago wards.
The 27th Ward, which covers parts of Humboldt Park, Greektown and the Near West Side, had the most new plantings at 1,877 trees. According to 2017 census data, average annual household income there was $101,825.
Meanwhile in the 22nd Ward where the average household income was less than half of that, the fewest number — 264 new trees were planted. 
The 22nd Ward encompasses parts of South Lawndale and Little Village.
Under the city's 2022 budget, Mayor Lori Lightfoot hopes to plant 75,000 new trees over the next five years. 
Chief Sustainability Officer Angela Tovar says the city is working on an equitable tree planting plan.
"Not only are we working with ... the two agencies that plant the trees for the city of Chicago," Tovar said. "We are also working with community partners and with the Chicago Department of Public Health to identify those priority neighborhoods that can benefit the most from an increased tree canopy."   
However, it is not yet known how exactly these trees will be geographically distributed.
---
How Are Chicago's Trees Counted? A Methodology for Data Analysis 
To understand how Chicago plants its trees, the DePaul University Center for Journalism Integrity & Excellence (CJIE) analyzed data provided by two city departments and the Chicago Park District. 
Our analysis examined the location of plantings and the total number of new trees planted between 2008 and 2020.
Using Freedom of Information Act requests we obtained data on plantings from the Department of Transportation, Department of Streets and Sanitation and the Park District. 
Records from the Department of Transportation and the Park District covered the complete period, from 2008 to 2020. The Department of Streets and Sanitation, however, could only provide data starting in 2011.
There were other gaps in the data.
Though the Department of Transportation and Streets and Sanitation were able to provide geographic data for tree plantings, this information was absent from the Park District records. 
Park District trees were included in our total findings and statistics by year. However, this data was excluded from analyses that required geographic indicators, like the ward map, ward totals and regional totals. 
In the remaining datasets, provided by the Department of Transportation and Streets and Sanitation, each individual planting was assigned to a ward based on its geographic location. Ward totals were then calculated by combining the datasets and summing the total number of new trees in each of Chicago's 50 wards.
The interactive map was then created using these ward totals, ranking each ward into one of five quantiles. 
It's important here to note that wards have approximately equal populations. However, they are not always equal in land area, which can impact the amount of green spaces in an urban environment. 
To further categorize tree plantings, DePaul students and CJIE fellow Ben Welsh used city data to create a GeoJSON file that allowed us to group wards by region. For more on that methodology, you can read here. 
We used this data to categorize wards within the regions designated by the city: North, Northwest, Central, West, Southwest, South and Far South.
We further simplified those regions into the following super regions:
North Side — North and Northwest
South Side — South and Far South
West Side — Southwest and West
Loop — Central
To avoid confusion in our story, these super regions are referred to simply as regions.
One important note: our data analysis lacks net consideration of total tree populations. Although we gathered data on the number of trees removed each year due to disease and weather events among other reasons, our team decided not to include this information in our final story so as not to distract from our other findings on new tree plantings.
There is no one public body that keeps track of city trees, though Morton Arboretum, a non-profit group, has conducted an independent tree census each decade since 2010. 
---