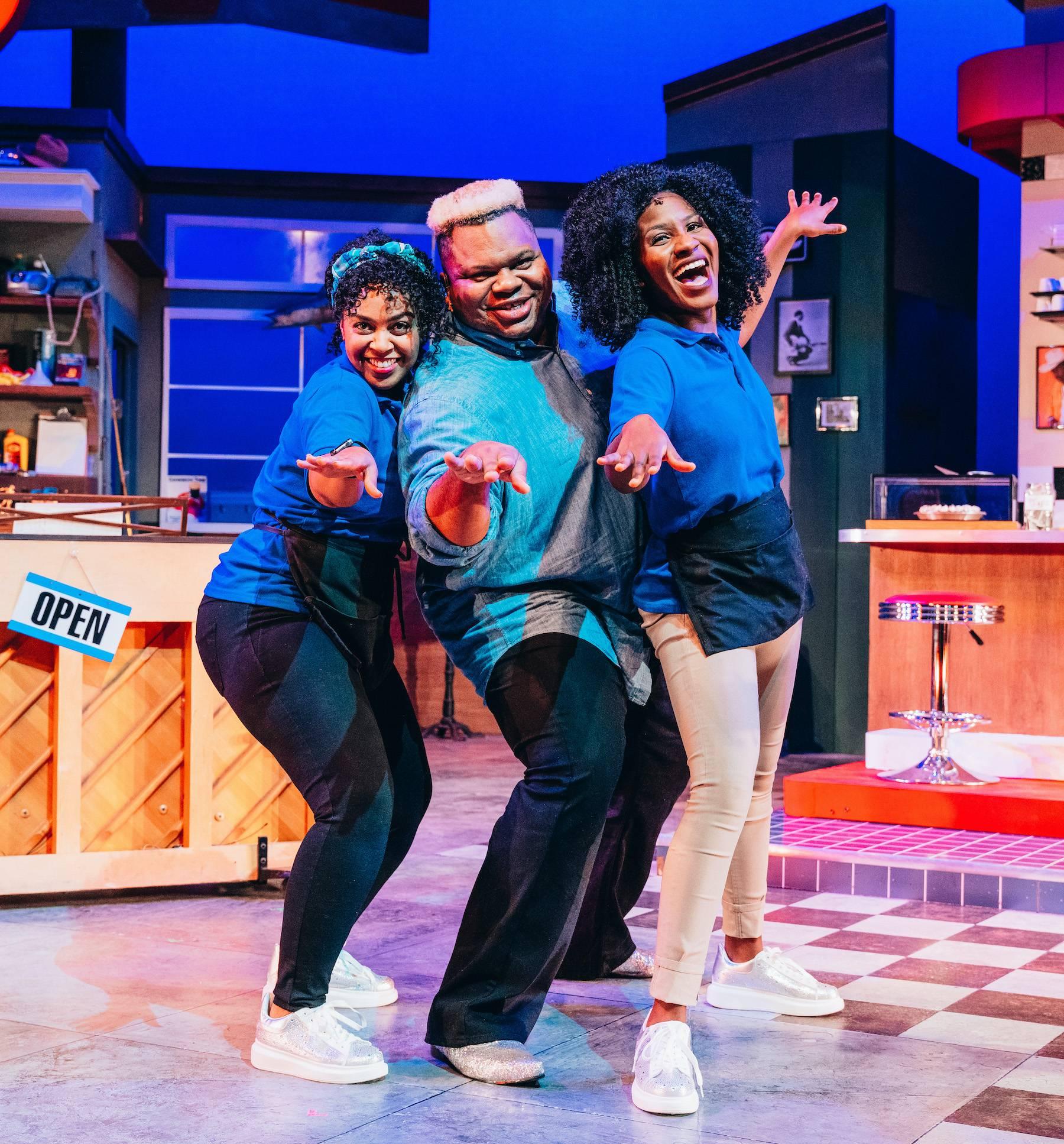 Melanie Loren (left to right), Frederick Harris and Shantel Cribbs in "Pump Boys & Dinettes" from Porchlight Music Theatre, now playing through Dec. 12. (Photo by Chollette)
Once upon a time, if you were driving along a rural highway, you might turn off at an exit, pull up to a rest stop, wait for a guy to come over and fill up your car's gas tank, and then head into the diner next door.
Of course, that was before the arrival of self-serve gas pumps and McDonald's drive-thrus. But those times will come roaring back as soon as you take your seat at Porchlight Music Theatre's wonderfully nostalgic and wildly exuberant revival of "Pump Boys & Dinettes," the ever-popular 1981 musical set somewhere in North Carolina.
Created by a group of six performers and musicians (John Foley, Mark Hardwick, Debra Monk, Cass Morgan, John Schimmel and Jim Wann), the show is now being brought back to vivid life in a terrific production devised by director Daryl Brooks, music director Robert Reddrick and choreographer Rueben D. Echoles (all three are stellar "alums" of Chicago's Black Ensemble Theater). And they have assembled a supremely multi-talented, highly caffeinated cast of six actor/dancer/musicians that includes: Frederic Harris (the superb, and decidedly droll pianist); Billy Rude (lead guitarist and girl magnet); Ian Paul Custer (the laid back rhythm guitarist); Rafe Bradford (the enigmatic bass player); and Shantel Cribbs (Prudie Cupp) and Melanie Loren (Rhetta Cupp), as the Cupp sisters, the sassy waitresses who are not about to put up with male nonsense (just listen to Loren sing "Be Good or Be Gone," and Shantel describe "The Best Man".). They also team up to sing winningly about the importance of tips.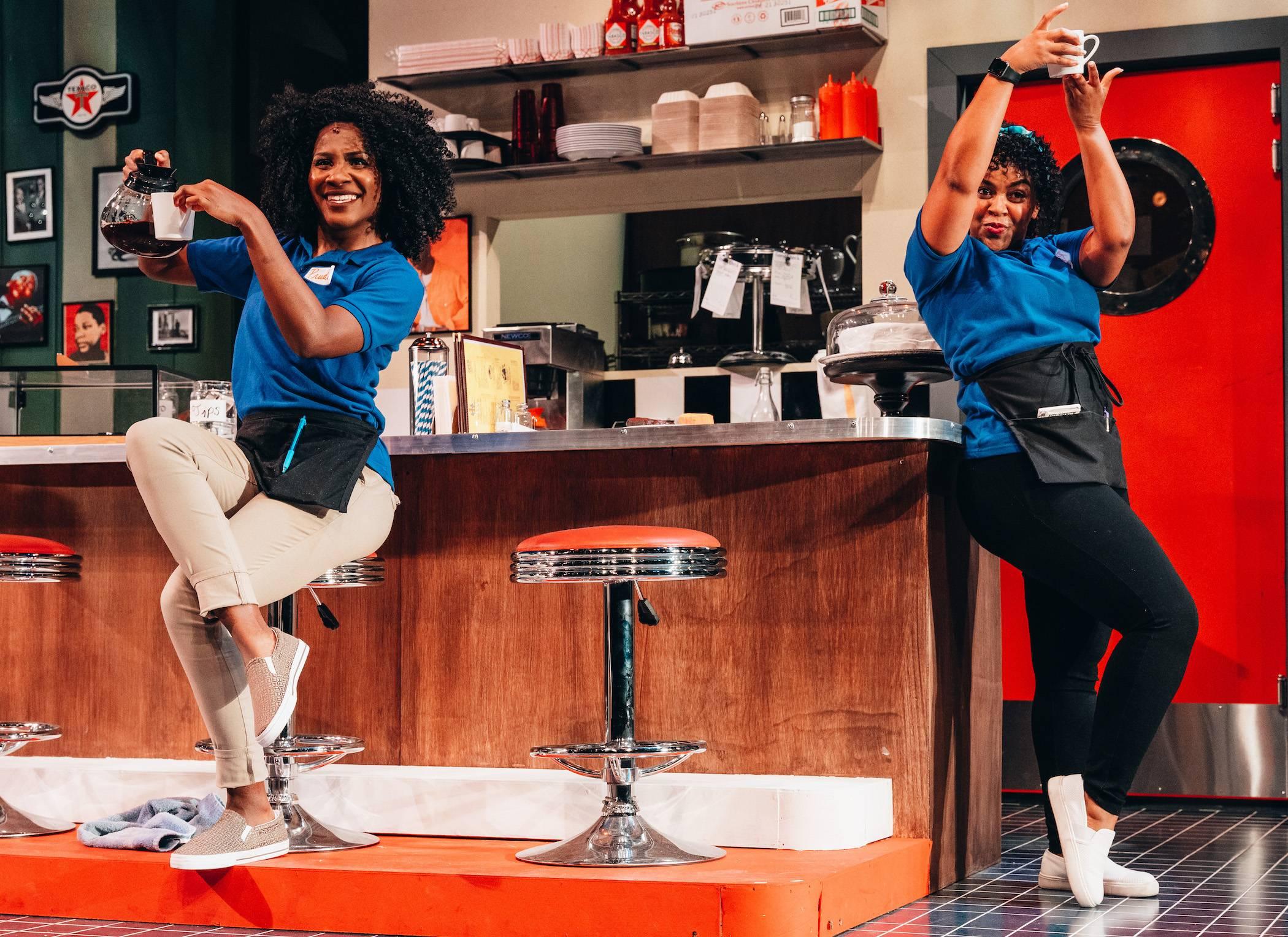 Shantel Cribbs (left) and Melanie Loren in "Pump Boys & Dinettes" from Porchlight Music Theatre, now playing through Dec. 12. (Photo by Chollette)
Sydney Lynne's colorful, picture-perfect set of a place situated "just off Highway 57," comes complete with gas pump, candy counter and diner counter seating, with Echoles' costumes, Denise Karczewski's lighting, and Caitlin McCarthy's props right on target. The impeccable sound design is the work of Eric Backus and Stefanie M. Senior.
Driven by 18 rip-roaring songs (including "Surf Castin' Man," a new addition written by Wann, and movingly performed by Harris), the performance is more of a musical character study than a story, with a "boys will be boys" attitude toward drinking and fishing, and a spot-on car repair story ("Taking It Slow"). Along with the Double Cup diner's name itself, there is a nod to a Southern-style menu that includes catfish and pie. And by the time the show reaches "Closing Time," you wish you could grab a menu and place the last order of the night.
"Pump Boys" runs through Dec. 12  at The Ruth Page Center for the Arts, 1016 N. Dearborn.
For tickets, visit PorchlightMusicTheatre.org.
Note: Upcoming Porchlight productions include: "Blues in the Night" (Jan. 15-Feb. 27, 2022, starring Tony Award nominee and Chicago icon Felicia P. Fields, and "Spring Awakening" (April 23-May 29, 2022), the haunting coming-of-age musical by Duncan Sheik and Steven Sater.
Follow Hedy Weiss on Twitter: @HedyWeissCritic
---