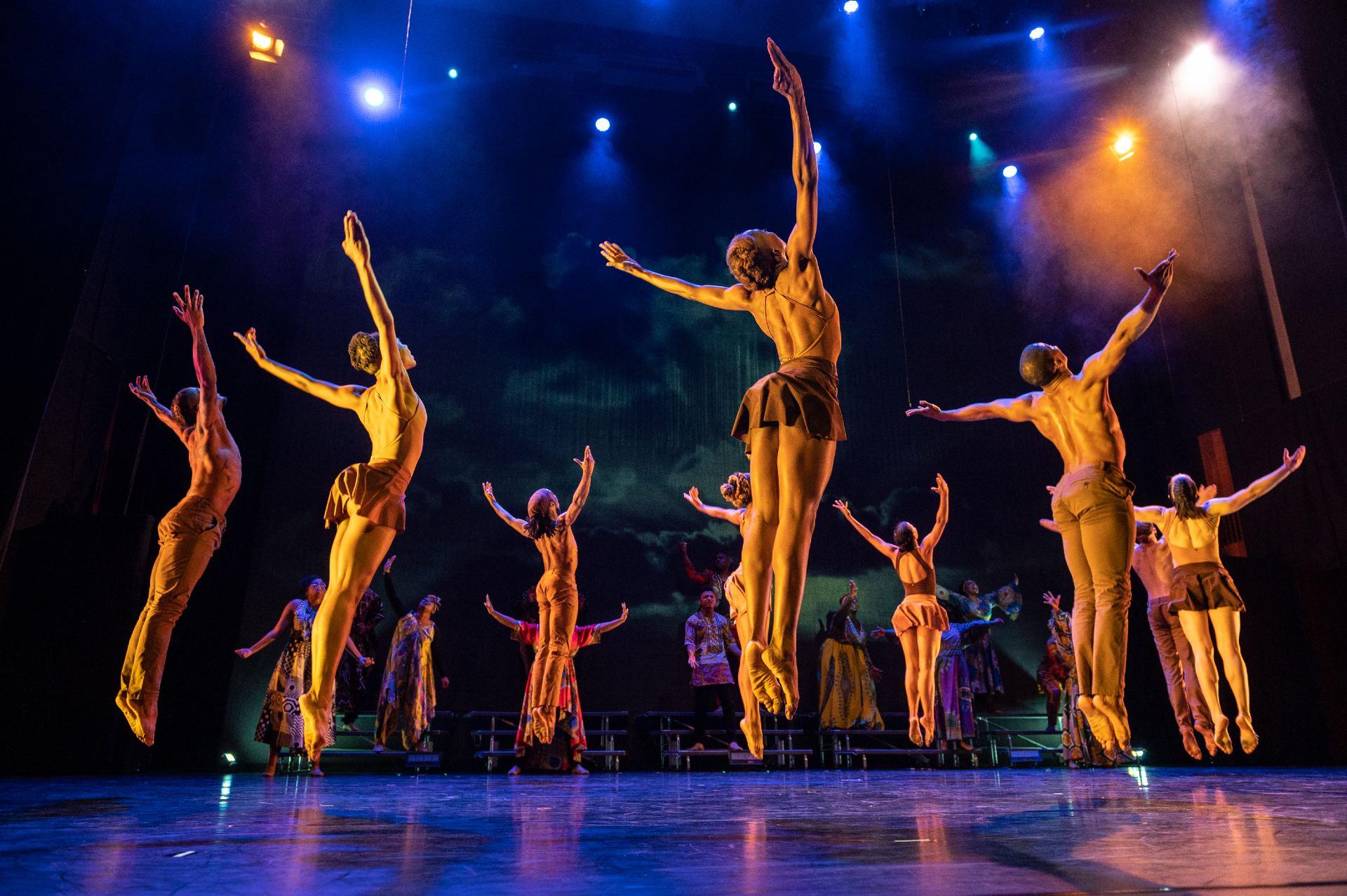 (Photo by Ken Carl)
Mother Nature may have played a cruel joke on Chicago's bravura Deeply Rooted Dance Theater this August as a heavy rainstorm forced the last- minute cancellation of the company's highly anticipated one-night-only performance on the Pritzker Pavilion stage in Millennium Park.
But the company's performance on the beautiful Auditorium Theatre stage on Saturday evening more than compensated for that disappointment as an estimated 2,000 people filled the house, cheered the company's superb artists, and celebrated its 25th anniversary in what easily could have been taken for a rousing, music-filled, Sunday morning service at a Black Baptist church.
And there was far more to celebrate, too, as Nicole Clarke-Springer, the company's artistic director, announced that plans are underway for the construction of a grand-scale dance center and school for the company. (Its exact location on Chicago's South Side is still to be determined.)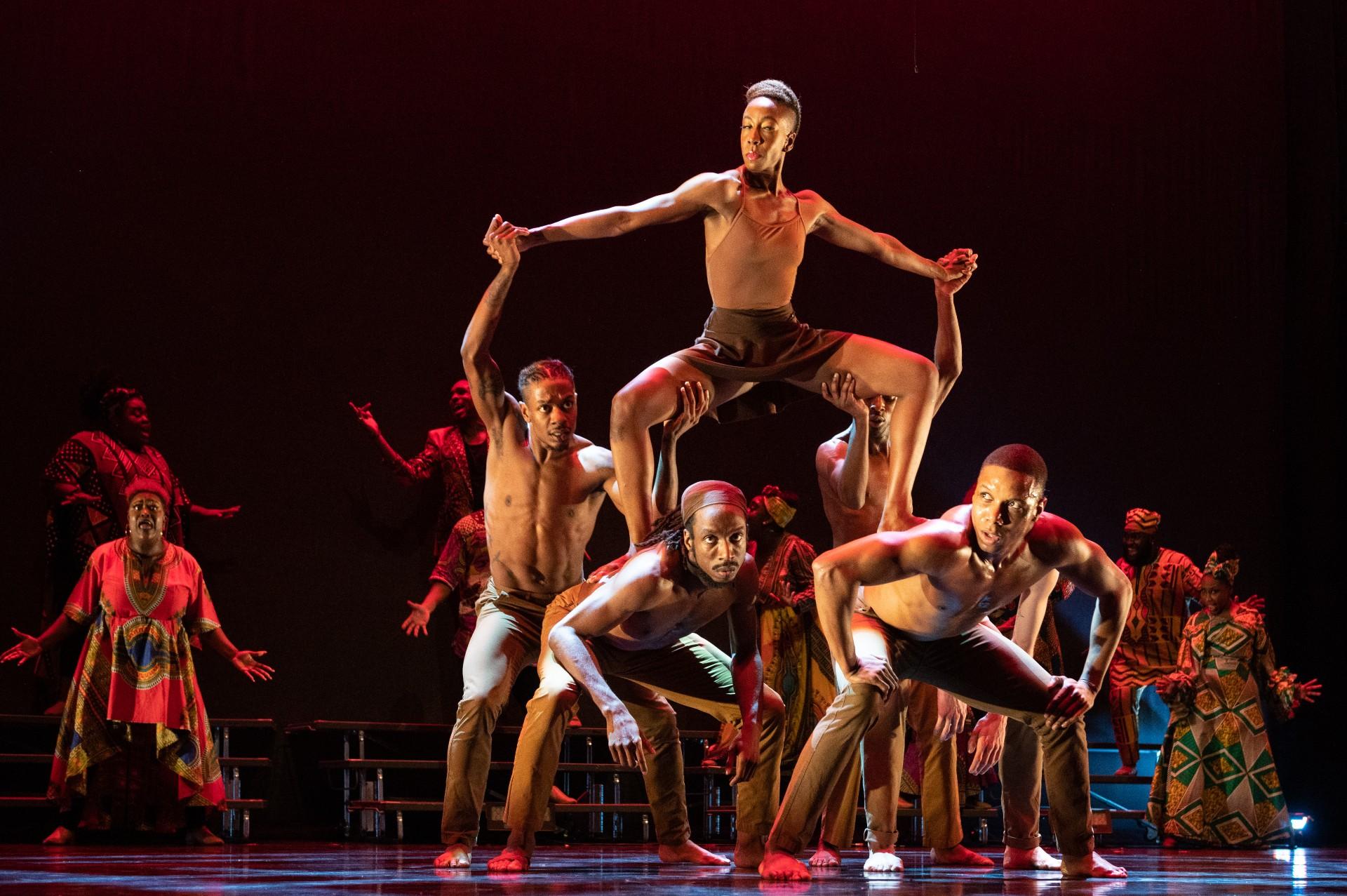 (Photo by Ken Carl)
In addition, the audience was treated to a preview of "Goshen, The Story of Exodus," an elaborate dance theater and choral work whose initial 45-minute installment comprised the second half of the Auditorium program. The creation of Grammy Award-winning composer/producer Donald Lawrence (who was on hand to introduce the piece), in collaboration with a team of five choreographers, Lawrence hopes the full-length "Goshen" will go on to have both an extensive touring production and a run on Broadway. And Saturday's showing of the first half of the work, along with the notably effusive response of a large audience, clearly demonstrated why Deeply Rooted can think big. Of course, praise goes to the company's highly polished dancers (Briana Arthur, Pierre Clark, Emani Drake, Joshua Francique, Ruddy A. Frias, Isaiah Harvey, Saidiya Imari, Rebekah Kuczma, Taylor Ramos, Nyemah Stuart, guest artists Joshua Lamar and Nijawwon Matthews, and three apprentices), as well as to the powerhouse guest vocalists assembled for this project.
Opening the program was Gary Abbott's beautiful 2011 work, "Bach'd." Set to the music of Johann Sebastian Bach, it is a seamless hybrid of classical ballet and African American dance, and the combination of these techniques was evident throughout the evening.
It was followed by "Gula Matari," a strange and truly wondrous 1984 work by Kevin Iega Jeff, the company's executive director and, along with Abbott, its co-founder. Set in a forest-like environment in which the dancers suggest exotic creatures at play, it is full of sinuous movement enhanced by Quincy Jones' entrancing score, with imaginative costumes by Kelly D. Moseley, and lighting by Sarah Lackner (reimagined from William H. Grant's original design). A touch of real magic here.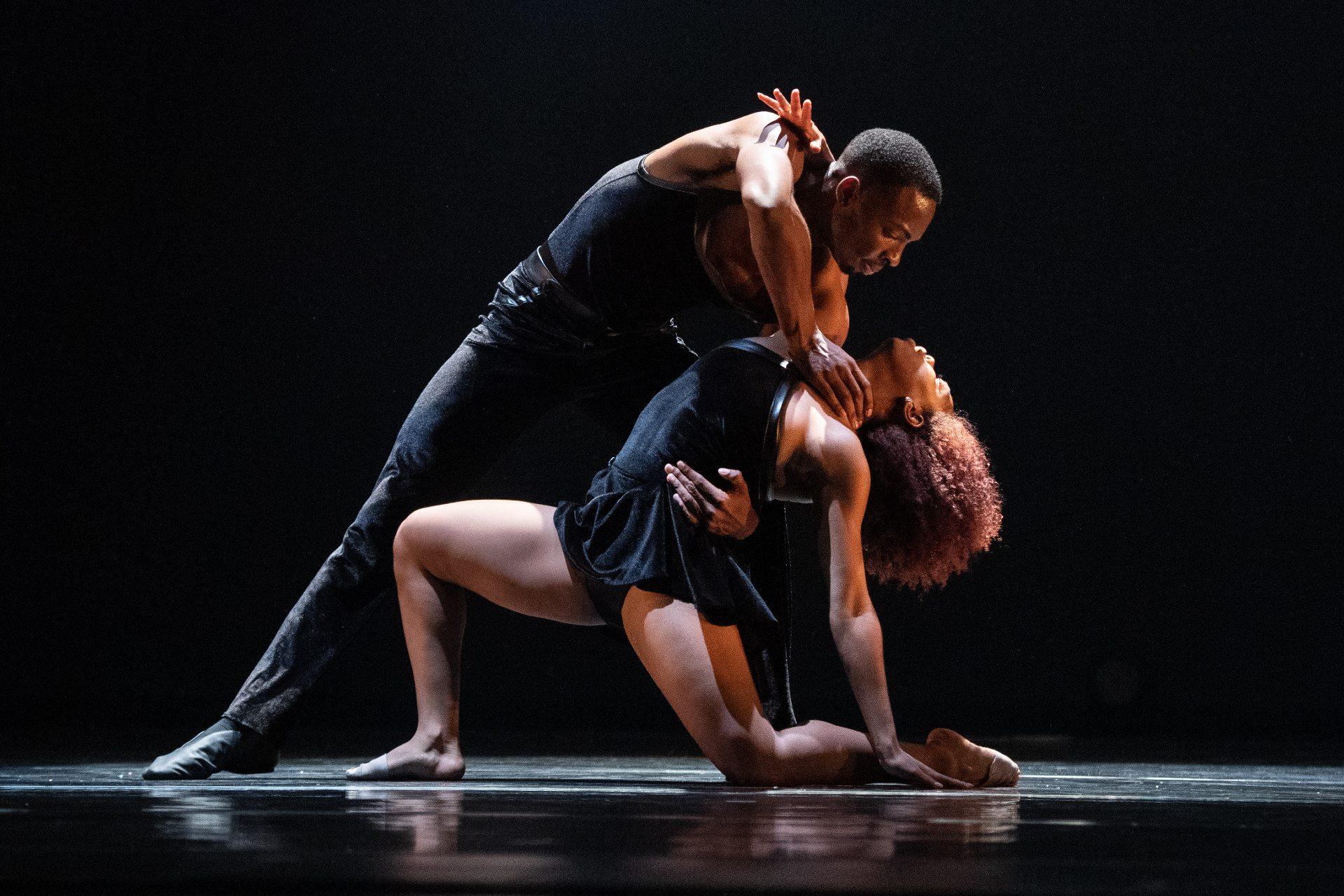 (Photo by Ken Carl)
Next up was "Episodes," a stunning 1987 work by Ulysses Dove, the late, great choreographer who worked with the Alvin Ailey company among many others. Set to a percussive score by Robert Ruggieri, the Deeply Rooted dancers explored the high-tension and raw emotion in a variety of sexual relationships. Riveting.
The second act of the program, devoted to "Goshen," is based on Lawrence's 2019 album of the same name that features his modern-edged yet traditional gospel songs, and it interweaves the biblical story of the ancient Israelites' flight from slavery in Egypt with the struggle of African Americans breaking free of slavery in this country. (Lawrence mentioned that Stephen Sondheim has been an inspiration for his musical storytelling.)
Five choreographers – Abbott, Clarke-Springer, Joshua L. Ishmon, Iega Jeff and Tshediso Kabulu – devised the movement for the nine dance segments in this first half of what is projected to be a 90-minute work. And five clarion-voiced guest vocalists (Sheri Jones-Moffett, Zeke Locke, Blanche McAllister-Dykes, Brittany Stewart and LeJuene Thompson), plus an exuberant ensemble - all dressed in colorful outfits by Moseley - performed the songs which Lawrence has infused with traditional gospel themes and just enough of a contemporary edge. The Deeply Rooted dancers did the rest, using their highly polished technique and dramatic intensity to help raise the roof, assure a revival, and set the audience free.
Note: An earlier version of this story incorrectly identified which pieces were performed. It has been updated.
Follow Hedy Weiss on Twitter: @HedyWeissCritic
---