A little over a century ago, the street now known as the Magnificent Mile — lined with restaurants, stores and historic skyscrapers — was little more than a country road called Pine Street extending north from the Chicago River, which was lined with docks, wharves, factories and railroad tracks.
"The area where we are standing right now would be an area where maybe you wouldn't want to be in because it would be at the heart of industry," said Paul Durica, director of exhibitions at The Newberry Library.
But a transformation was about to begin with the opening of the Michigan Avenue Bridge, now DuSable Bridge, in 1920 followed just a year later by The Wrigley Building.
"Right behind where the Wrigley building is, was a cheese factory. It was notoriously odorous as you can imagine. Across the street, they made soap," said Kathy Kulick, a docent at the Chicago Architecture Center.
The area may have seemed like a strange place to put a skyscraper to some, but to chewing gum mogul William Wrigley Jr., it was a master stroke by a master of promotion.
"William Wrigley, you know, was a man with a lot of energy," Durica said. "I don't know how he got everything done that he did because he was running this company, which was a global corporation, right? But then he was also running a baseball team."
The Wrigley Building was the first skyscraper north of the river. Designed by architects Graham, Anderson, Probst and White, it was part of the City Beautiful movement — a style that grew out of Daniel Burnham's wildly-popular classically-inspired "White City" at Chicago's 1893 World's Fair.
(WTTW News)
"It's just what really appealed to people, you know, even though we were a relatively new country, you know, still our beacon, what we were harkening back to was Europe," Kulick said. "So we wanted those old styles, we thought that that's what showed importance"
The shiny exterior looks all white, but there are actually six slightly different shades of glazed terracotta tiles to draw the eye upward.
"The bottom here, it's got a little blue in it, it's kind of a little bit darker and then as it goes up they add more and more of lighter color until right at the top, it's the shining white tower that's visible from far away," Kulick said.
Pine Street, now North Michigan Avenue, is positioned slightly further east than South Michigan Avenue. This meant the bridge had to be built at an angle, creating a slight jog in Michigan Avenue that gave shoppers and businesspeople in the Loop an unobstructed view of Mr. Wrigley's building. A few years later, he built the second portion of the Wrigley Building, connecting the two with a bridge.
The building is encrusted in classical ornamentation, from the bottom of the skyscraper to the top, even on the roof – an area most people will never see.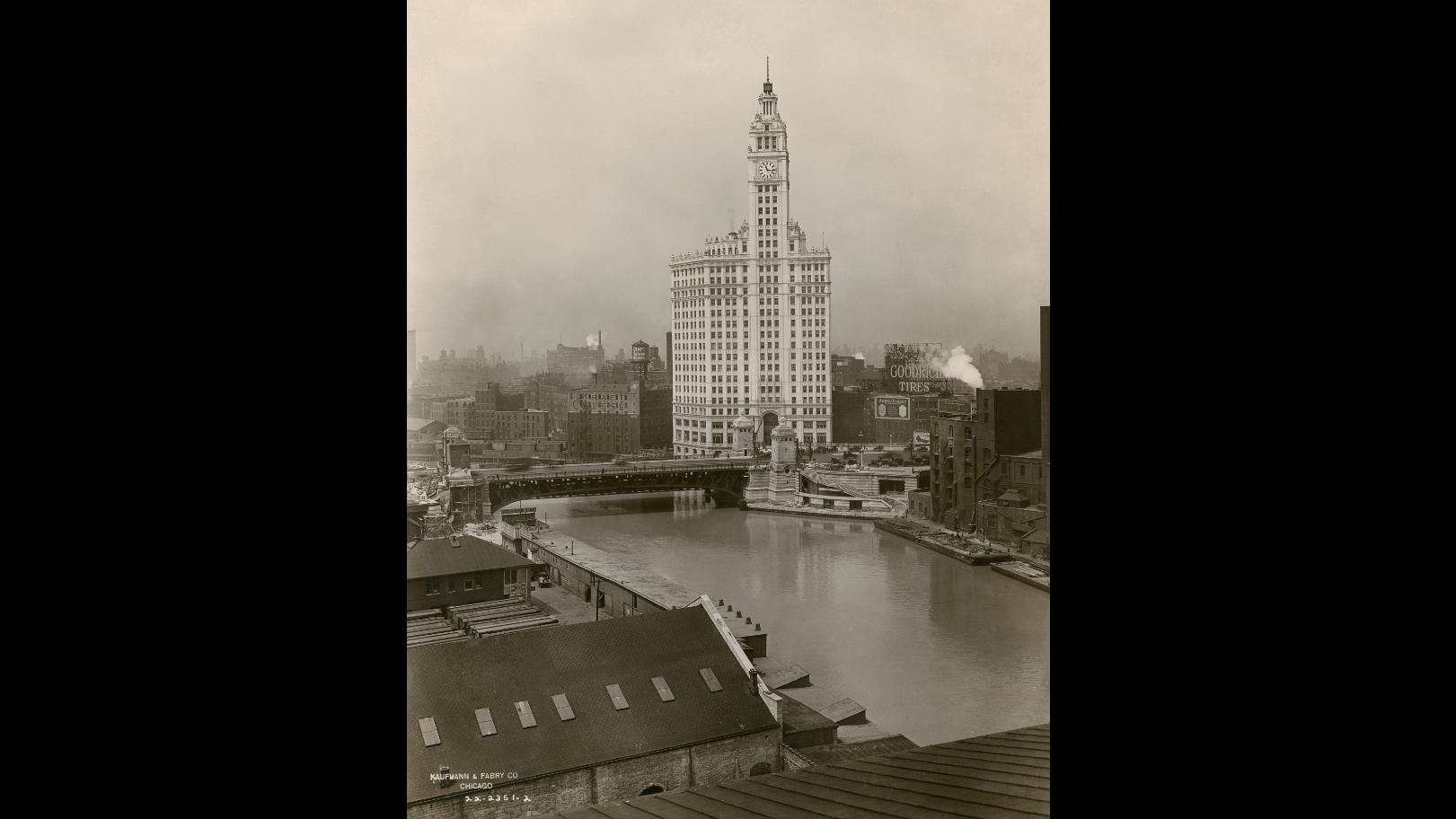 (Courtesy of the Chicago History Museum)
Also, at the top of the building is its iconic clock tower.
"At the top of the tower you see a clock face and that clock face is about two stories worth of the building itself, but it's fully electric," Durica said. "That makes it keep almost near perfect time. It becomes an important way of Chicagoans being able to orient themselves"
The clock also gave passersby another reason to look at The Wrigley Building.
The clock tower was inspired by the bell tower of the Seville Cathedral in Spain, which was originally a minaret when the cathedral was a mosque. 
During Daylight Savings Time, changing the clock's time — which has four faces — is a team effort, said Bradley Borowiec, vice president of The Wrigley Building.
"We have to do it the old-fashioned way with radios and making sure that we have somebody calling up and saying, 'OK, it's this time. What time do you see?' And then we'll move it," Borowiec said.
Above the clock was an observation deck — each visitor got a piece of Wrigley gum. This was yet another part of Wrigley's strategy of using the building to promote his business, almost subliminally.
"The Wrigley Building name isn't on the building, but you can see his building pretty much anywhere in the city of Chicago," Durica said. "It just stands out and dominates the landscape."
Wrigley even made sure the building would stand out after dark, lighting its exterior from day one.
"There are lights across the river," Borowiec said. "So on Wacker Drive, Lower Wacker, we have lights across the street…. We have partnerships with a couple of buildings because we have some lights on some rooftops."
The building is currently revamping its lighting system, upgrading from about 100 lights to 300 — but because the lights will be LED, its energy usage will decrease 60-70%, Borowiec said.
(Photo by Jamie and Eric Photography / Courtesy of The Magnificent Mile Association)
The Wrigley family sold the building in 2011. In the spirit of William Wrigley, the building's current owner has pulled out all the stops to celebrate its 100th anniversary, including a promotional stunt Wrigley would likely have loved. The owners held a contest for 100 people to get married at the building.
Three-hundred and seventy couples entered the contest.
"People really wrote these beautiful essays about what the building means to them, something intangible," Borowiec said.
Today, the Mag Mile is once again at a critical point in its history. As more consumers shop online and major stores shutter their locations on the avenue, some say the iconic street needs to be reimagined.
"I think what we're trying to look at now is what can we do that makes it more experiential," Borowiec said. "Like what's something that you can come down and not just go in and shop and buy something, but experience something."
This includes the Starbucks Roastery, an ice cream museum planned to open in the Tribune Tower and proposed attractions in vacant stores based on Harry Potter, and King Tut. But, as Michigan Avenue adjusts, the Wrigley Building will continue to be a gateway.
"It still remains like an important landmark here on Michigan Avenue that makes people like, stand and look with awe and wonder," Durica said.
---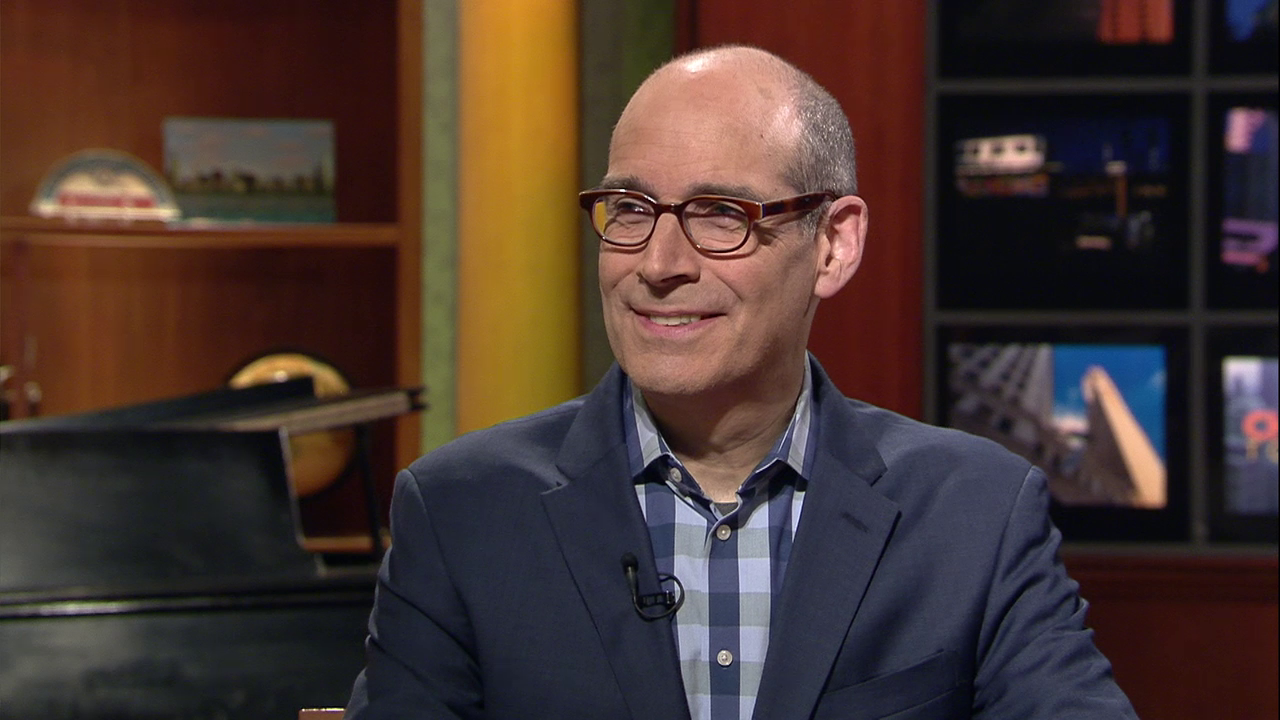 Did you know that you can dig through our Ask Geoffrey archives? Revisit your favorite episodes, discover new secrets about the city's past, and ask Geoffrey your own questions for possible exploration in upcoming episodes. Find it all right here.
Do you have a question for Geoffrey? Ask him.
---