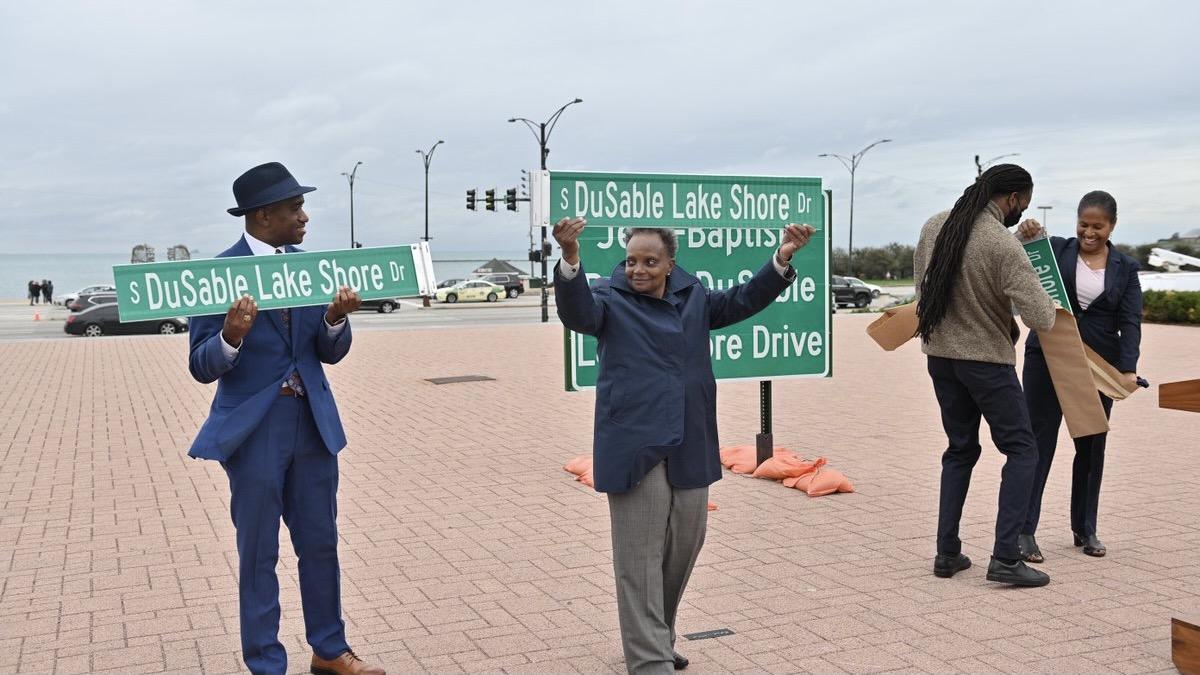 Ald. David Moore (17th Ward) and Mayor Lori Lightfoot, left, celebrate the renaming of Lake Shore Drive to honor Jean-Baptiste Pointe DuSable on Thursday, Oct. 21. (Credit: Chicago's Mayor Office)
Crews began installing green and white street signs Thursday along Chicago's lakefront to reflect the new name of Chicago's most iconic roadway: Jean-Baptiste Pointe DuSable Lake Shore Drive.
Even though Mayor Lori Lightfoot opposed the push led by Ald. Sophia King (4th Ward) and Ald. David Moore (17th Ward) to honor Chicago's first non-native settler by changing the name of the city's most well-known roadway, the three gathered Thursday near Buckingham Fountain to celebrate the compromise all three settled on.
The conclusion of the fraught debate, which was marked by allegations of racism, with a solution that everyone could embrace should set an example for all city leaders, Lightfoot said.
Twelve large signs with the roadway's full name will be installed as well as more than 80 smaller signs that read "DuSable Lake Shore Drive" at a cost of about $500,000, Chicago Department of Transportation Commissioner Gia Biagi said.
Moore said it was only fitting that the road that showcases Chicago's skyline and thriving business district is named for DuSable, who founded Chicago's first business — a trading post at the mouth of the Chicago River and what is now Michigan Avenue.
"After decades of starts and stops, one of Chicago's most iconic roadways is named after the Black man whose vision as an entrepreneur to see Chicago as a commercial center, is finally a reality," Moore said. "For everything there is a season and the City Council's vote for DuSable Lake Shore Drive was the right thing at the right time."
Four months ago, the Chicago City Council voted 33-15 to rename Lake Shore Drive from Hollywood Avenue in Edgewater to 67th Street in Woodlawn after months of intense debate.
Twelve white aldermen and three Latino aldermen voted against the name change, an indication that the issue had become racially polarized.
Moore's effort to rename Lake Shore Drive for DuSable had been stalled for more than 18 months when the measure gained new life amid the nationwide reckoning with systemic racism prompted by the death of George Floyd in Minneapolis police custody in May 2020 and the widespread protests that followed.
For more than a year, members of the Black Heroes Matter effort urged aldermen to act with urgency to address the lack of proper recognition for the Haitian-born DuSable.
"This historic step tells the world that Chicago is not just ready for change, but it is setting the country on the path to end systemic racism, to the point where other major cities are now following our lead and honoring our Founder, Jean Baptiste Pointe DuSable, and other great Black heroes," said Ephraim Martin, the leader of Black Heroes Matter. 
This story has been updated to correct Ald. David Moore's statement because of an error in the statement released by Mayor Lori Lightfoot's office.
Contact Heather Cherone: @HeatherCherone | (773) 569-1863 | [email protected]
---