Orlando (Liam Quealy) and Rosalind (Lakeisha Renee) lock eyes from across the ring, observed by Touchstone (Kayvon Khoshkam), LeBeau (Deborah Hay), and Charles (Austin Eckert) in Chicago Shakespeare Theater's production of "As You Like It," adapted and directed by Daryl Cloran, in the Courtyard Theater, Oct. 6–Nov. 21. (Photo by Liz Lauren)
The first thing you see is a Vegas-like wrestling ring. Then there are the costumes straight out of the closets of 1960s era "flower children." And finally, there is the ever irresistible songbook of that '60s British band once playfully referred to as "the moptops," but of course universally renowned as The Beatles.
And no, the show in question is not some crazy remake of the musical "Hair," but rather a raucous, playful and exceedingly clever reimagined take on Shakespeare's "As You Like It." A pastoral comedy about an extended noble family caught up in internecine chaos and romantic confusion, it follows a group of courtly outcasts who seek refuge in the Forest of Arden – a sylvan retreat for those who have been banished, are accompanied by devoted friends and servants, and have zany encounters with spirited shepherds and others.
The production is the first to arrive on a Chicago Shakespeare Theater stage since the start of the pandemic, and it easily woos its happily returning live audience by way of an ingenious riff on a classic. Initially devised and produced in Canada, it now features a dynamite, multi-talented (mostly Chicago-based) cast and band whose energy level can barely be contained.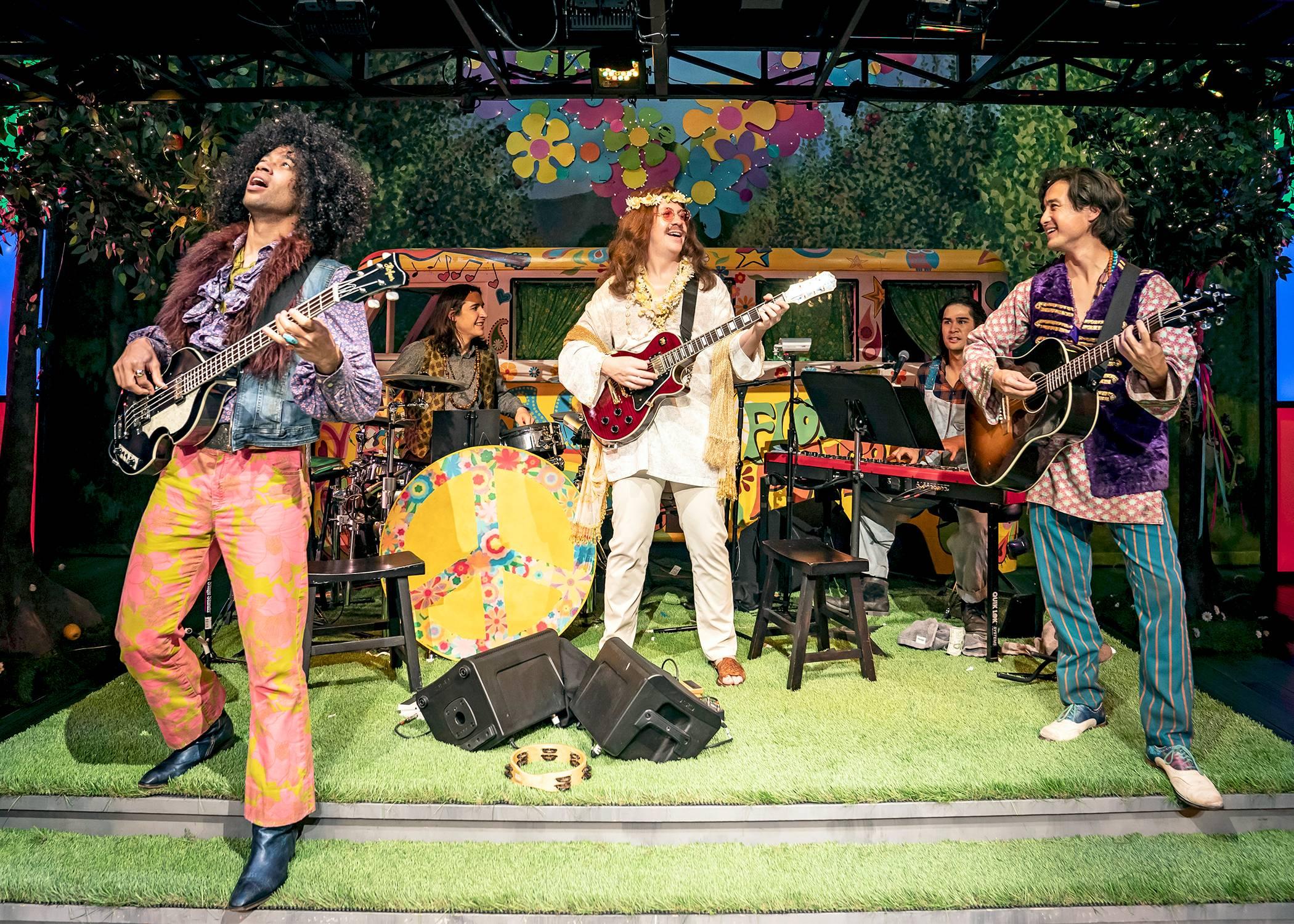 The Forest Lords of Arden (left to right: Austin Eckert, Jeff Kurysz, Adam Wesley Brown, Michael Daniel Dashefsky, Kurt Schweitz) jam to the hit song of The Beatles in Chicago Shakespeare Theater's production of "As You Like It," adapted and directed by Daryl Cloran, in the Courtyard Theater, Oct. 6–Nov. 21. (Photo by Liz Lauren)
Purists might complain that Daryl Cloran, the show's Canadian adapter and director, has spliced a bit too much out of Shakespeare's script. But the lyrics and pure musicality of the more than 20 Beatles songs that are so cleverly laced throughout the show suggest that the poetry and rhythms of a genius English wordsmith from around 1600 can be paired in the most engaging ways with the music and lyrics of those British rock stars of the 1960s whose songs remain as beguiling in 2021 as they were more than 50 years ago. 
In fact, the degree to which Shakespeare and the Beatles easily complement each other is a delightful surprise. And this play's particular example of Shakespeare's gender-bending themes (no doubt originally devised because only men were permitted to perform on the Elizabethan stage) suggests just how contemporary his work can now feel with all its gender-upended characters and situations.
I confess that as someone who detests the physical brutality involved in wrestling and boxing matches the initial 15-minute opening scene of this "As You Like It" (featuring a truly knockout fight choreography devised by Jonathan Hawley Purvis, and expertly performed by fearlessly acrobatic members of the cast) is not my idea of a good time even if it is all done in jest. But in retrospect it made perfect sense as a defining metaphor for the extreme animosity and cruelty that exists between the play's mature men (Duke Frederick, who has exiled his older brother, Duke Senior, both expertly played by Kevin Gudahl), as well as two youthful brothers (Liam Quealy as Orlando, and Tony Carter as Oliver). And there are just enough redemptive acts along the way to serve as reminders of the value of caring and compassion over violence and the lust for power.
The clown Touchstone (Kayvon Khoshkam) falls hard for the shepherdess Audrey (Lachrisa Grandberry) in Chicago Shakespeare Theater's production of "As You Like It," adapted and directed by Daryl Cloran, in the Courtyard Theater, Oct. 6–Nov. 21. (Photo by Liz Lauren)
Meanwhile, when it comes to romantic relationships, there is no shortage of conflict and confusion either – all of which plays out in many scenes of emotionally charged sparring, zany comedy, and much clever wordplay and game-playing among men and women over matters of love, marriage and the possibility (or improbability) of faithfulness.
The principal women in the story – the daughters of the embattled dukes – happen to be the very best of friends. They are the self-banished Rosalind (Lakeisha Renee in an absolutely stellar turn), who assumes a male identity as the boyish page, Ganymede, and her devoted cousin, Celia (the delightful Melanie Brezill), who accompanies her into the forest. Complicating things is the fact that Orlando, a young man of noble birth who is badly treated by his older brother, Oliver, has fallen in love at first sight with Rosalind. And when he, too, heads into the safety of the forest he fails to recognize the real identity of Ganymede, and she deftly takes advantage of the situation to mold him into the ideal lover and husband she will ultimately marry.
The various peasants and others who inhabit Arden have their own largely comical romantic problems and confusions, and are zestfully played by Lachrisa Grandberry, Heidi Kettenring, Nancy Voigts, Michael Daniel Dashefsky, Kayvon Khoshkam and others, with Steven Pringle as a frail, elderly man with a big heart.
Jaques (Deborah Hay) contemplates the nature of life in Chicago Shakespeare Theater's production of "As You Like It," adapted and directed by Daryl Cloran, in the Courtyard Theater, Oct. 6–Nov. 21. (Photo by Liz Lauren)
And then there is Deborah Hay, the petite Canadian actress as the brainy, sardonic Jaques, the edgy, fast-talking Forest Lord who easily steals the spotlight with every appearance.
As for the musicians, who also are exceptional gymnast/wrestlers (Austin Eckert, Adam Wesley Brown, Kieran McCabe and Kurt Schweitz), they are simply sensational. So are designer Carmen Alatorre's laugh-inducing costumes with bell bottoms, beads and all the rest of hippie era regalia.
And do you want to know a secret? While the idea of bringing this wonderfully amusing hybrid of Shakespeare and the Beatles to London might seem akin to bringing coal to Newcastle I have a feeling the show might prove to be an enormous hit there. A rich dose of nostalgia by way of many of the band's finest songs, along with the enduring wit and wisdom of the Bard. I envision delighted audiences flocking to eight performances a week and unable to hide their love away.
"As You Like It" runs through Nov. 21. For tickets visit chicagoshakes.com or call (312) 595-5600.
Follow Hedy Weiss on Twitter: @HedyWeissCritic
---