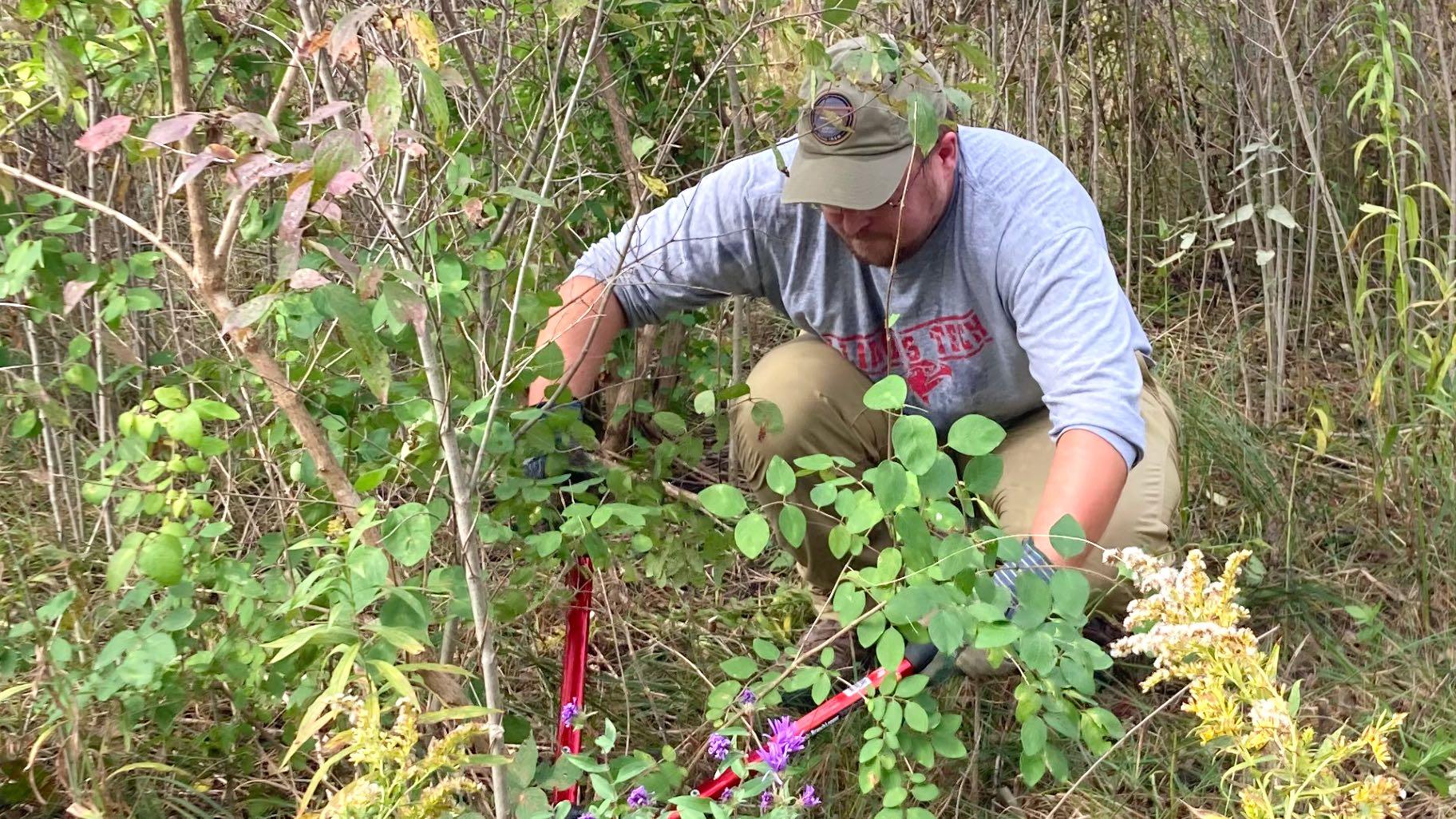 Volunteers turned out for Friends of Illinois Nature Preserves' first recruitment event at Shaw Woods, Oct. 2, 2021. (Courtesy Friends of Illinois Nature Preserves)
From a unique patch of grand prairie to a rare type of wetland, remnants of Illinois' rich ecological past are still stubbornly eking out an existence in the cracks between farmland and urban sprawl. 
They're alive, but not doing so well. One organization seeks to change that.
Founded in 2020 to rally support for the state's protected natural areas, Friends of Illinois Nature Preserves is now launching a major recruitment effort to grow its ranks and muster a corps of volunteers to steward the sites. 
The state's nature preserve system is remarkable for its breadth — more than 600 sites, totaling more than 100,000 acres — but that scope is also its greatest challenge. Many of the preserves have gone decades, or longer, without management and are in danger of losing the very characteristics that merited their protection in the first place.
"It's bigger than any one group can handle," said Christos Economou, a Friends of Illinois Nature Preserves volunteer who's often found at the Old Plank Road Prairie Nature Preserve. "Some sites need a lot of intense, remedial care."
To spark interest, the group is holding volunteer kick-off events at preserves throughout October in partnership with conservation and community organizations. The idea is to use the two-hour sessions to introduce people to these rough-around-the-edges gems in need of a polish, and also give folks a taste of what's involved in ecological restoration. 
"It's a no commitment chance to see what it's about and whether it's something you might want to devote your time to," Economou said.
Potential stewards will learn about the site's history as well as its flora and fauna, and will take part in typical restoration activities such as collecting seeds from native plants or hacking away at invasive brush. 
It's not exactly a walk in the park, but the work is rewarding, said Friends volunteer Rebeccah Hartz.
"It's an exciting, empowering feeling to know you have a role in nature. You can make a huge difference by being an active participant," Hartz said. "In a way, it's an honor to be needed and to be a caretaker."
Economou said an added bonus to volunteering with Friends has been discovering a group of like-minded nature lovers he never knew existed.
"My nature friends are people I probably would not have met or spent time with any other way: current and former hippies, schoolteachers, CTA mechanics, professors, doctors, retirees, college students, government employees; people of all creeds and colors," he said.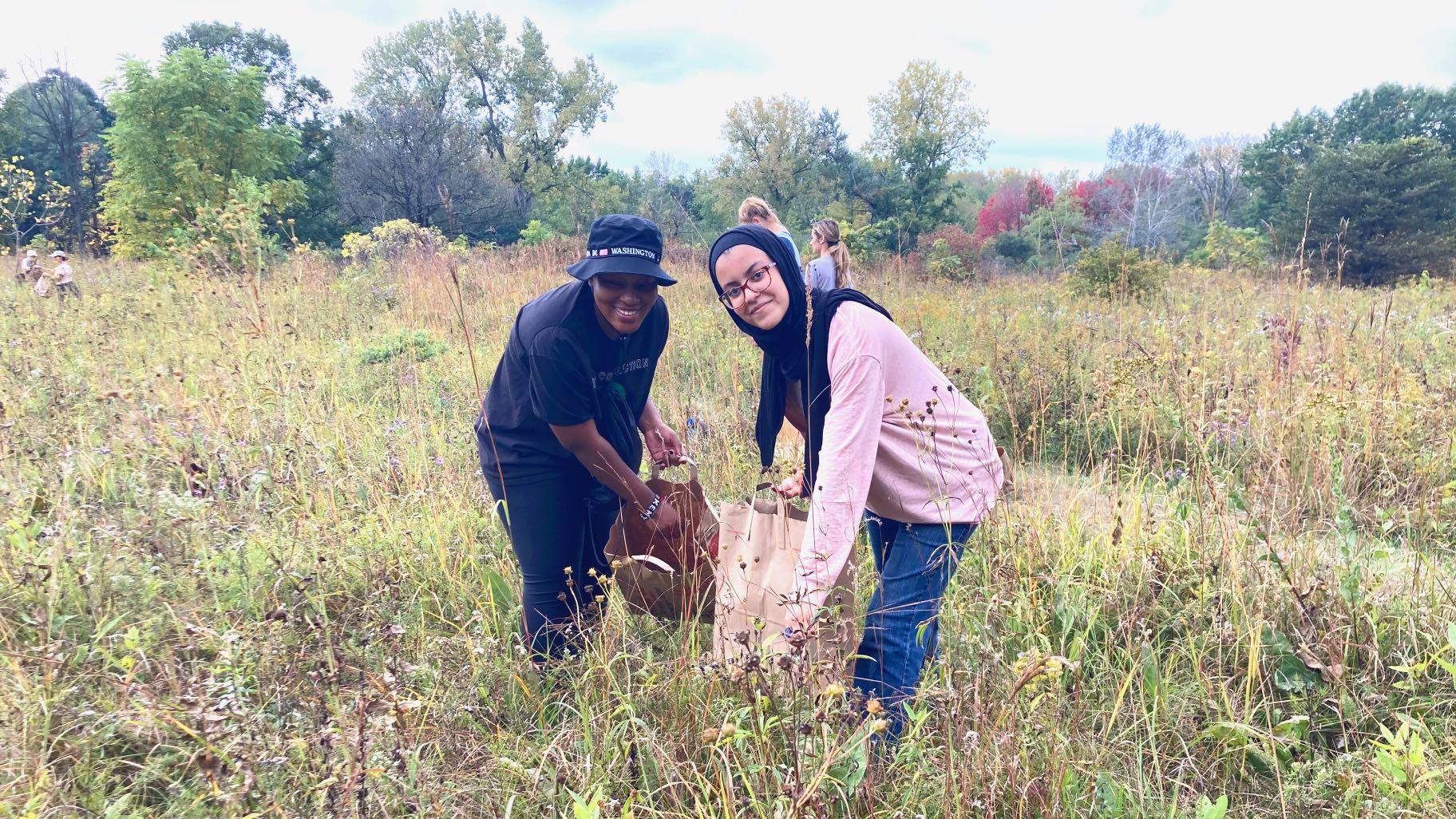 Volunteers at the Shaw Woods kick-off event, Oct. 2, 2021. (Courtesy of Friends of Illinois Nature Preserves)
No experience is necessary, just bring a willingness to learn, according to Economou and Hartz, neither of whom has a background in ecology.
"Ask questions, observe," said Hartz. "It's a volunteer restoration community, but it's also a learning community."
On Saturday, the group hosted an inaugural event at Lake Forest's Shaw Woods and Prairie, which is part of the Skokie River Nature Preserve.  
"The turnout of caring people was impressive. It felt historic," Economou said of the event. "Many are eager to learn how the community that got its start at Shaw Woods and Prairie on Oct. 2 will grow and what tremendous things it will accomplish."
Ultimately the goal is for stewards to reach the point where they're maintaining a preserve's landscape, rather than doing the heavy lifting of restoring a degraded site. "We haven't reached that with any of the places," Economou said.
There's a sense that the clock is ticking, which is one reason behind the push for more volunteers.
"One of the analogies that helped me wrap my head around the urgency was 'the ecosystem is a patient in intensive care,'" Hartz said. "You constantly have to be reviewing the priorities. What is going to make the biggest difference to help it hold on?"
But the race is no longer just between helping native plants and wildlife regain a foothold and eradicating invasive species. Climate change is the threat that looms over every conservation project. Heat waves, drought or other extreme weather could conceivably wipe out years of restoration efforts in one swift blow.
That's all the more reason to pick up the pace of Friends' work and increase its network of supporters, according to Economou. "The best insurance (against climate change) is to restore an ecosystem's health and make it as diverse as possible," he said.
---
Contact Patty Wetli: @pattywetli | (773) 509-5623 |  [email protected]