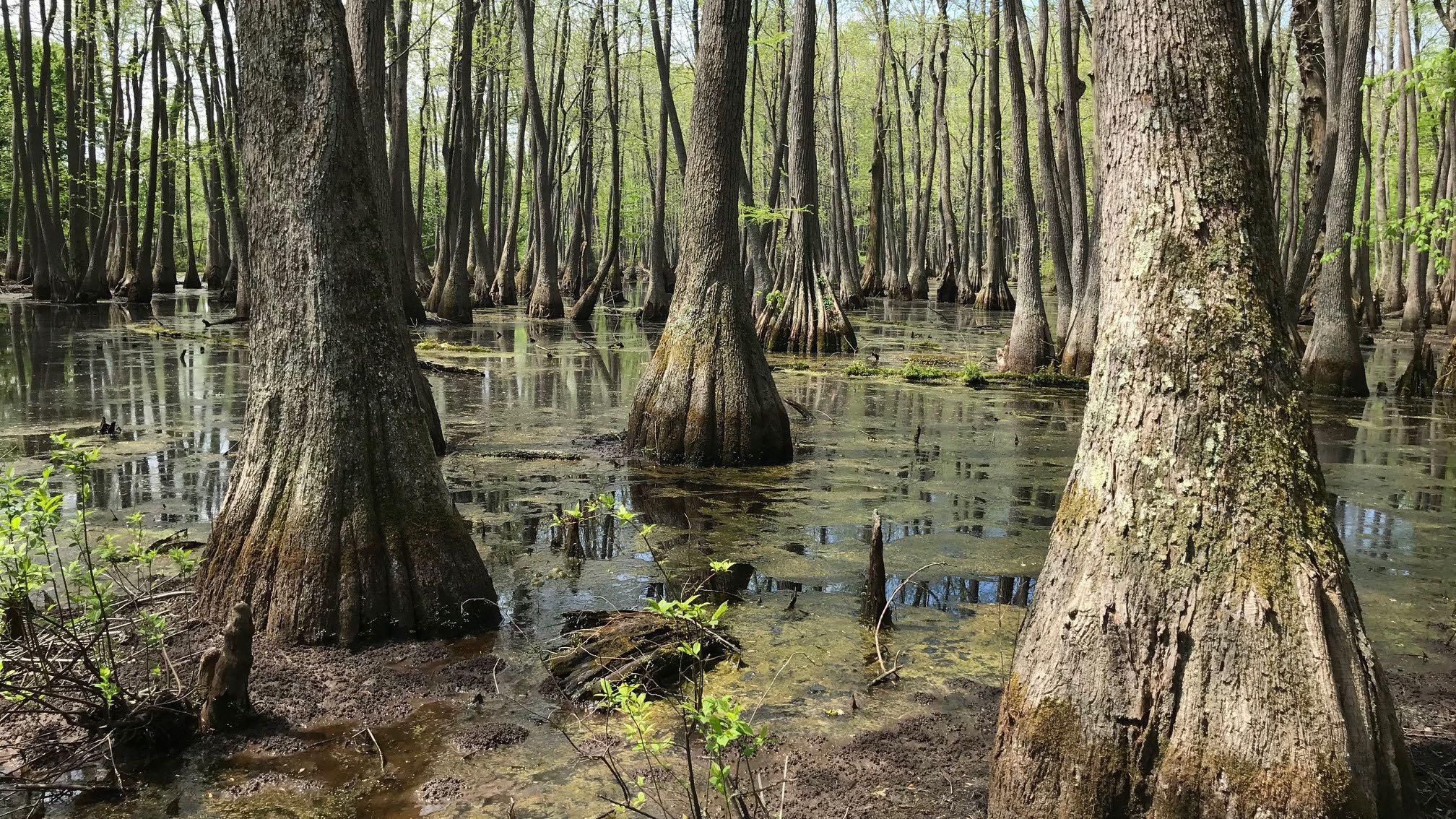 A swamp at Round Pond Nature Preserve. (Courtesy Illinois Nature Preserves Commission)
Somme Prairie, Middlefork Savanna and Langham Island might not have the name recognition of Yellowstone, Yosemite or the Grand Canyon, but if a new nonprofit organization has its way, these Illinois Nature Preserves, and indeed the entirety of the state's preserve system, will someday enjoy the same level of appreciation as their better known national park counterparts.
Founded in 2020 by a group of volunteers, Friends of Illinois Nature Preserves has assigned itself the tall order of increasing the profile of and support for the state's more than 600 preserves and reserves — totaling more than 100,000 acres — be it through work days, fundraising or education.
"Six hundred nature preserves is a tremendous thing to celebrate, but it's also a tremendous challenge. If we don't take care of these resources, we lose something quite precious," said Emma Leavens, a Friends volunteer at Langham Island Nature Preserve, the only place where the endangered Kankakee mallow plant grows in the wild.
Whether it means giving up a Saturday afternoon to hand-pollinate a native flower or taking a few moments to share images of preserves' natural beauty on social media, we have a responsibility, she said, to show up for the ecosystem.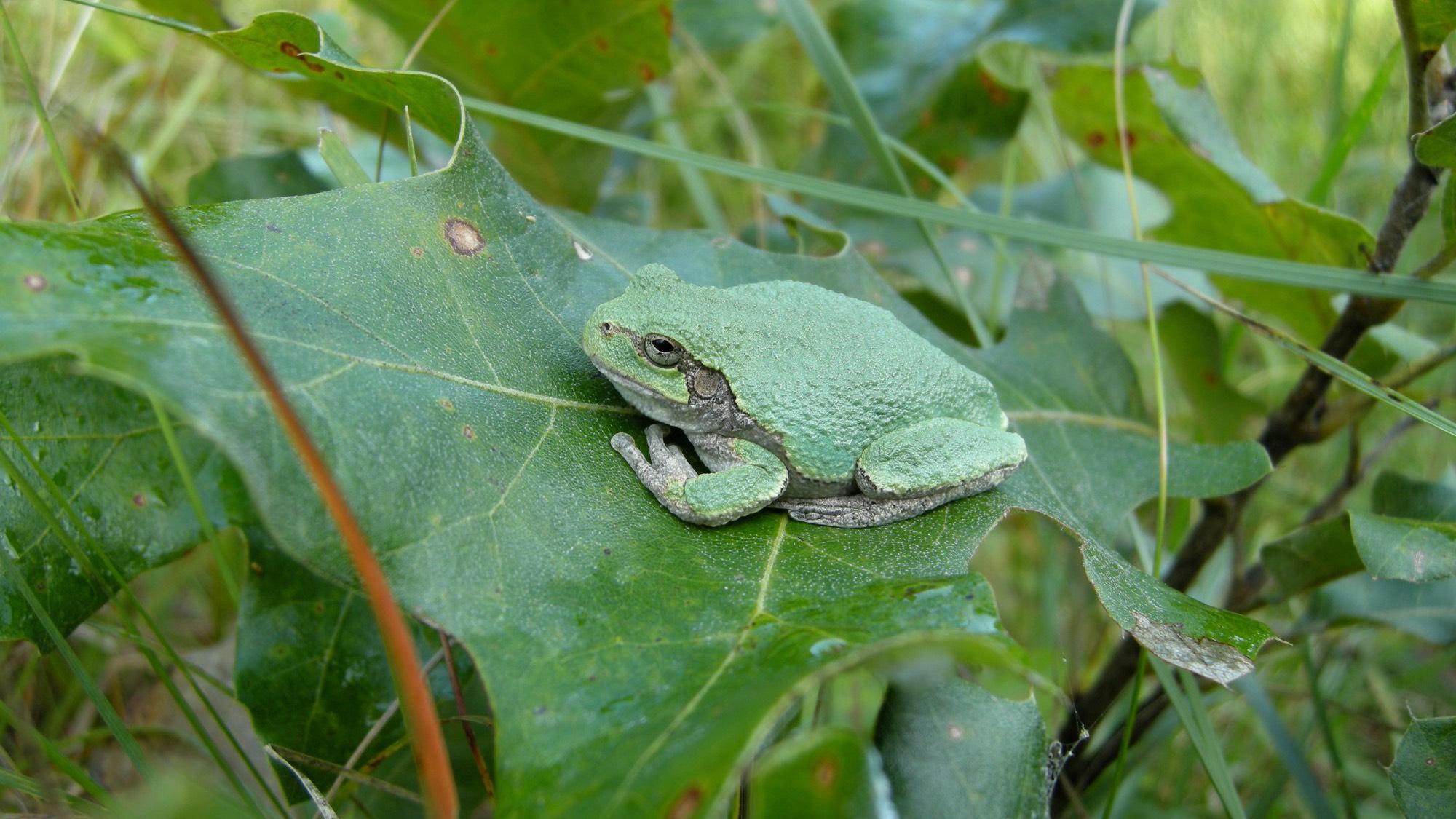 Short Cemetery Nature Preserve. (Illinois Nature Preserves Commission / Kim Roman)
Less than 0.1% of Illinois' landscape remains as it was when first seen by early European settlers. The Illinois Nature Preserves System, established by state law in 1963, encompasses some of the state's rarest and most endangered habitats, from cypress swamps in southern Illinois to dunes along Lake Michigan.  
"These are the last remnants of the Illinois wilderness," states the Illinois Nature Preserves Commission. The commission has been charged with the mission of assisting private and public landowners in "protecting high quality natural areas … in perpetuity." 
So why is an organization like Friends needed to rally around sites that have already been saved "in perpetuity" from development? Because the preserves still face a number of threats, chief among them a legacy of benign neglect. 
"The thinking used to be, 'We've conserved it, now we're done,'" said Christos Economou, a Friends volunteer often found at the Old Plank Road preserve. "That's not the case."
That former "fortress" approach to conservation — walling off natural areas and keeping people out so as to "leave nature alone" — allowed aggressive invasive species to move in, unseen and unchecked, in many instances. When invasives crowd out natives, wildlife suffers, biodiversity decreases and sites degrade. 
"Ecosystems evolved with people participating," said Leavens. "It's something people stopped doing."
A modern understanding of land management has led to a patchwork of public and private restoration efforts at various sites, but due to chronic underfunding and understaffing of the Nature Preserves System, which has gone years without a director, there's a massive backlog of projects, according to members of the Friends group.
Today, many sites are in danger of losing the very species and features that made them worthy of preservation in the first place. 
"All of our natural areas need a lot more work and a lot more love … but the state doesn't have the capacity to take care of them," said Economou. 
At the state level, nine staff members are in charge of all 600-plus nature preserves. "We, as citizens, can help," Economou said. "We just need to get people together." 
For the past year, that's what Friends has been doing — building up a core membership and creating partnerships with government agencies and existing networks of nature stewards such as Openlands, the Nature Conservancy, Illinois Audubon Society and the Illinois Department of Natural Resources.
"We're another player joining the team," but one with a laser focus on the Nature Preserves System, said Matt Evans, the president of Friends and a restoration ecologist with the Chicago Botanic Garden.
The group's impressive list of advisers, consultants and organizers includes people who bring to the table decades of experience and a wealth of knowledge about the state's natural areas.
"Those 'heavy hitter' names come from Stephen Packard," said Evans. "He has a lot of contacts around the state."
Packard is in many ways the godfather of ecological restoration in Chicago, having founded organizations including Chicago Wilderness and Friends of the Forest Preserves. Evans credits him with inspiring the model of volunteer stewardship on which Friends of Illinois Nature Preserves is based.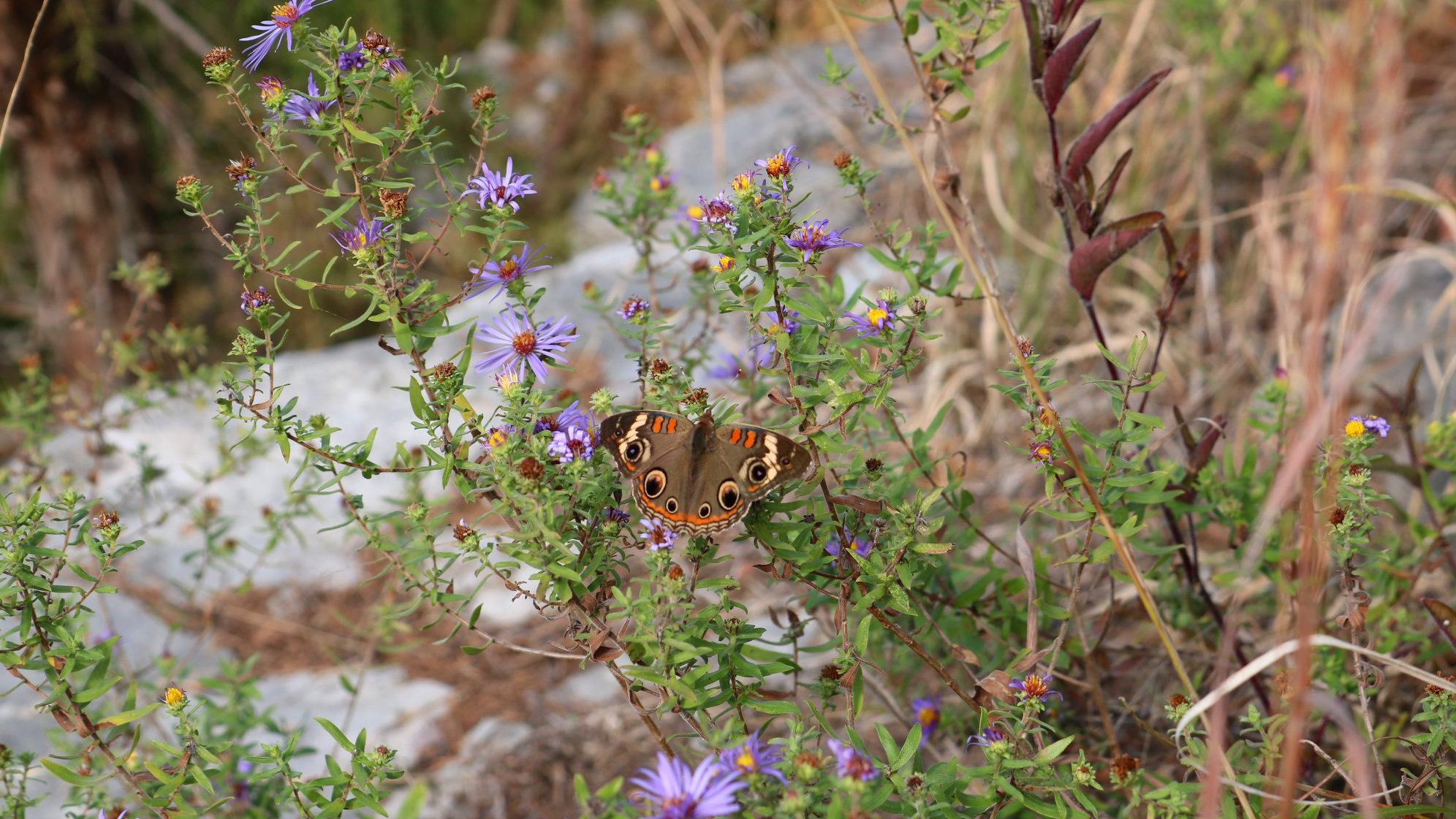 A common Buckeye butterfly lands on a native aster at Eagle Cliff Prairie Nature Preserve, designated in 2019. (Courtesy Illinois Nature Preserves Commission)
To date, most of the group's efforts have been concentrated on nature preserves in the region surrounding Chicago, and a significant number of volunteer recruits are people with a background in ecology or the sciences.
The intention is to scale up capacity statewide, and to engage a broader audience, pulling in people from all walks of life by creating awareness, fostering interest and emphasizing that the state's natural heritage belongs to everyone.
"There are 600 of these precious sites and people who live around them don't know about them," said Friends volunteer Eriko Kojima, a landscape architect who was drawn to stewardship after taking an interpretive walk at Harms Woods. 
"What we need are the 'people' persons in a community," she said. "The people who know everybody and can say, 'C'mon, this place is a gem, let's get involved.' Everyone is welcome, no experience is necessary. You start coming, and you like it, and you come again."
Depending on a site's needs, the role of Friends will take on multiple forms, from providing ecological expertise to mentoring volunteer leaders. In many ways, Friends would operate as a matchmaker, serving as the conduit between community members interested in supporting a preserve and entities such as forest preserve districts, the Department of Natural Resources or other conservation nonprofits in need of eyes, ears and helping hands on the ground. 
The recently announced hiring of Friends' first director, Amy Doll, is a step toward that goal of bridge building. Doll, a former executive director of the DeKalb Park District, brings a "collaborative approach to projects and relationship development," Evans said.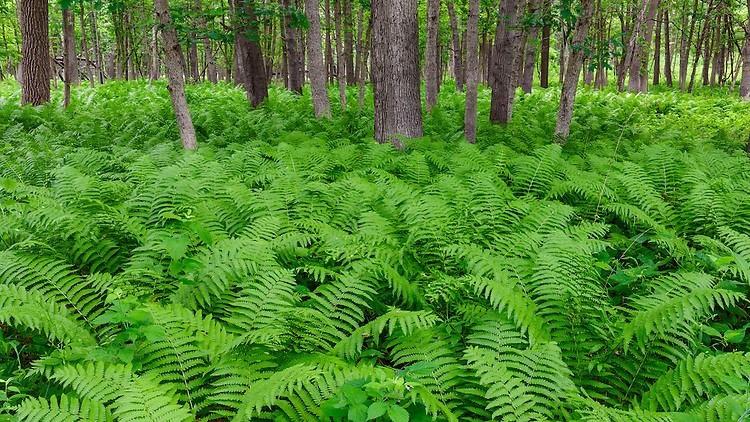 An abundance of ferns at Thornton-Lansing Road Nature Preserve. (Courtesy Illinois Nature Preserves Commission)
The first order of business is introducing Illinoisans to the natural treasures in their own backyard. 
"The best oak savannas in the world are in Illinois," said Steve Bohan, a Friends volunteer. "Within an hour of my home (in Kankakee), I can climb a sand dune and visit a waterfall. The foresight of the folks who set aside so many acres, it's just amazing."
Within the Nature Preserves System, people will find bogs and bluffs, wetlands and woodlands, prairies and meadows. And if those terms don't set the heart racing in the same way as "mountains" or "canyons," well that's the sort of image problem Friends intends to rectify.
There's more biodiversity in the Chicago region than the Grand Canyon, said restoration ecologist Katie Kucera, a Friends volunteer. The state's tallgrass prairies are every bit as endangered as the Great Barrier Reef, and species of native Illinois dragonflies are every bit as rare as species of tigers and orangutans. 
It's just that people have been trained to see the "drama" in nature, rather than being taught to be ecologically literate, said Leavens.
The beauty of a prairie reveals itself gradually, requiring patience and attention to detail. What first appears to be a green blur slowly comes into greater focus as visitors grow more familiar with the flora and fauna.
"It's like being colorblind and seeing one new color at a time when you learn a new flower," said Stephanie Place, a volunteer at Somme.
Appreciation for preserves' subtle charms can be taught, primarily by doing the work, Friends volunteers said. 
"Join us for a day," said Place. "It's low stakes. We're just offering an invitation, a point of entry."
Activities like clearing invasive brush, collecting seeds, or participating in a controlled burn are a different way of interacting with nature and getting to know a preserve versus hiking or bird watching. At the same time, people can gain an understanding of how an ecosystem works, and the role humans have to play in maintaining and nurturing it.
"There's a pernicious way of thinking about humans as being separate from nature," said Bohan. "We are nature. We are part of it."
Friends aims to reclaim that relationship with nature, and to create a shared sense of purpose in which tending to the state's nature preserves is just part of what it means to be an Illinoisan.
"This will be sustainable if everyone thinks this is something you do," said Kojima. "It should grow in such a way that generation after generation will take care of these places."
---
Contact Patty Wetli: @pattywetli | (773) 509-5623 |  [email protected]