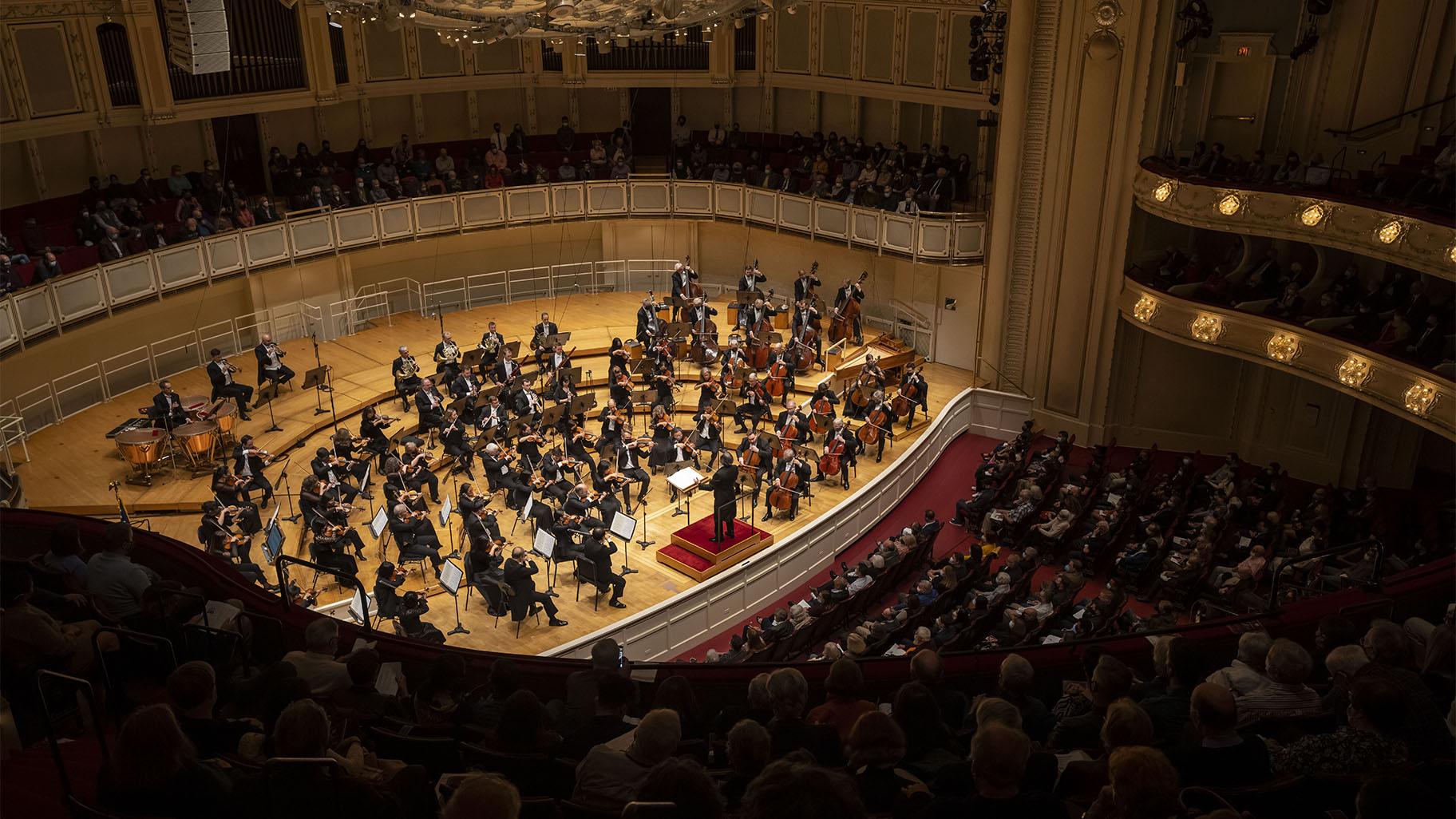 Riccardo Muti leads the Chicago Symphony Orchestra in Beethoven's Eroica Symphony in their first concert together since February 2020 to open the CSO's 131st season, Sept. 23, 2021. (Credit: Todd Rosenberg Photography)
It was a great spirit-raising moment of rebirth, celebration and pure musical enchantment Thursday night as the Chicago Symphony Orchestra (in sublime form), along with an ebullient Maestro Riccardo Muti and a large, exuberant audience were all reunited in Orchestra Hall for the first time in 19 months. (And if you need a more iconic moment to encapsulate the evening there was this: Realizing his black face mask had fallen to the floor as bows were being taken Muti took hold of his baton and retrieved that now essential accessory on the end the stick with an expression of playful disdain that clearly struck a comic chord throughout the hall.)
Of course it was the music that was of the essence in a concert that culminated with a sweeping performance of Beethoven's "Symphony No. 3 in E-Flat Major (Eroica)" but began with two brief, beautiful, largely unknown pieces — one by Joseph Bologne, Chevalier de Saint-Georges (the 18th century son of a French plantation owner in Guadalupe and his Senegalese slave), and the other by Florence Price (the Arkansas-born composer of African American parentage whose career was forged in Chicago, and included the notable first performance of her "Symphony No. 1 in E Minor" by the CSO in 1933).
But to start at the very beginning: There was rapturous applause for Muti's arrival onstage and the orchestra's fervent rendering of "The Star Spangled Banner," followed by an eloquent welcome from the maestro in which he said: "You are here tonight because you need music ... you need to hear life." He went on to note that without music (particularly the invaluable live interplay between musicians and audiences), "the world will become more and more savage."
Now to the three works that marked a joyous return.
The Chevalier de Saint-Georges was a contemporary of Mozart — but older and far more established than the composer whose genius would eventually greatly surpass his own. In fact, Thursday's performance of the Overture from Saint-George's opera, "L'Amant Anonyme" ("The Anonymous Lover") marks the first time the CSO has played any of his music. Scored for strings, two oboes, two horns and harpsichord (played with elan by the frequent guest artist Mark Schuldiner), it was high-spirited and charming — with seamless shifts from exuberant yet lyrical motifs, to a plaintive and gently melodic sequence, to a burst of gavotte-like courtly dance rhythms.
Then came the great revelation of the evening — the utterly captivating second movement, Andante moderato, from Price's 1929 "String Quartet No. 1 in G Major." Just seven minutes long, the excerpt, scored for strings — and impeccably played —  clearly captivated the audience with its achingly lovely, subtly romantic opening themes, its seamless shift to a seductive dance-like melody, its jaunty use of plucking that set Muti in motion, and its mix of delicacy and strength throughout. A rapturous but not sentimental final passage gave the whole piece the feel of a personal love letter. Beautiful. And it is worth noting that Price's 1940 work —  her "Symphony No. 3 in C Minor),"  which was to receive its first Chicago performance during Muti's residency in spring 2020, but was canceled because of the pandemic — is now back on the schedule for this coming May.
Finally, there was Beethoven, whose "Symphony No. 3" — stunningly performed — serves as indisputable evidence that this was a composer whose irreplaceable work is for all seasons, and all times. And in one fell swoop it served as a powerful rebuke to recent attempts at the "cancel culture of classical music," rendering such efforts as beyond the absurd.
The composer's brilliant ability to grab attention, work up a storm of constantly shifting moods, create a complex conversation between turmoil and resolution, and employ every section of the orchestra (strings, woodwinds, brass, timpani) almost as if they were distinctive operatic voices is absolutely remarkable. It's all there: The tension and release in life, the grandeur, drama and solemnity of human existence. Like so many of Beethoven's other masterpieces, this work leaves you breathless, and seems both of its original time (the Napoleonic era), and newly minted for every time, including THIS one. At once majestic and real, it is full of a glorious frenzy, and the CSO's performance was breathtaking. A truly clarion "welcome home" on both sides of the stage.
The final performance of this concert will be Saturday at 8 p.m.
For the season calendar, including the two programs scheduled during Muti's Fall residency in the next couple of weeks, and a rundown of all required Covid protocols, visit CSO.org.
Follow Hedy Weiss on Twitter: @HedyWeissCritic
---