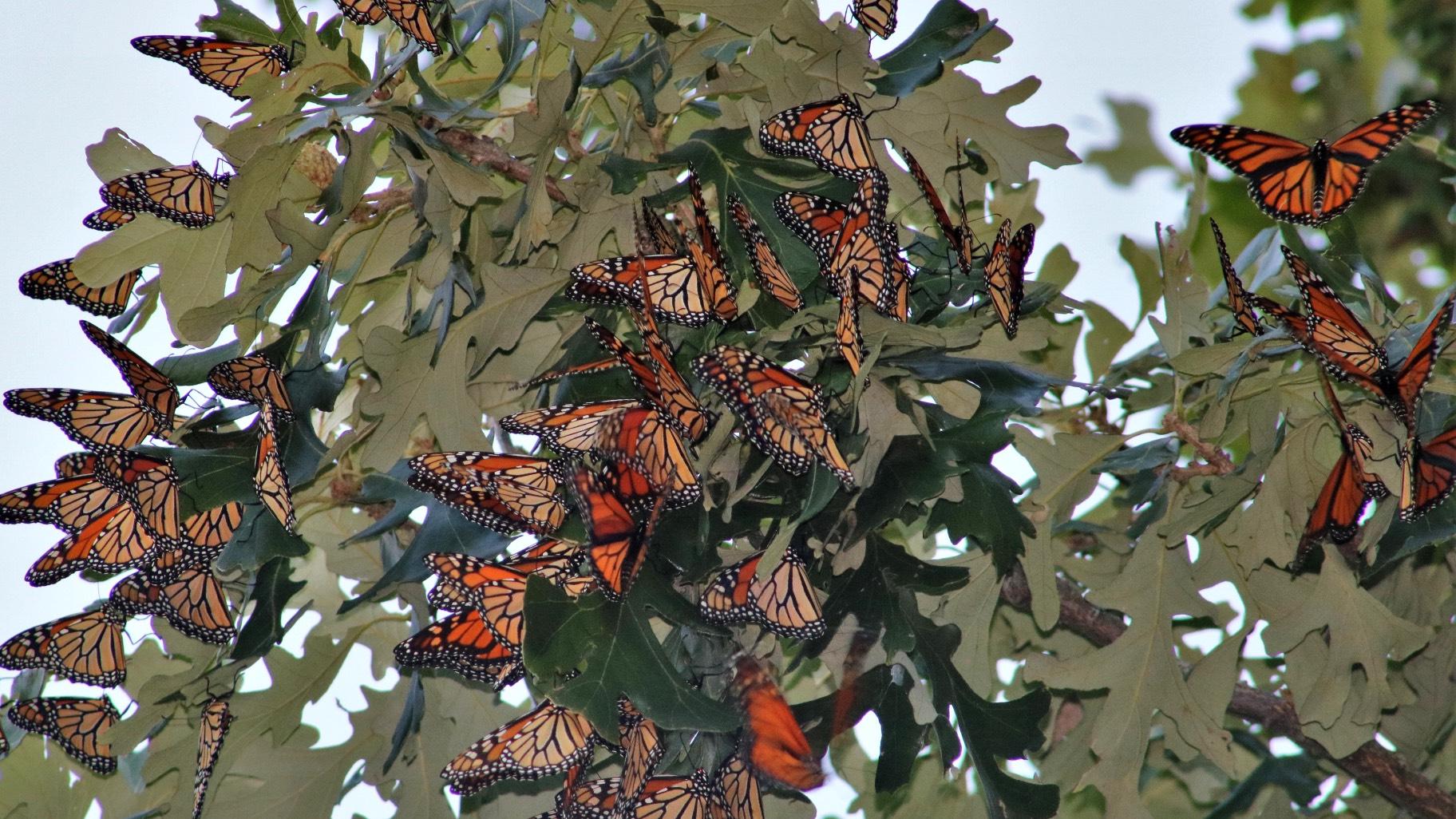 Monarch butterflies roosting in Midewin National Tallgrass Prairie. (Courtesy of Ron Kapala)
It's time for Chicagoans to bid their annual farewell to monarch butterflies as they migrate south for the winter. But before they take their seasonal leave, the butterflies are putting on one last enchanting show.
The normally solitary creatures often gather in clusters (known as roostings) as they make stopovers on their way to Mexico, resting up and refueling on nectar. The number of monarchs roosting can range from a handful to too many to count. Sometimes their pit stop lasts for a single night, sometimes they linger for a week or two.
Staff at Midewin National Tallgrass Prairie, located south of Joliet, are reporting large roostings along the park's Henslow Trail. Though there's no way of knowing how long the butterflies will stick around, people willing to take a chance on a sighting should hit the trail this weekend just after sunrise or just before sunset. Staff say to look near a couple of likely spots on the trail: 1) the intersection of the Henslow with the Group 63 trail and 2) east of Boathouse Road.   
To track the massive wave of monarch migration, observers have created an interactive map that charts the butterflies' progress. 
Here are a few more ideas for ways to explore and enjoy nature this weekend:
Be dazzled
When it comes to late summer/early fall blooms, dahlias deliver the wow factor. Hundreds of the stunning flowers — in every shape, size and color — will be on display at the Chicago Botanic Garden on Saturday and Sunday during the Central States Dahlia Society Show.  Pre-registered timed entry to the garden is required for non-members.
Details: noon-4:30 p.m. Saturday; 10 a.m.-4:30 p.m. Sunday at the Chicago Botanic Garden, 1000 Lake Cook Road, Glencoe. Admission is free; parking for non-members is $20-$30 per car / MAP
---
Chance it
Roll the dice and join Saturday's Ranger's Choice Hike at Indiana Dunes National Park. The ranger will pick the trail based on whatever's most interesting or beautiful. 
Details: 1 p.m. Saturday, Indiana Dunes Visitors Center, 1215 SR-49 Porter, Ind. Free / MAP
---
Think big
Celebrate ecology and community during the annual "Birds, Bikes, and Beats" event at Big Marsh Park. Activities include nature hikes, bird walks, BMX clinics and tours of the newly opened Ford Calumet Environmental Center. DJs and food trucks add to the festivities.
Details: 11 a.m.-4p.m. Saturday, Big Marsh Park, 11599 S. Stony Island Ave. Free / MAP
Contact Patty Wetli: @pattywetli | (773) 509-5623 |  [email protected]
---