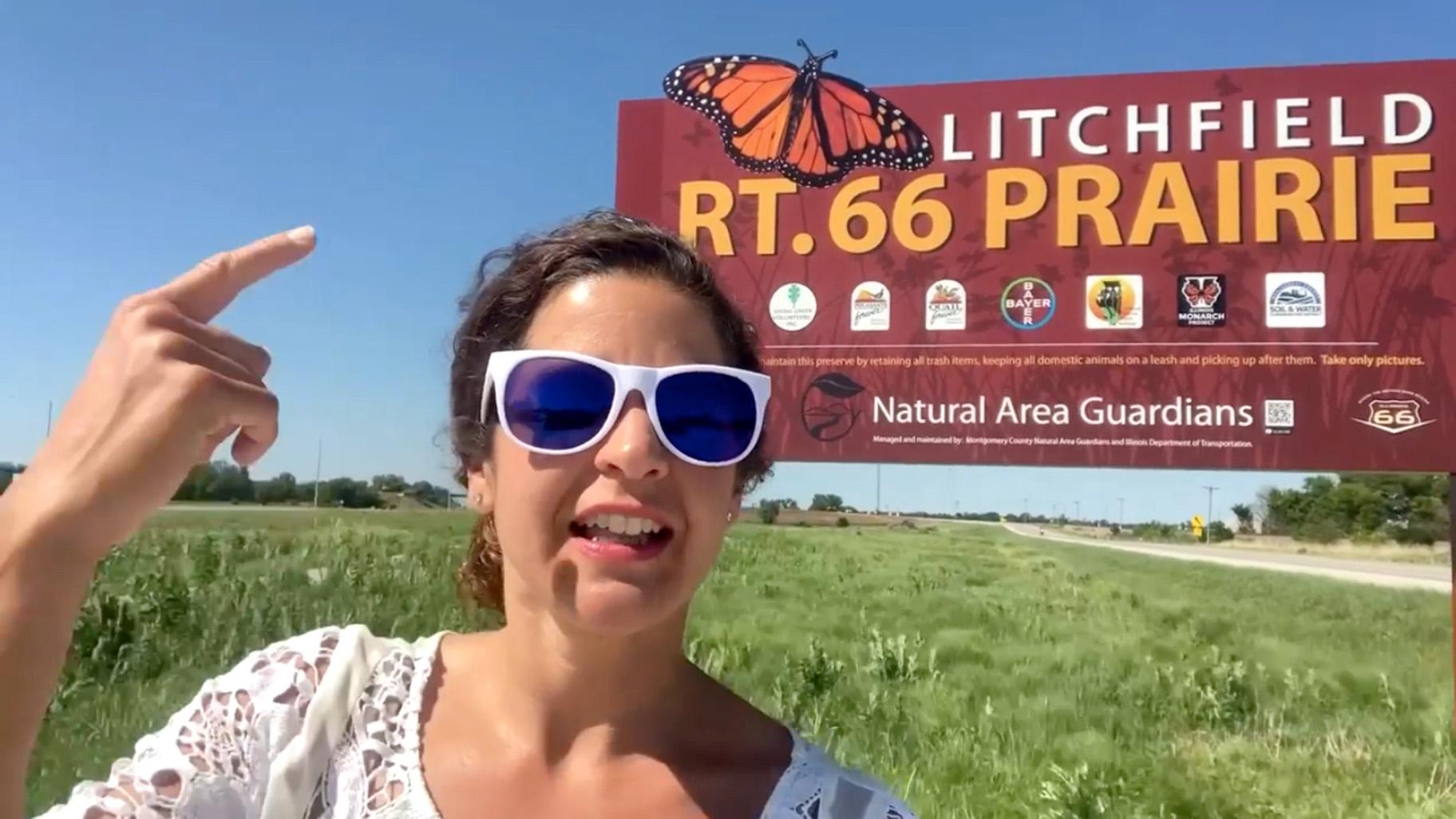 The Route 66 Monarch Flyway combines ecotourism with conservation to save two endangered entities: the monarch butterfly and small towns. (Visit Litchfield Illinois / Facebook)
Casey Wichmann was just a few weeks into her new role as executive director of the Illinois Route 66 Scenic Byway when folks at the Illinois Department of Transportation reached out with a proposition: Let's partner on a monarch butterfly flyway. 
For Wichmann, whose job is to promote economic development and tourism in small towns along Illinois' stretch of the historic yet officially defunct highway, the request was a bit of a head-scratcher.
"I was like, 'What? How do the two even go together?'" Wichmann recalled. "And then we started talking. It's actually a natural fit."
What the roadway can do for the butterfly is simple: Route 66 in Illinois happens to follow the natural migratory path of the monarch, the numbers of which have dropped dramatically in recent years due to the loss of habitat. 
While the department of transportation, which manages 400,000 acres of roadside vegetation, has committed to building monarch-friendly corridors along its property (corridors that benefit other pollinators, too), the scenic byway's footprint is even greater, spanning a width of 66 miles — 33 miles on each side of the route. With the byway's buy-in, monarchs would have even more places to eat and rest on their 2,000-mile journey between summer breeding grounds and winter hibernation, further boosting the species' chance at survival.  
OK, but how do monarchs return the favor?
To be blunt, the businesses on the byway can't survive solely on Route 66's "take a trip down memory lane" appeal. 
"We've got this magnificent road, that is far less traveled than it used to be," Wichmann said. "While it is chock full of history and nostalgia, we have a new wave of tourists coming in, and they want the old, but they also want the new."
A monarch flyway, studded with sanctuaries, gardens and more, sends the message that Route 66 has more to offer than a frozen-in-time capsule of midcentury kitsch.
"Building these habitats is breathing new life into the road. It's showing people that yeah, while this road has all kinds of history, we're also working to continually grow it," she said. "We've found that a lot of our tourists want to see the ecotourism connection, nature is one of the things they're drawn to. You've got two iconic things in Illinois, both on the verge of extinction, why not use them to help each other?"
Since rolling out the flyway concept to her membership in fall 2020, Wichmann said the response has taken off faster than expected, with sizable habitats coming online up and down the route, anchored by Midewin National Tallgrass Prairie. The habitats will be added to the byway's mobile app, similar to other attractions such as restaurants and museums. 
The timing of the flyway also coincides with what Wichmann sees as a resurgence in the old-fashioned all-American road trip, spurred in part by concerns about air travel during the coronavirus pandemic. Forced to stick closer to home, plenty of Illinoisans have discovered the charms of the Route 66 byway in their own backyard. 
"We have people coming from two towns over and they have a great time," she said. "There's so much right here."
Contact Patty Wetli: @pattywetli | (773) 509-5623 |  [email protected]
---