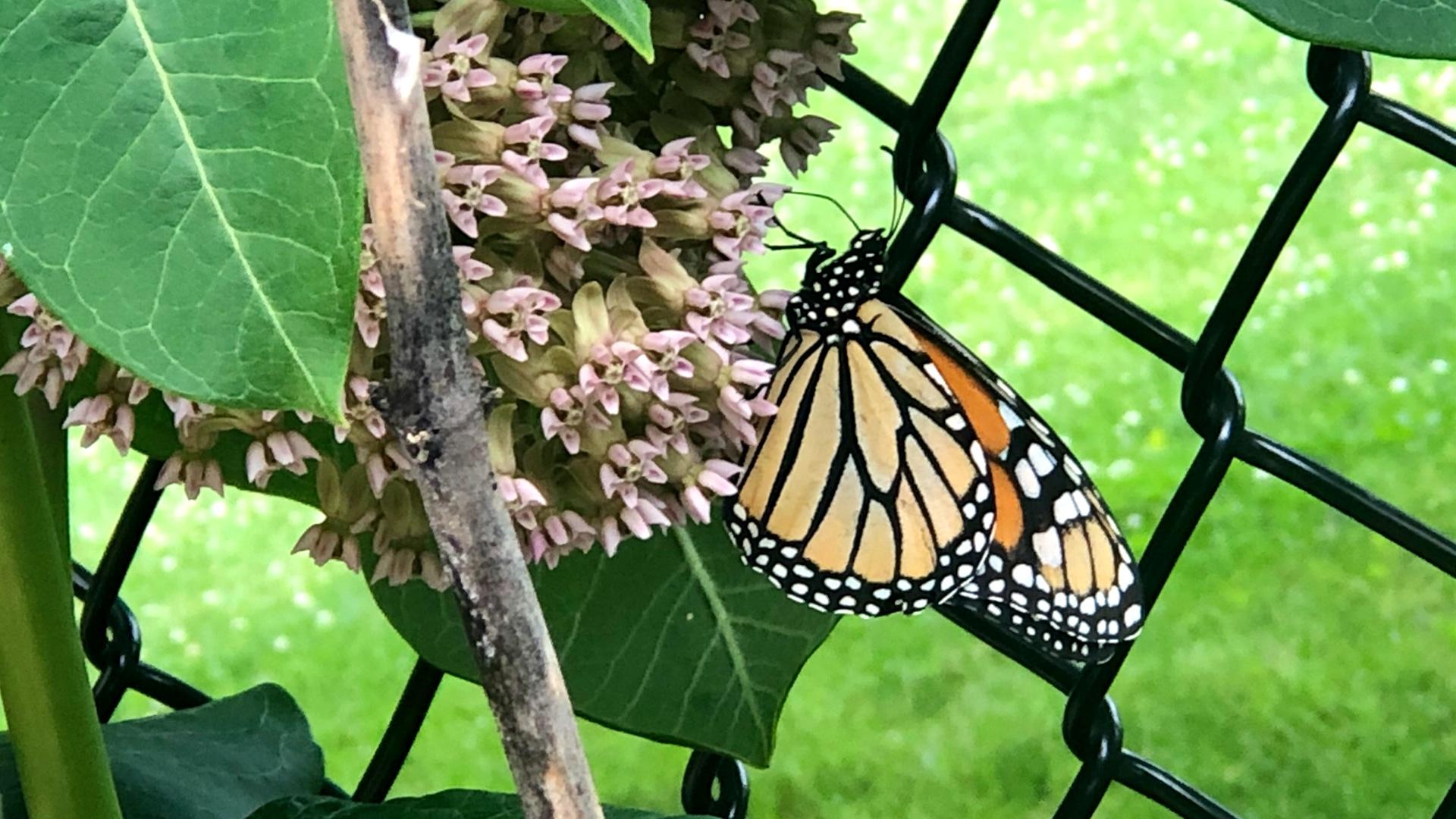 Monarch on milkweed. (Patty Wetli / WTTW News)
World Wildlife Fund-Mexico released the results of its highly anticipated annual survey of the Eastern monarch butterfly population Tuesday, as counted during the 2021-22 overwintering season in the country's Monarch Butterfly Biosphere Reserve.
The figure is reported as the number of acres of forest occupied by the butterfly. For 2021-22, the area showed a 35% increase over the prior year, up from 5.19 acres in 2020-21 to 7 acres in the most recent survey, according to WWF.
While the uptick was viewed as cause for cautious optimism, it's still far below scientists' estimate of the nearly 15 acres needed to sustain the monarch's population in the long term.
"This ... gives us some breathing room as we work to recover monarch numbers," Scott Hoffman Black, executive director of the Xerces Society for Invertebrate Conservation, said in a statement. "But there is still a long way to go to ensure that my grandchildren will be able to see monarchs every summer."
The Xerces Society called the newest numbers a step in the right direction but still indicative of a severe population decline over the past 30 years. Even factoring out an anomalous high-water mark of 44 acres in 1996-97, the general trend would still show a downward trajectory.
2022 Eastern migratory monarch winter population. (Center for Biological Diversity)
Causes of the decline have been pegged as: milkweed depletion along the monarch's migratory route in the U.S. (milkweed being a monarch caterpillar's sole food source); illegal logging in the biosphere reserve; and climate change.
In 2014, when the monarch's winter count plummeted to less than 2 acres, the Center for Biological Diversity and the Center for Food Safety petitioned the U.S. Fish and Wildlife Service to protect the butterfly under the Endangered Species Act. 
Monarchs are currently on the candidate waiting list; Fish and Wildlife has a 2024 deadline to propose the butterfly for protection. The centers' arguments for protection include the loss of 165 million acres of habitat in the U.S. due to development and herbicide spraying that kills milkweed while protecting corn and soybean crops.
"The decline of monarchs tells the story of the extinction crisis unfolding in the United States as policymakers fail to take the bold actions necessary to save wildlife habitat and rein in climate change," Tierra Curry, a senior scientist at the Center for Biological Diversity, said in a statement.
Yet some recent evidence suggests monarchs may be adapting to changes in climate. The Journey North tracks monarchs' spring migration and noted that not only did the butterflies arrive at their wintering ground later than normal in 2021, but they began their spring journey later, as well. 
WWF-Mexico struck a more positive note in its report. 
"The increase in monarch butterflies is good news," said Jorge Rickards, the organization's general manager. "We should continue working to maintain and reinforce conservation measures by Mexico, the United States and Canada."
Contact Patty Wetli: @pattywetli | (773) 509-5623 |  [email protected]
---