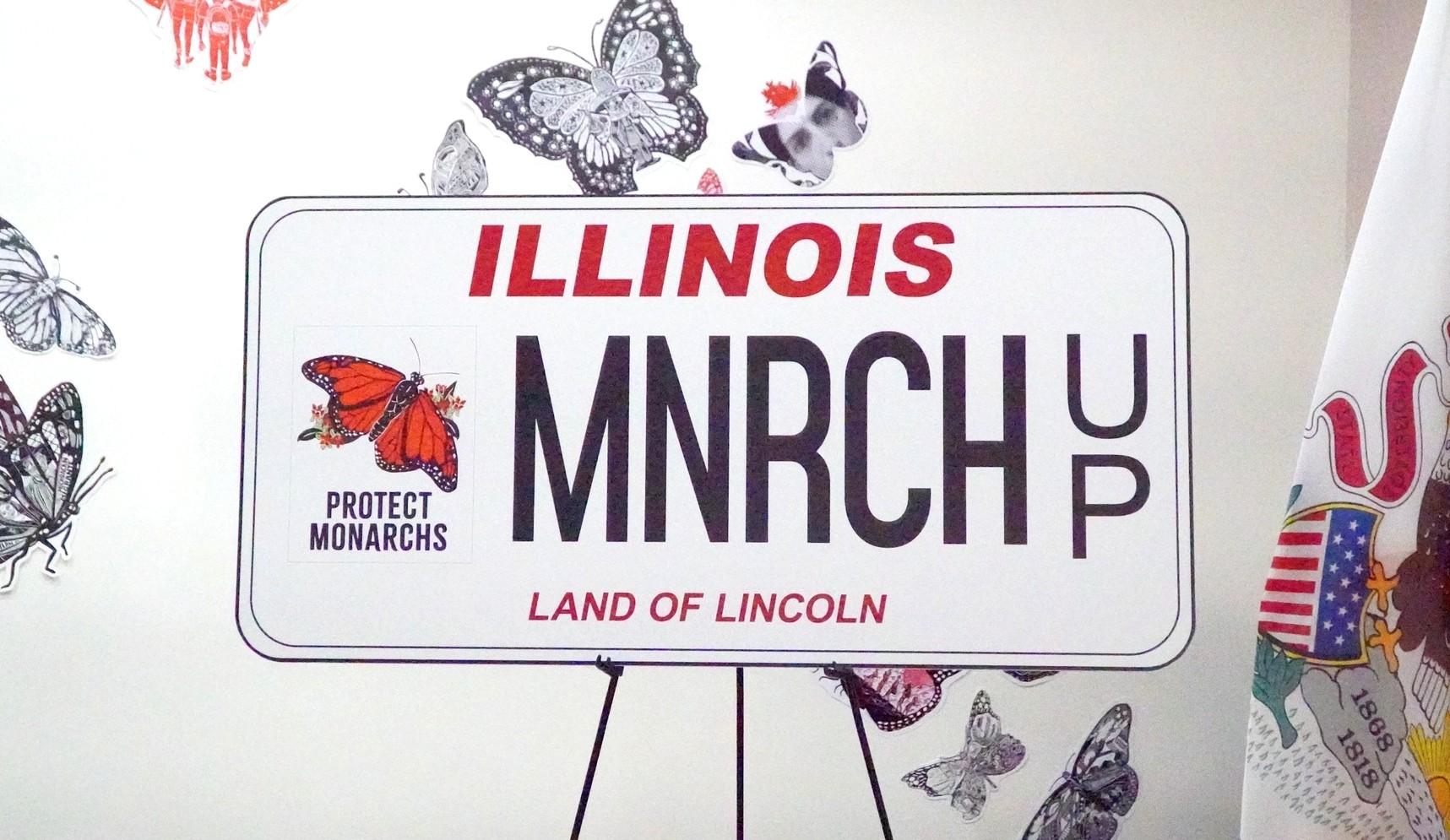 Illinois' new universal specialty license plate design, with monarch butterfly decal. (Illinois Secretary of State / Facebook)
Now you can have your vanity license plate and appear altruistic at the same time.
After a seven-year wait, the state of Illinois will finally begin issuing monarch butterfly specialty license plates, Secretary of State Alexi Giannoulias announced Thursday.
The plates will come with a monarch decal, the first such to be available as part of the state's move to a "universal" specialty plate with a standardized design. Stickers, like the monarch, will be attached to the plate's left side depicting the cause or charity supported.
Proceeds from sales of the plate will go to the Illinois Department of Natural Resources' Roadside Monarch Habitat Fund. To support monarchs as they make their twice-yearly migration between Mexico and Chicago, the department has a goal of adding 150 million new milkweed stems and other nectar sources to Illinois' landscape in the next 15 years.
"The creation of this special license plate is just one of many ways Illinois Department of Natural Resources is committed to monarch conservation," the department's director, Natalie Phelps Finnie, said in a statement. "Our staff is engaged with other organizations, state agencies and the general public to build capacity for putting milkweed and other native plants on the landscape to assist not only monarchs, but all of our native pollinators."
Conservation organizations including the Sierra Club, Natural Resources Defense Council and the Illinois Environmental Council lobbied for the monarch specialty plate and found legislative sponsors in state Rep. Lisa Hernandez (2nd District-Cicero) and state Sen. Laura Murphy (28th District-Des Plaines).
The plate was approved in 2016, but it took until 2018 for the monarch decal to gain the required 2,000 deposits of $10 in order for it to be issued. Hold-ups in the design, and then COVID-19, delayed the rollout, something Giannoulias heard about from constituents while campaigning for secretary of state.
"This is an important issue, not just because it will positively impact the environment and preserve the monarch's cultural significance, but also because it finally makes good on a long-awaited promise," Giannoulias said of Thursday's announcement. "Government needs to work more efficiently and deliver for its residents, which means people shouldn't have to wait seven years to get what they paid for."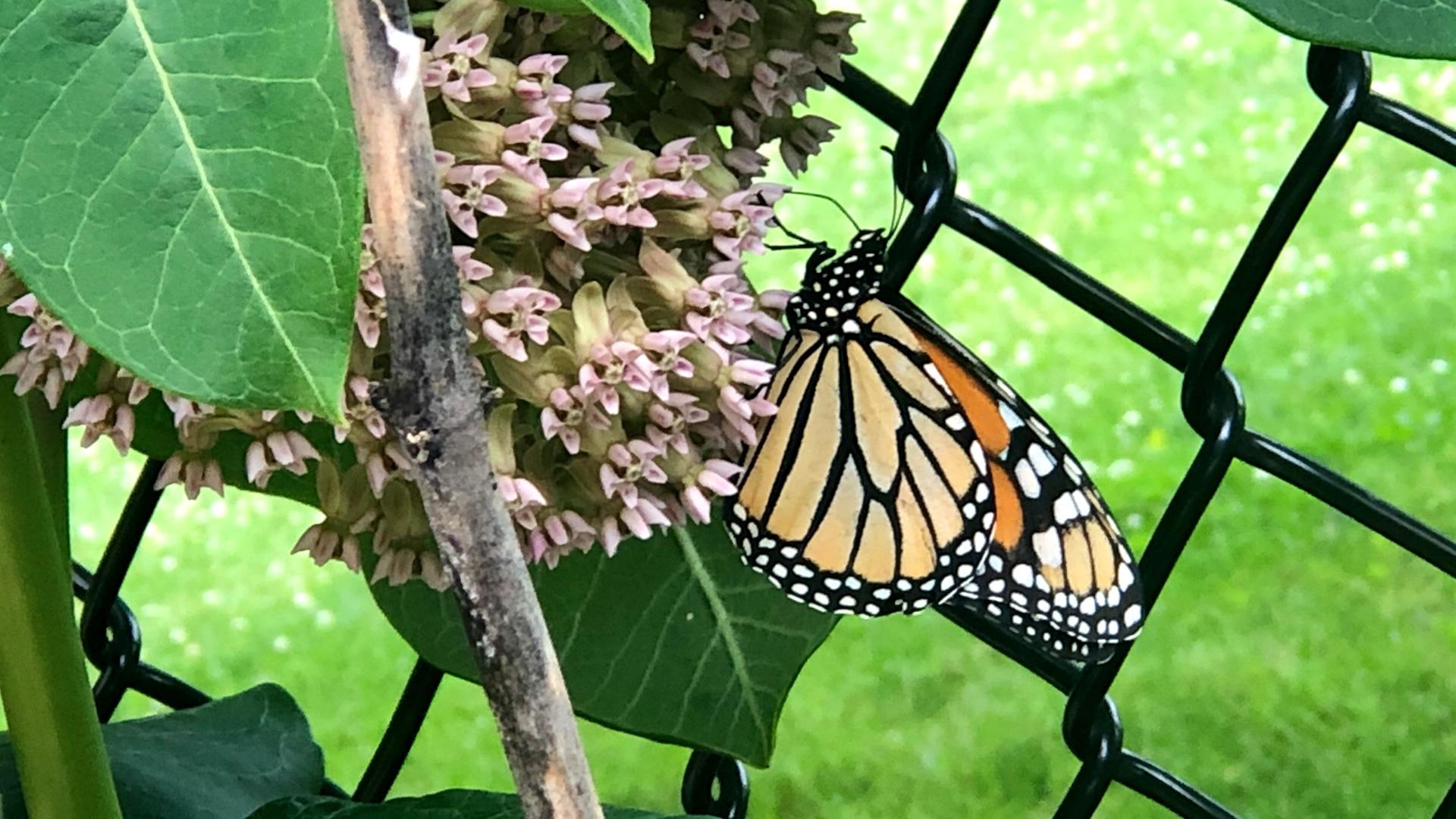 The Illinois Department of Natural Resources will use proceeds from the monarch butterfly sticker to plant more milkweed stems and create more habitat for the endangered insect. (Patty Wetli / WTTW News)
In the time that it's taken for the plate to come to fruition, dozens of generations of monarchs have come and gone, and the insect's status has grown more precarious.
"Sadly, just last year, the International Union for the Conservation of Nature added the migrating monarch butterfly for the first time to its 'red list' of threatened species and categorized it as 'endangered,' two steps from extinct," noted Jen Walling, executive director of the Illinois Environmental Council.
Illinoisians are already doing their part to protect these vital pollinators planting wildflowers and native plants, and reducing the use of pesticides, said Jack Darin, director of Sierra Club Illinois.
Now motorists can join the effort.
"The monarch's amazing journey from Mexico through Illinois and back reminds us that migration is beautiful, natural, and perilous," Darin said. "As Illinois drivers go on their own journeys as they traverse the state, they can proudly protect a crucial piece of Illinois' natural heritage by sporting a monarch butterfly decal."
Those who already paid their deposit can redeem it for the new plate and sticker. The monarch specialty plate is also available to order at ilsos.gov/monarch or by calling (217) 785-0005.
Contact Patty Wetli: @pattywetli | (773) 509-5623 |  [email protected]
---