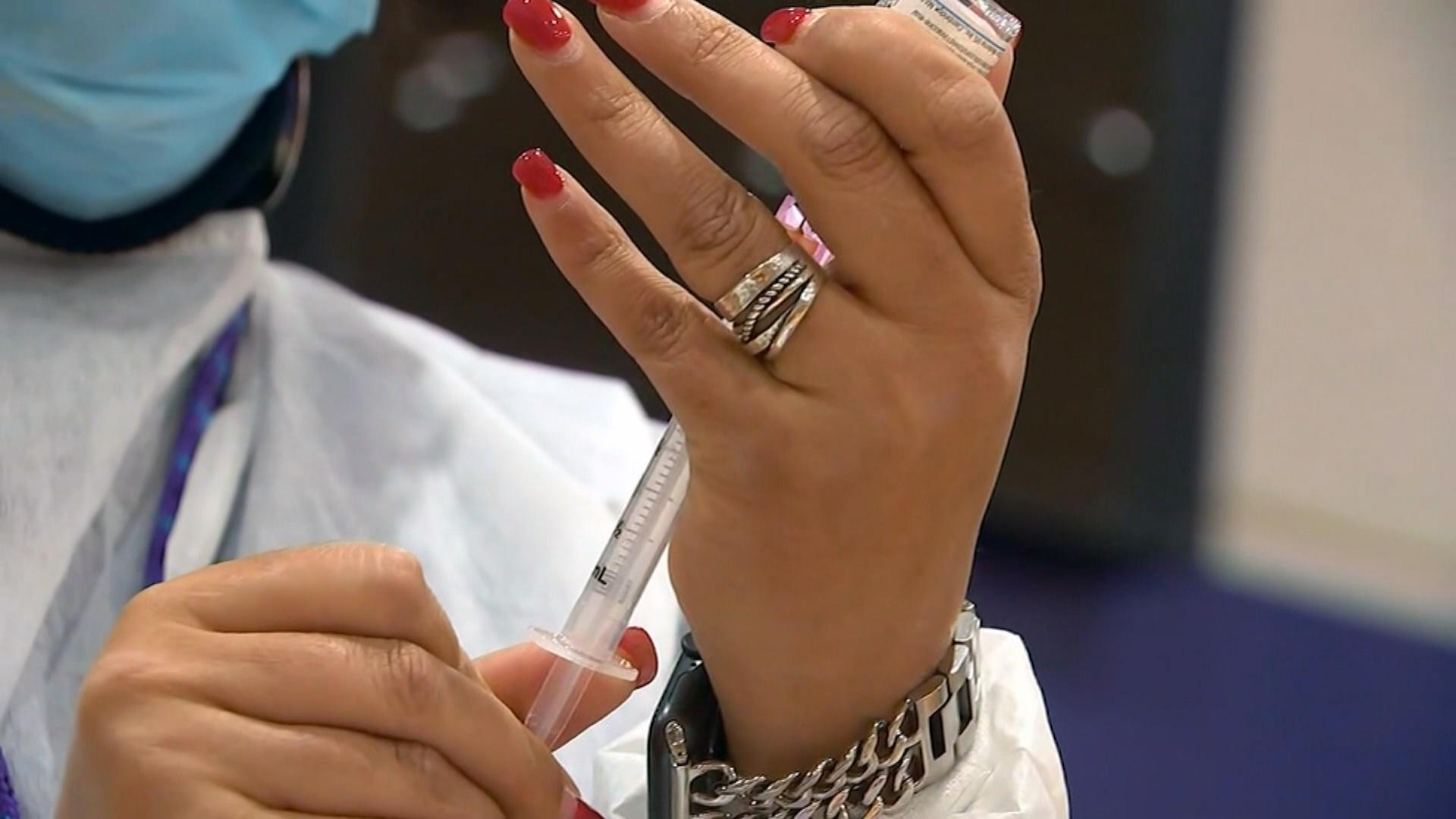 (WTTW News)
Chicago officials will expand their efforts to bring lifesaving vaccines directly to those who have yet to be vaccinated by going door-to-door in more parts of the city while launching an effort to contact unvaccinated residents by phone.
Since outreach workers started going door-to-door at the beginning of June in 13 neighborhoods that had the lowest vaccination rates at the time, teams have knocked on approximately 16,500 doors in 47 neighborhoods. More than 4,500 conversations with residents about COVID-19 vaccines have taken place, officials said.
At its peak in mid-April, the city administered more than 30,000 doses of one of the three approved COVID-19 vaccines per day on average, according to city data. 
This week, the city administered approximately 4,500 doses per day, after dropping below 4,000 doses earlier this month, according to city data.
Chicagoans interested in getting vaccinated against COVID-19 can find an appointment or walk-in opportunity on the city's calendar or by calling the city's vaccine hotline at 312-746-4835.
Anyone ages 12 and older can get vaccinated against COVID-19 in their home and get a $100 Visa gift card. 
Dr. Allison Arwady, the commissioner of the Chicago Department of Public Health, said that incentive, funded with federal grants, was boosting the number of the vaccinations in Chicago.
Vaccination rates in Austin, East Garfield Park, Humboldt Park, North Lawndale and West Garfield Park have improved since the outreach effort started, officials said.
More than 61.9% of Chicagoans have gotten at least one COVID-19 vaccine dose, according to city data.
White Chicagoans are more likely to have been vaccinated against COVID-19 than Black or Latino Chicagoans, according to city data.
Approximately 61.1% of White Chicagoans have received both doses of the COVID-19 vaccine while 63.5% of Asian Chicagoans are fully vaccinated, outpacing Black and Latino Chicagoans who are significantly more likely to contract the virus and suffer severe illness or die, according to city data through Wednesday.
Approximately 40.4% of Black Chicagoans have gotten the first shot, while more than 49.5% of Latino Chicagoans have gotten at least one dose, according to the city's data.
Vaccines became available to all Chicagoans older than 12 on April 19. 
Since May 25 — given that it takes five weeks to become fully vaccinated against COVID-19 with two doses of the Pfizer vaccine — 333 Chicagoans have died from COVID-19, the vast majority of whom were not vaccinated against the virus.
More than 54% of those who died of COVID-19 in Chicago since May 25 are Black, according to city data. Black Chicagoans make up less than 29% of the city's population. 
Contact Heather Cherone: @HeatherCherone | (773) 569-1863 | [email protected]wttw.com
---