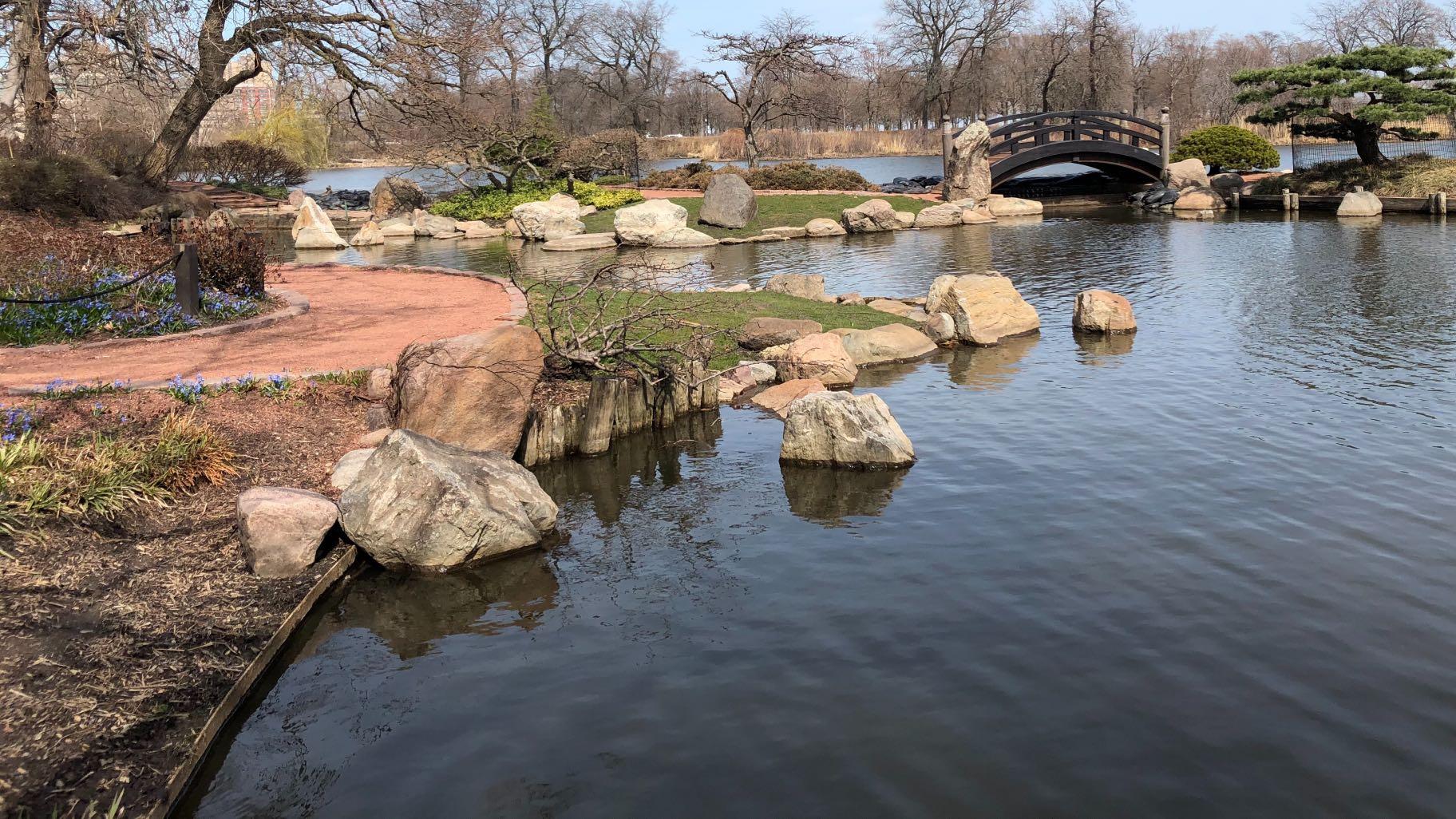 Wooded Island's Japanese Garden, in spring. (Patty Wetli / WTTW News)
Another controversy is brewing at Jackson Park, even as the battle over the Obama Presidential Center continues to simmer.
The latest point of contention: gates installed by the Chicago Park District to keep people out of the park's Wooded Island, including the Japanese Garden, at night.
During a recent meeting of the district's board of commissioners, neighbors spoke both in favor of and against the gates, with the agency caught in the middle.
Louise McCurry, president of the Jackson Park Advisory Council, is among those who pushed for the gates. She cited extensive vandalism of the island and garden after dark, including the theft of animals such as turtles, the destruction of wildlife habitat and graffiti sprayed on sacred rocks.
Measures like added security haven't dissuaded people, McCurry said. Closing the gates from dusk to dawn will help preserve plants and wildlife, she said.
Other neighbors disagreed, objecting to restricted access, particularly during the coronavirus pandemic, with Jackson Park serving as an important refuge for nearby residents.
Questions were also raised regarding priorities, with the gates popping up seemingly overnight while other maintenance continues to be deferred.
Chicago Park District CEO and General Superintendent Mark Kelly said the gates had been requested for years, but the district had hesitated to act in anticipation of precisely the sort of backlash that emerged.
"I know people are upset but you can't tell me there's not bad activity there after dark," Kelly said. "I've seen it with my own eyes."
The gates have yet to be locked, though securing them at night and opening them in the morning is the eventual intention, Kelly said.  
Contact Patty Wetli: @pattywetli | (773) 509-5623 |  [email protected]
---