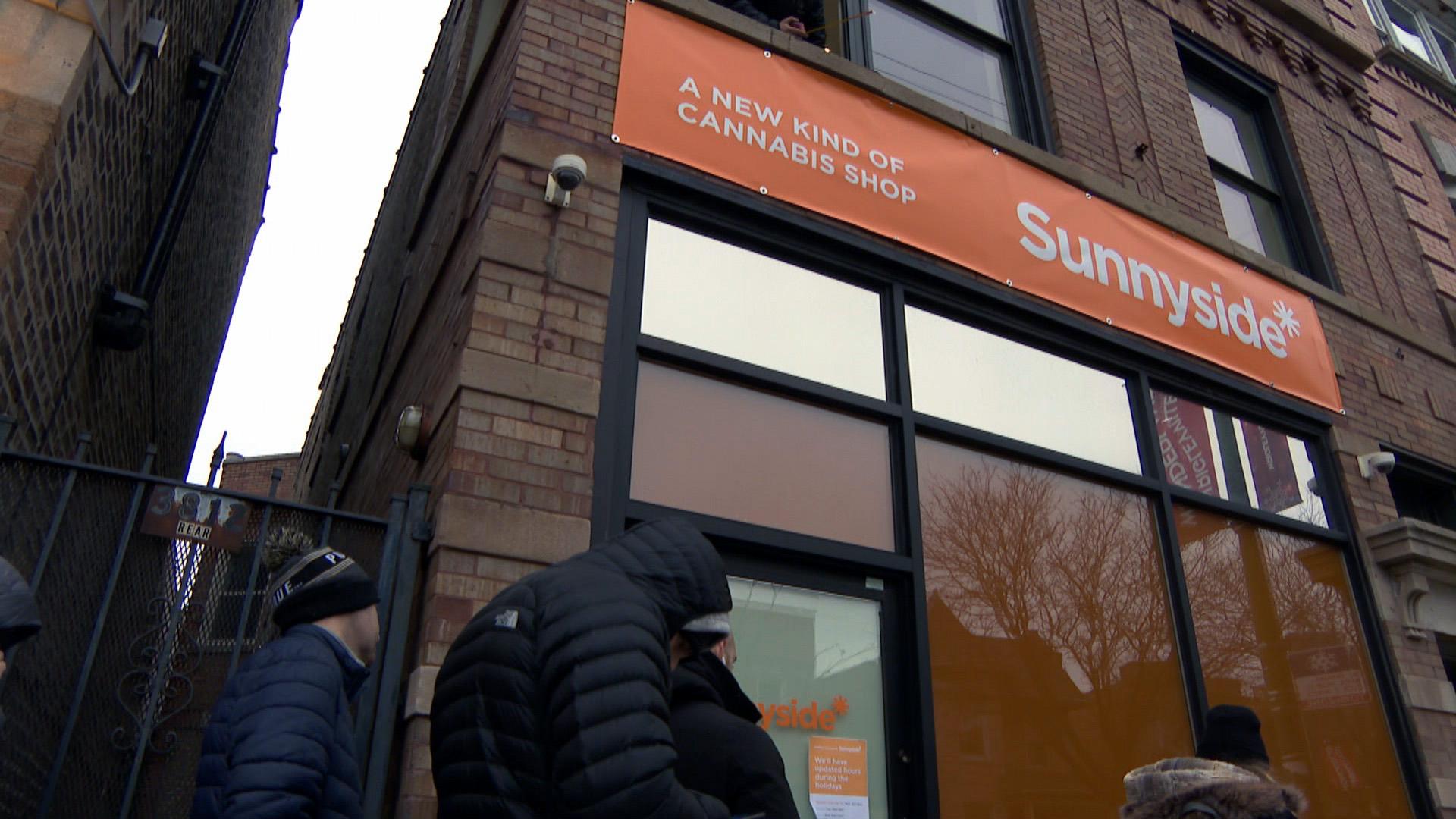 Workers put the finishing touches on the Sunnyside dispensary in Lakeview on Dec. 30, 2019, just two days before recreational marijuana became legal in Illinois. (WTTW News)
A push by Mayor Lori Lightfoot to allow cannabis to be sold legally downtown cleared a key city panel on Wednesday, even though it won't allow Michigan Avenue to become a "pot paradise."
After a lengthy hearing, the City Council's Zoning Committee voted 14-4 to send the proposal from Lightfoot to the full City Council for a final vote on Sept. 14.
When the city allowed legal sales of cannabis to begin Jan. 1, 2020, pot shops were prohibited from opening anywhere in the city's central business district amid concerns it could make the city's main shopping district less attractive to deep-pocketed families and tourists looking for G-rated fun.
The proposal from Lightfoot would narrow those restrictions to include just a narrow strip between Michigan Avenue and State Street from Division Street on the north to Van Buren Street on the south, as well as from Michigan Avenue between Ohio and Illinois streets east to Navy Pier. In addition, dispensaries would be banned from opening on south Michigan Avenue between Van Buren and 16th Street.
In January, Ald. Brendan Reilly, whose 42nd Ward includes most of downtown Chicago, introduced a proposal to allow cannabis sales on the Magnificent Mile — only to have Lightfoot declare: "We're not turning Michigan Avenue into the pot paradise."
In addition, the new rules will also no longer divide the city into seven zones for cannabis sales, and would lift the cap of seven dispensaries in each zone, said Will Shih, a policy analyst for Lightfoot. 
Cannabis dispensaries would also be permitted to open without special permission from city officials in more parts of the city where businesses and commercial operations are allowed. Operations that grow, process or infuse cannabis would be allowed in areas of the city where manufacturing operations are permitted — as long as any facility is at least 650 feet from any residences.
That will help dispensaries that won licenses in a lottery designed by state officials to help Black and Latino Illinois residents — as well as those who'd been punished, and even sent to prison, when using and selling marijuana was a criminal activity — get a piece of the lucrative legal pot business, Shih said.
Of the 185 licenses awarded by the state as part of that process, 119 could open in Chicago — or its suburbs. Unless the City Council changes the rules, more dispensaries could choose the suburbs, where the rules are less onerous, costing Chicago tax revenue, Shih said.
The current rules allow a total of 34 dispensaries in Chicago, but the restrictions have meant that only 18 have opened their doors, Shih said. None are owned by Black or Latino entrepreneurs. 
"We have been behind the eight-ball for the last two years in trying to get equity right," said Ald. Tom Tunney (44th Ward). 
But Ald. Anthony Beale (9th Ward), who was one of four aldermen to vote against the proposal from Lightfoot, said the new rules would not ensure that Black and Latino Chicagoans hurt by the war on drugs would benefit from the legalization of marijuana.
"The fix is in," said Beale, who was joined by Alds. Raymond Lopez (15th Ward); David Moore (17th Ward) and Byron Sigcho-Lopez (25th Ward) in voting to reject the mayor's proposal. "We're being hoodwinked once again. I hope my colleagues wake up."
Contact Heather Cherone: @HeatherCherone | (773) 569-1863 | [email protected]
---