Texas has taken a controversial approach to banning abortions once cardiac activity is detected, with a law that allows private citizens to sue anyone involved with the procedure. The law went into effect last week after a split Supreme Court rejected a challenge to the ban, citing legal complexities.
The law has sparked divergent opinions.
Illinois Right to Life Director Amy Gehrke calls it a tremendous victory.
"We are thrilled about the Texas law as you can image," she said. "We know that this law will save over 300 babies a year in Texas. We know that this a protected, pro-life law that not only protects unborn children but it protects their mothers from a very predatory abortion industry as well."
State Rep. Anna Moeller, D-Elgin, who is the sponsor of a measure that would expand access to abortions in Illinois, said the law is the result of a decades-long attack on abortion rights.
"The Texas law shows us the full picture of a truly radical attack on reproductive rights, authorizing anti-abortion activists to essentially seek out a bounty on women trying to access the health care that they need and those who are trying to assist them," she said.
But there are several points on which advocates on both sides do agree.
For one: The case is a signal portending the potential gutting of Roe v. Wade, which since 1973 has protected a woman's right to have an abortion in the United States.
The nation's high court will this fall consider the Dobbs v. Jackson Women's Health Organization case, challenging a Mississippi law that bans abortions before a fetus is viable.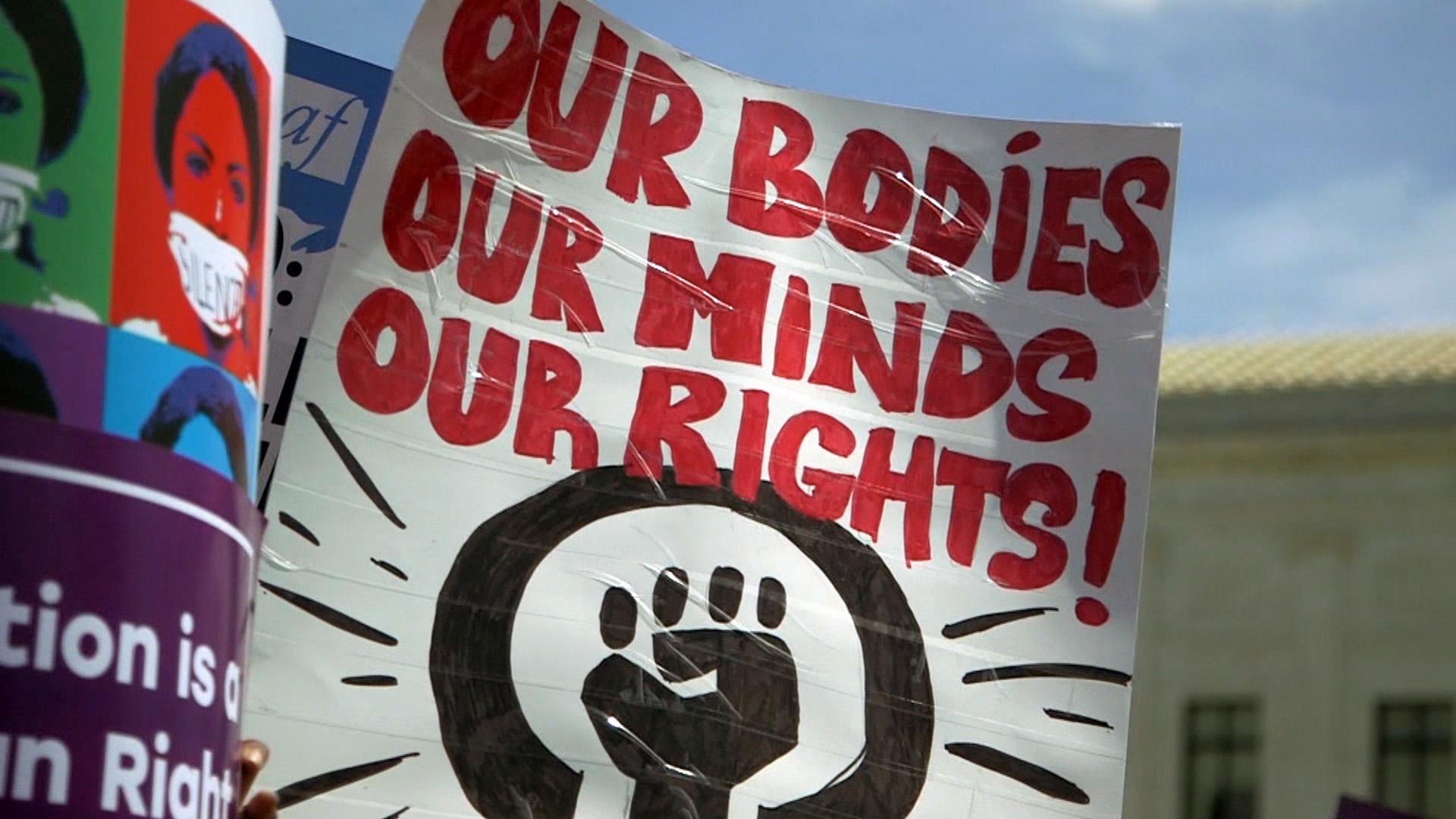 Abortion rights protesters hold signs at a rally in this file photo. (WTTW News)
If Roe v. Wade is dismantled, both sides also agree that it won't have a direct impact in Illinois due to a law that anticipates that possibility.
"If Roe v. Wade goes away — maybe we should start to be honest and say when Roe v. Wade goes away — it's put back to each state to make its decision about whether to allow abortion in their states, and so what we have in Illinois is the Reproductive Health Act that makes sure a patient can get a safe and legal abortion in our state," Planned Parenthood Illinois President Jennifer Welch said.
Gov. J.B. Pritzker signed the Reproductive Health Act into law in 2019. In addition to codifying the right to abortions and birth control in Illinois, the act takes references to abortions out of Illinois' criminal code and requires insurers to cover abortions.
The political dynamics in Springfield mean the act won't be diminished any time in the near future.
But there is another law on Illinois' books that anti-abortion and abortions rights activists alike are watching closely: Illinois' parental notification law, which requires providers to contact a parent if someone aged 17 or younger seeks an abortion.
Gehrke says preserving what she calls Illinois' last remaining pro-life law is her organization's top priority.
"This has been couched as an abortion bill and on its face it looks that way, but this bill is really about protecting parents' rights to be involved in the health care decisions of their minor daughters. And also to protect minor girls from human traffickers, sex predators, etc.," she said. "Abortion clinics don't ask a lot of questions when someone comes in, and we also know that it is bad for sexual predators when their victims become pregnant."
Gehrke said women caught in sex trafficking are coerced into having abortions.
The law, she points out, doesn't require a parent's consent, just that they are given notice.
But Moeller says the 48-hour notification requirement puts minors in danger.
It's her priority to get it repealed as soon as possible, she said.
"There are young women in our state and there will be young women coming to Illinois seeking constitutionally protected access to health care who don't have relationships, or health relationships, with the adults that are listed in the Parental Notification Act that are required for notification, and are fearful of having these adults being notified by a doctor about this care. And it's putting them in harm's way," Moeller said.
The law permits a minor to seek a judicial bypass, essentially asking a judge for permission to have an abortion without notice to the patient's legal guardian.
Moeller says abortions are the only procedure in pregnancy that require notification; a young woman could have potentially dangerous procedures as part of the pregnancy without any parental involvement.
Her attempt to repeal the notification law did not advance during the 2021 regular legislative session that ended in May, despite Democratic supermajorities in the General Assembly and a legislative makeup similar to the one that approved the Reproductive Health Act.
But Moeller is hopeful it will pass when legislators resume meeting — their earliest chance could be Thursday, when the legislature will be back at the statehouse for a special session focused on an energy package.
Abortion rights legislators may be galvanized by the Texas law, especially as Planned Parenthood's Welch suspects other states may soon copy it.
"I think it's going to be a little bit of a race to the bottom for some of our surrounding states to see which of them can pass a similar law the quickest," Welch said, including Kentucky and Missouri. "When the Supreme Court, we'll say 'punted' last week by not stopping this law from becoming effective when the case wound through the courts, then every state that wants to have a restriction like this felt emboldened to give that a try."
She wants Illinois women to know that despite the Texas law, abortions are still legal in Illinois, and safe care is available at Planned Parenthood's 17 clinics and telehealth option.
"We have to be honest about what this law does, and the thing that we're still struggling with, even in Illinois where abortion is safe – the question is, is it really accessible? Because we know that a system of disinvestment and racism has meant that health care isn't everywhere," Welch said. "People with wealth and means and transportation and the ability to take multiple days off of work will be able to travel for care. But people who already have barriers to health care, people who are in those exact communities that have been most impacted by the COVID pandemic – Black and brown people, people in rural communities, people in health care deserts, they're most impacted by this law and they will really have the challenges of finding the funds and the time and the childcare to travel for care because of this horrible Texas law."
That Illinois welcomes those from states with severe restrictions on abortions to have the procedure here is among Illinois Right to Life's chief concerns.
"All of our surrounding states have very protective pro-life laws. Missouri, in fact, basically has no abortion any more," Gehrke said. "Wisconsin, Indiana and Iowa too are states with lots of pro-life protective laws. Illinois on the other hand is an island of abortion extremism right in the middle of the nation. And Gov. Pritzker has made no secret of the fact that he wants Illinois to be an abortion destination for women not only in the Midwest but throughout the country. Illinois' abortion laws are really, really out of touch with what the rest of the nation would find reasonable."
The governor last week said he was "very concerned" about the Texas abortion ban, and that he is focused on making sure Illinois is a "beacon of hope for women who need reproductive health."
"Shame on those Texas lawmakers for taking away not just women's rights, but women's health," said Pritzker, a Democrat. "Banning abortion does not keep women safe."
Pritzker in July signed a law that makes birth control available without a prescription. Come January, pharmacists will be able to dispense hormonal birth control without a doctor's order.
Follow Amanda Vinicky on Twitter: @AmandaVinicky
---