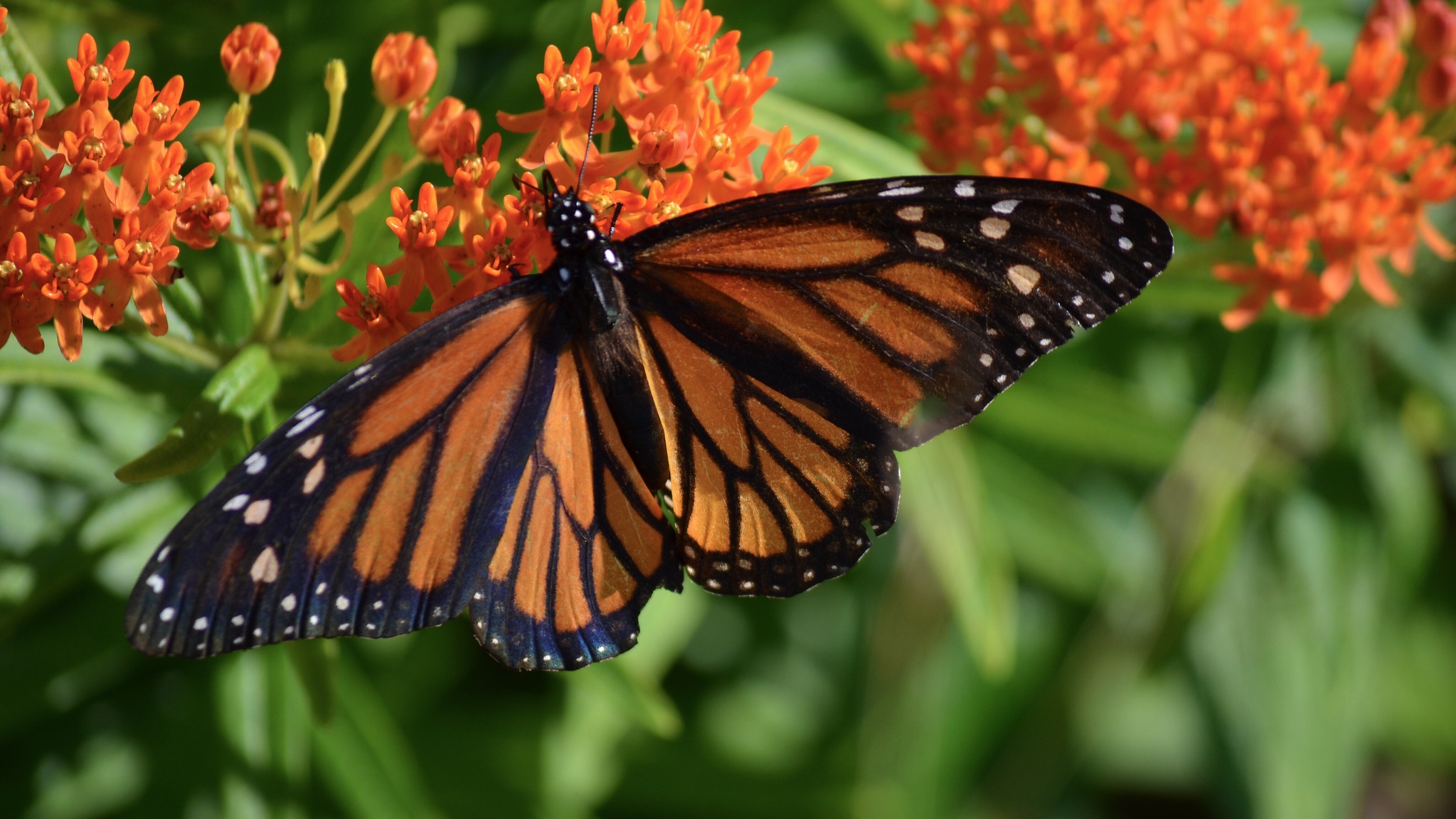 A monarch butterfly on butterfly milkweed. (U.S. Fish and Wildlife Service Midwest Region / Flickr)
Gardeners across Chicago have dutifully been adding milkweed to their landscaping in an effort to save the monarch butterfly, milkweed being the exclusive source of food for monarch caterpillars.
But to truly reverse the butterfly's precipitous decline, well, that calls for the kind of coordinated effort gardeners alone can't muster.
Enter the University of Illinois at Chicago, which brought some powerful players to the table in the bid to rescue the monarch.
This week, UIC's Energy Resources Center announced the culmination of a nearly three-year effort to develop a nationwide Candidate Conservation Agreement with Assurances (CCAA) related to the monarch. The CCAA lays out a formal process for power companies, railroads and departments of transportation to voluntarily convert portions of their respective rights-of-way to habitat that will support monarchs and other pollinators. 
"It's been a long road, but in the scheme of these sorts of agreements, everyone keeps reminding me that it's actually been a very short road," said Iris Caldwell, program manager at the Energy Resources Center, which will administer the agreement.
The dramatic drop in the monarch population in the last two decades — with losses placed between 68% and 80% — has been of deep concern given the vital role pollinators play in global food production.
A White House task force, convened in 2014-15, pointed to habitat loss as a significant contributor to the butterfly's sudden scarcity, an issue the Energy Resources Center was in a position to address. With contacts in both the public and private sectors, UIC took a lead role in forming the Rights-of-Way As Habitat Working Group, which grew to a nationwide effort.
"The amazing thing is, rights-of-way — roadsides, utility line corridors, railways — there's millions of acres of rights-of-way all across the country, and they serve as these really unique habitat conservation opportunities," Caldwell said. "We definitely don't think about them that way. We don't fly down the highway and think, 'Hmm, that's possible habitat right there,' but the more we engaged with industry in these conversations, with environmental groups and conservation specialists, the more we realized, hey there's a lot of opportunity here."
The Illinois Department of Transportation, for example, altered its roadside mowing practices, leaving more native plants intact. IDOT's counterpart in Ohio began experimenting with pollinator gardens at highway rest areas. And solar power operators have started swapping out gravel and grass for wildflowers at their installation sites.
"What has been really exciting to see, we've had interested participation from Maine to Arizona, all along the [monarch's] migration path," said Caldwell.
But some entities were reluctant to undertake conservation efforts because of the looming possibility that the monarch could be listed under the Endangered Species Act. That would mean any habitat they created for the butterflies would come under additional regulations and layers of red tape would be added to previously routine projects, Caldwell said.
What the just-announced CCAA does is offer power companies, transportation agencies and other rights-of-way landowners an "insurance policy" that the conservation practices they sign up for today will be the ones they'll be held to tomorrow, even if the butterfly is officially declared endangered.
Cynics might call that a "loophole" for industry and corporations. A more pragmatic view would be that the CCAA is the type of compromise that's been in short supply in recent years.
The Rights-of-Way group brought together stakeholders from both sides of the aisle and collaborated on the CCAA terms with the U.S. Fish and Wildlife Service from day one, Caldwell said.
"We've been bouncing ideas back and forth between their team [Fish and Wildlife] and our industry representatives. We meet on a monthly basis to have these conversations and to work through some of these concerns around what's going to provide the best benefit to the monarch and also what's going to be workable for industry," she said.
The agreement outlines a number of conservation actions, from planting species like milkweed to using targeted herbicides that kill weeds but leave pollinator habitat untouched. UIC will coordinate monitoring, tracking and reporting across all partners who enroll in the CCAA. Though signing up is voluntary, compliance isn't. There's a process for removing entities from the agreement if they fail to hold up their end of the bargain, in which case they'd lose their aforementioned "insurance policy." 
"So that's an incentive," Caldwell said.
The CCAA has a 25-year lifespan, and during that period the goal is to create 2 million acres of habitat. Approximately 20 organizations are currently enrolled, with another 40 to 50 having expressed "strong interest," she said.
"It's really stunning when you think about just the number of acres of these corridors that we have across the U.S. And certainly they're serving an important purpose of transporting our energy and goods and so forth but to think that they could also serve this benefit for the monarch is incredible," Caldwell said. 
Contact Patty Wetli: @pattywetli | (773) 509-5623 |  [email protected]
---