Tucked away in Chicago's Little Village neighborhood is a record label breathing new life into forgotten music of the past.
Numero Group was founded in 2003 by Ken Shipley and Rob Sevier. The archival music label specializes in releasing often overlooked music spanning multiple genres from the 1950s to about 2000.
Numero Group co-founders Rob Sevier, left, and Ken Shipley, right, in their record label's shop on July 29, 2021. (WTTW News)
"It's about creating an alternative timeline for popular music," Shipley said. "So you have what's known as 'the hits,' your Frank Sinatras, your Earth, Wind and Fires, your Pat Benatars, whatever – and then there's a bunch of other stuff that's underneath there that for one reason or another didn't make it."
The South Side preacher and gospel musician Pastor T.L. Barrett is perhaps one of Numero Group's best-known artists. The soulful and spiritual music Barrett recorded with his youth choir in the 1970s has reached new audiences in recent years – Kanye West sampled several of his songs and Under Armour used his music in a television ad.
"It is really wonderful, but not just for me," Barrett said. "But for those young people that I promised that their labor would be productive and that they would hear their songs on the radio – I didn't know it was gonna take this long."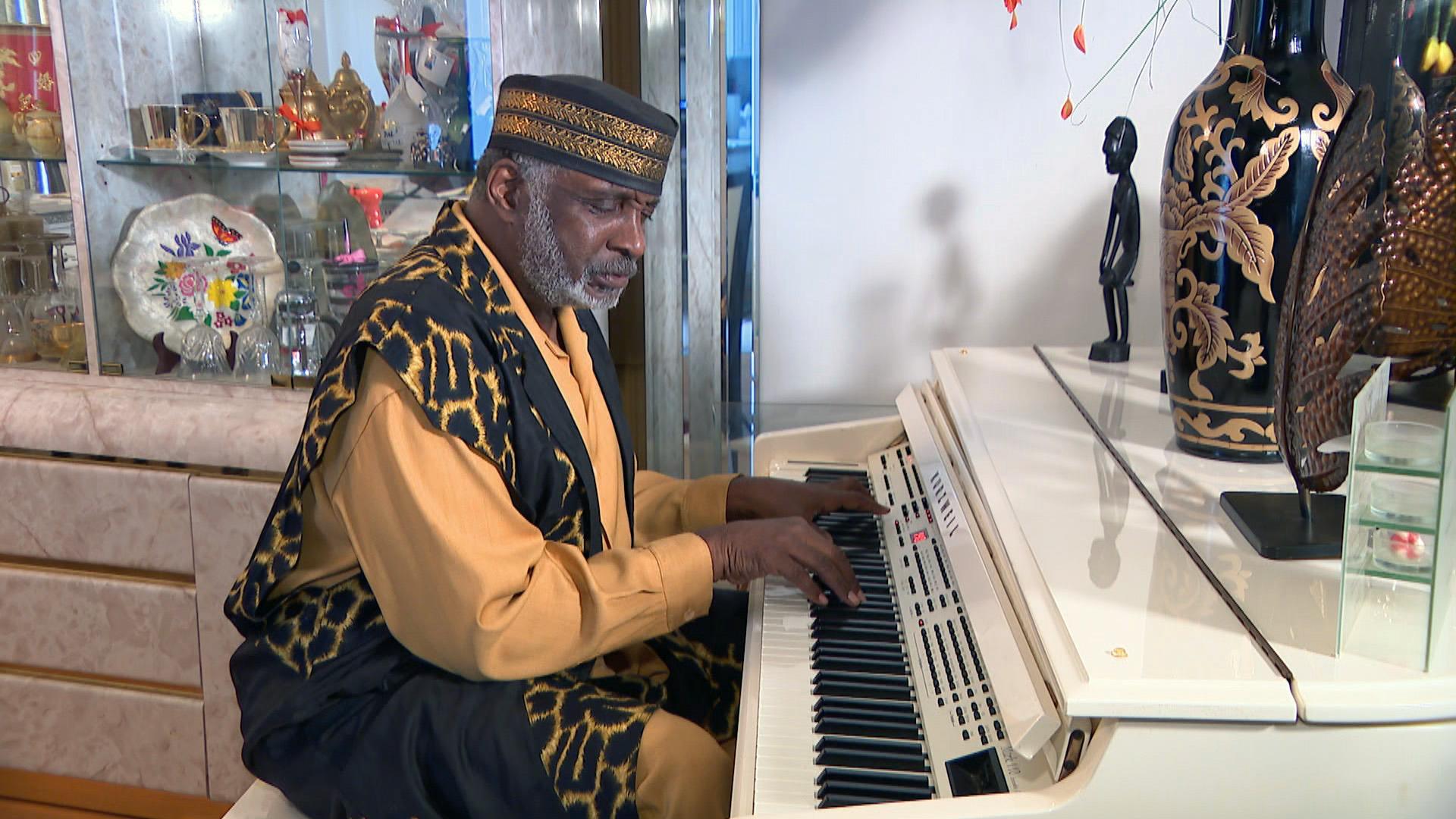 Pastor T.L. Barrett plays piano at his home on July 30, 2021. (WTTW News)
While Numero Group was working on a project related to the local 1980s TV show "The Chicago Party," the label discovered the Universal Togetherness Band, a dance-funk group that performed on the show in 1982, but never released any music before breaking up in the mid-1980s.
"The main obstacle to them being discovered before this is that they had never put out any records whatsoever," Sevier said. "So really there was a very small chance of the Universal Togetherness Band ever being discovered and we got lucky enough to discover them."
The backing track played during their "Chicago Party" appearance was from one of several sessions the band recorded at Columbia College Chicago while frontman and multi-instrumentalist Andre Gibson was a student there.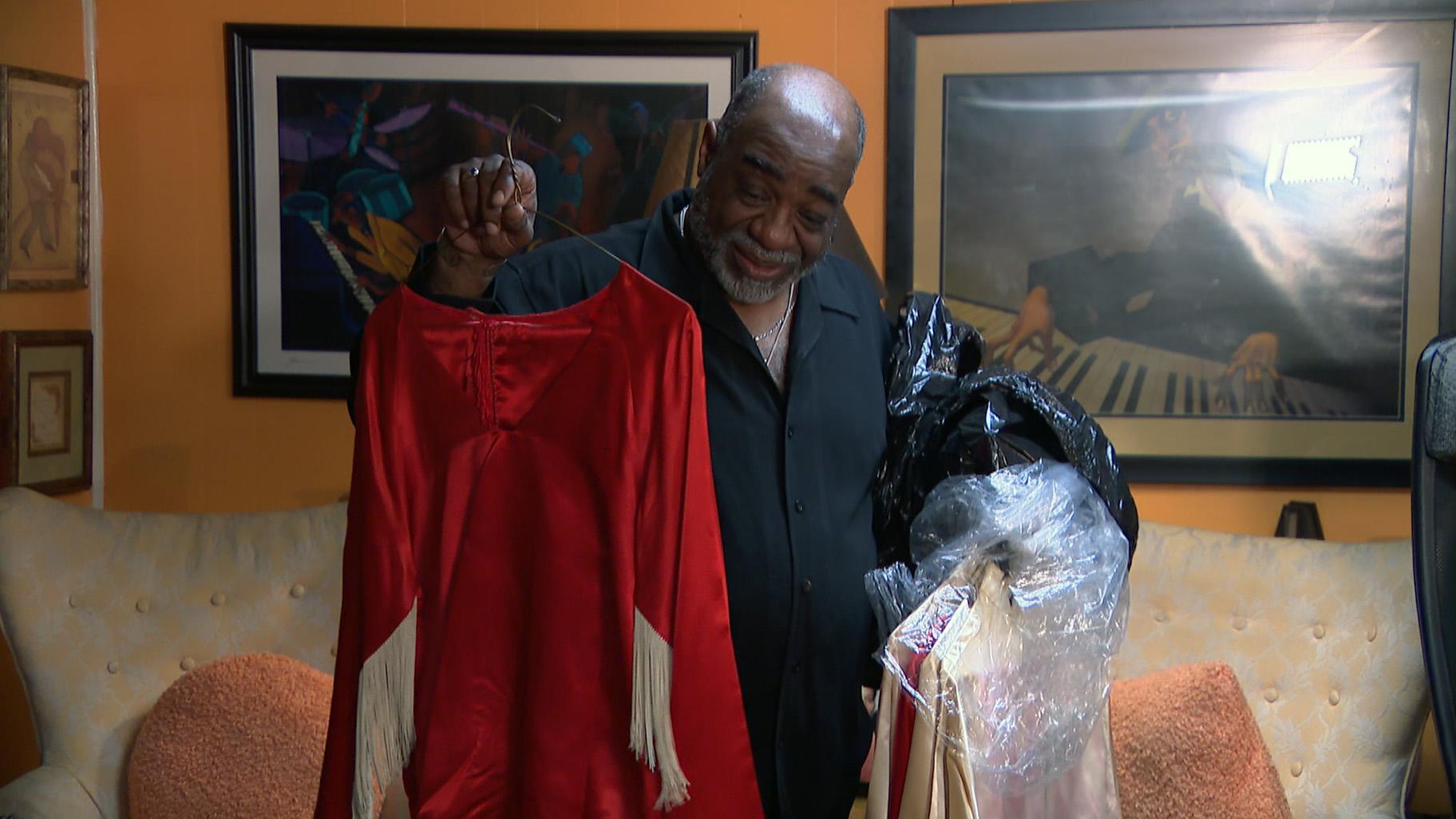 Andre Gibson, the Universal Togetherness Band's frontman, shows the outfit he wore for his July 1982 performance on The Chicago Party television show in his home on July 30, 2021. (WTTW News)
After more than 30 years of collecting dust in Gibson's home, Numero Group released the Universal Togetherness Band's music to the world.
Gibson said the recent rebirth of his music allows him to connect with the younger generation.
"I see a resurgence of old school being meshed up with the new beats," Gibson said. "They have the technology, but they're looking for the content. And see, I got a full bag of content."
---
More on this story
Listen to Pastor T.L. Barrett and the Youth for Christ Choir on Spotify.
Listen to the Universal Togetherness Band on Spotify.
---
Follow Evan Garcia on Twitter: @EvanRGarcia