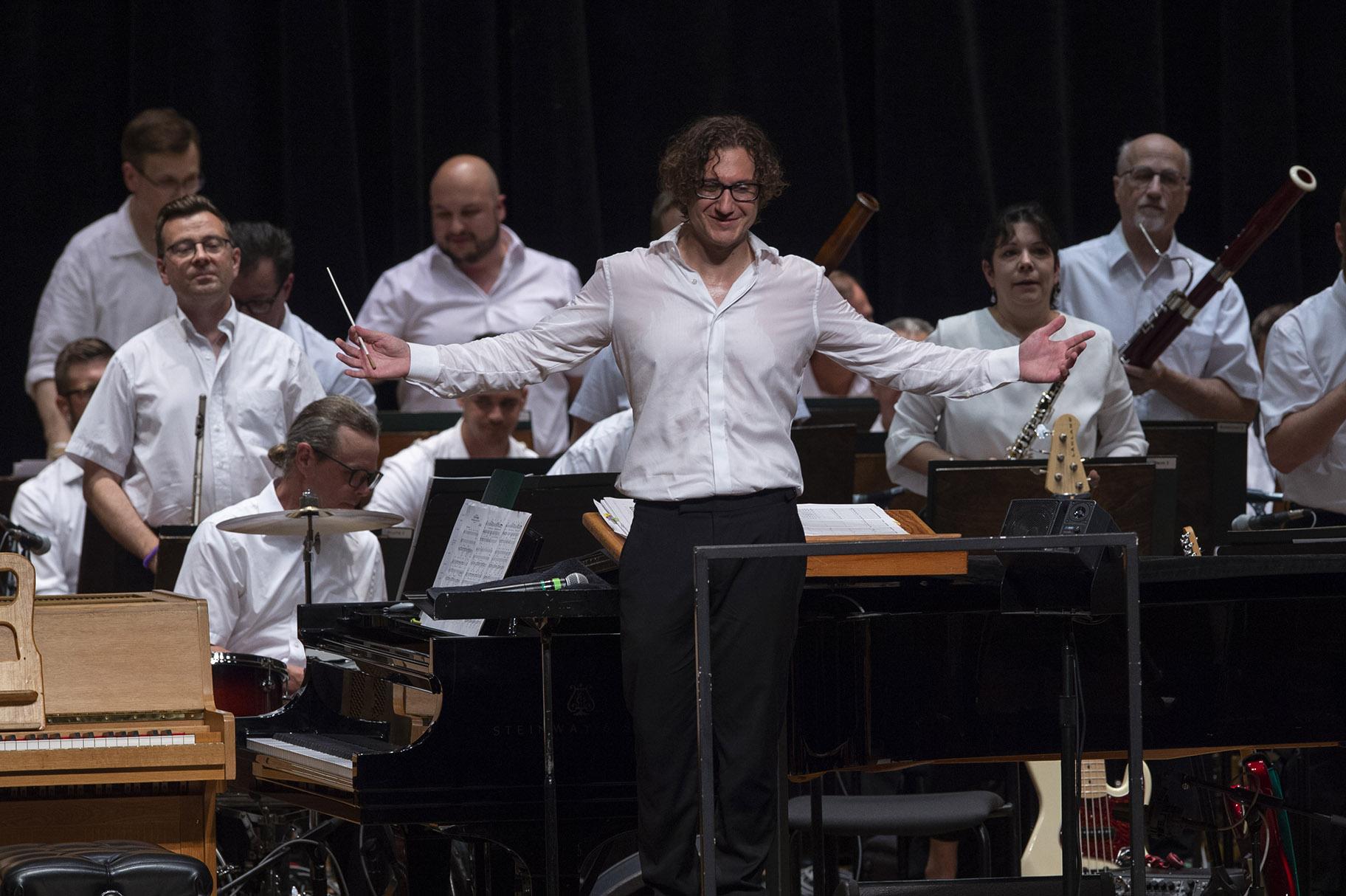 Teddy Abrams and the Chicago Symphony Orchestra. (Courtesy of the Ravinia Festival)
Leonard Bernstein was a famously dramatic conductor whose expressive face and high-energy body language invariably magnified the music any orchestra was playing. That sense of the dramatic also was at the heart of his scores for the Broadway musicals he helped create, from "West Side Story" and "Candide" to "On the Town" and  "Wonderful Town" — shows in which every song ideally captured the personality, circumstances and era of the character or characters for whom it was written.
This theatrical gift of Bernstein's was evident Saturday evening at the Ravinia Festival in a program titled "Unboxing Bernstein: A Live Revue," although when Broadway songs are taken out of context something can get lost in the process.
The Chicago Symphony Orchestra (led by the boyish Teddy Abrams, music director of the Louisville Symphony Orchestra, who was making his Ravinia and CSO debuts), was in its usual top form. But providing a little more context for each show (other than the widely familiar "West Side Story") would have been helpful. And in a number of cases the fabulously witty lyrics of some of the songs were lost, in part because of the imperfect use of hand mics (or perhaps because of the mics themselves).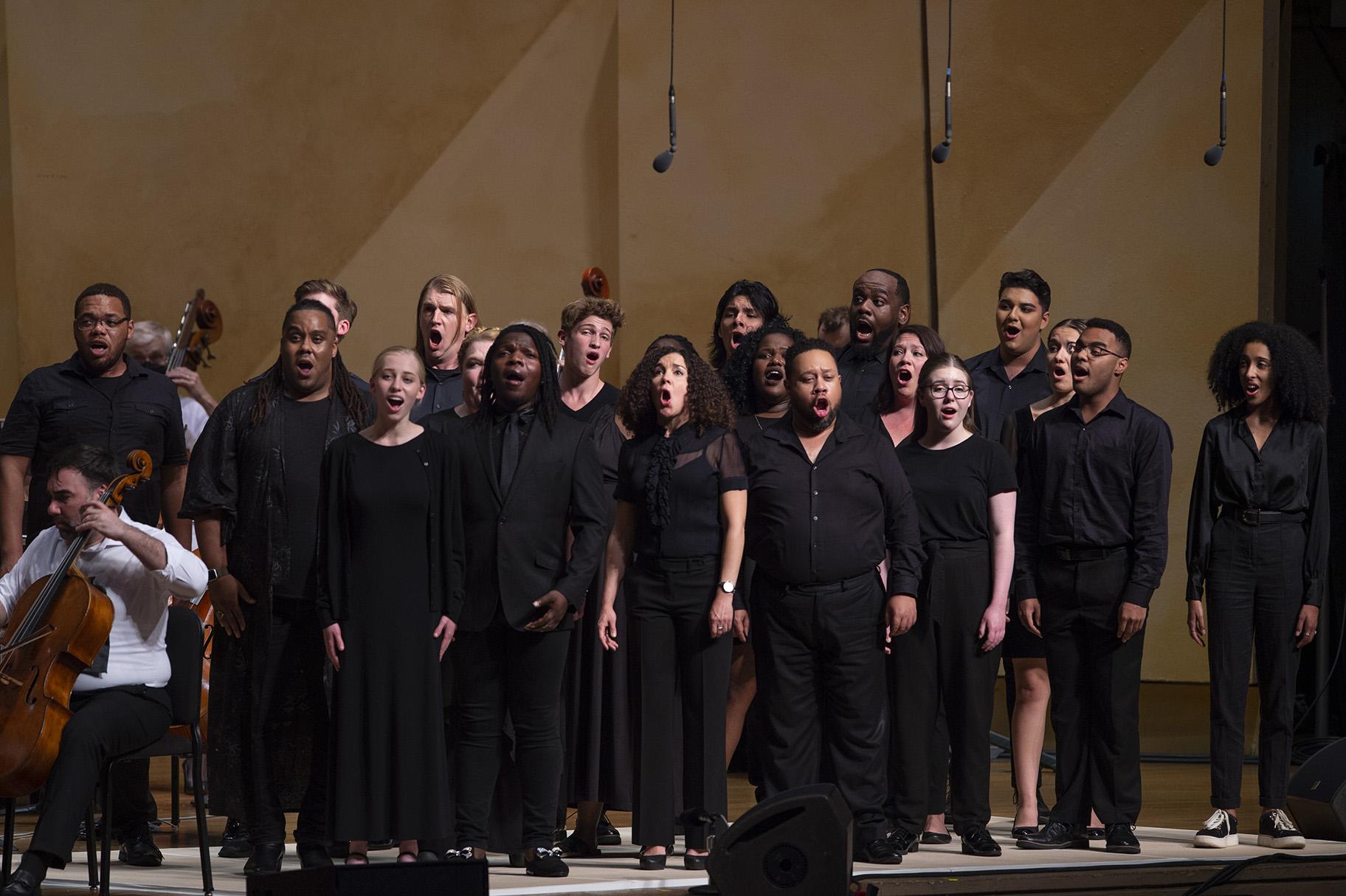 "Unboxing Bernstein: A Live Revue" (Courtesy of the Ravinia Festival)
All that aside, the concert served as a stirring reminder of Bernstein's genius for mixing and matching musical genres. A great stylistic cross-pollinator, he was able to shift seamlessly from traditional ballads and soaring love songs to operatic arias, a Latin mambo and 1940s jazz riffs. To close the evening there was his ravishing choral work — "Make Our Garden Grow" from "Candide" — performed by soloists Tony Yazbek, Morgan James, Brian Stokes Mitchell, Sheléa and the beautiful voices of members of Vocality, the alumni choir of Josephine Lee's ever remarkable Chicago Children's Chorus.
The standout of the evening was Morgan James (familiar from her Ravinia performance in Bernstein's "Mass" in 2018) who gave a bravura rendering of "Glitter and Be Gay," the killer coloratura aria from "Candide," in which Cunegonde, a pretty young aristocrat, explains how she has survived the chaos of life by turning to prostitution.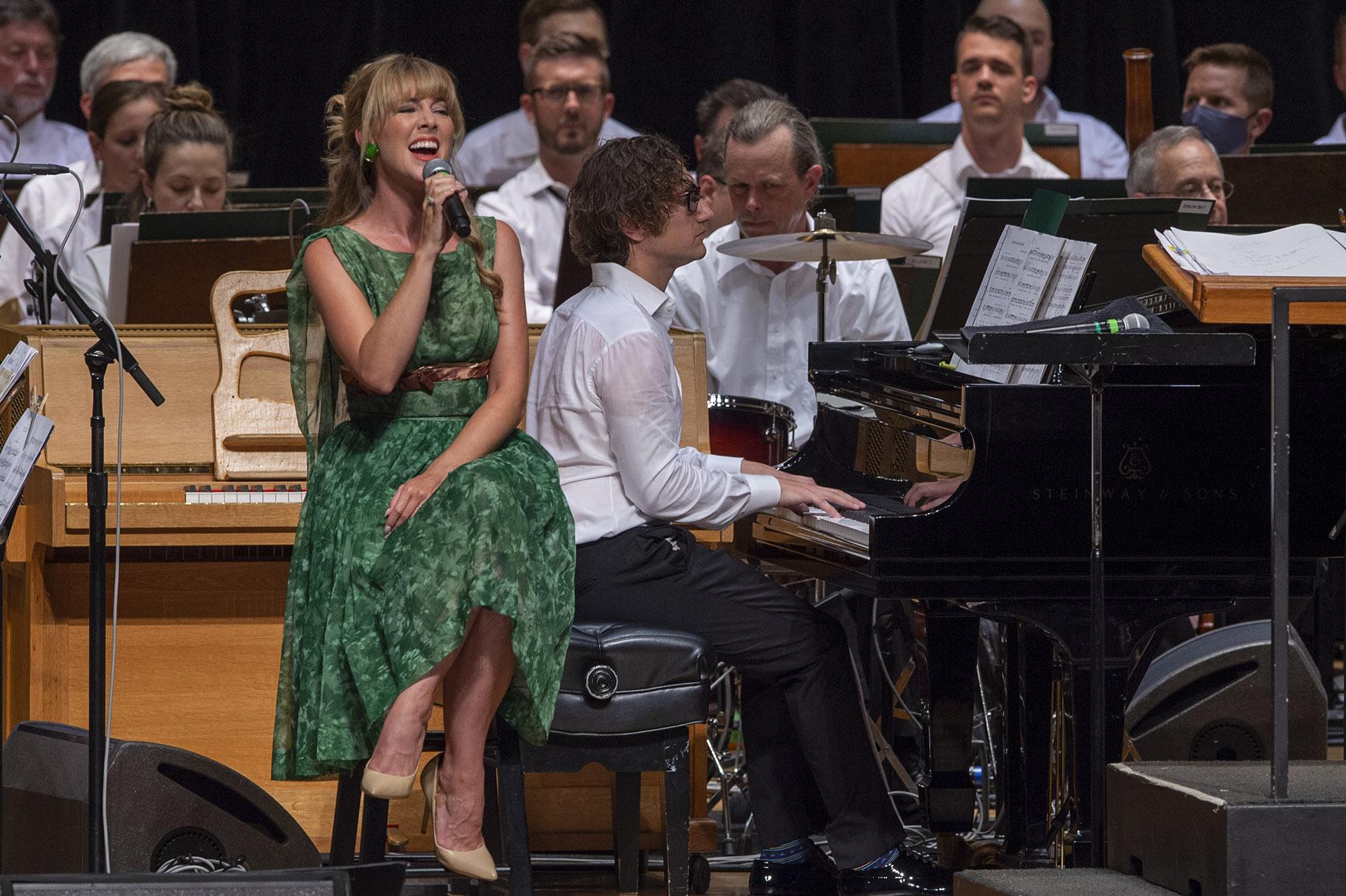 Morgan James performs on Saturday, Aug. 7, 2021. (Courtesy of the Ravinia Festival)
James also teamed up with Broadway star Tony Yazbek and nailed "Swing," from "Wonderful Town" (a musical about Midwestern sisters seeking artistic and romantic success in New York), with Yazbek winningly tap-dancing up a storm. And Brian Stokes Mitchell, another Broadway luminary, put just the right biting edge on "What a Waste," a song from the same show about how such artsy dreams can get chewed up in New York. He and Yazbek also captured the melancholy and loneliness of American sailors on a brief shore leave in New York during World War II in "Some Other Time" and "Lonely Town."
Sheléa has a strong voice and solid emotional bearing but she failed to nail the rapid-fire comic zings of the male-mocking (and self-mocking) woman in "100 Easy Ways to Lose a Man" from "Wonderful Town," the musical with ultra-clever lyrics by Betty Comden and Adolph Green.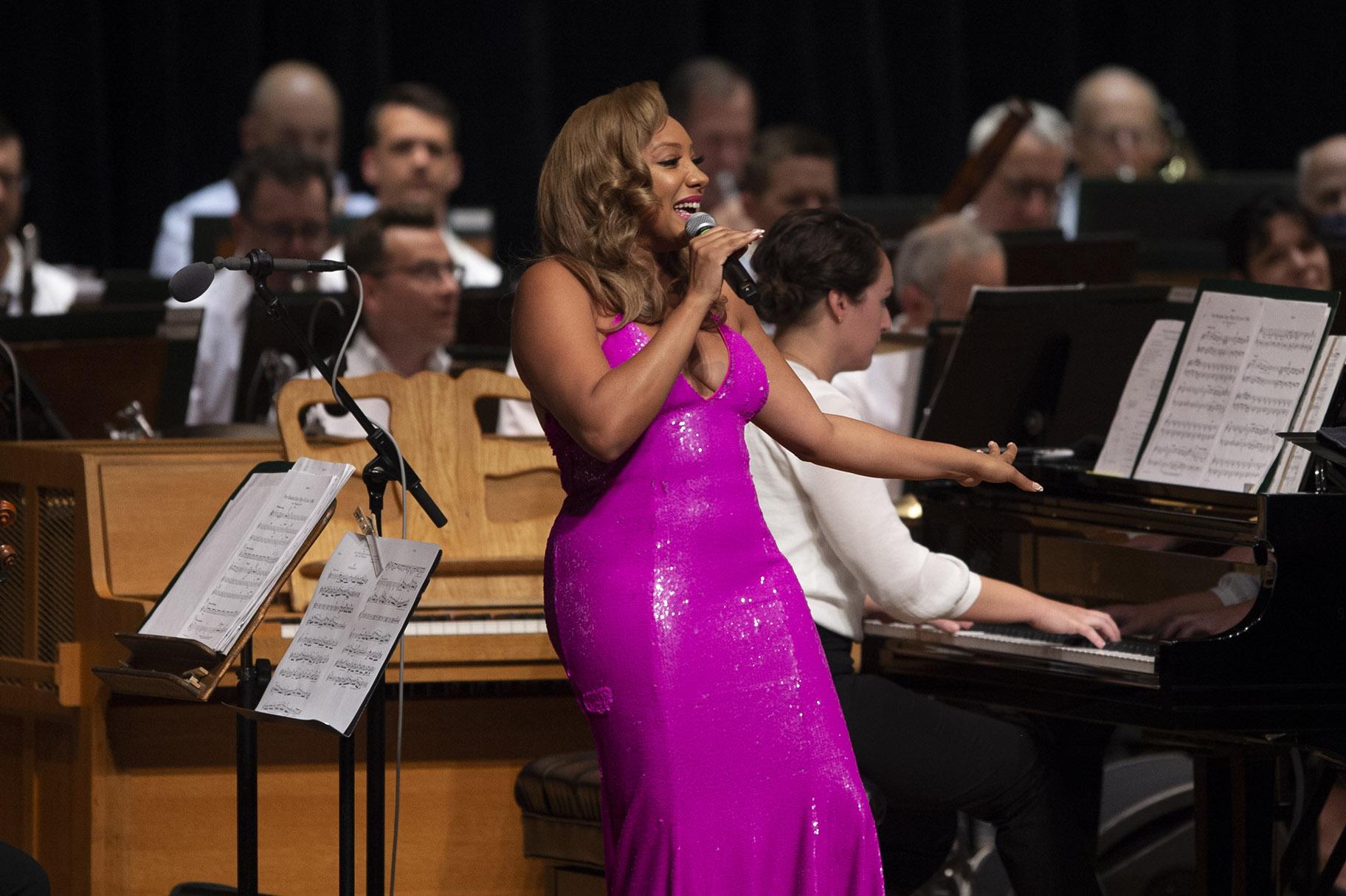 Sheléa performs on Saturday, Aug. 7, 2021. (Courtesy of the Ravinia Festival)
James and Yazbek joined for "Tonight," the iconic "West Side Story" duet. Mitchell performed a carefully calibrated updated arrangement of "Something's Coming." And the CSO brought ideal percussive fire to  the rousing beat of "Mambo."
The program even included a brief but lovely example of Bernstein's classical work in a rare performance of his "Eryximachus" from "Serenade," inspired by Plato's "Symposium" — a piece emblematic of the composer's passion for literature and just another reminder of Bernstein as a 20th century "Renaissance man."
One final note: The title of this program was a reference to the opening of the Ravinia campus' new venue, the Music Box, which contains a gallery and 65-seat 4D theater whose programs will be designed to connect the festival's summertime pop music concertgoers (and year-round school groups) with other musical forms. Its opening "show" is "Bernstein's Answer."
Follow Hedy Weiss on Twitter: @HedyWeissCritic
---