Video: The death of a Chicago police officer prompts mourning — and calls for action. Amanda Vinicky has this report for "Chicago Tonight."
---
Two Chicago brothers have been charged with the fatal shooting of Chicago police Officer Ella French and the wounding of another officer during a traffic stop in West Englewood on Saturday night.
Emonte Morgan, 21, is charged with first-degree murder of a peace officer, two counts of attempted first-degree murder of a peace officer, aggravated unlawful use of a weapon and unlawful use of a weapon by a felon, the Chicago Police Department and Cook County State's Attorney announced Monday afternoon.
His brother, Eric Morgan, 22, was also charged with aggravated unlawful use of a weapon, unlawful use of a weapon by a felon and obstruction of justice. 
A third person was taken into custody after the shooting, but has been released without charges, according to police Superintendent David Brown.
Chicago police Officer Ella French (@TomAhernCPD / Twitter)
French was fatally shot just after 9 p.m. Saturday, when she and two other officers with the CPD's Community Safety Team conducted a traffic stop on a vehicle with three occupants at 63rd Street and South Bell Avenue.
The officers were fired upon by a male passenger in the vehicle, alleged to be Emonte Morgan, and returned fire, according to Brown. French, who had been an officer since April 2018, was struck and killed.
A male officer was also shot and remains in critical condition, though he is "incrementally improving," Brown said Monday.
Brown shed a few new details on the shooting itself during a press conference Monday, saying Emonte Morgan got into a physical struggle with both French and the other wounded officer outside the car just before the shooting.
"The struggle went from the trunk of the car to near the inside of the car, not necessarily all the way inside," he said, "and the shots rang out, from that vantage point, from the passenger front seat of the car which is where (Emonte Morgan) was originally seated."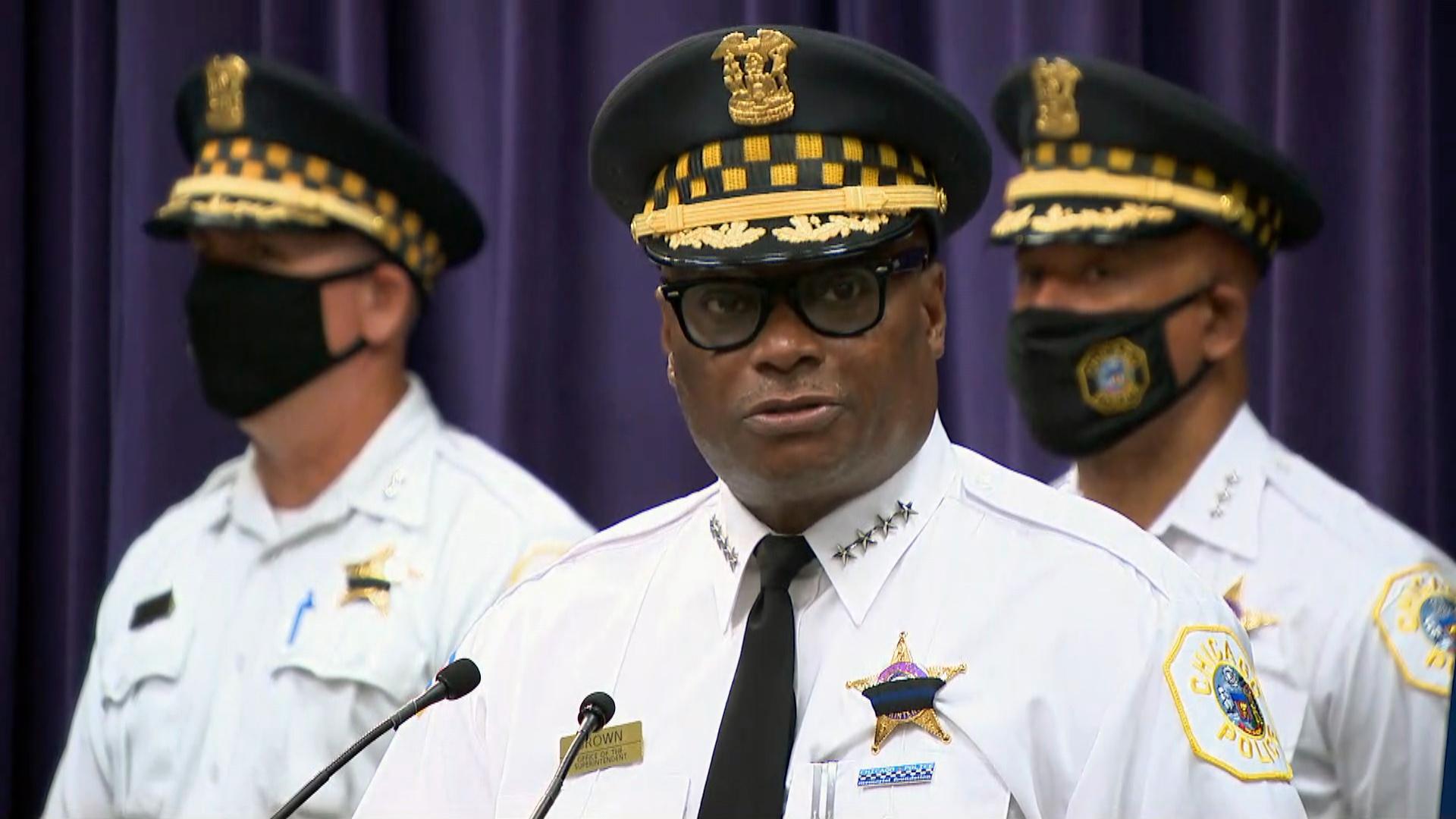 Chicago police Superintendent David Brown speaks at a news conference announcing charges in the fatal shooting of a Chicago police officer on Monday, Aug. 9, 2021. (WTTW News)
One person inside the vehicle was also shot by police and transported to the hospital.
Also on Thursday, Indiana man Jamel Danzy was charged in federal court with allegedly acting as a straw purchaser to illegally buy the firearm used in the shooting and provide it to one of the brothers.
"Criminals who possess illegal guns are driving violent crime here and everywhere in this country, and officers put themselves in harm's way stopping suspects like that so we can all sleep safely in our homes at night," Brown said. "These are dangerous people who don't mind killing officers or people in Chicago."
French is the first Chicago police officer to be fatally shot in the line of duty since 2018, and the first female Chicago police officer to be killed since Irma Ruiz in 1988.
Both Morgan brothers are scheduled to appear in court for a bond hearing Tuesday.
Contact Matt Masterson: @ByMattMasterson | [email protected] | (773) 509-5431
---