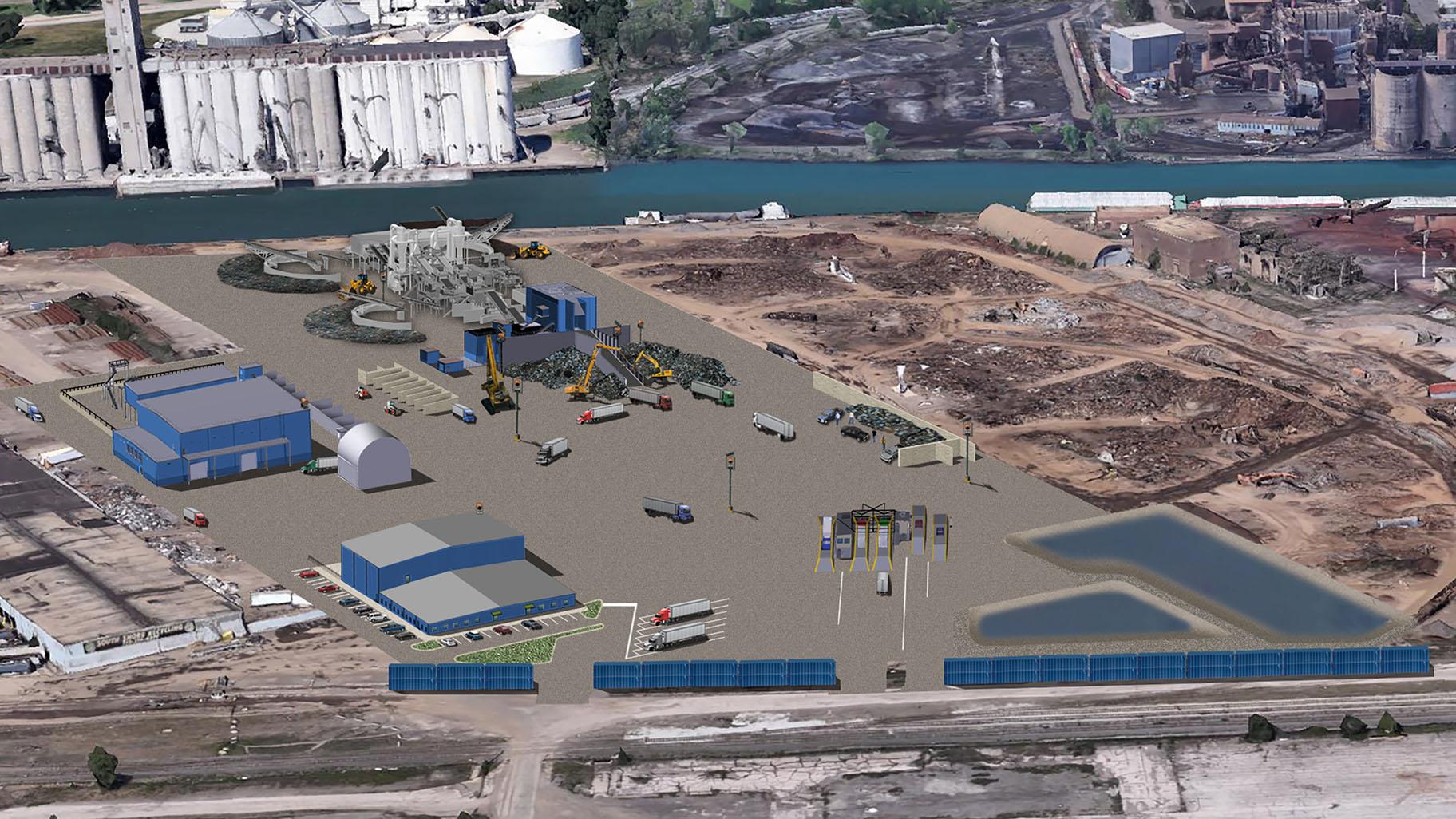 An aerial shot of the newly constructed Southside Recycling, 11600 S. Burley Ave. (Courtesy of Reserve Management Group)
The parent company of General Iron, which wants to operate a metal shredding and recycling operation on Chicago's Southeast Side, failed to notify city officials that a vacant building collapsed on the site of the proposed facility, officials said Thursday.
Officials with the city's Department of Buildings discovered Wednesday that the roof of a vacant building on the RMG industrial campus at 11600 S. Burley Ave. partially collapsed in April when a firm applied for a permit to demolish the rest of the building, officials said.
"RMG failed to maintain the vacant building in sound condition and good repair as required by the [building code], failed to monitor and maintain the vacant building in a secure and sound condition and failed to notify the city of the partial roof collapse in a timely manner," according to a statement from city officials.
RMG will be cited for failing to notify city officials of the collapse and other "additional applicable violations," officials said.
A spokesperson for RMG did not immediately respond to a request for comment from WTTW News.
The partial roof collapse was not related to construction of the RMG recycling plant, officials said.
The building collapse does not pose an "imminent health threat" to the public, although samples of the collapsed building collected by the Chicago Department of Public Health, known as CDPH, were found to contain galbestos and transite and is suspected to contain asbestos, officials said.  
"Due to the location of this material, it is unlikely to become airborne and presents a low possibility of health or environmental impacts," city officials said. "However, CDPH will issue a violation for not maintaining asbestos material and will evaluate other buildings on the campus to determine the condition of any asbestos that may remain."
City health officials will conduct a full investigation, as required by city laws adopted in the wake of the botched demolition of the smokestack at the former Crawford power plant in Little Village that enveloped nearby homes in a plume of dust.
Demolition cannot proceed until a written plan is in place, officials said.
City officials announced in May that they would indefinitely delay action on the final permit Reserve Management Group needs to operate Southside Recycling at 11600 S. Burley Ave. after the head of the Environmental Protection Agency said the facility raised "significant civil rights concerns."
That prompted the firm to sue the city in an attempt to force the permit to be issued. That suit is pending.
Contact Heather Cherone: @HeatherCherone | (773) 569-1863 | [email protected]
---