The historic Bronzeville neighborhood on the city's South Side sits just south of McCormick Place, and has been known for decades as a hub of Black arts and culture in Chicago. Wednesday, City Council paved the way for a massive new development that could reshape the community's future.
Interactive map: More from our community reporting series
Developers expect to break ground late this year or early next year on the massive $4 billion new development tentatively called "Bronzeville Lakefront."
Read: Former Michael Reese Site Poised for New Life as 'Bronzeville Lakefront'
It will be built upon the site of the old Michael Reese Hospital, which has sat vacant for more than a decade. Former Mayor Richard M. Daley had proposed building an Olympic village on the site when Chicago was in the running for the 2016 summer games. Thanks to unanimous approval by city council yesterday, the path is paved for a mixed-use development.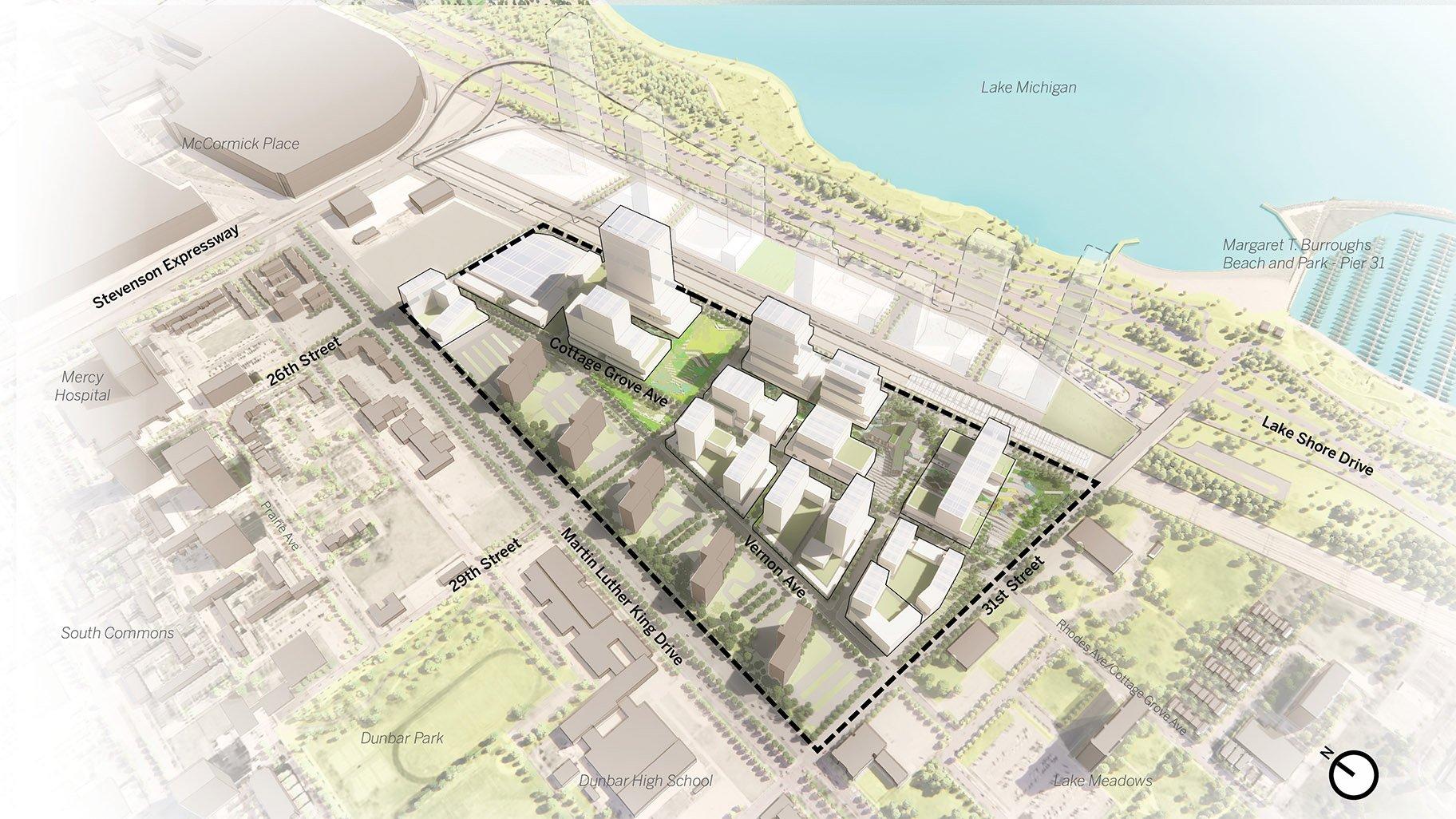 Earlier this year, the Chicago Plan Commission approved a $3.8 billion effort to overhaul the former Michael Reese Hospital site in Bronzeville on the city's South Side. (Rendering courtesy of Skidmore, Owings & Merrill)
The project team says it will bring 4,800 units of new housing, including affordable housing and senior homes; businesses, with set-asides for local owners; industrial facilities; and a health equity hub from Israel's renowned Sheba Medical Center.
The city has pledged $90 million to clean the site and to build out some roads and other infrastructure. This project is part of a consortium led by Chicago company Farpoint Development, which says it will be built over the span of 10-15 years with the first tenants already signed up and ready to go.
"Ultimately, this is going to be a mixed-use, live-work-play community. It's going to be a healthy community of the future. Right now, our focus is on amplifying the community of Bronzeville and affirming the culture here, and building that into our site," said Farpoint's Morgan Malone. "This first phase of work has only four or five buildings. That'll take us a few years, but we're looking forward to groundbreaking on infrastructure and the new streetscape by the end of this year (or) early next year."
Read: Team Overhauling Former Michael Reese Site Aims for Community Connections
The mega-development has many excited – and 4th Ward Ald. Sophia King says it has community buy-in, in large part because of significant community input. Her office put together an advisory council of area residents to make sure it met Bronzeville's needs and wouldn't contribute to displacement.
"We were really intentional about making sure we mitigate issues of gentrification. One of the things we did was the 20% affordable housing. We wanted to make sure that people who live in the community who were during, let's say, low times, could also ride the tide during high times (and) continue to stay in the community," King said. "We also made sure there was a write-down for small businesses and local businesses. They'll pay 20% less than larger businesses."
Video: Watch our full interview with Ald. Sophia King
---
As local public officials and residents cheer the potential for new housing and jobs, they're also optimistic about the future of a longtime community hospital that had recently been on the brink of closing.
Former owners, Trinity Health System, threatened to close Mercy Hospital because they said the safety net medical center had been losing millions of dollars per month.
But community activists and public officials worked around the clock to attract a new buyer and – after some false starts – a Michigan-based company called Insight took it over, with a pledge to keep it as a full-service inpatient and outpatient hospital until at least 2029.
"And we pledge to continue to do it past 2029 that's our goal," said Insight Chicago Hospital's Chief Medical Officer Dr. Asim Saeed. He says Insight's goal is to get the hospital running at full capacity as soon possible, though he notes Insight only recently took control. "We had limited access to the hospital … right now, we're using this time wisely to go through everything, infrastructure and things like that, to narrow down what can be improved and what we can make efficient."
Video: Watch our full interview with Dr. Asim Saeed
---
Community activists celebrated the decision, saying a closure would have been devastating for Bronzeville residents.
"If you have diabetes and you live right over there in the Dearborn Homes, where do you go for health care? Where do you go for health care if you have to go to the emergency room and there's no full-service emergency room?" said Jitu Brown of the Chicago Health Equity Coalition. "Having a hospital helps to stabilize the lives of people that live in the community, a hospital that meets the health care needs of the community."
Meanwhile, Bronzeville has lagged the city's COVID-19 vaccination rate. About 43% of adults in the ZIP code that covers much of the community have gotten at least one dose.
The ACCESS Booker Health Center in Bronzeville has been treating and vaccinating residents, and hopes unvaccinated patients are starting to get the message as Delta variant cases rise.
"I know that (from) sitting in the vaccine site once a week, last week our numbers were a little low, this week they're going up," said Dr. Daneen Woodard. "I think people are realizing that as the COVID rates go back up that they need to protect themselves."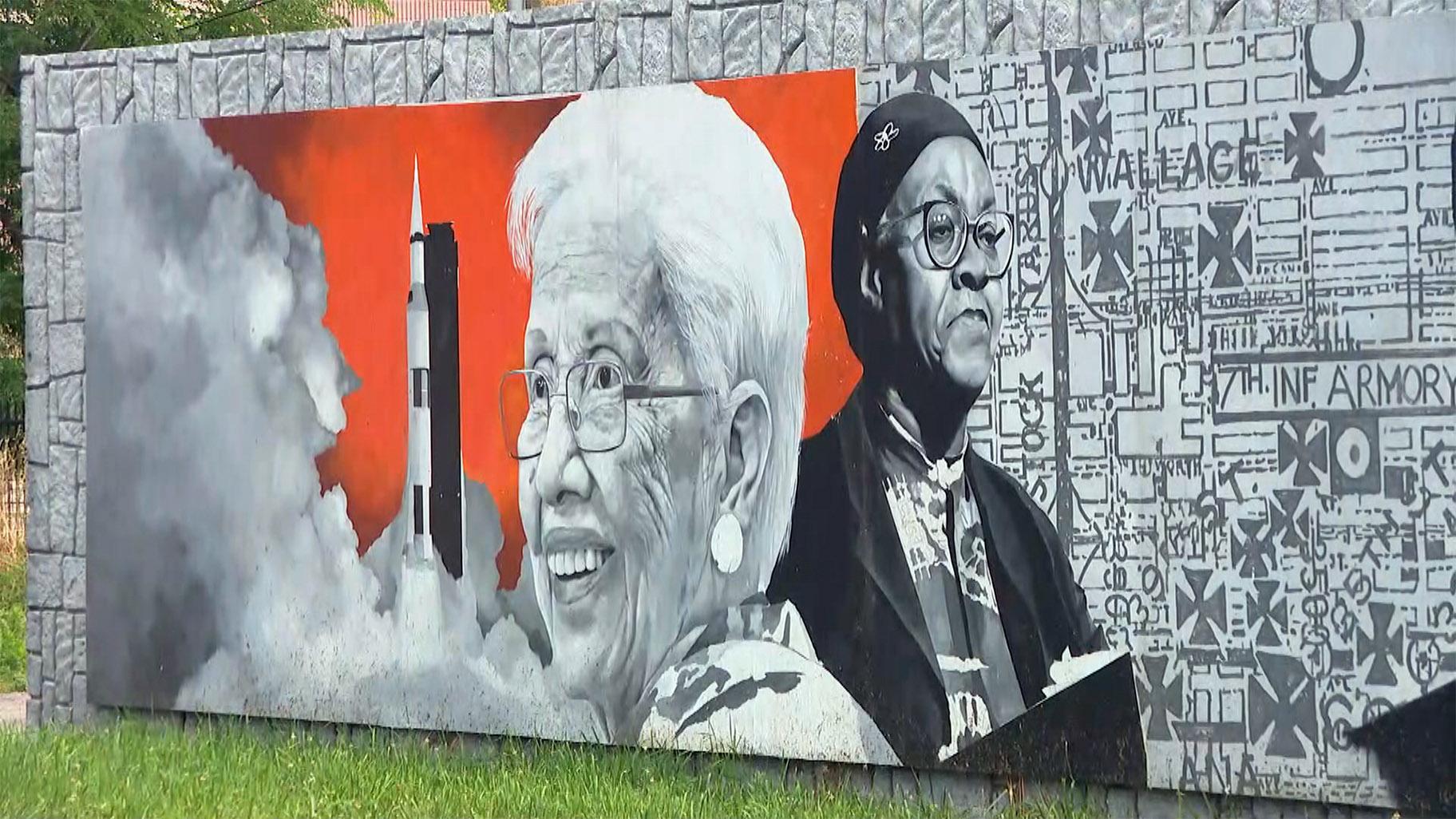 Renderings of Katherine Johnson and Gwendolyn Brooks are captured in part of Bronzeville's "Renaissance Mural." (WTTW News)
Central to the life of Bronzeville is its culture, particularly blues and jazz music. The Harold Washington Cultural Center has been a community anchor for years but was forced to shut down for the last 16 months due to the pandemic.
Director Jimalita Tillman says they are not quite ready to welcome full audiences back for shows, so they are using the space now for an all-day summer camp focusing on science, technology, engineering, arts and math. The goal is not only to get kids interested in those subjects but get them ready to be in school again in the fall, since most have been home for the better part of a year.
"Many of the students, this is their first time returning to in-person socialization," Tillman said. "It's getting them acclimated to what they need to get ready for when they return to school: following rules, protocol, becoming a young leader and making good choices. We're very proud of how we're rolling out programming here at the Harold Washington Cultural Center."
The camp is run by Tillman's daughter Dorothy Jean – the granddaughter of former Bronzeville alderwoman Dorothy Tillman. When we visited, campers were spending the day on the arts portion of their week.
"They acted out a script that they wrote previously this week, and now we're here in dance, which is a part of the day," Dorothy Jean said. "We have our interpretive dance that we'll be creating a performance out of, and later we have our hip-hop dance."
---
Community Reporting Series
"Chicago Tonight" is expanding its community reporting. We're hitting the streets to speak with your neighbors, local businesses, agencies and leaders about COVID-19, the economy, racial justice, education and more. See where we've been and what we've learned by using the map below. Or select a community using the drop-down menu. Points in red represent our series COVID-19 Across Chicago; blue marks our series "Chicago Tonight" in Your Neighborhood.
---