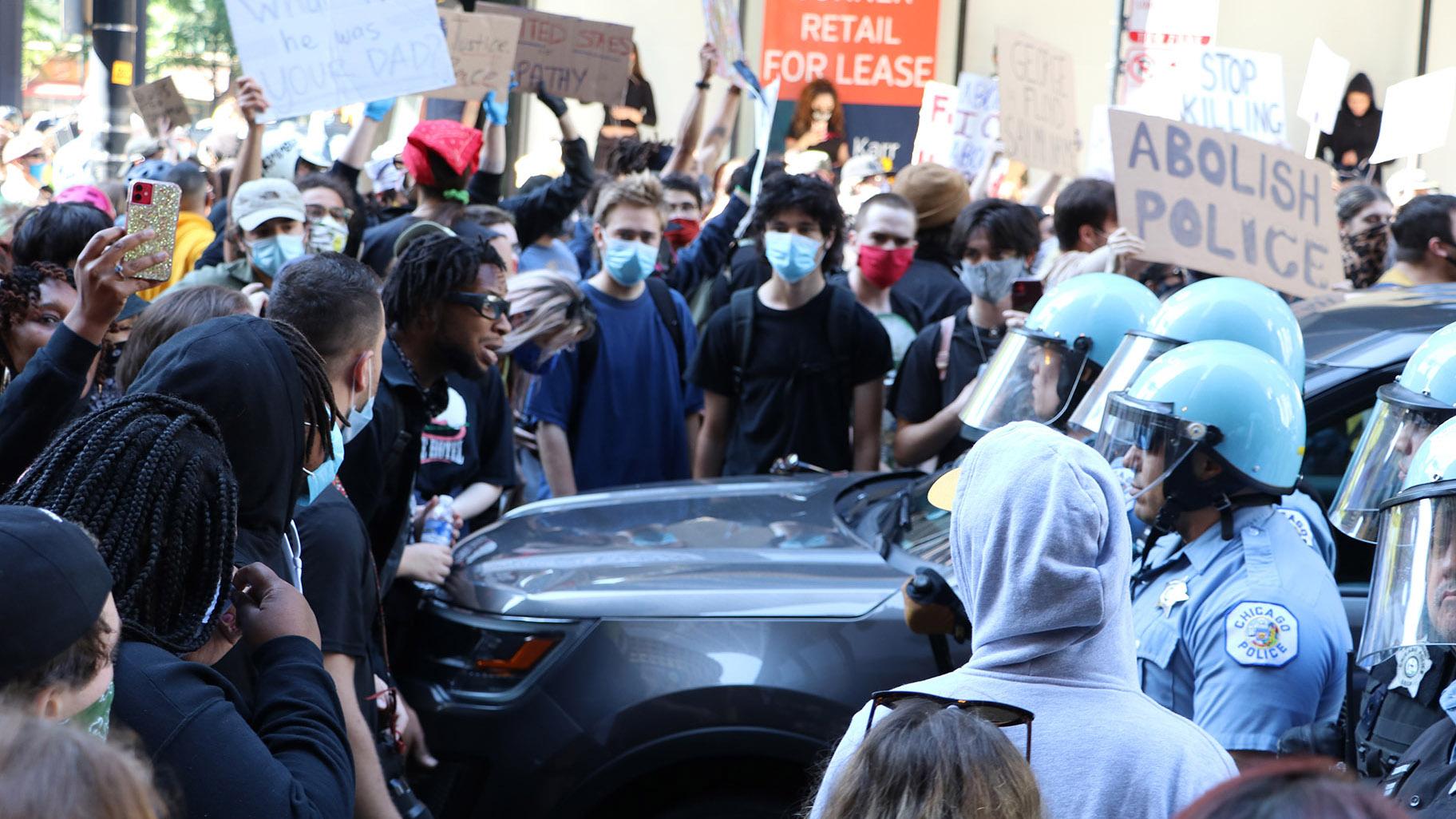 Protesters and police officers wearing riot gear have a standoff near Daley Plaza on Saturday, May 30, 2020. (Evan Garcia / WTTW News)
The city of Chicago and its police department did not have the "policies, reporting practices, training, equipment, data analysis, community engagement, or inter-agency coordination required to respond effectively" to widespread protests and unrest last summer, according to a new report filed in federal court Tuesday.
The independent monitoring team, which tracks the Chicago Police Department's compliance with the federal consent decree, found the city and CPD were "unprepared for the level of sustained protests and unrest" that occurred in the wake of the police killing of George Floyd last year.
"The City and CPD must take immediate, deliberate, and transparent efforts — in compliance with the Consent Decree — to better protect, serve, and be accountable to the people of Chicago and all communities," independent monitor Maggie Hickey said in a statement.
Floyd, who was Black, was killed by Minneapolis police Officer Derek Chauvin after he kneeled on Floyd's neck for more than nine minutes. What followed was widespread unrest in Chicago and other cities across the U.S.
Violent clashes between police and protesters occurred repeatedly throughout the summer, including at the Christopher Columbus statue in Grant Park last July and on Michigan Avenue in August.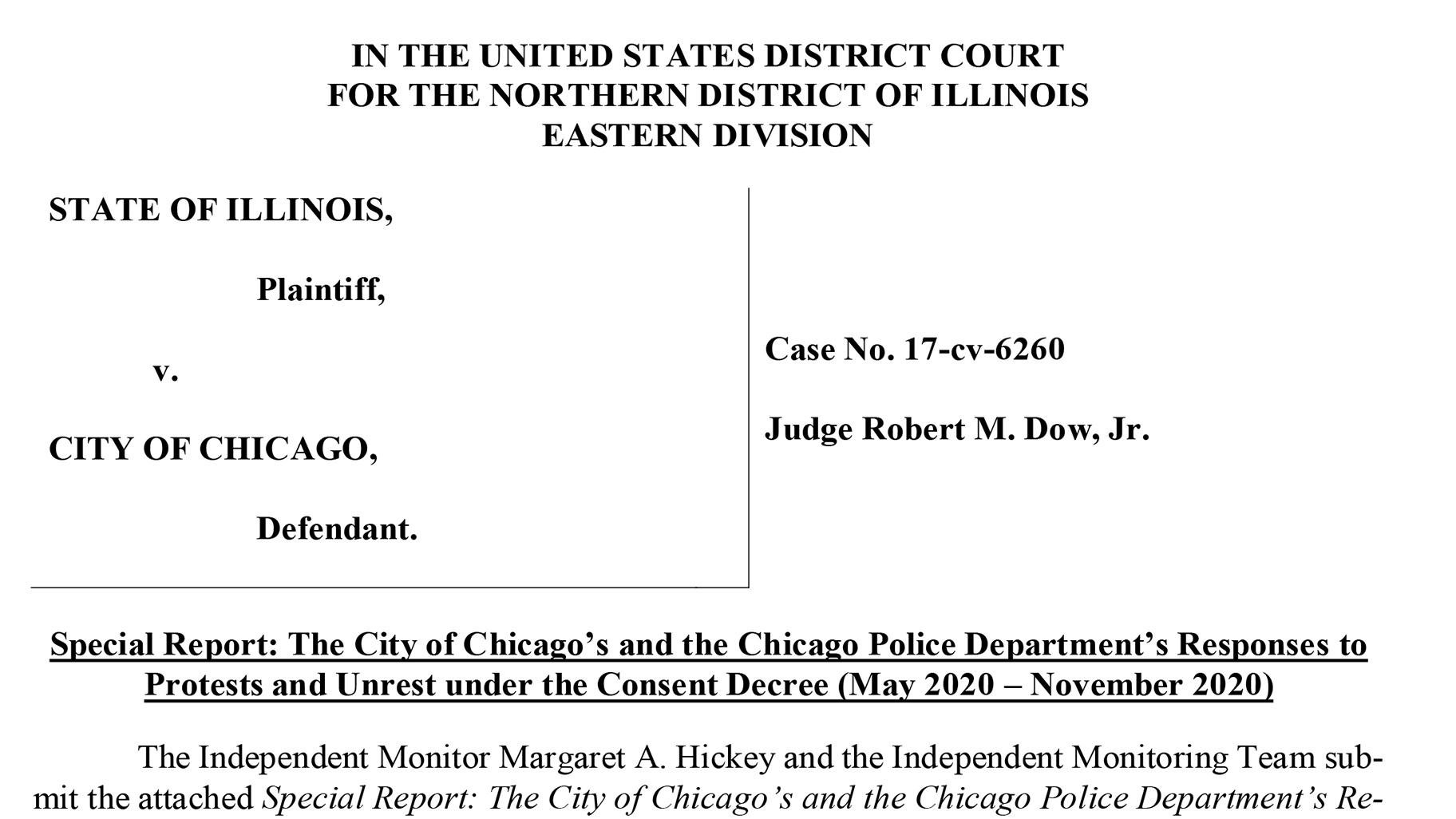 Document: Read the full report. According to the report, even if city and CPD officials had predicted how widespread the protests and unrest would be, they lacked the proper procedures and training necessary to handle them properly.
The independent monitoring team held multiple listening sessions last year in which public speakers claimed police officers repeatedly escalated violence during protests by beating them with batons, shooting pepper spray in people's faces and mocking their cause.
According to the report, there were also an "unprecedented number" of complaints to the Civilian Office of Police Accountability about officers using excessive force, saying racial or homophobic slurs and covering their badge and name plates in order to avoid identification.
"No one who says they protect and serve and then turn around to beat and pepper spray people can expect me to believe them," one speaker told the monitoring team during a listening session last year.
Nusrat Choudhury, legal director for the ACLU of Illinois, said the report confirms "what Chicagoans saw and experienced during the summer and fall of 2020," namely that police officers "repeatedly engaged in excessive force, disrespectful behavior, and retaliation" against protesters.
"These patterns of police violence and misconduct underscore the ongoing harm to Chicagoans from the City and CPD's failure to implement requirements of the federal consent decree," she said in a statement. "The City and CPD must make real the words and promises of the consent decree to transform policing in Chicago, including when people gather in public to protest violent and racist policing."
While the independent monitoring team acknowledges that both the city and CPD have made "deliberate efforts" to improve their response to protests and unrest since last year, the team said "more work is necessary."
"The City and the CPD must better position themselves to protect First Amendment speech; limit uses of force and violence toward people and property; and simultaneously, keep resources available to continue to serve all people of Chicago by helping to prevent crime and respond to calls for service," the monitoring team said in its report.
Earlier this year, a report from Chicago's inspector general similarly found the city and CPD had botched nearly every aspect of its response to the protests and unrest, and had thus "critically disserved both its own front-line members and members of the public."
The monitoring team made more than a dozen recommendations for future changes, which include: expanding planning operations to include internal and external partners; creating and training specialized "Mobile Field Force Teams" across the city; improving officer wellness and support; updating CPD policies on use of force, First Amendment protections and mass arrests; and improving transparency around officer discipline.
The report states that the protests were "largely regarding the CPD and policing in general," and that as the city and CPD implement reforms and improve accountability and trust within the community, they will "lower the likelihood of unrest regarding policing."
"It is our hope that the City and its entities will continue the reforms they have made," the report states, "and make more expedient progress on the reforms they have yet to make."
A spokesperson for Mayor Lori Lightfoot did not immediately respond to a request for comment Tuesday morning.
In a statement, the CPD said it has reviewed the report and previously identified many of the same areas for improvement — such as operational planning, intelligence gathering, community engagement, training, accountability and officer wellness — following an internal after-action report last summer.
"We will continue to review procedures and strategies used in these large-scale responses to ensure accountability at every level of the Department," the CPD said in its statement.
Contact Matt Masterson: @ByMattMasterson | [email protected] | (773) 509-5431
---