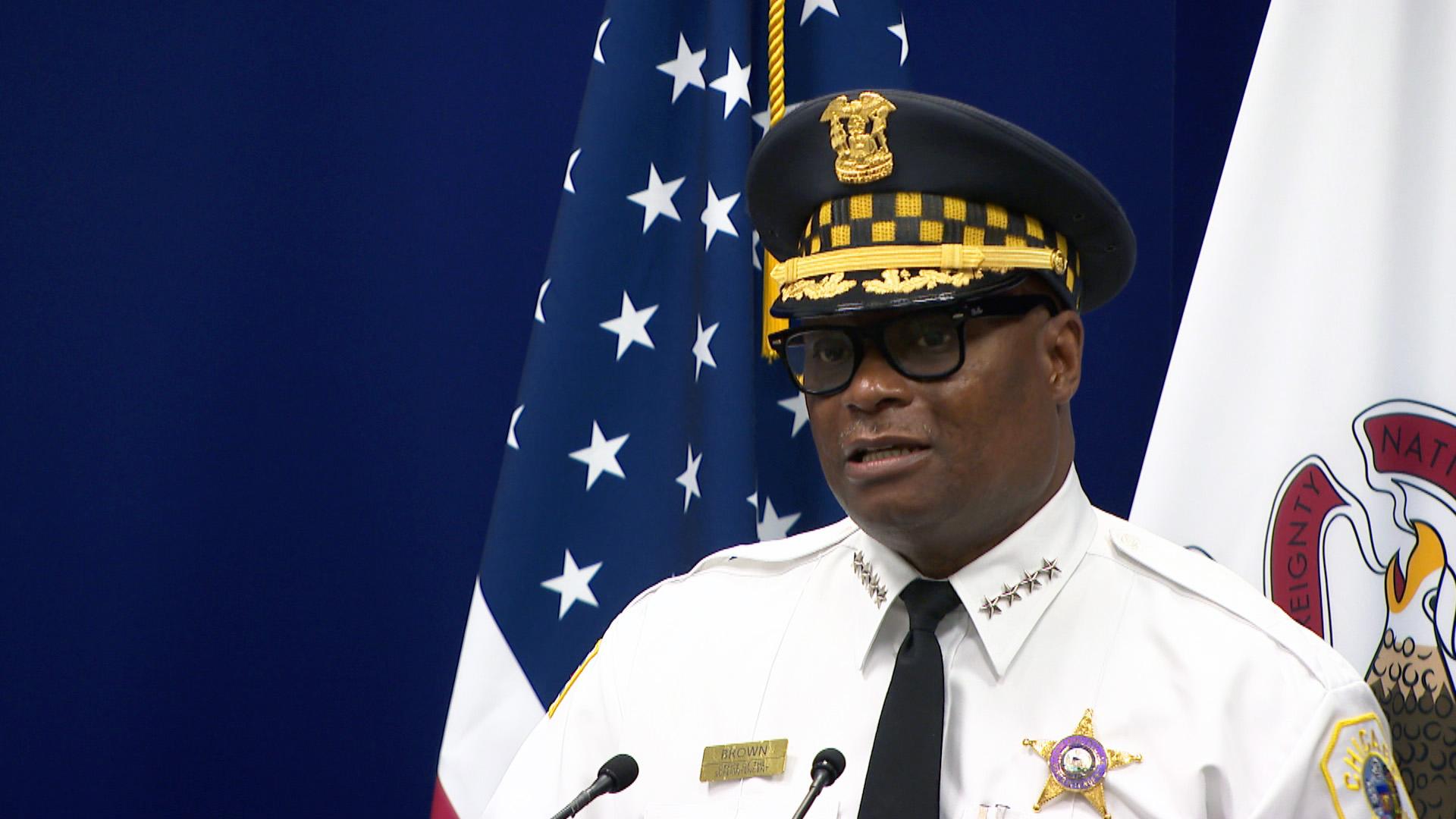 Chicago Police Superintendent David Brown talks about the flow of illegal guns into Chicago on Monday, July 19, 2021. (WTTW News)
Chicago police have recovered a record number of illegal firearms so far this year, but the city's top cop on Monday said his department is now launching a team that will target those who buy the guns for others.
Superintendent David Brown on Monday said the Chicago Police Department is collaborating with the Bureau of Alcohol, Tobacco, Firearms and Explosives on a new gun investigations team, which will focus on gun traffickers, straw purchasers and "unscrupulous" gun sellers.
"Whoever these third parties are, we are coming for you to charge you," Brown said during a news conference Monday morning.
So far in 2021, Chicago police have recovered 6,629 illegal guns, a 26% increase over the same time frame last year, Brown said. But the goal of the gun investigations team is stopping those weapons from ever getting into the city in the first place.
READ: 11 Killed, More Than 50 Shot in Chicago Shootings Over the Weekend
According to the CPD, the new unit will conduct mid- and upper-level investigations into illegal gun sellers and straw purchasers. It will also work on interstate investigations, tracing recovered firearms and investigating Firearm Owners Identification card revocations.
Officers assigned to the team will receive training from the ATF to help them further gun investigations.
The team will also work with the Cook County State's Attorney's Office and the U.S. attorney's office to secure criminal charges following investigations.
Brown on Monday said those profiting off illegal gun sales are taking in "blood money" from the "grief and suffering of people in this city."
He and Mayor Lori Lightfoot have repeatedly blamed the illegal flow of firearms into the city for spiking violence levels in recent years. Both have also recently met with President Joe Biden to ask for additional resources in addressing the issue.
So far in 2021, more than 2,200 people have been shot and 400 have been killed in Chicago.
Lightfoot last week announced the creation of a $1 million reward fund for those who help the CPD get illegal guns off the street. Brown on Monday said that fund will be used to make "significant" payouts to tipsters who assist in making arrests in gun trafficking cases.
"We are going to be relentless," he said. "I've been in policing over 35 years, almost all of my adult life, and I've seen criminals for the right price turn their mother in."
Contact Matt Masterson: @ByMattMasterson | (773) 509-5431 | [email protected] 
---