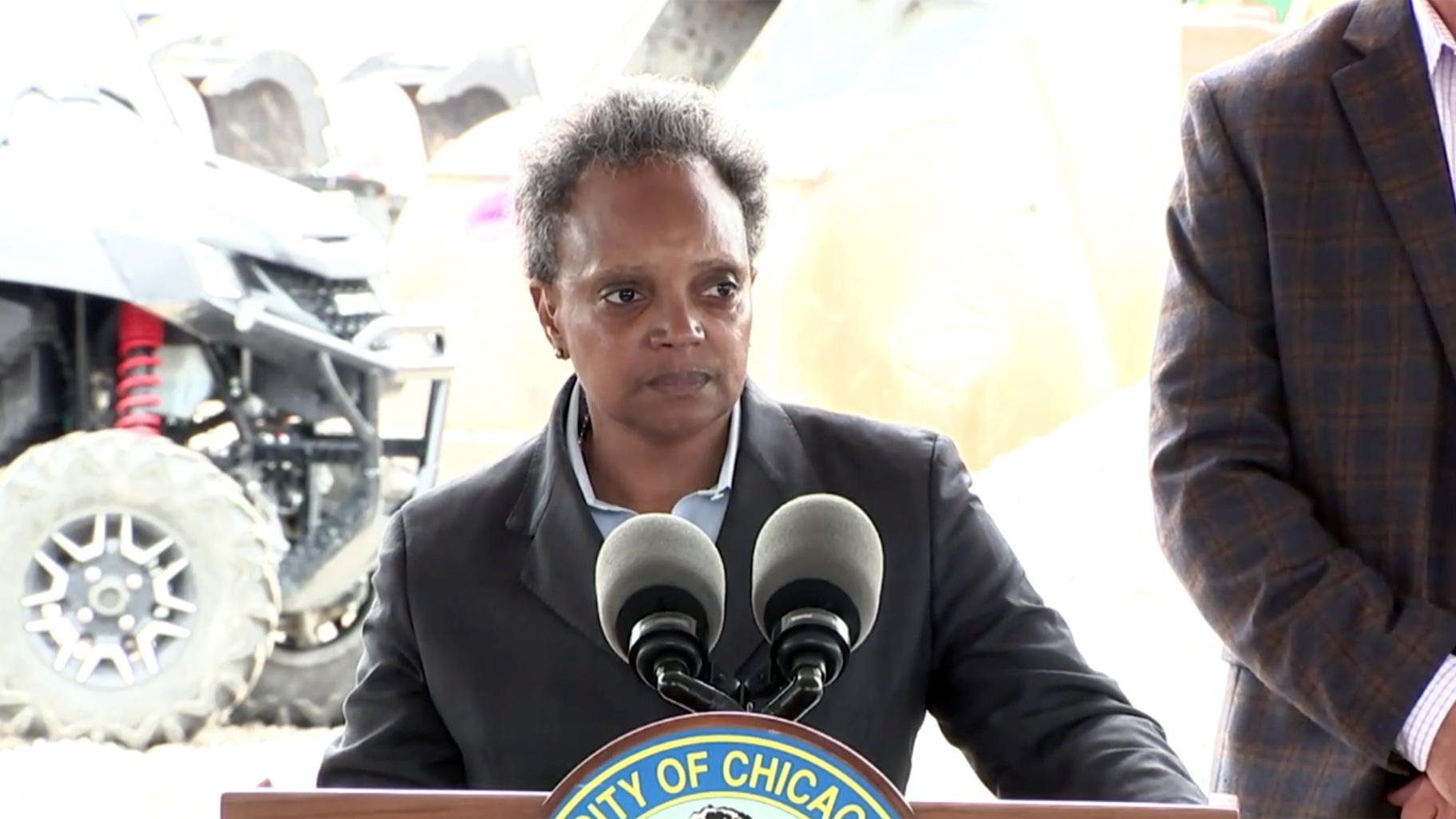 Mayor Lori Lightfoot speaks about crime and violence on Thursday, July 15, 2021. (WTTW News via Mayor's Office)
Mayor Lori Lightfoot acknowledged Thursday that the surge in shootings and murders concentrated on Chicago's South and West sides has forced her to reset her agenda as mayor, and she vowed to think "creatively" about how to stem the bloodshed.
"Gun violence is the number one issue plaguing the city in this moment," Lightfoot said, adding that it is the first issue she confronts when she wakes up in the morning, the last she considers at night and the one that wakes her up in the middle of the night. "I recognize that people are scared."
Speaking just before ceremonially breaking ground on a new headquarters for the Chicago Park District, Lightfoot said too many residents of the South and West sides "are just plain scared" that they will be shot and killed.
"This reality it what pains me, personally, the most," Lightfoot said. "We have experienced too much bloodshed in this city. Too many funerals, and too much trauma."
Until the violence is controlled in Chicago, "nothing else matters," said Lightfoot, who traveled to San Francisco last week to encourage tech companies to open new offices in Chicago.
Lightfoot again insisted that crime is down this summer compared to summer 2020, when the city experienced a significant increase in crime and violence despite restrictions designed to stop the spread of COVID-19. However, shootings are up approximately 60% over summer 2019, and murders are up nearly 50% from two years ago — the last summer before the pandemic.
City officials must stop the "daily drumbeat of shootings and homicides," Lightfoot said.
"I want to reassure the public of not only my commitment, but of our resolve to fight and make sure this plague of gun violence is one that we win once and for all," Lightfoot said, promising to unveil more "specific investments" to address the root causes of violence as well as the "immediate consequences" of the violence the city is experiencing.
Lightfoot blamed the violence on the flood of illegal guns into Chicago. Officers have seized more than 6,300 guns so far this year, marking a record-breaking pace, Lightfoot said, vowing to "think creatively" about solutions.
Lightfoot announced the creation of a $1 million reward fund for those who help Chicago police officers get illegal guns off the street. 
"We need everyone's help," Lightfoot said, promising more specific details about the fund, set to be established with taxpayer dollars, in the coming days.
In 2020, Chicago officials seized more than 11,200 guns, according to city data.
Since taking office, Lightfoot has called on federal law enforcement authorities to crack down on the flow of illegal guns into Chicago. A strike force authorized by President Joe Biden is expected to start working in Chicago by the end of July.
"This crisis demands bold and creative action," Lightfoot said. "It demands more of each of us. And as your mayor, it demands more of me. I willingly and unapologetically accept this challenge."
Contact Heather Cherone: @HeatherCherone | (773) 569-1863 | [email protected]
---