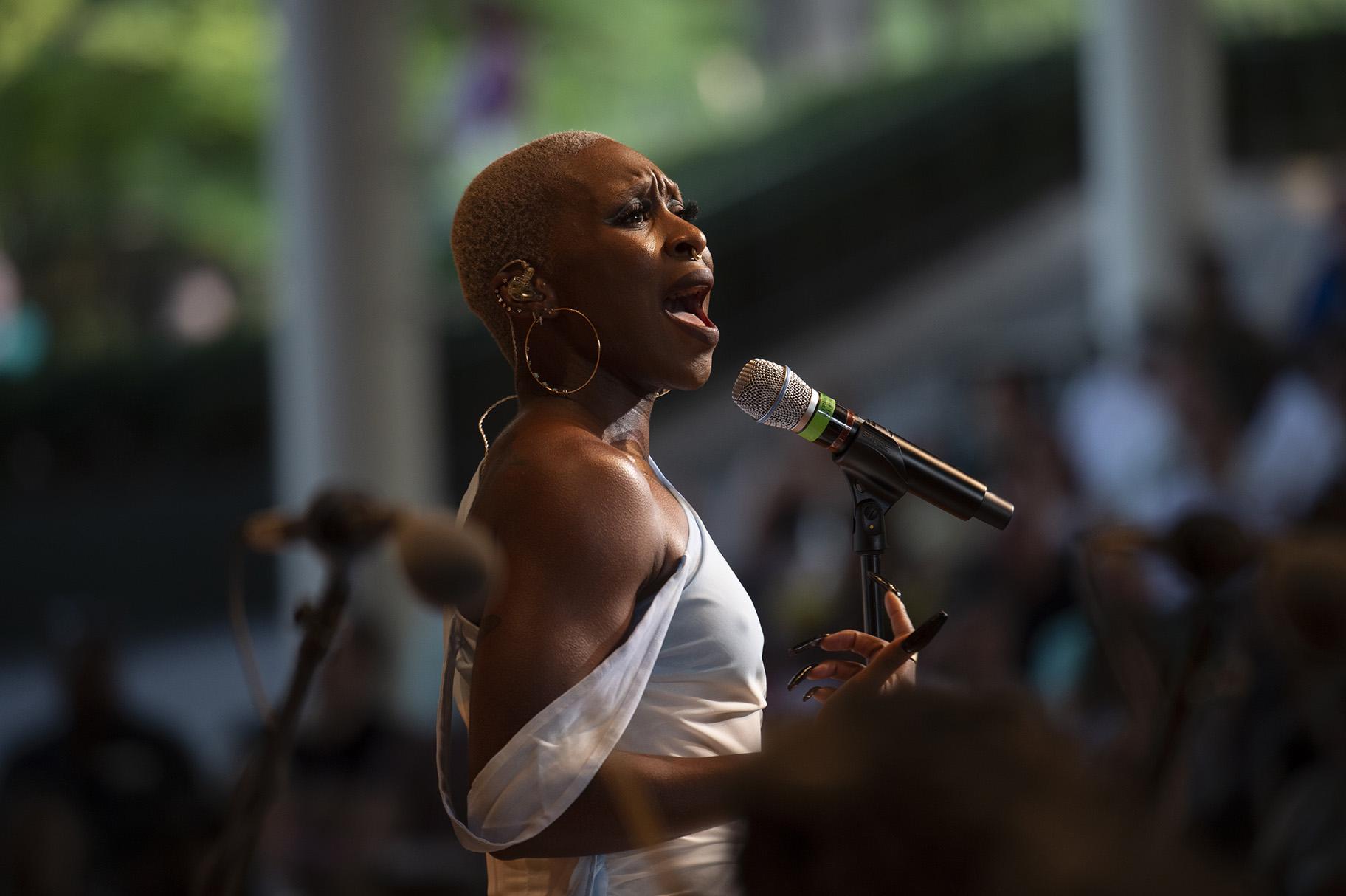 Cynthia Erivo performs at the Ravinia Festival on Sunday, July 19, 2021. (Credit: BQ21 CSO)
It was quite a weekend at the Ravinia Festival where I caught two of three programs featuring the ever-bravura Chicago Symphony Orchestra led by Marin Alsop. Each concert came with a guest artist. Cynthia Erivo, the sublime singer/actress/songwriter was the festival's headliner at Sunday evening's Gala Benefit. On Friday evening it was Rachel Barton Pine, the virtuoso violinist who filled in for the indisposed Midori with just a few hours of advance notice, and who aced Prokofiev's fiendishly difficult "Violin Concerto No. 1."
To cut to the chase: As the accompanist to Erivo (the British-bred performer of Nigerian heritage who has won London and Broadway acclaim, and who recently received an Emmy nomination for her portrayal of Aretha Franklin in the National Geographic's "Genius" series), the CSO and Alsop proved it could easily compete with the best blues band in this country, while Anthony Walker, Erivo's brilliant piano accompanist, simultaneously emerged as an undeniable co-star of the evening, supporting the singer at every moment, but also revealing his own masterful gifts at the keyboard. (Alsop, as well as Stephanie Jeong, the CSO's exceptional associate concertmaster, were notably enthusiastic partners all along the way, too.)
Arriving onstage in a form-fitting gown with sky-blue accents, an armful of bangle bracelets and fingers bedecked with rings and vampire-like nail extensions, Erivo quickly removed her shoes and proceeded to sing a program of 16 songs about love lost, denied or found, drawing on the iconic hits of Nina Simone, Billie Holiday, Aretha Franklin, Etta James, Shirley Bassey and Mahalia Jackson. She infused each song with her own distinctive yet faithful interpretations and arrangements, moving easily from torch-like jazz to gospel, and also added a few of her own compositions to the mix.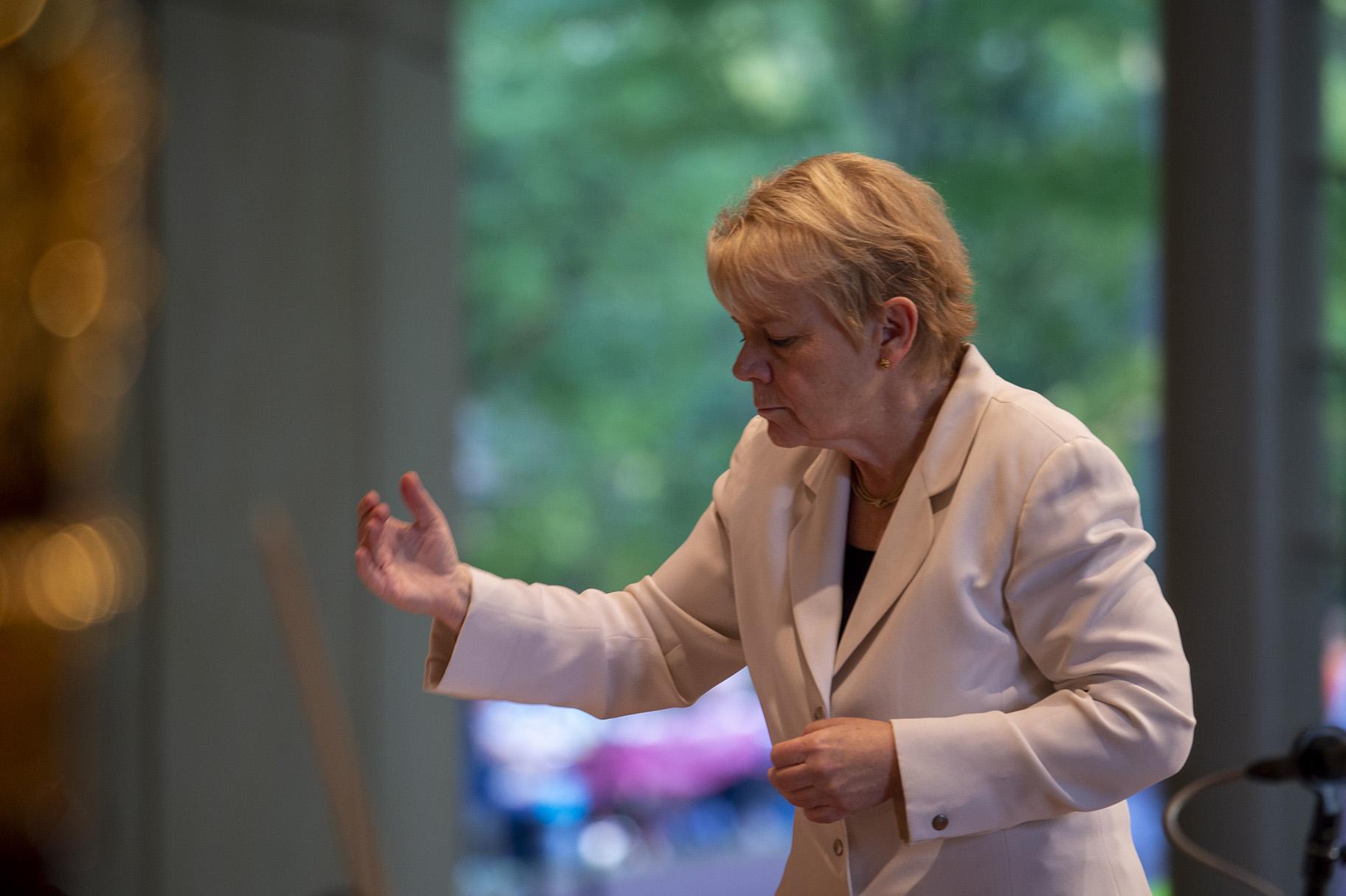 Marin Alsop leads the Chicago Symphony Orchestra at the Ravinia Festival on Sunday, July 19, 2021. (Credit: BQ21 CSO)
Along the way Erivo also demonstrated her uncanny vocal range and dramatic intensity. There was her breathtakingly beautiful performance of "Summertime," George Gershwin's aria-like lullaby from "Porgy and Bess." She brought the most riveting take I've ever heard to "Feeling Good," the Anthony Newley/Leslie Bricusse classic (putting a notably powerful emphasis on the climactic phrase, "freedom is mine"). She ideally captured the pleading lyricism of Jacques Brel's "Ne Me Quitte Pas." And in her own song, "Glowing Up," she winningly declared that "the sun's gonna shine." Then, for her encore, there was a rousing take on Aretha Franklin's anthemic "A Natural Woman," although Erivo's performance left you with no doubt that she is a woman of "unnatural" talent.
And now back to a different kind of "classics" program as Pine (who made her debut with the CSO at age 10), arrived onstage in the motorized wheelchair she has needed since suffering a horrific train accident in 1995. With close partnership from Alsop and the orchestra, Pine launched into the Prokofiev with all its seamless mix of haunting, edgy, mournful riffs, its breaks into frenzied dancelike sequences, its moody interjections beautifully played by the winds, and the use of much plucking and "sliding" by the strings.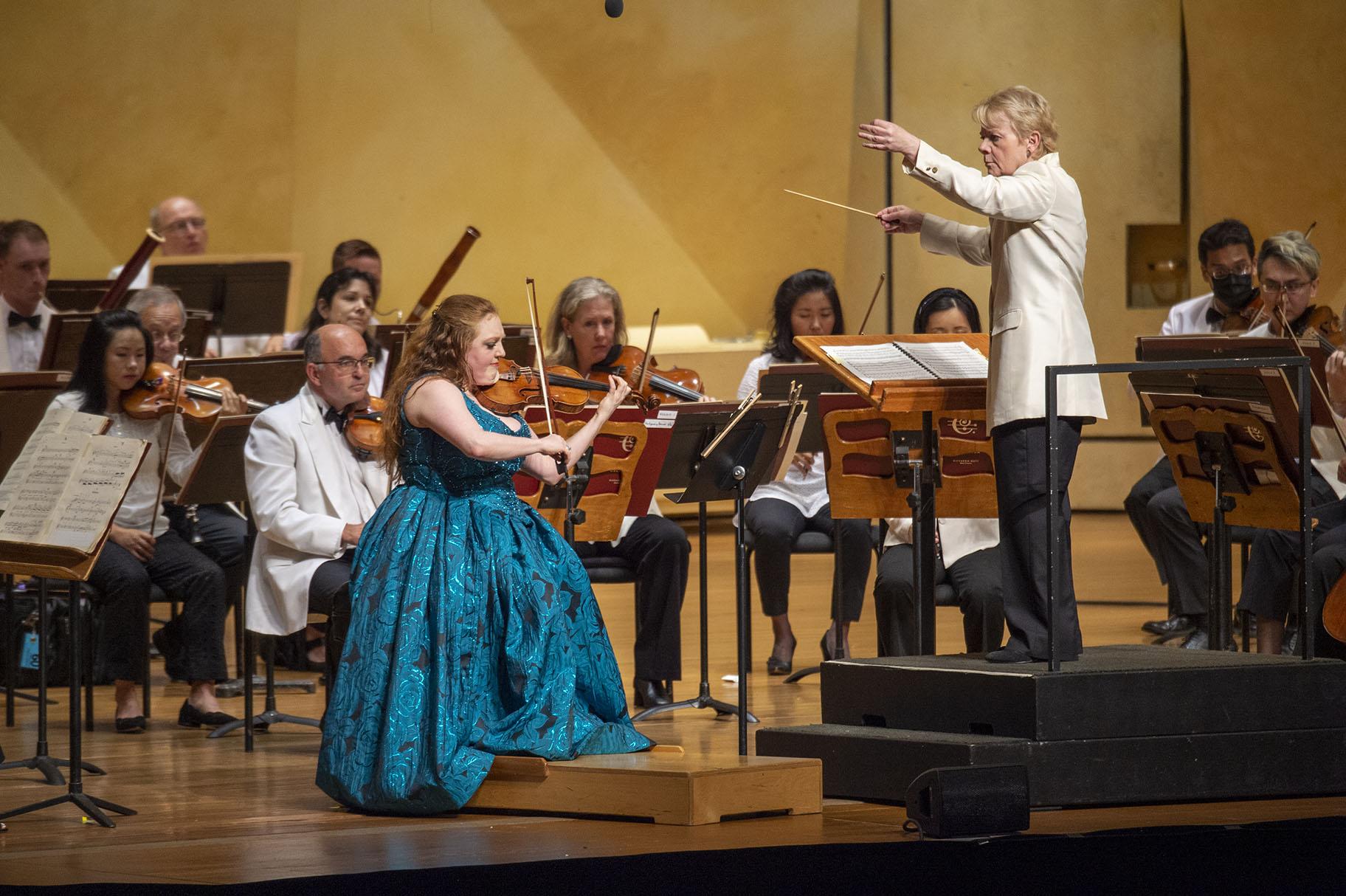 Rachel Barton Pine performs with the Chicago Symphony Orchestra on Friday, July 16, 2021. (Courtesy of the Ravinia Festival)
For her encore, Pine chose an exuberant piece by the African American composer Coleridge-Taylor Perkinson that had a kind of atonal hoedown quality that might even be described as "Prokofiev-like Americana."
The program began with "Banner," a brief but (as always) rhythmically fascinating piece for string quartet and chamber orchestra by Jessie Montgomery, who began her tenure as the CSO's composer-in-residence this summer. Montgomery makes exceptionally ingenious use of all the instruments' voices (drums, violins, low strings), and I am eagerly looking forward to more of her work.
For the program's grand finale there was Mendelssohn's "Symphony No. 4 ("Italian")," with its ravishing melodies, vibrant colors, quick dynamic shifts, beautiful fluidity, fine sequences for the winds, French horns and timpani. Overall, a glorious, celebratory musical ride, with more programs by the CSO (featuring works ranging from Mahler to Bernstein and Broadway) scheduled through Aug. 8.
Follow Hedy Weiss on Twitter: @HedyWeissCritic
---