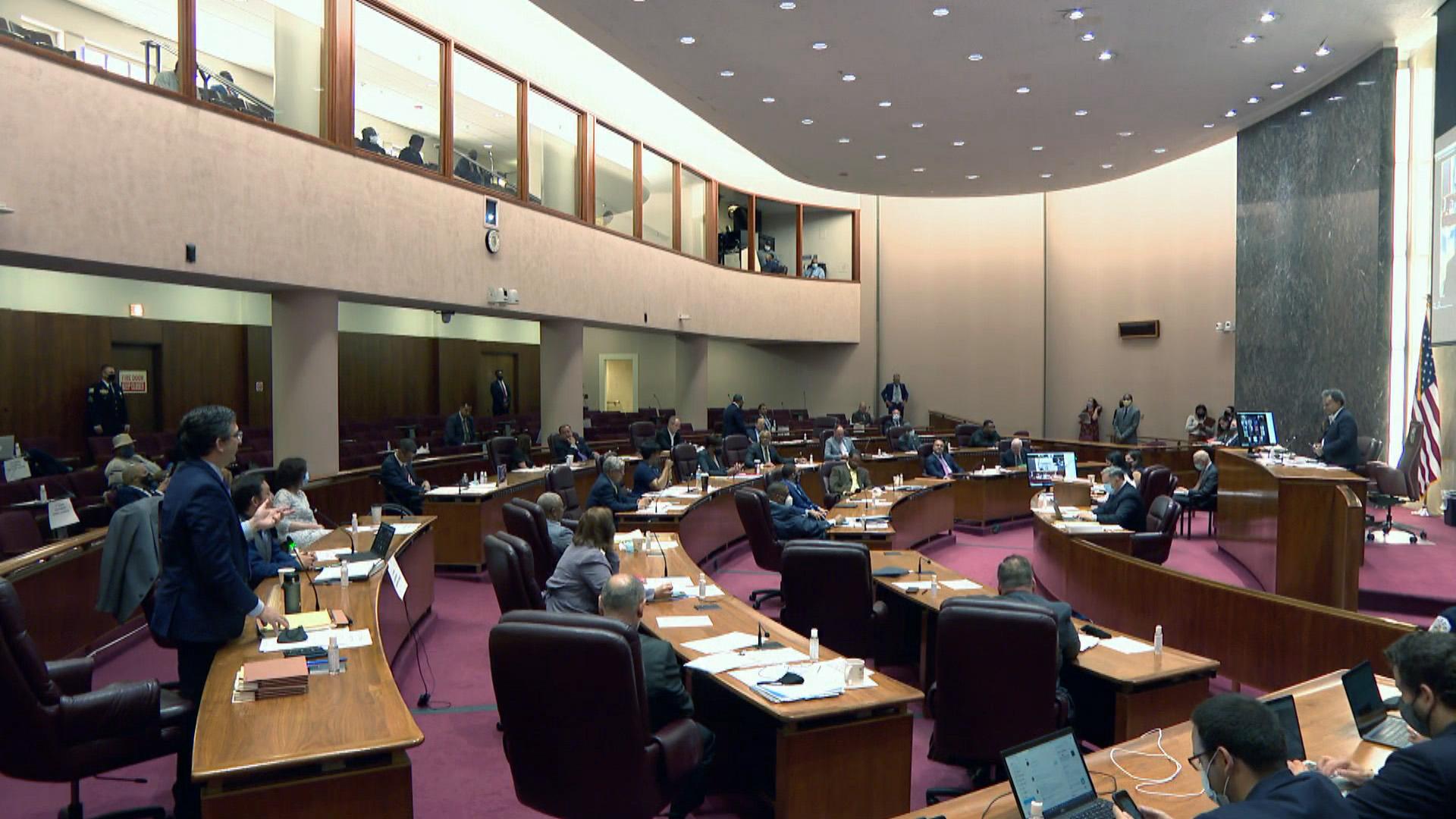 Members of the Chicago City Council meet on Wednesday, May 26, 2021. (WTTW News)
Allowing members of the Chicago City Council to hire and fire ward superintendents violates court-imposed restrictions designed to prevent city jobs from being doled out to political supporters, according to the Chicago's watchdog.
Inspector General Joseph Ferguson's conclusion after a two-year probe brought a furious reaction from some alderpeople, who want to hang on to the power to pick the person charged with responding to complaints, snow removal and trash removal in their wards, since they'll be held responsible on Election Day by voters.
The change could mean a significant loss of power – and clout — for members of the City Council, many of whom relish their positions as the ultimate authority in their ward, and would serve to significantly curtail aldermanic prerogative — the largely unwritten, decades-old practice giving aldermen a veto over ward issues. Efforts by Mayor Lori Lightfoot to do just that have been unsuccessful.
Ferguson, who will leave office in October after serving 12 years as the city's watchdog, said in a statement that the Department of Human Resources and the Department of Streets and Sanitation had already agreed to update the city's hiring plan to comply with the Shakman Decree, which governs political hiring and firing in Chicago.
Those changes are designed to comply with the law while giving alderpeople input on who should be hired because they "must routinely work in close coordination with their assigned ward superintendents" but not the final say, Ferguson said in a statement.
Ward superintendents — who report not to the alderperson, but the commissioner of the Department of Streets and Sanitation — have the power to cite individuals and businesses for a host of infractions, including illegal dumping and snow-covered sidewalks.
The power of alderpeople to hire and fire ward superintendents — who earn between $75,400 and $121,200 annually — stemmed from their traditional role focused on hyperlocal issues that are of the utmost importance to residents of their wards and virtually no interest to anyone outside the boundaries, like business sign permits.
Despite efforts by Lightfoot that have advanced in fits and starts, alderpeople have consistently bucked her efforts to chip away at aldermanic prerogative. The City Council voted 25-24 in June to reject a proposal backed by the mayor that would have given the commissioner of the Department of Business Affairs and Consumer Protection the final say on permits for signs in the public way from a larger package of new laws.
While Lightfoot said the measure was designed to reduce red tape faced by businesses, alderpeople refused to change rules that have been in place for decades that require each sign application to be approved by the full City Council.
That requires the support of the ward's alderperson, since other members of the City Council rarely — if ever — overrule their colleagues on purely local issues, following the unwritten rules of aldermanic prerogative. 
Lightfoot acknowledged at an unrelated news conference Thursday that aldermen jealously guard their power to pick their ward superintendent, and called the issue "the third rail" of Chicago politics.
Lightfoot said members of the City Council should have the power to address quality-of-life issues, which is at the center of the duties of the ward superintendent.
A ward superintendent should be "aligned" with the alderperson's vision for the community and be familiar with the community, Lightfoot said.
"Taking away that tool from the alderman, given the localized needs that are there, that doesn't make sense to me," Lightfoot said.
Lightfoot's remarks highlighted another point of conflict between her and Ferguson, both former federal prosecutors who have known each other for decades.
After Lightfoot took office, she and the city's watchdog found themselves at odds over several issues, most focusing on the city's lagging efforts to overhaul the police department in the wake of 17-year-old Laquan McDonald's murder in 2014 and a 2017 Department of Justice investigation that found Chicago police officers routinely violated the constitutional rights of Black and Latino Chicagoans.
City hall observers on Thursday were surprised that Lightfoot objected to a finding that would serve to scale back the power of alderpeople. Her first act as mayor was to strip aldermen of the power to block a host of licenses and permits.
During the 2019 campaign, Lightfoot repeatedly said it was necessary to reduce the power of aldermen to root out corruption, but never proposed a plan to change the city's massive zoning code to end aldermanic prerogative and does not have enough votes to push it through.
Contact Heather Cherone: @HeatherCherone | (773) 569-1863 | [email protected]
---