Chicago would, at first glance, appear to be insulated from the worst effects of climate change, as it's situated in the middle of the country near the world's largest source of freshwater and far from rising oceans.
But a much-talked about report in the New York Times pours cold water on that myth.
The interactive article shows how erratic water levels in Lake Michigan, on top of Chicago's stressed water management system, have left the city and its infrastructure vulnerable to potentially catastrophic damage.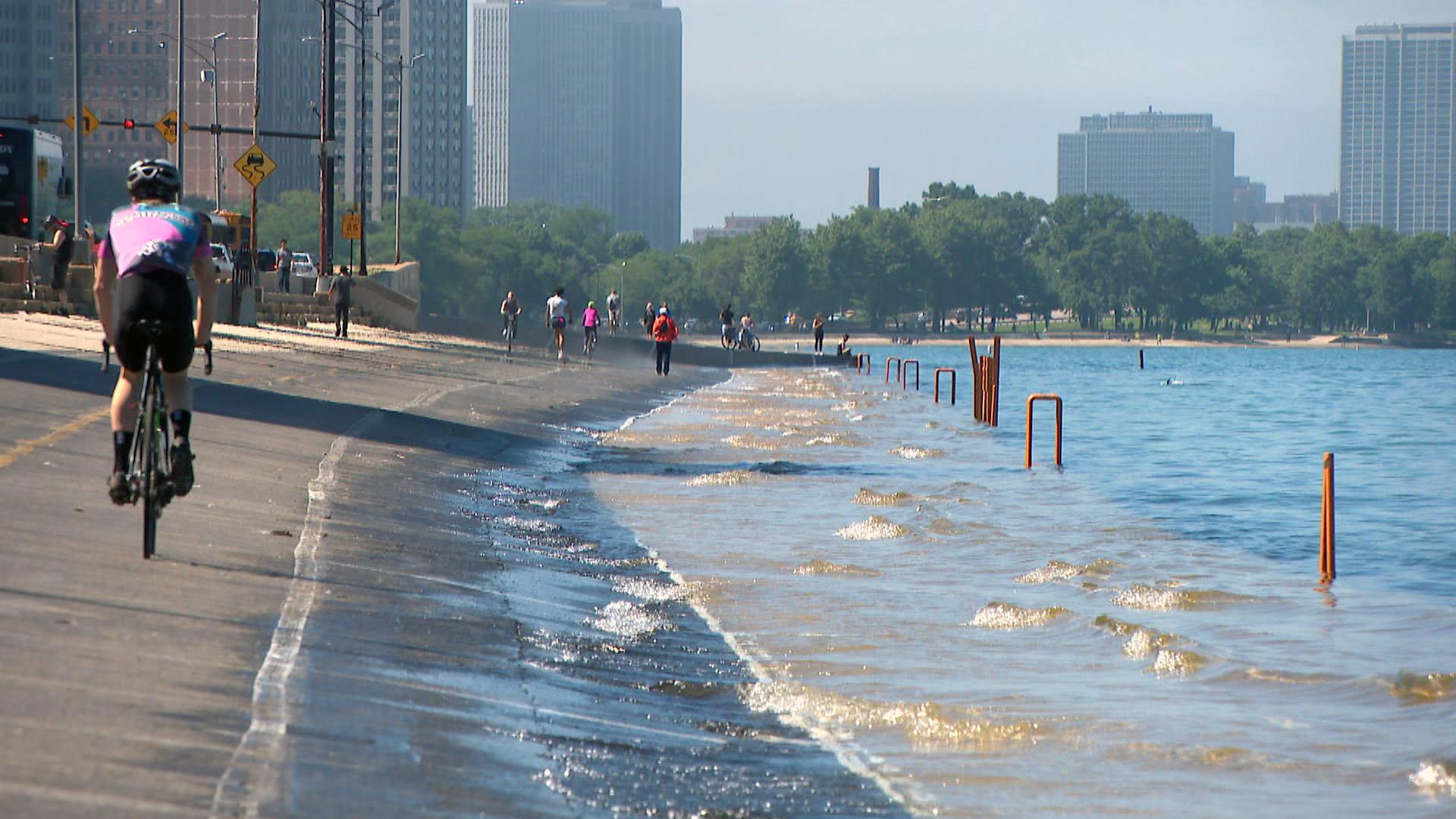 Lake Michigan waves cover Chicago's lakefront path in the summer of 2019. (WTTW News)
In 2013, Lake Michigan's water levels were at an all-time low. But just seven years later, in 2020, they broke the summertime record high.
"Climate change has started pushing Lake Michigan's water levels toward uncharted territory as patterns of rain, snowfall and evaporation are transformed by the warming world. The lake's high-water cycles are threatening to get higher; the lows lower. Already, the swings between the two show signs of happening faster than any time in recorded history," writes the story's reporter Dan Egan, who also wrote the 2017 book "The Death and Life of the Great Lakes."
READ: Chicago More Vulnerable to Climate Change than Miami, Says 'Death and Life of Great Lakes' Author
The impact of erratic water levels on Chicago's infrastructure have been profound. Beaches have shrunken — or in some cases, disappeared — while the owners of lakefront buildings have spent thousands of dollars to avoid flood damage.
"In just seven years, Lake Michigan had swung more than 6 feet," Egan writes. "It was an ominous sign that the inland sea, yoked for centuries to its historic shoreline, is starting to buck."
On top of the water levels, another challenge is Chicago's often-stressed water management system, which features the Chicago River at its core.
That system was strained almost to a breaking point in May 2020, when a rainstorm overwhelmed the city's reservoirs for stormwater and sewage, forcing them to be released into the river.
But because of record high water levels in Lake Michigan, the lock gates which typically release river water into the lake had to remain closed far above their normal threshold, threatening significant flooding and damage to downtown Chicago.
"They got about a foot beyond that threshold before they could open up the gates. Had they done it prior to that, the lake would have just tumbled into the river, and tumbled into downtown," Egan said. "Lower Wacker was more like a river, the Willis Tower basement was like a swimming pool."
Lake levels began to decline again in 2020, but Egan says the unpredictability remains.
"It's really hard to push water around, but Chicago is better at it than almost any other place, particularly in North America … but it's going to be a challenge," Egan said. "I don't think there's any flip you can switch right now."
---