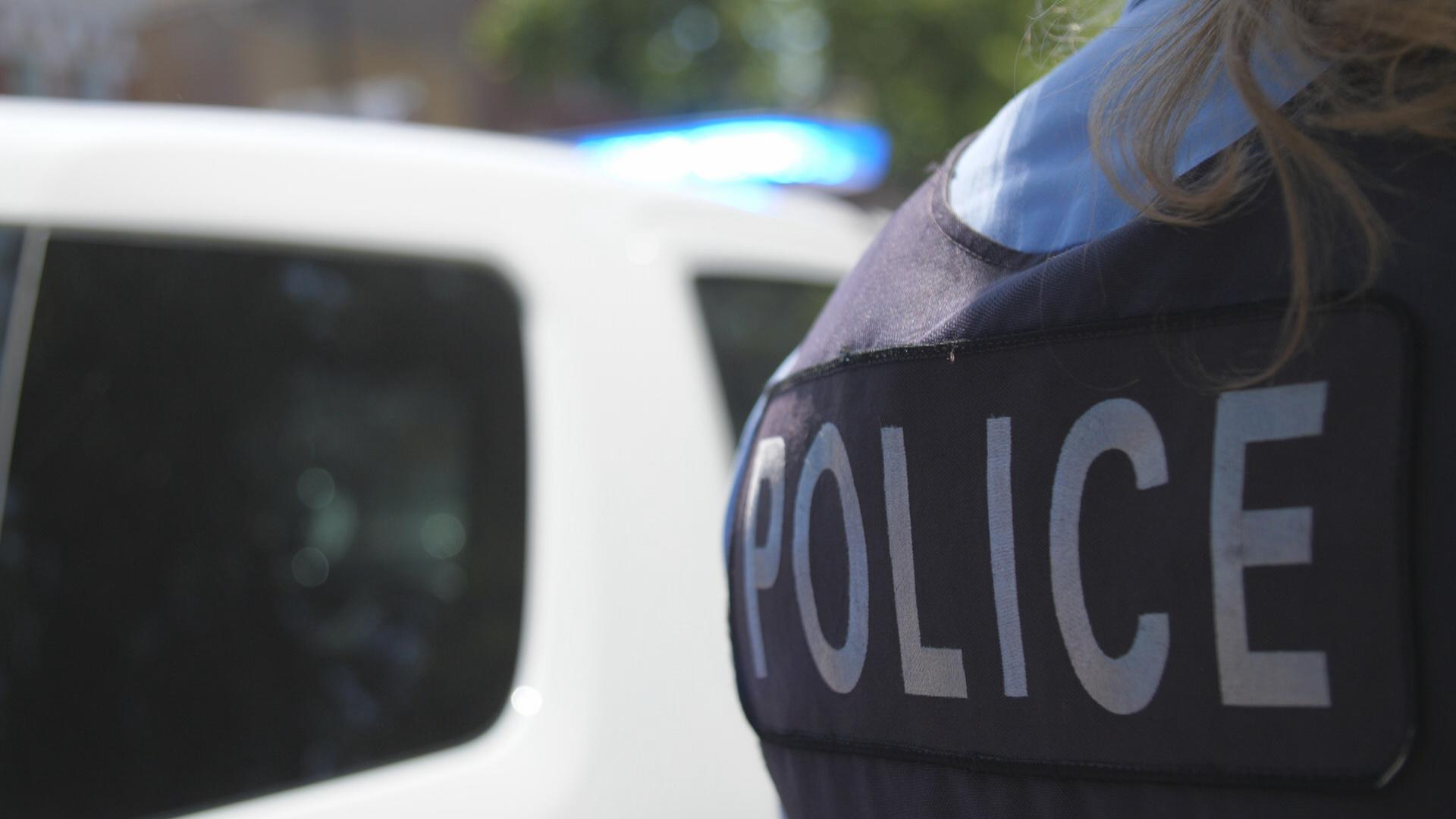 (WTTW News)
Chicago police officers have been working without a contract for four years, thwarting efforts to reform the department and improve officers' flagging morale amid a spike in crime.
The roadblocks preventing a new deal between the police union and city officials are unchanged since the contract expired on June 30, 2017 — and both sides are unwilling to compromise.
Mayor Lori Lightfoot has said she will not sign a new deal with the Fraternal Order of Police Lodge 7 that does not give the city more tools to hold police officers responsible for misconduct. 
It's unlikely that such a deal would be ratified by the Chicago City Council, whose members are under increasing pressure to stem the tide of multimillion-dollar police misconduct settlements.
But without a new contract with the police union, efforts to ensure the Chicago Police Department protects the civil rights of Chicagoans — especially Black and Latino residents — will be stymied, reform advocates said.
Rachel Murphy, a staff attorney for the American Civil Liberties Union of Illinois, said real changes to the way the police department operates will have to wait until a new contract is in place.
"It is not benefitting residents of Chicago for the police to operate under a deal that expired four years ago," Murphy said. "It really makes it difficult to hold officers accountable."
Until a new deal is reached, Chicago police officers — who are prohibited from striking — will continue working under the terms of the expired agreement, originally inked in 2012 after more than two years of negotiations.
"Chicago's police officers and its residents deserve a new agreement that is consistent with our city's values and that gets officers the pay raises and benefits that they've long waited for," according to a statement from the mayor's office.
'A long time not to have a contract'
For more than a year, Lightfoot has vowed to model a new deal for rank-and-file officers on the contract approved in 2020 with the union that represents police brass, including sergeants, lieutenants and captains. That deal represented a "historic win" for police reform efforts, Lightfoot said.
"These changes will bring Chicago up to par with national best practices, and over the long term will help Chicago build credibility and trust with residents," according to a website from the mayor's office designed to ratchet up pressure on the Fraternal Order of Police to reach a new deal, complete with a countdown clock measuring the time since their deal expired, down to the day.
The city's contract with police brass allows members of the public to submit a complaint anonymously, something the city's collective bargaining agreement with the Fraternal Order of Police prohibits.
It also protects the names of complainants from being disclosed to officers until immediately prior to their interview, which typically comes at the end of an investigation.
Under the expired contract, an affidavit is required before complaints against officers can be investigated, a process the Department of Justice criticized in a 2017 investigation of the CPD, saying it meant many allegations were never made for fear of retaliation. 
However, the mayor's office points to a new state law that bans police unions' collective bargaining agreements to require complainants to sign an affidavit when filing a complaint against a police officer.
Regardless of the new state law, the provisions of the Fraternal Order of Police's expired contract remain in effect.
In addition, police supervisors are now required to disclose whether they work a second job and how many hours they worked. Their contract also allows department officials to impose a 16-hour cap on working any job within a 24-hour period unless ordered by the department.
In an audit released in October 2017, Inspector General Joseph Ferguson called on city officials to monitor officers' outside employment "to ensure that CPD officers are not overworked, and remain rested, alert, and ready to serve the public."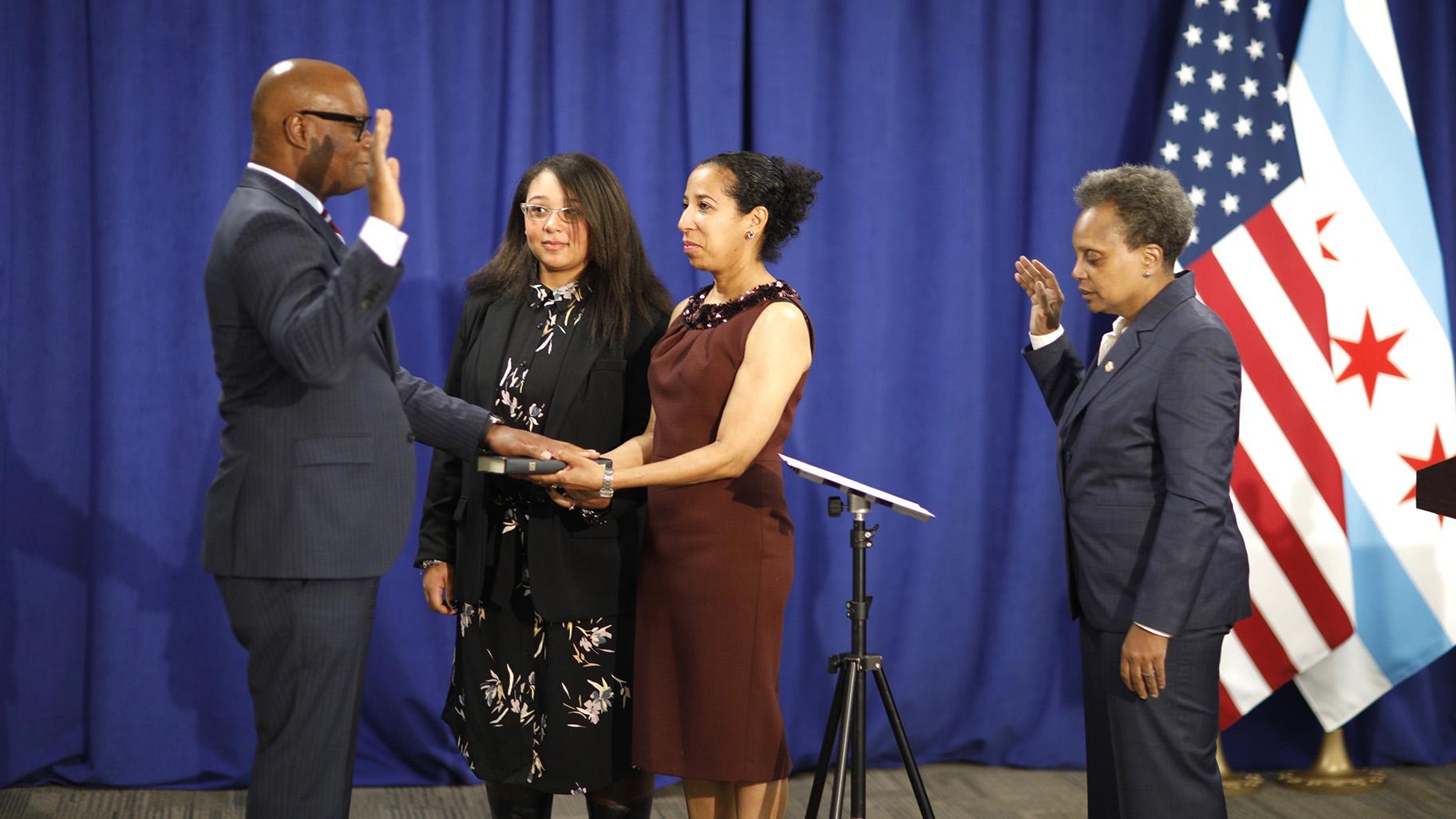 David Brown is sworn in as police superintendent by Chicago Mayor Lori Lightfoot after unanimous approval by the Chicago City Council on Wednesday, April 22, 2020. Brown's wife and daughter are also pictured. (@Chicago_Police / Twitter photo)
Reform advocates also want to repeal a provision in the collective bargaining agreement that allows officers who use force against a member of the public to revise their statement to investigators after reviewing audio and video recordings of the incident. Another provision targeted by reform advocates allows officers to wait 24 hours before speaking with investigators.
Critics of the Chicago Police Department contend both of those provisions have been used by officers to uphold a code of silence that prevents officers guilty of misconduct from being disciplined.
A new deal for the 12,000 rank-and-file officers based on the pay raises included in the deal for the department's brass would mean each officer would get approximately $27,500 in retroactive pay, according to the mayor's office.
"Given all of this, there is no reason why accountability issues should hold up an agreement with the FOP," according to the mayor's office.
The mayor's office blamed union President John Catanzara for preventing a new deal, saying, "He has refused to move the process forward."
The "city has requested numerous times in the past months to proceed as quickly as possible to mediation and interest arbitration to finally bring a conclusion to this process. However, President Catanzara has refused."
Police Superintendent David Brown declined to answer questions Monday about the fourth anniversary of the contract's expiration, saying it likely wouldn't be helpful for him to weigh in with negotiations ongoing. However, Brown said he hoped "cooler heads [would] prevail" and an agreement would be reached.
"I will just say that's a long time not to have a contract," Brown said. "That's a long time not to have these brave men and women not compensated for their very hard work and sacrifice every day."
Contract negotiations between the city and the police union receded from the spotlight amid the COVID-19 pandemic and the massive protests that followed the police murder of George Floyd in Minneapolis. As the pandemic wanes, a spike in violent crime has taken center stage.
Lighfoot and Catanzara have been at odds since he was elected to lead the police union in May 2020 after vowing to resist all reform efforts. Catanzara, who was stripped of his police powers, faces 11 charges that he violated department rules by making a series of obscene and racist social media posts, making false reports and being insubordinate to supervisors. The Chicago Police Board is weighing whether to fire him.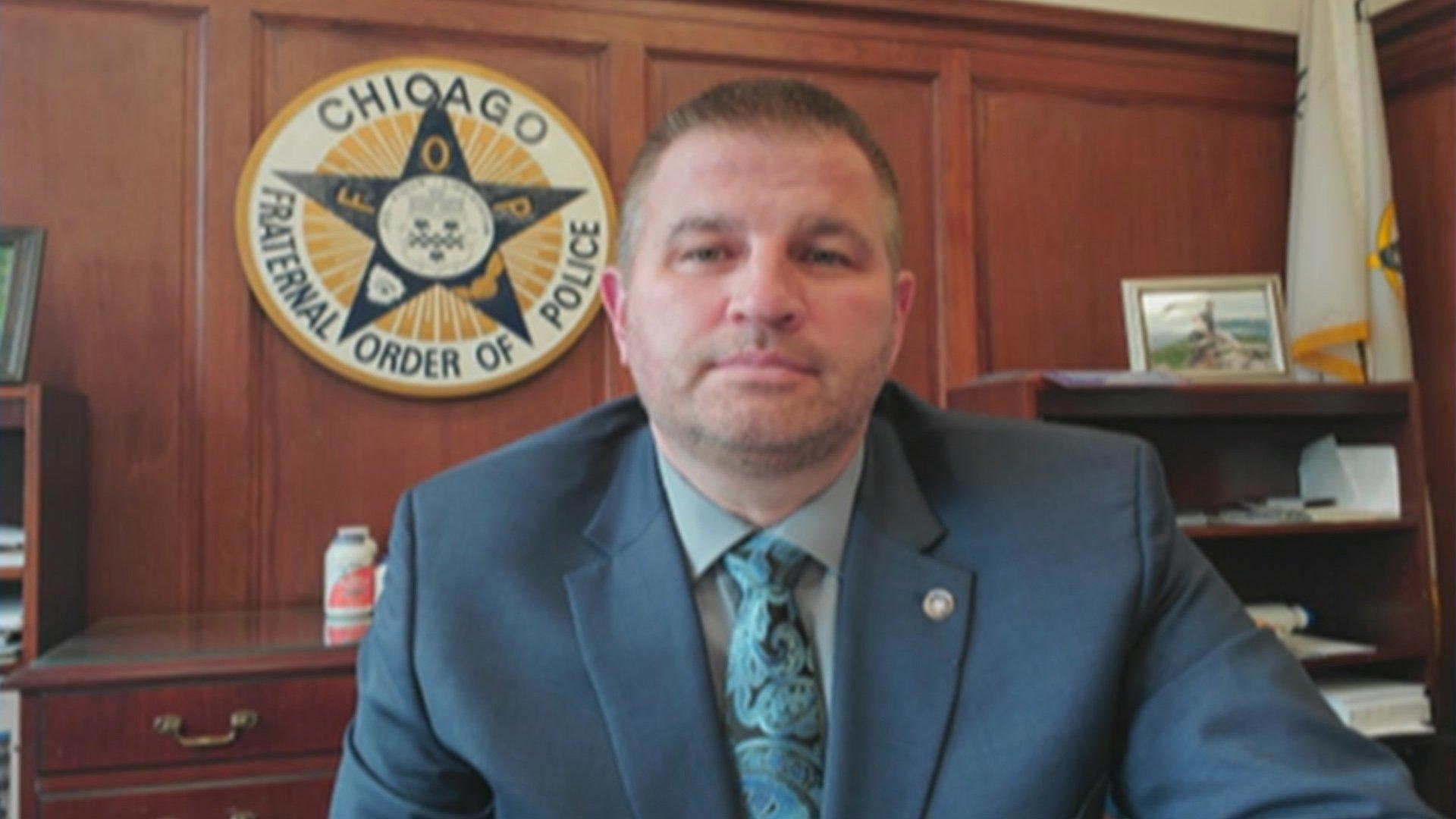 Fraternal Order of Police Lodge 7 President John Catanzara appears on "Chicago Tonight" via Zoom on May 14, 2020. (WTTW News)
The contract negotiations — the longest in the city's history — could also be a factor in the rising number of officers who retired between January and May. More than 300 officers left the department during that period, a figure nearly equal to the number of officers who retired in all of 2018, officials said.
Catanzara said he was optimistic the two sides could reach an agreement on the financial aspects of the contract by the fourth anniversary of its expiration.
"Hope springs eternal," he told WTTW News. "I remain hopeful that the city will do the right thing before Wednesday evening, but I guess we shall see. The ball is absolutely in their court."
The already tense relationship between Catanzara and Lightfoot worsened after the union president defended in an interview with WBEZ those who stormed the U.S. Capitol on Jan. 6 as part of an insurrection led by supporters of former President Donald Trump.
Catanzara later apologized after he was reprimanded by the national Fraternal Order of Police.
Before the COVID-19 pandemic, Catanzara frequently addressed the City Council while wearing pro-Trump sports jerseys.
Lightfoot, a former federal prosecutor and a Democrat, has taken "an absolute hard line that police are the problem with society, with everything wrong with Chicago," Catanzara said.
Catanzara described the mayor as "pretty stubborn," and said Lightfoot "can't admit she's wrong."
Any compromises the union would be willing to make will be off the table after Wednesday, Catanzara said.
In a video message posted June 26, Catanzara called on city aldermen — particularly those who "back the police on a regular basis" — to put pressure on the mayor to get a deal done.
"You have the ability to do the right thing by the men and women who have protected this city through one of its most violent streaks in history ever," Catanzara said. "So please, I'm imploring you, do the right thing. Get involved. Put pressure on City Hall to make an agreement a reality going forward."
Catanzara and other union leaders have blasted Lightfoot and Brown for forcing officers to work overtime and canceling days off, which prompted a no-confidence vote in May by the police union in Lightfoot, Brown and First Deputy Superintendent Eric Carter.
The current contract allows police brass to extend shifts to 12 hours and cancel days off arbitrarily, Catanzara said.
"There needs to be some very clear, defined terminology and thresholds that need to be met in order to be canceling days off arbitrarily," Catanzara said. "It just can't keep happening. It needs to be a verifiable, visible, palpable emergency."
Before canceling days off, the CPD must first take officers who volunteer to work those days, Catanzara said.
Officers who have their days off canceled should receive twice their normal pay, rather than the current standard of time-and-a-half, he added. 
Heather Cherone: @HeatherCherone | (773) 569-1863 | [email protected]
Matt Masterson: @ByMattMasterson | (773) 509-5431 | [email protected] 
---