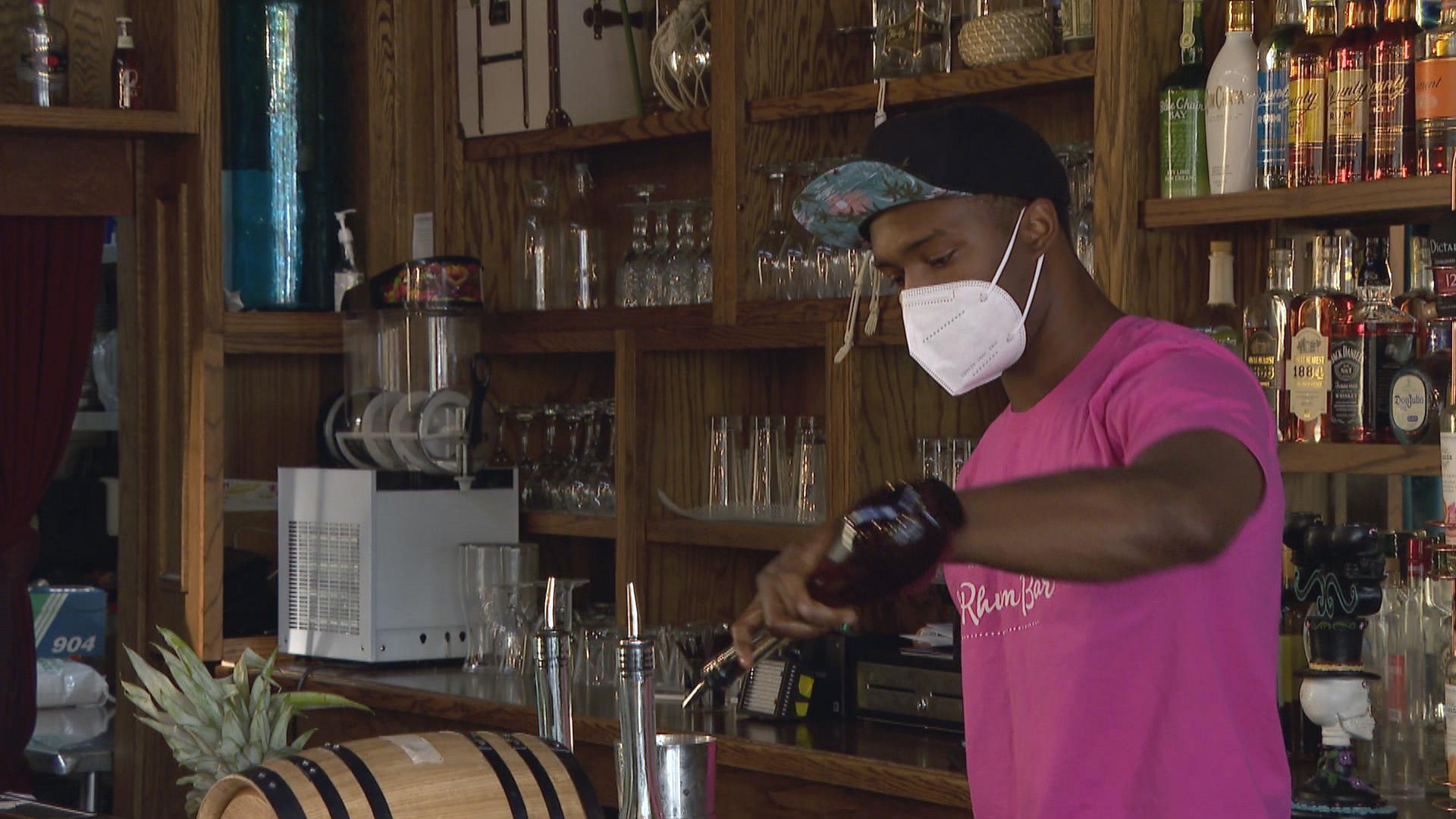 A bartender mixes a drink at the Chicago restaurant 14 Parish. (WTTW News)
Mayor Lori Lightfoot suffered a stinging defeat Friday as aldermen refused to approve her efforts to reduce their control over business signs, an indication that aldermen will not relinquish their veto over ward issues.
Led by Ald. Brendan Reilly (42nd Ward) — citing an obscure part of the City Council's rules — the City Council voted 25-24 to carve out a provision to give the commissioner of the Department of Business Affairs and Consumer Protection the final say on permits for signs in the public way from a larger package of new laws.
The City Council then voted unanimously to approve the rest of the massive package Lightfoot said was designed to help Chicago businesses recover from the COVID-19 pandemic, including a ban on the sale of alcohol at stores after midnight that takes effect immediately. Before the COVID-19 pandemic, stores could sell booze until  2 a.m. Sunday through Friday and until 3 a.m. Saturday.
In a continuation of the parliamentary shenanigans that have marked recent meetings of the City Council, Ald. Raymond Lopez (15th Ward) and Ald. Rossana Rodriguez Sanchez (33rd Ward) then moved to block a vote Friday on the changes to the city's process for approving sign permits, sending the matter to the City Council meeting in July. 
That sealed Lightfoot's defeat Friday on what was her central campaign promise during the 2019 campaign, saying it was necessary to reduce the power of aldermen to root out corruption. It also signals that the mayor's long-promised but never realized plan to change the city's massive zoning code to end aldermanic prerogative is dead before its arrival.
After the City Council meeting, Lightfoot declined to concede defeat on the issue of sign permits as well as the larger debate over the power of alderpeople. 
"What this issue is about is cutting red tape," Lightfoot said, adding that it should not take months to get a sign permit from city officials. "We're going to keep fighting." 
After taking office, Lightfoot soon found that promising to end aldermanic prerogative was much easier said than done, with the basis for the largely unwritten, decades-old practice giving alderpeople a veto over ward issues woven throughout the hundreds of pages of the municipal code and fiercely defended by alderpeople. 
Rules that have been in place for decades require each sign application to be considered by the City Council's Transportation and Public Way Committee, which will typically approve dozens of applications at each meeting. 
That requires the support of the alderman, since other members of the City Council rarely — if ever — overrule their colleagues on purely local issues, following the unwritten rules of aldermanic prerogative. 
However, that process can be cumbersome, and force businesses to wait months to get their sign approved and in place. 
Lightfoot has said the proposed changes to sign permits has nothing to do with chipping away at aldermanic power and everything to do with making it easier for new businesses to open and start making money after many were closed for most of the year by the COVID-19 pandemic. 
But efforts by members of the Lightfoot administration to reassure aldermen that they could stop permits for signs they opposed fell on deaf ears.
Reilly pushed back, and ultimately prevailed, convincing a majority of his colleagues that the commissioner of the Department of Business Affairs and Consumer Protection would have the final say on permits — leaving them wearing the jacket for signs that anger or annoy residents.
The measure approved by the City Council also reimposes a 15% cap on fees charged by delivery services such as Postmates, Grubhub, DoorDash and Uber Eats until Dec. 8, or 180 days after the last of the city's COVID-19 restrictions were imposed.
The ordinance also calls for the city to use $10 million in federal relief funds to offer targeted grants to businesses "that have been particularly impacted by the pandemic" as well as approval for the sale of to-go cocktails.
Also included was a mechanism to create payment plans for businesses in debt to the city in order to allow them to renew their licenses and keep operating, according to the mayor's office.
Other changes include new rules designed to expedite permits for restaurants opening in once-vacant spaces as well as a provision legalizing A-frame sandwich signs for businesses, which can now trigger a fine of $100.
The package is also designed to "streamline regulations" on taxis, which have been battered by the ride-share industry, and allow them to stay on Chicago's roads longer. 
The measure also smooths the path for those with criminal records for cannabis offenses to get jobs driving public vehicles and to work in the hospitality industry.
In other action, the City Council approved an effort backed by Lightfoot to crack down on wage theft, which city officials said cost employees more than $400 million per year. 
Another measure approved Friday is designed to ensure that hotel workers who want to return to their jobs are rehired after most hotels were closed for nearly a year during the COVID-19 pandemic. 
Lightfoot celebrated the passage of those measures after the meeting with a pep rally attended by Unite Here Local 1, which represents many of Chicago's hotel workers and vowed to do everything possible to ensure that the city's post-pandemic economy does not leave behind the essential workers that kept the city going for the past year. 
The City Council also confirmed Lightfoot's pick of Celia Meza as the city's corporation counsel. That vote was delayed Wednesday by Ald. Raymond Lopez (15th Ward) and Ald. Jeanette Taylor (20th Ward) who were angry that the city's Law Department had yet to settle the lawsuit filed by Anjanette Young, a social worker whose home was mistakenly raided in February 2019. Forty-three times, Young told the seven male police officers who handcuffed her while she was naked that they were in the wrong home and begged them to let her get dressed.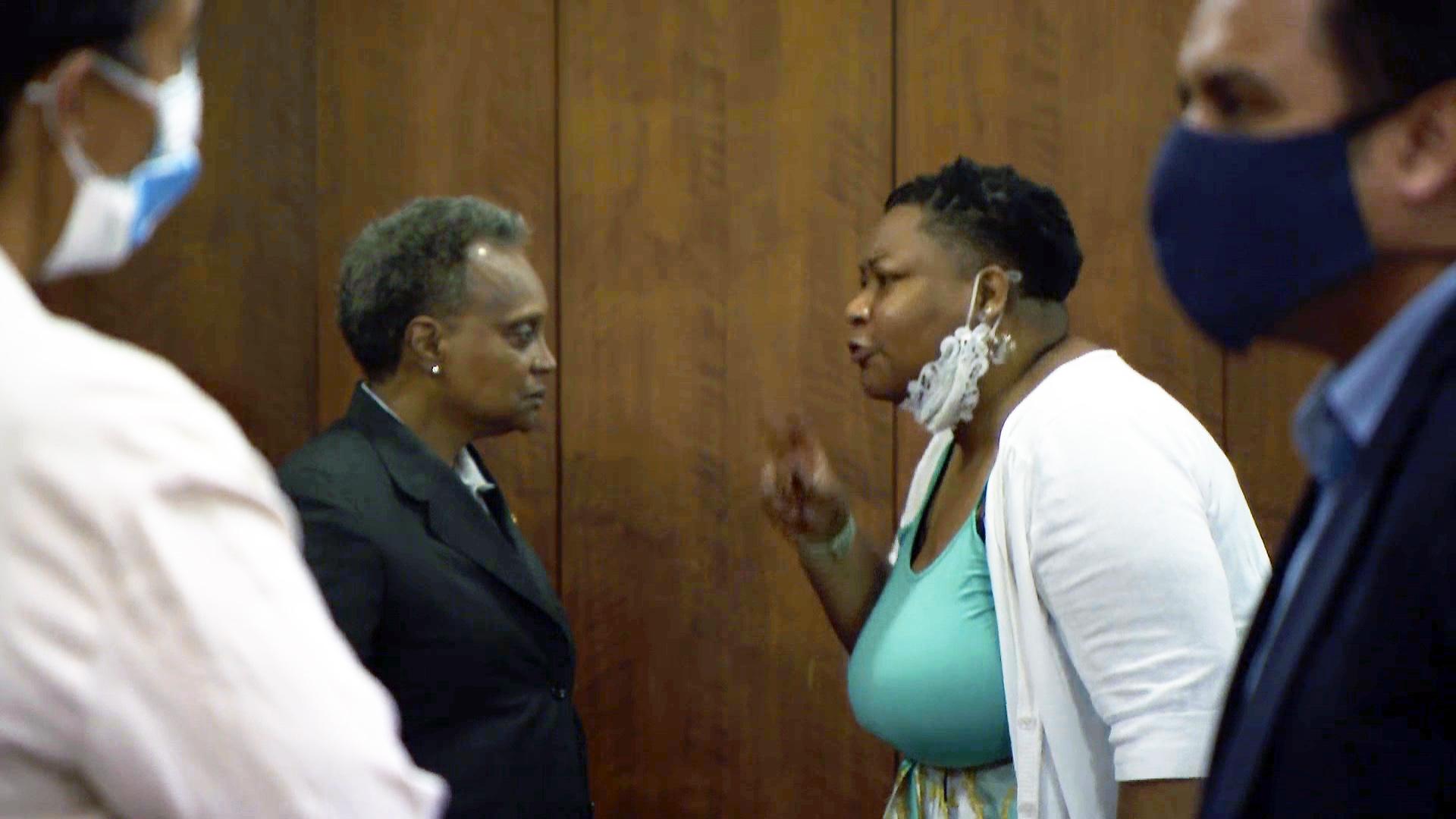 Mayor Lori Lightfoot, left, listens as Ald. Jeanette Taylor (20th Ward) responds to her request to allow the Chicago City Council to vote to confirm Celia Meza as the city's top lawyer at a City Council meeting Wednesday, June 23, 2021. (WTTW News)
During Wednesday's meeting, Lightfoot confronted Taylor about her action and the two argued for several minutes, with Taylor growing animated as Lightfoot seethed with anger and frustration. 
Meza's confirmation was back for a vote Friday, and Lightfoot lauded her as a "lawyer's lawyer" and someone who would call balls and strikes. She is now the first Latina to lead the city's Law Department. 
But the damage caused by the clash reverberated during the brief debate on Meza's confirmation Friday, with Ald. George Cardenas (12th Ward) saying that the delay was a  "slap in the face" to Chicago's Latino community and served as a "personal attack" on Meza. 
Taylor said her action was not directed at Meza, but at the city's mishandling of the lawsuit filed by Young. 
"I'm not going to apologize — ever — for standing up for a Black woman," Taylor said, adding that she was outraged by Cardenas' remarks. "This was not an attack on the Latinx community." 
Contact Heather Cherone: @HeatherCherone | (773) 569-1863 | [email protected]
---