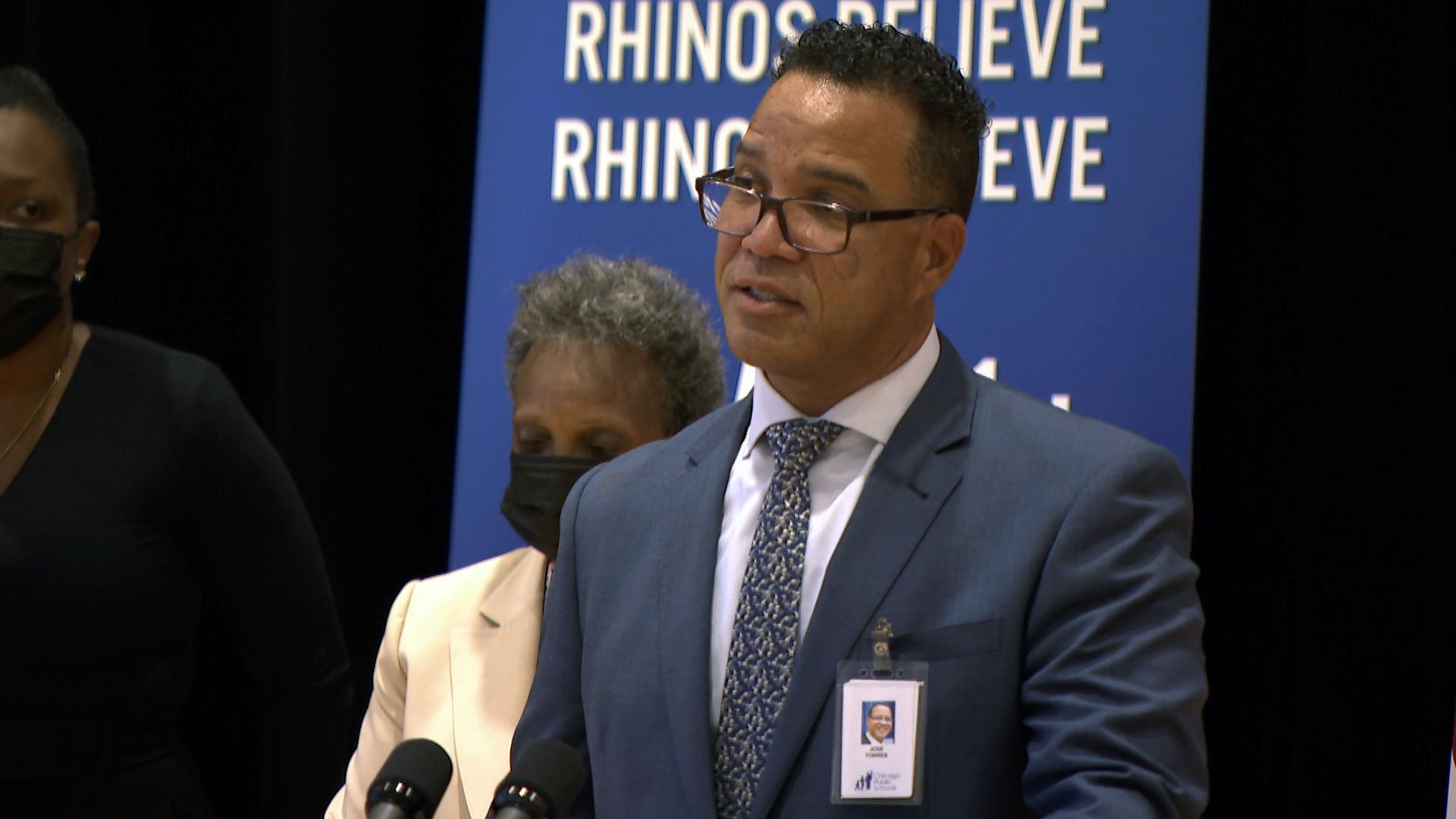 Jose Torres speaks at a news conference announcing his position as interim Chicago Public Schools CEO on Monday, June 14, 2021. (WTTW News)
As Chicago Public Schools continues its search for a permanent replacement for outgoing CEO Janice Jackson, district leaders on Monday announced who will be taking over the role for the short term.
Jose Torres, a former CPS official who previously led the second-largest school district in Illinois, will serve as interim CEO once Jackson's contract expires at the end of June.
"I think education is key," Torres said during an introductory news conference Monday at Richardson Middle School. "It's a key to a great city and a great city creates investments in education, so that's what we want to do."
Torres recently retired from his role as president of the Aurora-based Illinois Mathematics and Science Academy, where he worked since 2014. Prior to that, he served as the superintendent of Elgin Area School District U-46 for six years, and as an area instructional officer for CPS.
"He knows how to improve student achievement and he knows how important it is to center equity and inclusion within every aspect of our educational system," Mayor Lori Lightfoot said. "His stellar track record and career and lived experiences make him a great fit for this role."
Torres outlined three goals he hopes to accomplish during his time in the district: getting CPS prepared to open its doors for in-person learning five days per week in the fall, re-engaging current students, and ensuring kids take advantage of summer learning opportunities.
But he also made clear on Monday he's not interested in keeping the CEO position in the long term.
"I'm here to serve," he said, "I'm not building my resume."
In a statement, the Chicago Teachers Union said it looks forward to a "collegial and collaborative relationship" with Torres.
"CPS needs leaders who are true proponents of equity and labor, and we hope that Dr. Torres respects and embraces the hard work and sacrifice that teachers, clinicians, paraprofessionals, counselors and librarians bring to their school communities," the union said. "We invite him to meet with educators, hear their concerns, and make CPS families and school communities public and active participants in securing a permanent district CEO."
Jackson added that the district's labor team has already begun engaging with the union about fall reopening and she "feels pretty good about the conversations as they are happening."
Jackson said Torres was the first person she called about taking the position as an interim, adding she has "150% confidence" in his ability to serve competently. She announced in March that she would be stepping away from CPS after more than three years as CEO.
"While I know you've said your time here will be limited," she told Torres, "I can guarantee you it will be unforgettable."
Two other high-ranking district officials, Chief Education Officer LaTanya McDade and Chief Operating Officer Arnie Rivera, are also leaving CPS. Those roles have also been filled by interim replacements: the district's Chief Equity Officer Maurice Swinney will fill McDade's role, while Lindy McGuire will temporarily replace Rivera.
Lightfoot has promised "unprecedented" levels of public participation in the search for a new CEO, which is expected to have finalists announced by the end of next month.
Contact Matt Masterson: @ByMattMasterson | [email protected] | (773) 509-5431
---