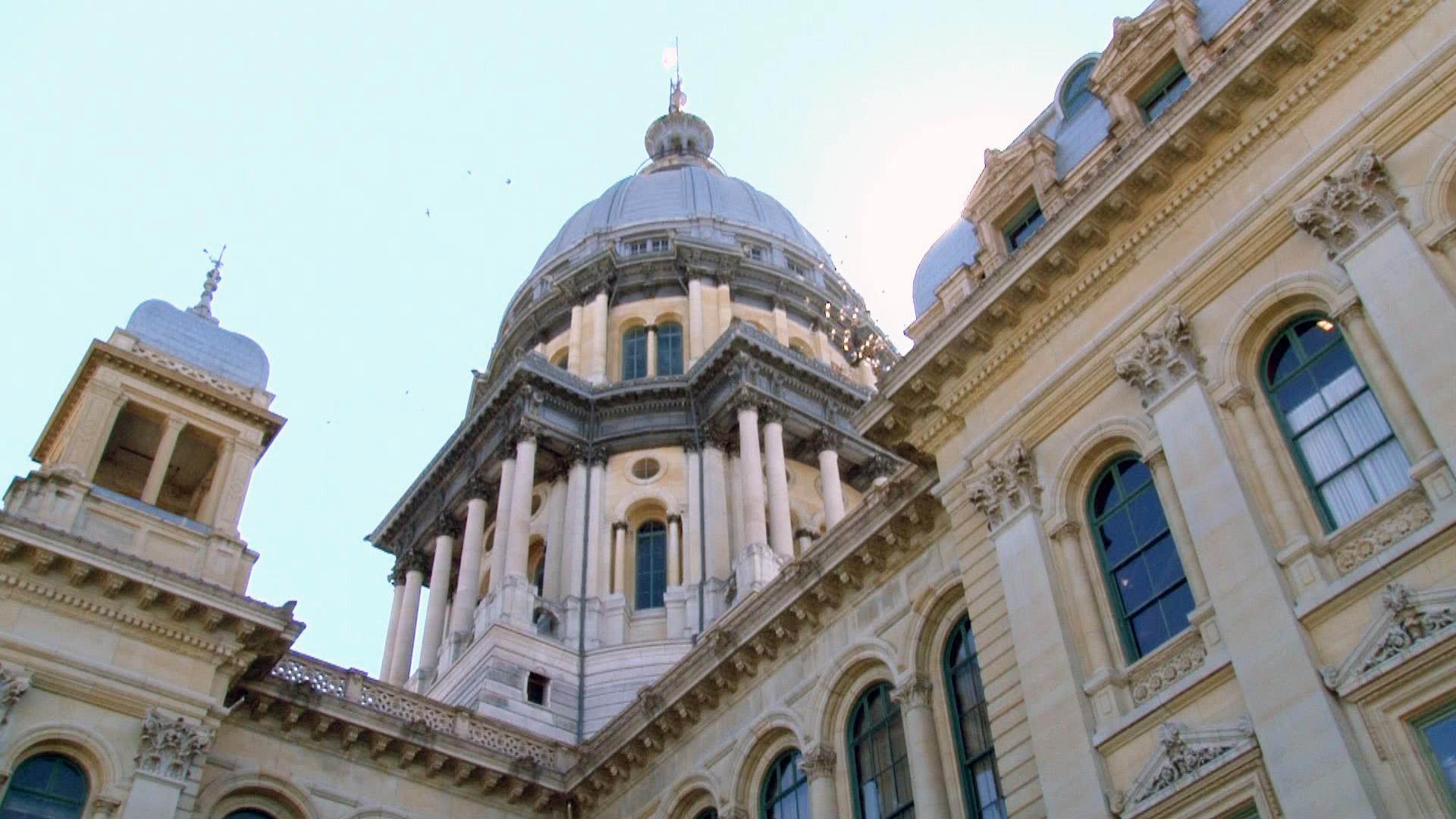 (WTTW News)
Illinois legislators voted along partisan lines Friday in response to another set of political lines: the boundaries of districts for the legislature, state Supreme Court and the Cook County Board of Review.
A new congressional map, however, hasn't surfaced, making it likely that the General Assembly will leave the task for fall, setting in motion a new election calendar.
Redistricting
Every 10 years, following the decennial census, states undergo redistricting, maneuvering the state's residents, communities and counties like a puzzle in order to draw new district maps.
It's an intricate and complex process, but also a seminal one, with far-reaching implications given that the makeup of districts influences which candidates are apt to succeed in coming elections.
State Rep. Tim Butler, R-Springfield, had another description during Friday's debate: "This is a corrupt process," Butler said.
Other Republicans called it a "sham."
Democrats used their supermajorities in the legislature to draw maps to their future advantage.
"Dem's gerrymandered legislative map to guarantee vice-like grip on Illinois just passed!" wrote Sen. Chapin Rose, R-Mahomet, on Twitter after the Senate voted on new maps for the General Assembly. 
The General Assembly on Friday approved new boundaries for the 118 state House districts and 59 state Senate districts, after each chamber held a single public hearing on the revised version of those maps, which Democrats unveiled Thursday night. (The hearings took place simultaneously on Friday morning just hours before voting and with only about an hour's notice.)
The map appears to have been drawn to make political life difficult for Republicans: No districts will force sitting House Democrats to face off, while the new map creates seven districts that will pit 14 incumbent Republicans against one other.
See: HR0359 General Assembly Redistrict and SB2661 Cook County Board of Review
Sponsor Rep. Elizabeth Hernandez, D-Cicero, said the map takes Republicans into consideration.
Democrats' original draft, made public a week ago, would have paired 22 Republicans into intraparty battles.
Hernandez also said that Democrats took into account feedback from community groups.
But Rev. Robin Hood, of the United Congress of Community and Religious Organizations, said it's unacceptable that groups like his were given no notice of the final proposal. He also raised concerns that the new map will disenfranchise pockets of Black voters.
"Make no mistake: This map reduces the number of Black majority House districts and Black majority Senate districts in Illinois. Any time there's a reduction in Black majority district, there's reason to be concerned from a voting rights and civil rights perspective," he said. "We should have been working together on this puzzle because what it's doing is pitting our communities of color against each other to give us zero advanced notice of the proposed maps and the accompanying data … shutting us out creates unnecessary division."
Dilara Sayeed of the Illinois Muslim Civic Coalition testified at previous hearings, beseeching the legislature to draw a district that empowers Illinois' large Muslim population.
"It's the work of the collective communities that are crying out for representation at a time after we have gone through, under an administration in the federal government that marginalized all of us," she said.
She grew emotional Friday as she expressed her frustration over the final result, telling legislators "until you send a message that inclusion counts, it's just talk."
Organizations, including the Better Government Association, Reform for Illinois, the Latino Policy Forum and Asian Americans Advancing Justice Chicago chapter, have complained that Democrats relied on American Community Survey, or ACS, data to draw the districts.
Typically, census data would be used, but due to a federal delay, that's not coming until late August.
The Illinois constitution requires the legislature to pass a map by June 30; past that date, Democrats would lose their ability to unilaterally draw the lines, as the constitution calls for the duty to be given to a bipartisan commission.
Democrats, who had previously refused to say what other information they used, said Friday they also used voting information, without specifying what type of voter data.
See: the Illinois State Senate Redistricting Committee and Illinois Redistricting
Illinois Supreme Court
For the first time since the early '60s, the Illinois Supreme Court districts are also getting retooled.
The state's broken into five districts; per the state constitution the first district, from which three of the court's seven justices must be elected, encompasses Cook County solely.
See: Cook County Court of Review Map
The new map retools the other four districts, covering the rest of Illinois.
Senate President Don Harmon said it's past time for the restructuring in order to ensure fair representation on the court for Illinois residents.
"Over the last 50 years, there has been a wild disparity in population size across the four districts. The largest, the second district today, has a population of 3.2 million and change; the smallest district, the fifth district, is not quite 1.3 million," Harmon said. "We are proposing a map that results in relatively balanced population sizes, maintains an appellate court in each of the four districts, respects the judicial circuits and in my valuation at least provides for a fair map."
Those population deviations have existed for years, Senate Republican Leader Dan McConchie said.
"The difference is the defeat of a single Democratic justice in his retention effort," McConchie said. "Simply put, I believe that this is about the Democratic Party seeking to retain its slim majority on the court."
Democrats currently hold a 4-3 majority on the court.
See: Supreme Court Map
Former Illinois Supreme Court Justice Thomas Kilbride, a Democrat, became the first sitting justice to lose a bid for retention in November when he failed to get enough support to keep his Third District seat.
"So now you want to make the lines, change the lines, to make these districts more, frankly, politically favorable to the partisan process, the partisan races, that are going to happen within the state Supreme Court," McConchie said.
Voters typically see the courts as above partisan politics associated with other races and campaigns, McConchie said.
"Unfortunately, this drags our state Supreme Court down into that process instead of allowing them to remain above it. Drags them into the same behind-closed-doors deal-making that is so indicative of the machine politics that has ruled this state for so long," he said. "This, frankly, ladies and gentlemen, is the pursuit of power at all costs."
The Civil Justice League's John Pastuovic said in a press released that based on party identification voter data, the new map makes two districts — the second ( which begins in Waukegan, goes west to Woodstock and then dives down south through DeKalb to Oswego) and the third (which contains Naperville, Joliet and Kankakee while also goes west to past Ottawa) — competitive, giving Democrats dual chances to maintain their control of the court.
The state legislature is also charged with drawing new congressional districts as well, but there's been no movement on that task. The state constitution doesn't set the same deadlines for a congressional map to be finalized, so there's less pressure to get it done immediately.
See: State Legislative Map Proposals Senate and House
Still, waiting to pass a retooled congressional map until fall does bring with it other pressures, given that it would leave little time for candidates planning to run in next year's elections. The filing period to run in the March primary is set to begin Nov. 22.
Those time sensitivities could see the state push the primary to June.
Follow Amanda Vinicky on Twitter: @AmandaVinicky
---