Walking into the Lyric Opera House, with its exquisite interior — a hybrid of art nouveau and art deco design — is invariably a spirit-raising experience even before a performance begins. But Wednesday morning's news conference in the 3,276-seat house heralding the planned return this fall of live opera, as well as the inaugural season of Lyric's new partnership with The Joffrey Ballet, came with an especially deep sense of relief, hopefulness, anticipation and joy.
Finally, after the pandemic lockdown that left the stage, and its many artists, in a state of darkness and uncertainty for nearly a year and a half, things seemed to be in the process of a major rebirth as both companies announced their programming for the 2021-2022 season. Their plans are formidable, and not only will they involve a slew of carefully outlined COVID-19 protocols, but they come with an added bonus: completely new velvet seats installed in a subtly remodeled main floor arrangement that allows for easier access, greater comfort and improved sightlines.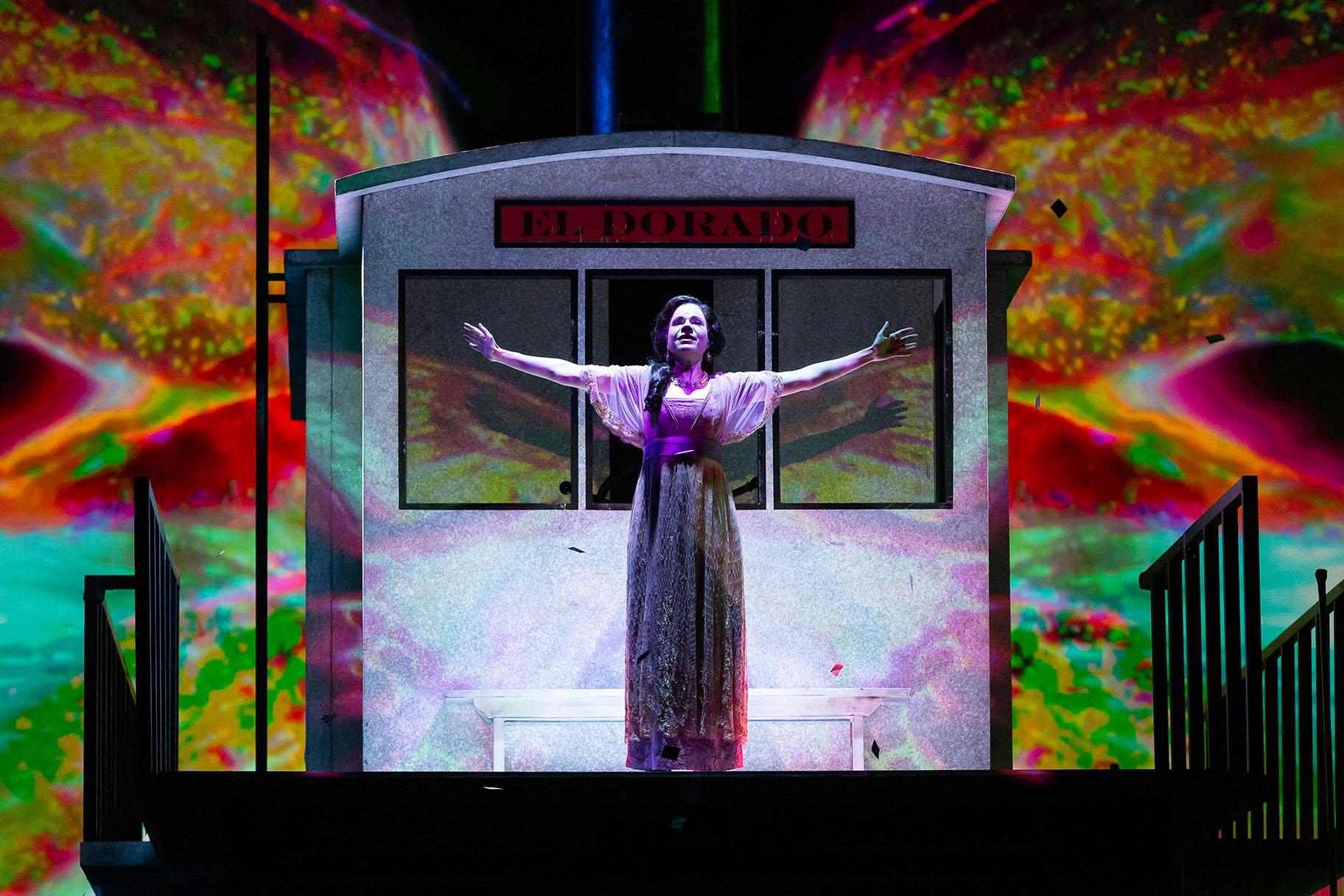 "Florencia En El Amazonas" (Credit: Lynn Lane / Houston Grand Opera)
On stage to announce their ambitious plans for the coming "season of return" were Anthony Freud, Lyric's general director and Maestro Enrique Mazzola, its new music director, as well as Ashley Wheater, artistic director of the Joffrey, and Greg Cameron, president and chief executive officer of the ballet company.
Though well aware that the best laid plans these days can change on a dime, a sense of optimism, and a hunger to return to "live performance for live audiences" was palpable. So without further ado, here are the lineups for both companies:
Lyric Opera will present an eclectic mix of seven operas (reflecting Mazzola's love of Verdi and bel canto, as well as his commitment to new work), with all productions new in some way, shape snd form to Chicago, and one of them to be mounted on the more intimate Owen stage of the Goodman Theatre. They include:
—Verdi's "Macbeth" (Sept. 17, 23, 30 and Oct. 3, 6, 9), with Luca Salsi in the title role and Sondra Radvanovsky as Lady Macbeth. Mazzola will conduct, with Sir David McVicar as director.
—Donizetti's "The Elixir of Love" (Sept. 26, 29 and Oct. 2, 5, and 8), with Mazzola as conductor and Daniel Slater directing.
—Mozart's "The Magic Flute" (Nov. 3, 7, 11, 14, 17, 19 and 27), originally directed by Suzanne Andrade and Barrie Kosky in a production that pays homage to the silent movies of the 1920s.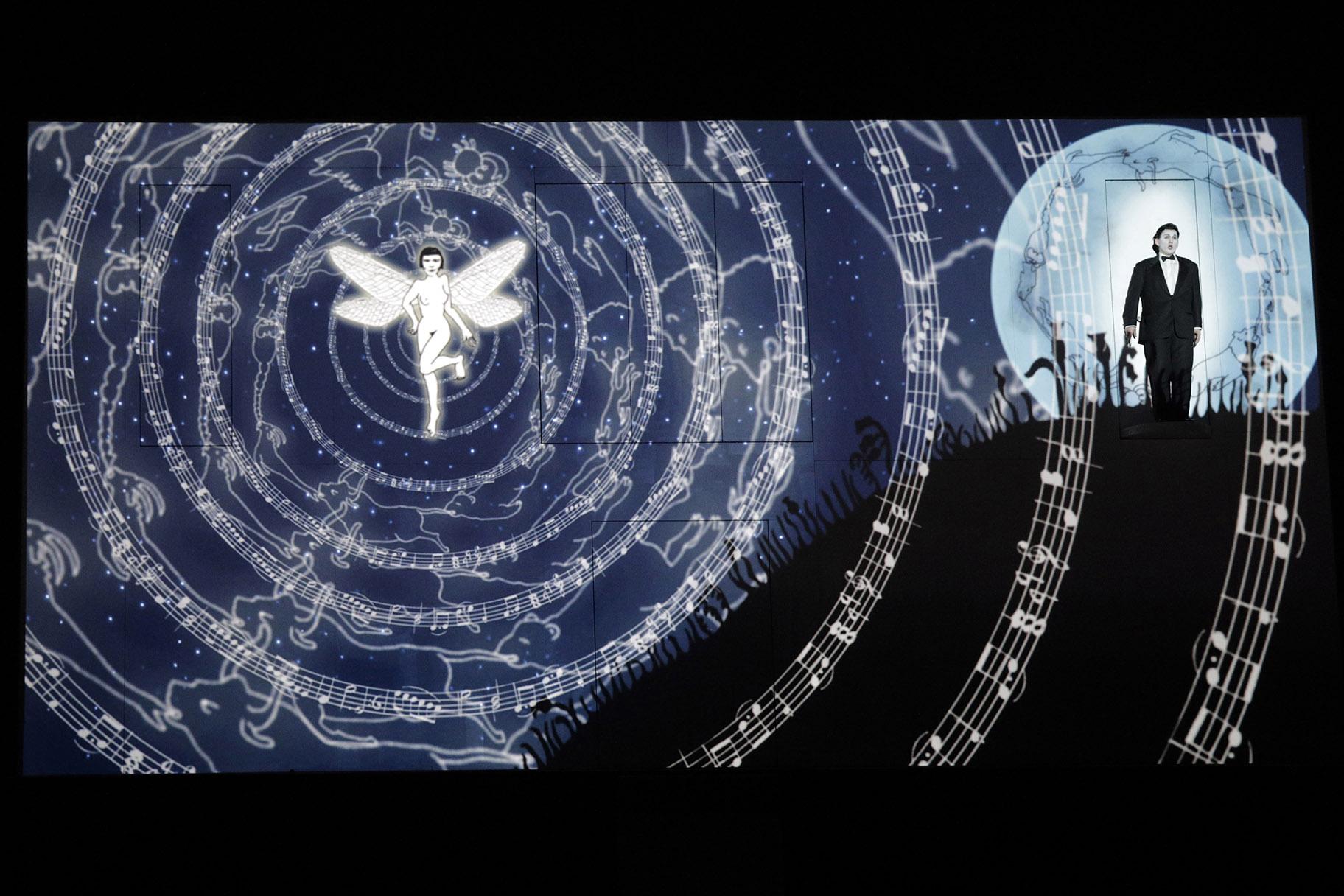 "The Magic Flute." (Credit: Cory Weaver / LA Opera)
—"Florencia En Al Amazonas," by the Mexican composer Daniel Catan (whose haunting earlier opera, "Rappacini's Daughter," received a superb production earlier this year by Chicago Opera Theater). The first Spanish-language opera to be produced on the Lyric stage, it will be directed by Francesca Zambello and conducted by Jordan de Souza, and run Nov. 13, 18, 21, 26 and 28.
—"Proving Up," by Missy Mazzoli and Royce Vavrek (performed at Goodman's Owen Theatre on Jan. 22, 26, 28 and 30 in 2022), with Mazzola conducting and James Darrah directing this "supernatural tale" of Nebraska homesteaders in the 1870s, and how the American dream can become a nightmare.
—Puccini's "Tosca" (March 12, 15, 18, 23, 26 and April 3, 7 and 10, 2022), with Eun Sun Kim conducting and Louisa Muller directing.
—"Fire Shut Up My Bones," an opera by Terence Blanchard, with a libretto by Kasi Lemmons based on New York Times columnist Charles M. Blow's memoir. Conducted by Daniela Candillari, and co-directed by James Robinson and Camille A. Brown, it will run March 24 and 27, and April 2, 6 and 8.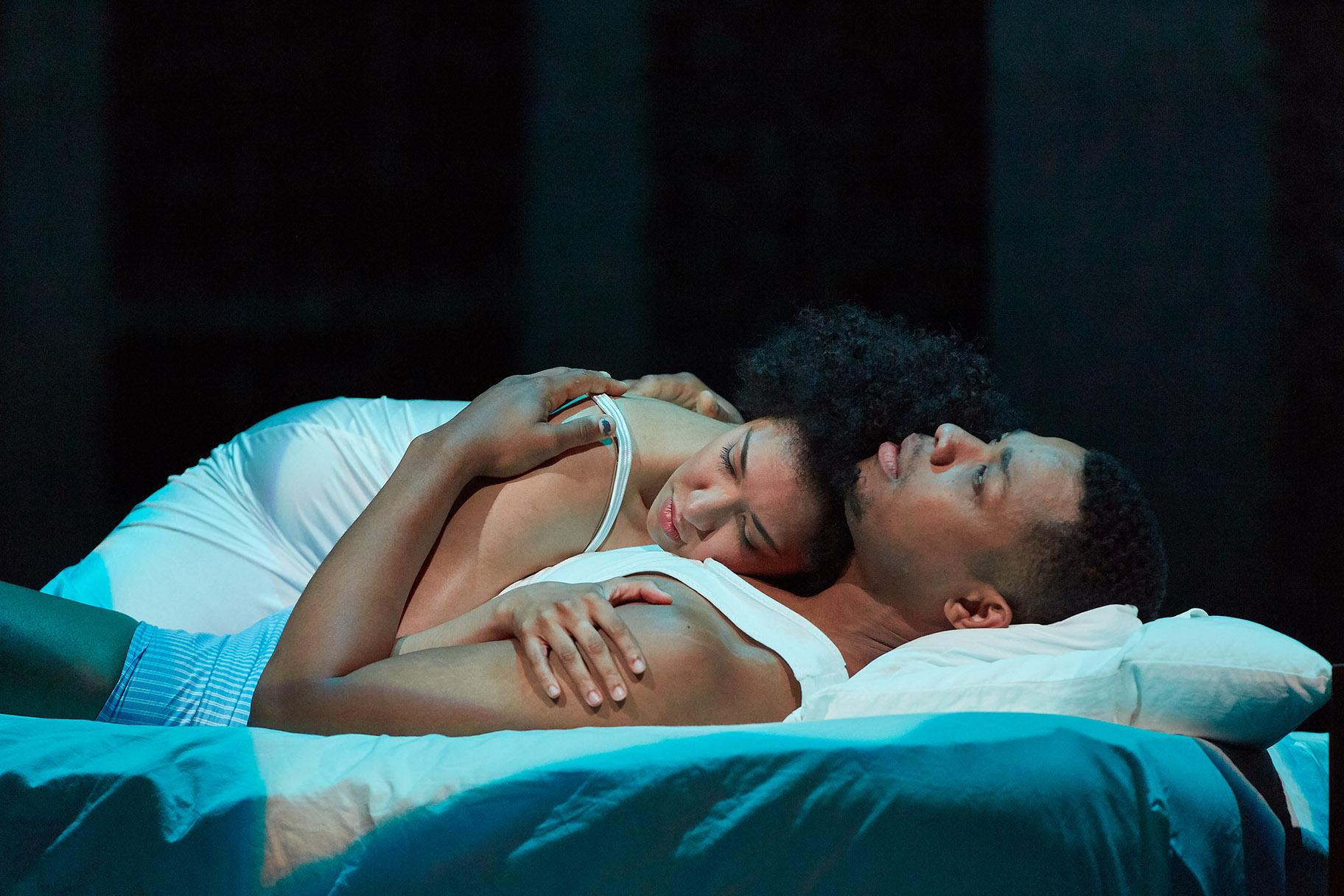 "Fire Shut Up In My Bones" (Credit: Eric Woolsey / Opera Theatre St. Louis)
Finally, to celebrate Sir Andrew Davis' two-decade tenure as Lyric's music director and principal conductor — which was cut short by the shutdown of the 2020-2021 season — there will be a special performance on April 1, 2002 of one of his favorite works — Beethoven's "Ninth Symphony" — with a vocal quartet joining the Lyric Opera Orchestra and Chorus. Also on the program will be a new choral work by Sir Andrew's son, Ed Frazier Davis, commissioned specially for this occasion.
For information, safety guidelines and subscription tickets visit lyricopera.org or call 312-827-5600. And there is this special note: Lyric will offer virtual streams of the season's productions — for ticket-holders only — if for any reason they decide they are not yet comfortable with coming to the theater.
And now for The Joffrey Ballet, whose residence at Lyric echoes that long-held tradition at many European opera companies where a ballet company is "in residence" at the opera house. While no collaborations are as yet planned, such a joining of artistic forces is all but inevitable, as is the potential overlap of audiences for both companies.
Here's the lineup:
—Home: A Celebration (Oct. 13-24, 2021):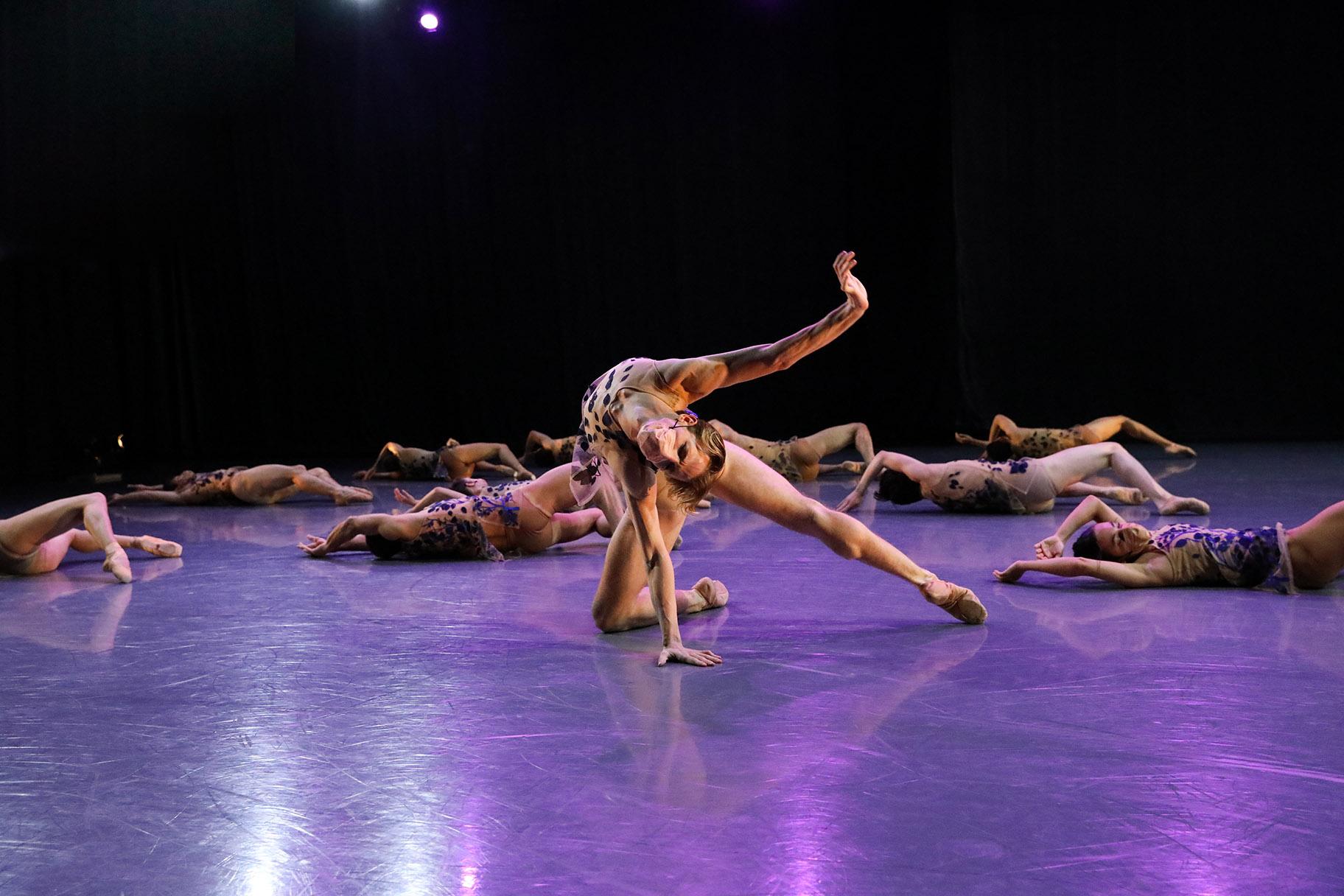 Stefan Goncalvez "Under the Trees' Voices." (Photo by Matt de la Peña)
Opening the season will be a program of four works under this most fitting umbrella title. First up will be "Birthday Variations," choreographed by Joffrey co-founder Gerald Arpino (who was crucial in relocating the company from New York to Chicago in 1995), and set to music by Verdi. Then will come three new works: "Swing Low," a work for five men by Joffrey's 2020 Winning Works choreographer Chanel DaSilva, set to the avant-garde rhythms of cellist/composer Zoe Keating, and scheduled to have its world premiere Sept. 17 at the reopened Ravinia Festival; Joffrey dancer Yoshihisa Arai's choreography for "Bolero," with a vivid pandemic-era riff on the beloved Ravel score; and "Under the Trees' Voices," a ghostly yet beautiful response to the pandemic, choreographed by Nicolas Blanc, the Joffrey's rehearsal director, and set to the music of Italian composer Ezio Bosso.
—"The Nutcracker" (Dec. 4-26), choreographer Christopher Wheeldon's richly reimagined take on the holiday season classic, set to Tchaikovsky's beloved score. Set against the dreamy construction of Chicago's fabled 1893 World's Fair that was designed by Daniel Burnham and built by immigrant artisans, its new "book" is the work of Brian Selznik, with puppetry by Basil Twist and design by Julian Crouch and Natasha Katz.
Olivia Duryea, Yuka Iwai, Valeria Chaykina, Dara Holmes and ensemble in "The Nutcracker." (Photo by Cheryl Mann)
—"Don Quixote" (Feb. 16 — 27, 2022), Yuri Possokhov's beguiling interpretation of the Cervantes classic, set to a score by Ludwig Minkus.
—Spring Program (April 27 — May 8, 2022). On the bill will be the Joffrey premiere of Russian-bred choreographer George Balanchine's "Serenade," his first ballet created in America (in 1934), set to a Sonatina, Waltz, Russian Dance and Elegy by Tchaikovsky, and evocative of classical ballet basics. But perhaps most exciting of all, there will be the world premiere of British choreographer Cathy Marston's take on the John Steinbeck classic, "Of Mice and Men," about the friendship between two very different men — drifters in California farm country during the Great Depression. It is set to an original score by Academy Award-nominated composer Thomas Newman. (Marston's earlier ballet, based on Charlotte Bronte's "Jane Eyre," was a huge hit for the Joffrey a couple of seasons back.)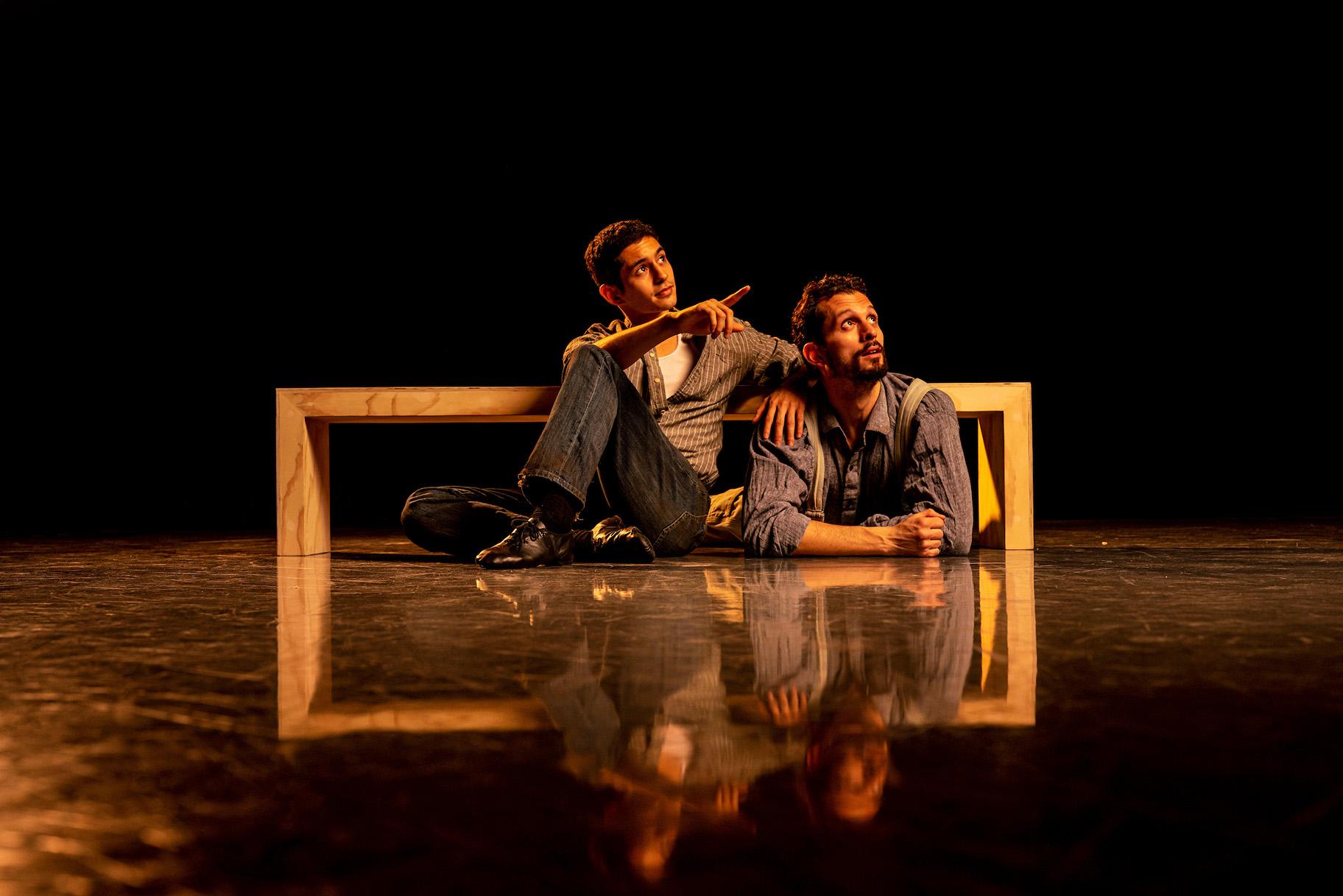 Dylan Gutierrez and Xavier Núñez in "Of Mice and Men." (Photo by Todd Rosenberg)
For three-program subscriptions to the Joffrey ("The Nutcracker" is not included), visit joffrey.org or call 312-386-8905.
And one final note: Highlighting Wednesday's news conference were two brief "sample" performances with accompaniment by pianist Jerad Mosbey, an assistant conductor on Lyric's staff. First was a lovely romantic pas de deux performed by Joffrey dancers Amanda Assucena and Alberto Velazquez. Then came a riveting rendering of an aria from "Fire Shut Up In My Bones," sung with scorching emotional fire by baritone Leroy Davis, who just began his second year with Lyric's Ryan Opera Center.
Follow us on Twitter: @HedyWeissCritic / @BrandisFriedman
---