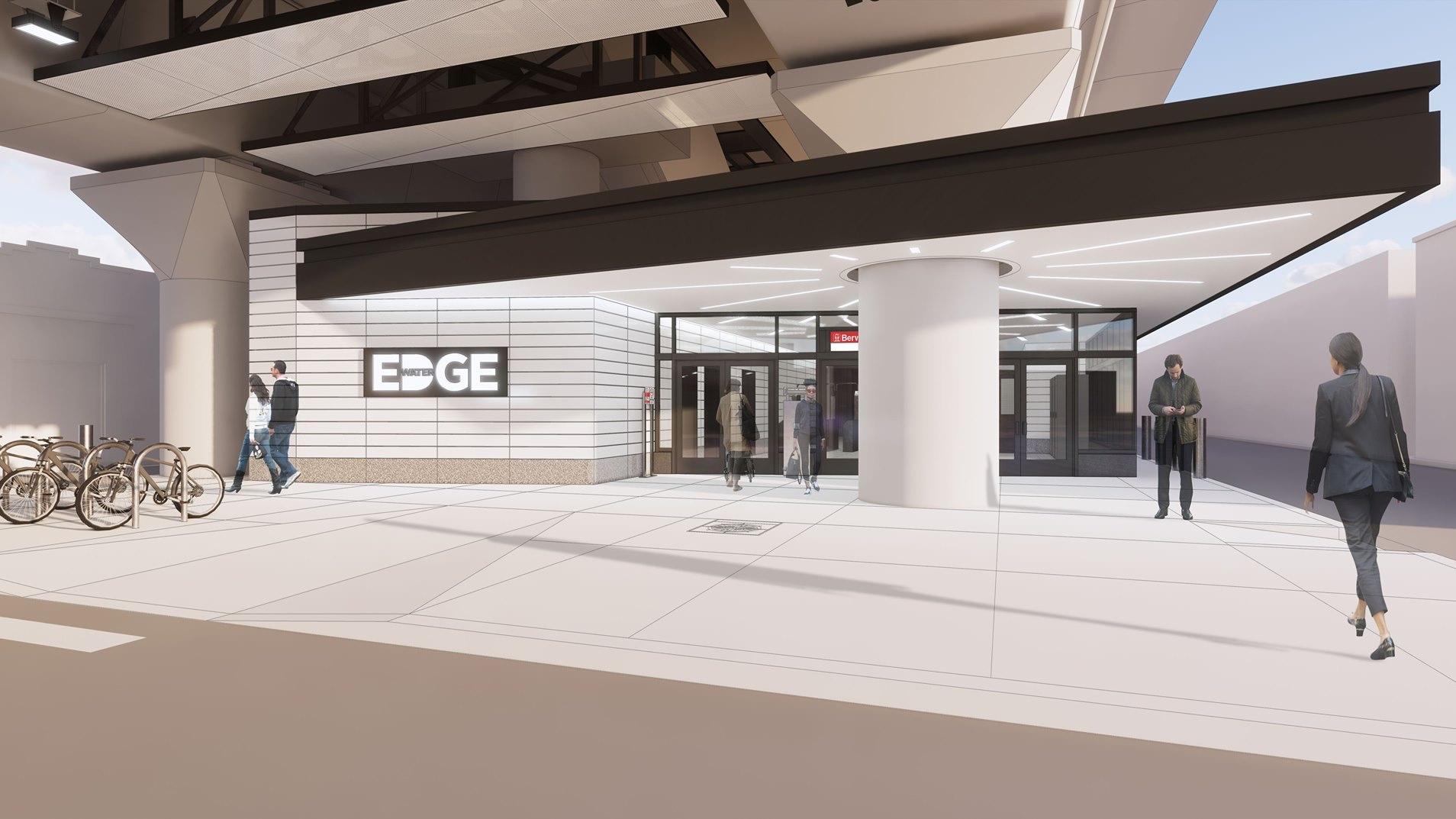 A rendering of the new Berwyn Red Line station. The existing station will close May 16, through 2024. (Courtesy of Chicago Transit Authority)
Reconstruction of a 6-mile stretch of the Chicago Transit Authority's Red and Purple lines is set to enter a new phase Sunday, with a pair of rail stations slated for closure through 2024 while construction is underway.
The Lawrence and Berwyn stations will fully close for the duration of the project, and temporary stations will be in use at Argyle and Bryn Mawr. New stations will be built at all four stops, featuring increased accessibility — specifically, the addition of elevators and escalators — as well as lighter and brighter designs, said Chris Bushell, CTA senior vice president for infrastructure, during a media presentation Thursday.
Given the proximity of alternate stations, as well as service by the No. 36 Broadway bus, no shuttle service will be provided for riders who typically board at Lawrence or Berwyn, Bushell said. But the No. 81 Lawrence bus will be re-routed to drop passengers off at the Wilson Red Line station and the No. 92 Foster bus will make a stop at Bryn Mawr.
Preliminary work on the "Lawrence to Bryn Mawr Modernization Project" was conducted over the past year, including the installation of new switching and signaling equipment. Now comes the heavy lifting: demolition of stations, viaducts and tracks (the east side first, then west); drilling of new track foundations; and the construction of replacement tracks, bridges and stations. 
Trains will keep running, using two tracks instead of four. The two tracks on the east side will be rebuilt through the end of 2022 while trains runs on the west tracks; from the end of 2022 through 2024, trains will run on the east tracks while the west are built.
Infrastructure on the 6-mile stretch is 100 years old and due for an upgrade, Bushell said. Among the improvements: Bridges will have a greater clearance height and their columns will no longer be placed in cross streets, where they create obstacles for cars and bikes. Platforms will be wider, which should lessen crowding, a benefit not designed with COVID-19 in mind but one that will assist with social distancing if necessary, he said.
While acknowledging the project will unavoidably inconvenience neighbors, business owners and riders, CTA officials said they are attempting to mitigate negative affects. For example, viaduct demolition will occur on weekends to avoid traffic closures during the workweek, and the noisiest activities will be performed during the day, when possible, so as not to interrupt sleep.
CTA has also built a website and created a marketing campaign for small businesses within the project's footprint.
The project's timeline may seem unduly long and disruptive, but that's the tradeoff CTA made when committing to continued service without interruption, officials said.  
People can sign up for email updates regarding the project and can follow its progress online or via social media.
Contact Patty Wetli: @pattywetli | (773) 509-5623 |  [email protected]
---