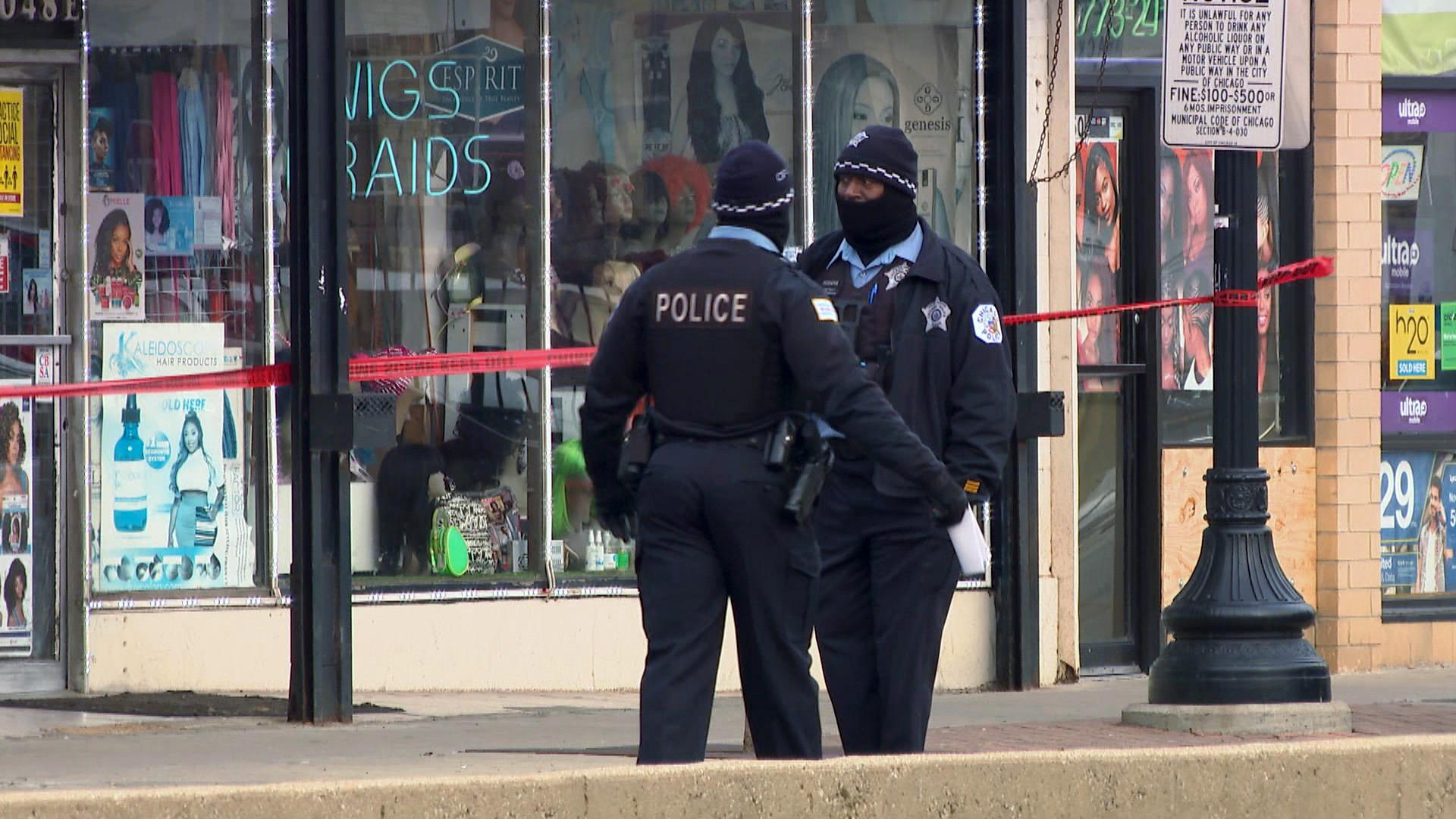 Chicago police officers work a crime scene in this file photo. (WTTW News)
Concerned that a violent winter that has given way to a brutal spring will turn into a bloody summer, aldermen urged city officials to spend the city's $1.9 billion share of the latest federal COVID-19 relief package on efforts to stop shootings and murders by funding mental health services and job programs.
Violence prevention advocates testified Tuesday at a joint session of the City Council's Public Safety and Health and Human Relations committees that the federal relief funds headed to Chicago give the city a chance to rethink its approach to violence prevention.
"I do not want the summer of 2021 to look like the summer of 2020," Ald. Daniel La Spata (1st Ward) said.
The summer of 2020 saw a 50% increase in murders as compared with the summer of 2019, including the shooting deaths of six children younger than 10 years old, the highest number in six years, according to Chicago Police Department data.
That prompted Chicago Police Superintendent David Brown to launch two new citywide teams — the Community Safety Team and the Critical Incident Response Team — which critics have blasted as a return to an outdated model of policing that does not allow officers to develop long-term relationships with residents and build trust.
Through the first four months of 2021, the surge in violence that began in 2020 has shown no significant sign of slowing down, according to police data. Through April 30, 997 people have been shot in 2021, an increase of 39% as compared with 2020. In addition, 187 people have been murdered in Chicago, a 20% increase as compared with the same period a year ago.
The city plans to concentrate its violence prevention efforts in the city's 15 most violent neighborhoods, all on the South and West sides, Norman Kerr, the city's director of violence reduction, told aldermen.
In addition, plans call for the Chicago Police Department to expand a new effort to restore community policing in Chicago to more areas of the city.
Several aldermen said they were frustrated at the lack of progress in stopping violence in Chicago, while others said they were skeptical that violence prevention programs — like job training — can reduce crime.
"We've got to stop spinning our wheels," said West Side Ald. Emma Mitts (37th Ward).
Kerr acknowledged that the $30 million the city plans to spend on violence reduction services in 2021 is not adequate to meet the city's needs.
Even though that represents a significant increase in the amount of city funds earmarked to reduce crime through social services, Ald. Rossana Rodriguez Sanchez (33rd Ward) said it pales in comparison to the $1.7 billion the city will spend on the Chicago Police Department in 2021.
Lightfoot has vehemently resisted efforts by progressive aldermen like Rodriguez Sanchez to reduce the police department's budget and fund efforts that take a non-law enforcement approach to crime, including a proposal to send social workers and medical professionals — not uniformed, armed officers — to respond to calls from those experiencing a mental health crisis.
The city's 2021 budget set aside $1.3 million to test a program in two police districts that will dispatch a team of social workers, police officers and paramedics in response to calls for help involving someone experiencing a mental health crisis. Another $500,000 will test a program that will respond to mental health calls without law enforcement agents.
City officials have not announced the start of either effort.
However, the city's share of the American Rescue Plan signed by President Joe Biden in March gives the city a chance to reconsider its approach, violence prevention advocates told aldermen on Tuesday.
"The money is there," said Dr. Arturo Carrillo, a social worker.
Lightfoot has yet to unveil her detailed plan for the federal relief funds, although she has said she plans to use about half, or $965 million, to pay off the high-interest debt the city incurred to balance its 2020 and 2021 budgets, which were decimated by the COVID-19 pandemic.
That would significantly limit aldermen's ability to send direct aid to struggling Chicagoans and has triggered a political fight that could shape the city's recovery from the pandemic as well as the 2023 municipal elections.
Lightfoot has acknowledged that paying off high-interest debt is "not sexy stuff" but is crucial to secure the city's financial future as the city's pension payments are set to soar.
Another proposal would use $30 million from the city's share of the COVID-19 relief package to fund cash assistance payments to Chicagoans. Ald. Jason Ervin (28th Ward) — the chair of the City Council's Black Caucus — blocked that plan from Ald. Gilbert Villegas (36th Ward) from advancing after he said the city should pay reparations to the descendants of enslaved people first before considering a universal cash assistance program.
The mayor said April 21 she is not likely to ask aldermen to vote on her plan before June.
"This is a big consequential investment," Lightfoot said. "We owe it to ourselves, we owe it to members of the public to do an extensive amount of engagement to think about the best way in which we can make investments that are really going to kick-start our economy, really provide meaningful supports to individuals and families that have really been suffering." 
Lightfoot said her plan would not only be fiscally prudent but also crafted to help Chicagoans who suffered the most during the pandemic and ensure that they "feel" the impact of the funds.
"I want to make sure what we do has great impact, that residents are going to say, 'Our mayor, our City Council, they listened, they got it right and I personally as a resident of this great city and are the better for it,'" Lightfoot said.
Contact Heather Cherone: @HeatherCherone | (773) 569-1863 | [email protected]
---