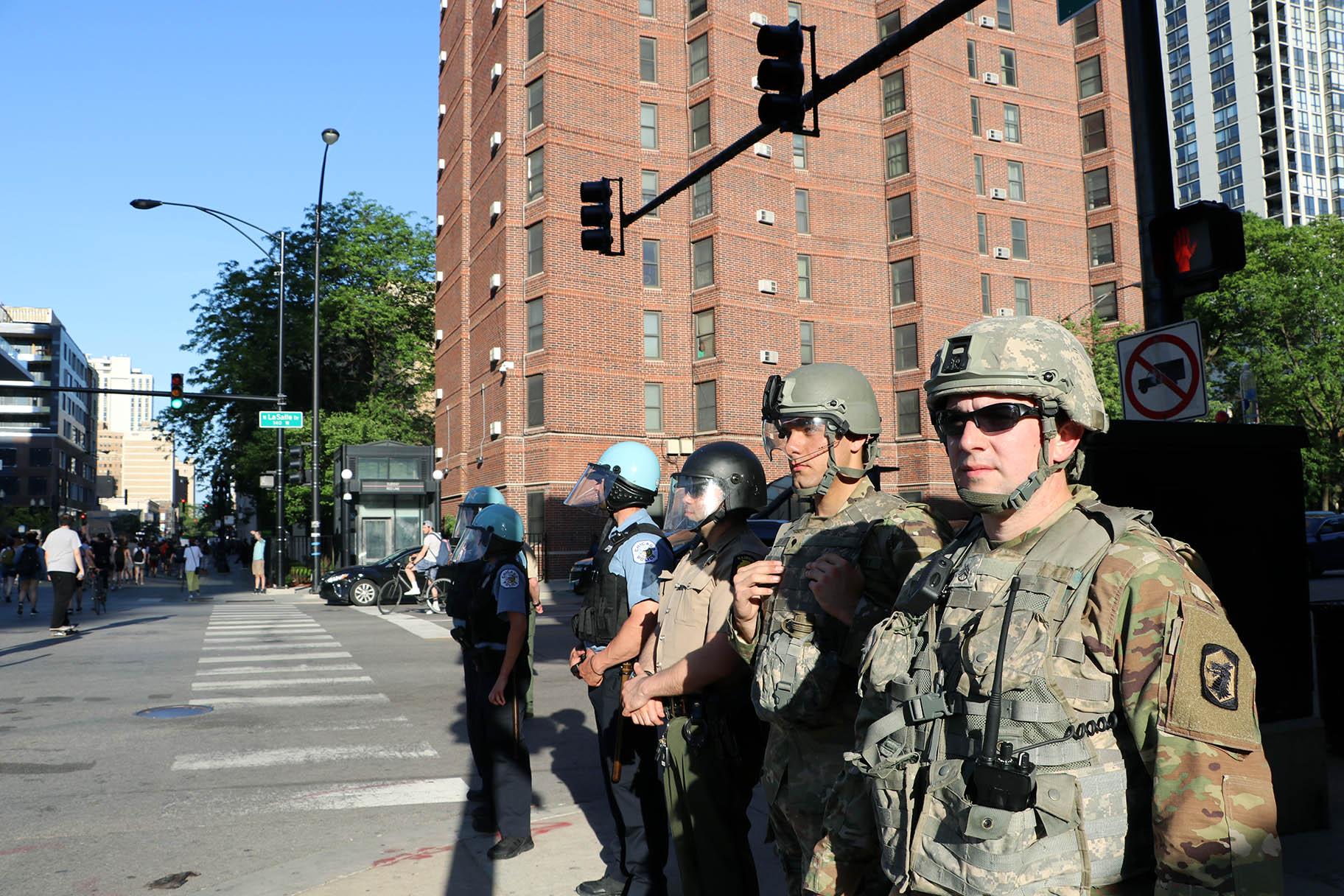 Illinois National Guard officers watch a protest in Old Town on June 6, 2020, one of many in the city and across the U.S. sparked by the death of George Floyd while in Minneapolis police custody. (Evan Garcia / WTTW News)
Gov. J.B. Pritzker deactivated the Illinois National Guard in Chicago after large-scale protests and unrest failed to materialize after former Minneapolis police Officer Derek Chauvin was convicted of murdering George Floyd, the governor's office told WTTW News on Thursday.
Pritzker said Monday that he sent 125 members of the guard to Chicago to "carry out a limited mission to help manage street closures and will not interfere with peaceful protestors exercising their First Amendment rights" at the request of Mayor Lori Lightfoot.
Lightfoot said she made the request "out of an abundance of caution" and a desire to be "fully prepared" even though there was at the time "no actionable intelligence" in a statement released by the governor's office.
That request was prompted in part by what the city learned from protests and unrest triggered by the death of Floyd on May 25, Lightfoot said.
In anticipation of the verdict, the city positioned 300 garbage trucks, salt spreaders, snow plows and water trucks to protect the city's commercial districts in case of unrest and violence.
Chauvin was convicted of second-degree murder, third-degree murder and manslaughter and is scheduled to be sentenced in June.
Contact Heather Cherone: @HeatherCherone | (773) 569-1863 | [email protected]
---