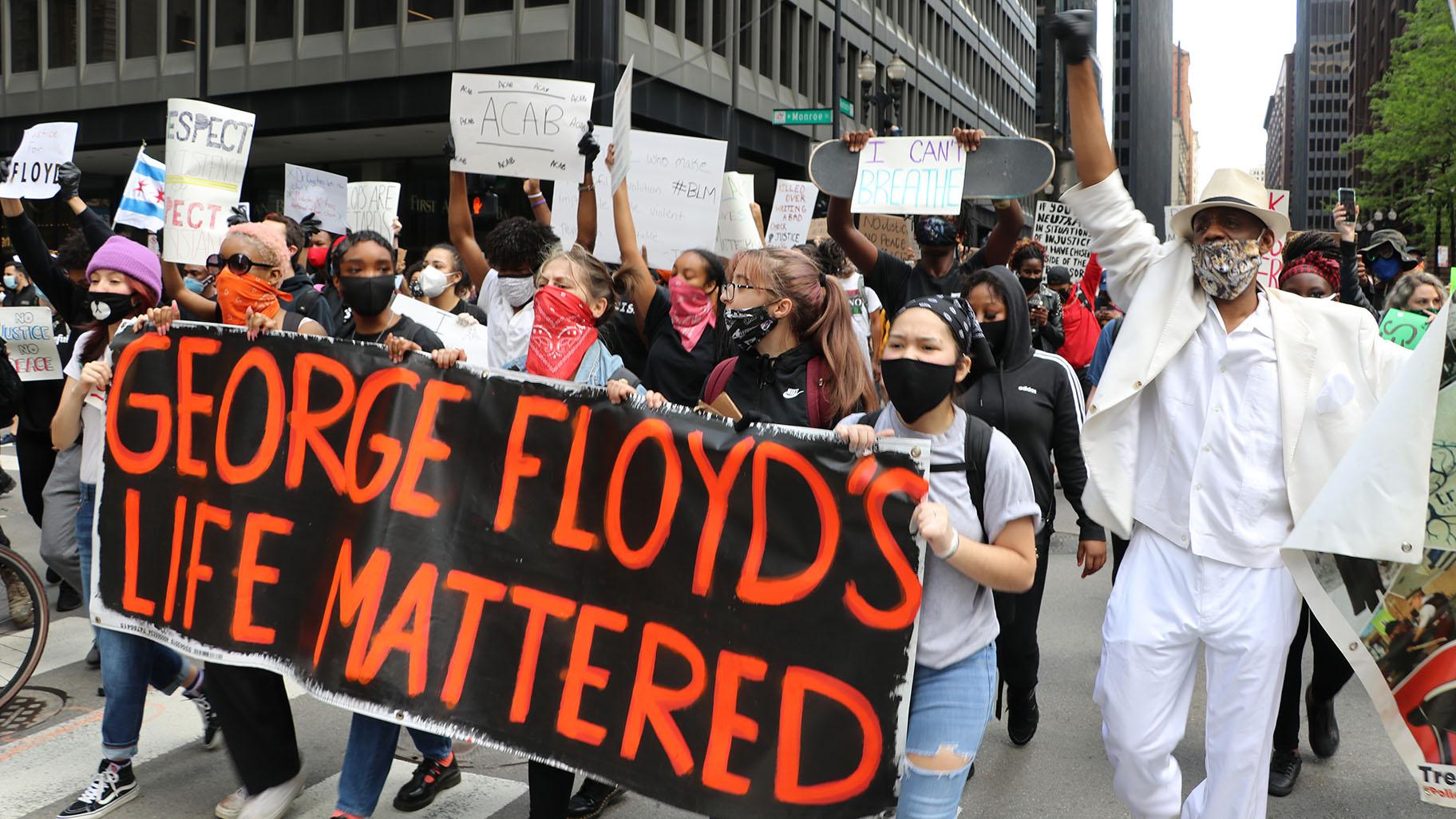 Protesters march along Dearborn Street while holding a sign honoring George Floyd on Saturday, May 30, 2020. (Evan Garcia / WTTW News)
Attorneys who represented the family of George Floyd in their civil suit against the city of Minneapolis said it's "shocking" that federal legislators haven't taken up national policing reform in the years since Floyd's killing at the hands of police officers.
Speaking at the Union League Club downtown Tuesday evening, Chicago-based attorney Antonio Romanucci and Ben Crump discussed their experience with the Floyd family's historic settlement and called on federal legislators to act on calls for national police reform.
"There were some times you thought that we might really get some federal police reform," Crump said, pointing to the outrage that followed the Rodney King beating in Los Angeles and the police killing of Michael Brown in Ferguson, Missouri.
"We really were believing, because George Floyd galvanized so many people, that certainly we were going to have the momentum to finally say hey, we're gonna outlaw chokeholds federally all across America, we're gonna get rid of no-knock warrants, we're gonna keep a registry of where police do bad things so they can't leave one (department) and go to another," he added. "We really were believing that and man were we naive."
The George Floyd Justice in Policing Act, which sought to improve transparency and install a series of reforms to reduce police misconduct and excessive force at the national level, made it through the House of Representatives before stalling out in the Senate last year.
Romanucci called it "shocking" that no national police reforms have been implemented since Floyd's death, and while some states have individually taken steps, Crump said this is a "national problem and we need to have a national solution."
Even so, Crump and Romanucci said they're still trying to effect changes in policing — if not on a national stage, then at least at the "micro level" of individual cities and states.
"The case of George Floyd has been dismissed for quite a while," Romanucci said. "That's why Ben and I are here along with our team. Because our work isn't done and we need to make changes. If you accept what happened, then you don't have to do anything. If you think it's wrong, then you need to act. You need to vote, you need to make calls, you need to want change."
During their discussion, Crump and Romanucci explained what was happening to Floyd minute-by-minute in the moments before his death, and said a medical professional they spoke to compared the "mechanism of death" in Floyd's murder to that of a lynching.
"Everybody on the street knew he was dying except the people who were supposed to be trained professionals to understand about how to sustain life," Crump said.
The pair also detailed their own experiences with the subsequent civil case and how they "beat the narrative" that Floyd had died from a "medical emergency" as the Minneapolis Police Department initially claimed.
Crump and Romanucci brought in independent forensic pathologists to conduct a second autopsy after the Hennepin County medical examiner's office attributed his death to heart problems and fentanyl use. That second autopsy found Floyd had died of asphyxiation and his death was ruled a homicide.
Floyd's family filed the federal civil rights lawsuit against the city of Minneapolis in July 2020, Chauvin and three other fired officers charged in his death. It alleged the officers violated Floyd's rights when they restrained him, and that the city allowed a culture of excessive force, racism and impunity to flourish in its police force.
In March 2021 — weeks before officer Derek Chauvin was convicted on charges of second-degree unintentional murder, third-degree murder and second-degree manslaughter stemming from Floyd's killing — the city agreed to pay $27 million to settle a civil lawsuit brought by Crump and Romanucci on behalf of Floyd's family.
At the time, Crump called it the largest pretrial settlement ever for a civil rights claim. On Tuesday, he and Romanucci called it the "most historic civil rights settlement in United States history." 
"It's a journey to justice," Crump said. "Sometimes we take a step forward, and sometimes we take a step back, but we always have to remember it's a journey. So I think we're at a further point on that journey than we were before George Floyd, but we have a long way to go. A long way to go."
The Associated Press contributed to this report.
Contact Matt Masterson: @ByMattMasterson | [email protected] | (773) 509-5431
---