Video: "Chicago Tonight" discusses the new Arts 77 program with Mark Kelly, the head of the Chicago Department of Cultural Affairs and Special Events; and artist Tonika Lewis Johnson. (Produced by Evan Garcia)
---
City officials announced Tuesday the creation of a citywide arts recovery and reopening plan whose name gives a nod to Chicago's 77 community areas. Arts 77 will benefit from an initial $60 million investment to support local artists and organizations. 
"Chicago's arts sector has been decimated by the global pandemic," said Chicago Department of Cultural Affairs and Special Events Commissioner Mark Kelly in a statement.
The program "signals a new direction for the city's cultural policy, in which the arts are embedded in initiatives and strategies across City government," officials said.
The plan aims to expand access and participation in the arts, prioritize employment of creative workers through city programs and services, and increase public sector investment in the arts through financial support and cultural policy, according to officials.
"Before the pandemic struck, our arts and culture sector was a significant employer and economic driver that generated thousands of jobs and billions of dollars for our city," Mayor Lori Lightfoot said in a statement. "With this incredible program, we will not only be able to revitalize this critical sector and support our artists, creative workers and organizations, but also place the arts at the center of our city's recovery efforts."
The plan aims to do that through the creation of new programs and expansion of existing ones, grants and $18.5 million in art and infrastructure investments.
Among the newly launched programs is the Neighborhood Access Program, with $1 million in financial grants "created to support the cultural vitality in neighborhoods with a focus on those that have not traditionally received funding through the City's Cultural Grants Program," according to officials. Up to 40 grants ranging from $5,000 to $50,000 will be awarded through the program.
Officials are accepting ideas for the Neighborhood Access Program starting Tuesday and will host informational sessions about the program 11 a.m.-noon on April 27 and 4-5 p.m. May 5.
Another program, Chicago Presents, will provide up to 100 grants this summer, ranging from $5,000 to $30,000, for cultural programs such as free in-person concerts and events in city neighborhoods that adhere to public health guidelines.
Culture in My Neighborhood, a new collaborative, supports programming at the Chicago Cultural Center, 18 Chicago Park District neighborhood cultural centers and the Chicago Public Library regional libraries through grants and commission opportunities for artists and organizations. The initiative seeks to expand access and participation among communities on the city's South and West sides that have lacked traditional cultural infrastructure, according to officials.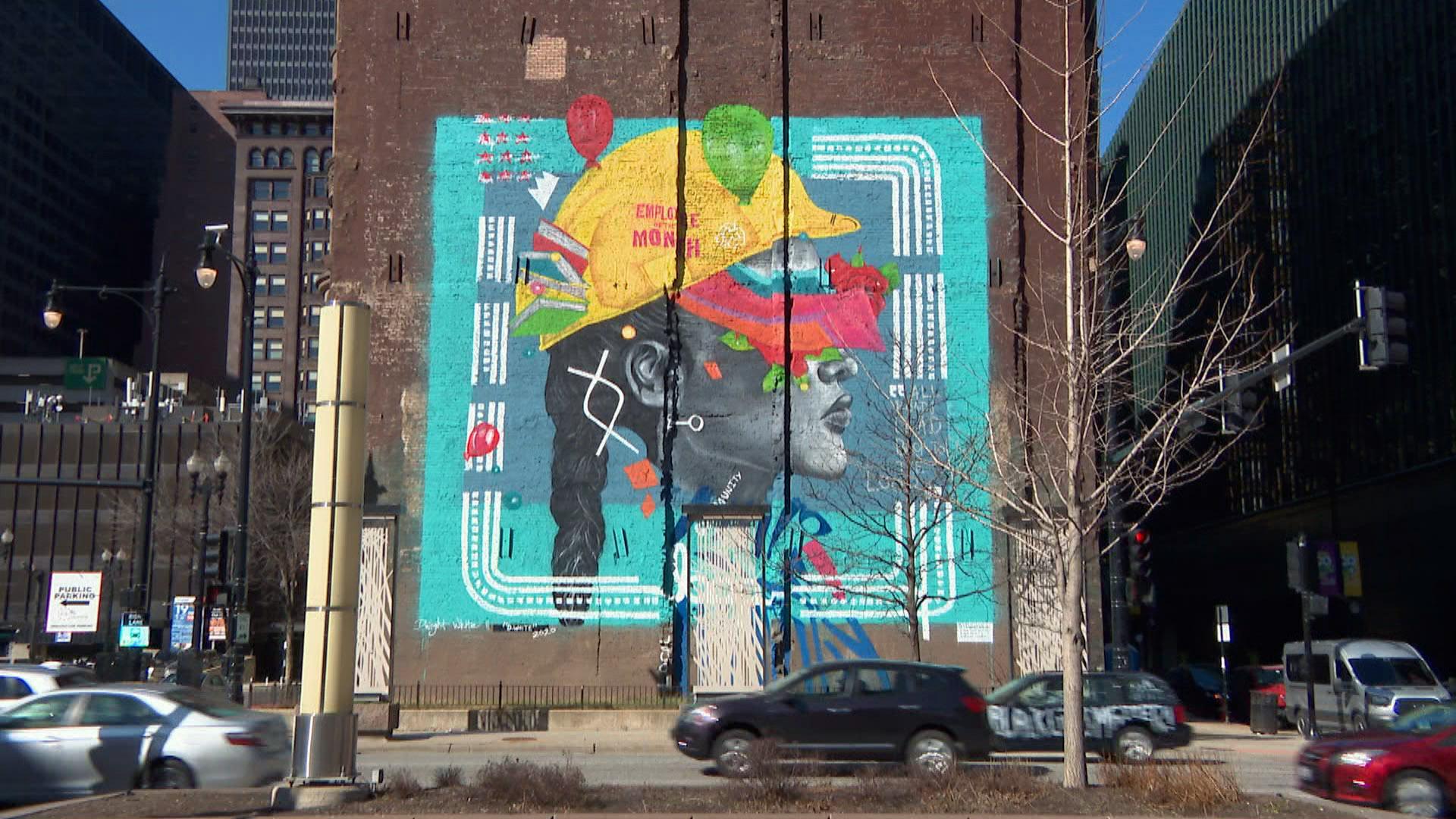 A mural in Chicago's South Loop. (WTTW News)
Officials also announced Tuesday a new grant program for artists. The Artist Response Program has awarded five artists and artist teams $100,000 grants to implement public art projects that engage the public "in a constructive, civic dialogue during this historic moment" as the COVID-19 pandemic amplifies systemic racism and the history of disinvestment on the South and West sides.
Recipients of the inaugural grants are Tonika Lewis Johnson; Santiago X; Kirsten Leenaars with Circles and Ciphers; Pilsen Housing Cooperative with Hector Duarte, Nicole Marroquin and Gabriel Villa; and an artist team with Aquil Charlton, William Estrada, Andres Lemus-Spont and Marya Spont-Lemus.
The Artist Response Program has also awarded grants ranging from $50,000 to $100,000 to seven arts organizations to re-grant funds to approximately 60 artists for smaller projects.
Officials Tuesday also announced the 2021 recipients of the annual Individual Artists Program grants, with 162 artists receiving between $800 and $5,000. In addition, 13 "high-qualified" artists received the Esteemed Artist Award, a $10,000 grant for expenses associated with an artist's work, including studio rental, supplies, travel and equipment, according to officials.
"The new programs will strengthen the arts and culture landscape, support the City's reopening, and advance Chicago's economic recovery," Kelly said in a statement. "DCASE will lead these comprehensive citywide efforts as we animate our neighborhoods with cultural life and position the arts as central to Chicago's future."
Officials also announced the city's capital plan will invest at least $15 million in public art over the next five years, as well as a $3.5 million public art plan as part of O'Hare International Airport's Terminal 5 expansion project. Up to 30 Chicago-area artists will participate in the O'Hare project, according to officials.
Contact Kristen Thometz: @kristenthometz | (773) 509-5452 |  [email protected]
Note: This story was originally published April 20, 2021. It has been updated to include our "Chicago Tonight" conversation.
---