History, music and photography are all stitched together in a show at the Art Institute of Chicago. We visit the pandemic-delayed exhibition "Bisa Butler: Portraits" to get the story behind these Technicolor textiles.
---
TRANSCRIPT
Marc Vitali: They may look like paintings or photographs, but they are quilts inspired by documentary photos from the Library of Congress – and family snapshots.
We spoke with the artist from her home studio in New Jersey.
Bisa Butler, artist: It's like walking through a family photo album that's life-sized. I like the idea that we're seeing them and they're also seeing us, and we're looking at them from whatever time they came from. Some of my photos could've been taken from the 1850s to the 1940s, and they're looking back at us in our time, in 2021. Now that there's a window open, they can look back and wonder what's going on with us here now. 
Vitali: Bisa Butler and her husband, a longtime DJ, curated a Spotify playlist of songs to complement each artwork.
And she adds notes of visual elegance to her subjects.
Butler: I'm looking at people during World War II, in a lot of photos in the exhibit, and Black people in the South and the Midwest were struggling, and sometimes their clothing is worn and frayed, or sometimes they don't have on shoes or the hat can be torn and I, because I'm sewing, I feel compelled that I have to fix those things.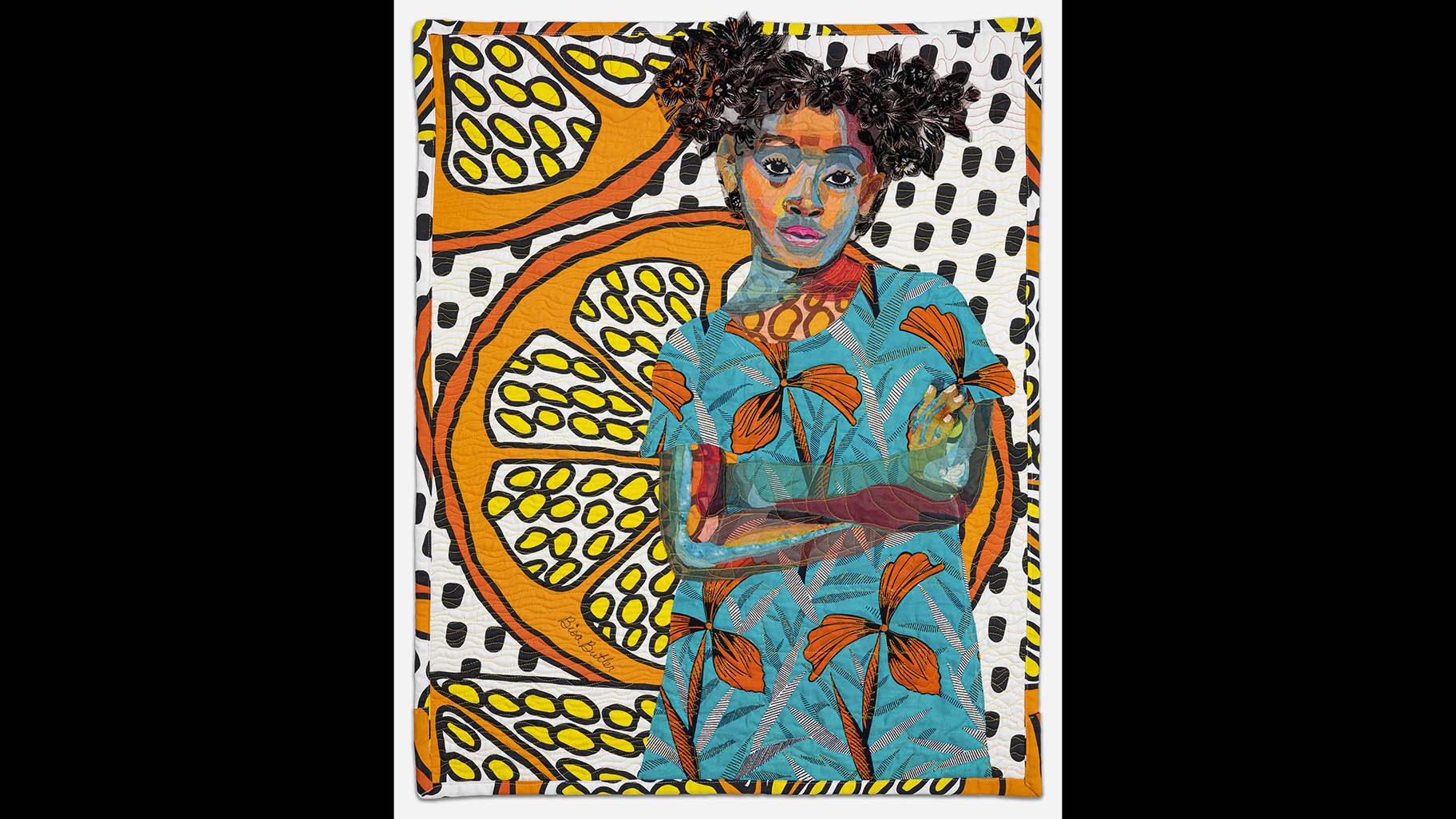 Bisa Butler. "Anaya with Oranges," 2017. Dimmitt Davies Collection. © Bisa Butler. (Photo by Margaret Fox)
My mom and my grandmother taught me to sew. They were women who sewed on the side because they liked fashionable clothing. My mother was a French teacher, and my grandmother was a homemaker, but they were always trying to make replica Christian Dior gowns or replica Halston.
I think about myself being one in a succession of this long line of quilters, and that's one thing that I really love about quilting, is that it grounds you in this history of women creating. And it's not just women, but it's a very strong women-dominated field, now and in the past. 
Vitali: Now Butler's modern works are installed in galleries usually reserved for centuries-old European painting and sculpture.
Butler: It's mind-blowing, having my installation above that grand staircase. It's been trippy and wonderful.
Vitali: We asked an Art Institute textile curator for her take on the artwork.
Erica Warren, Art Institute of Chicago: There really is a very sculptural quality, and even in many of them a sense of motion. You can notice it particularly in the faces and the hands and you'll see in her too an evolution of her practice in the works in the exhibition where you can see she's adding additional layers and stitching more to really create these sculptural effects.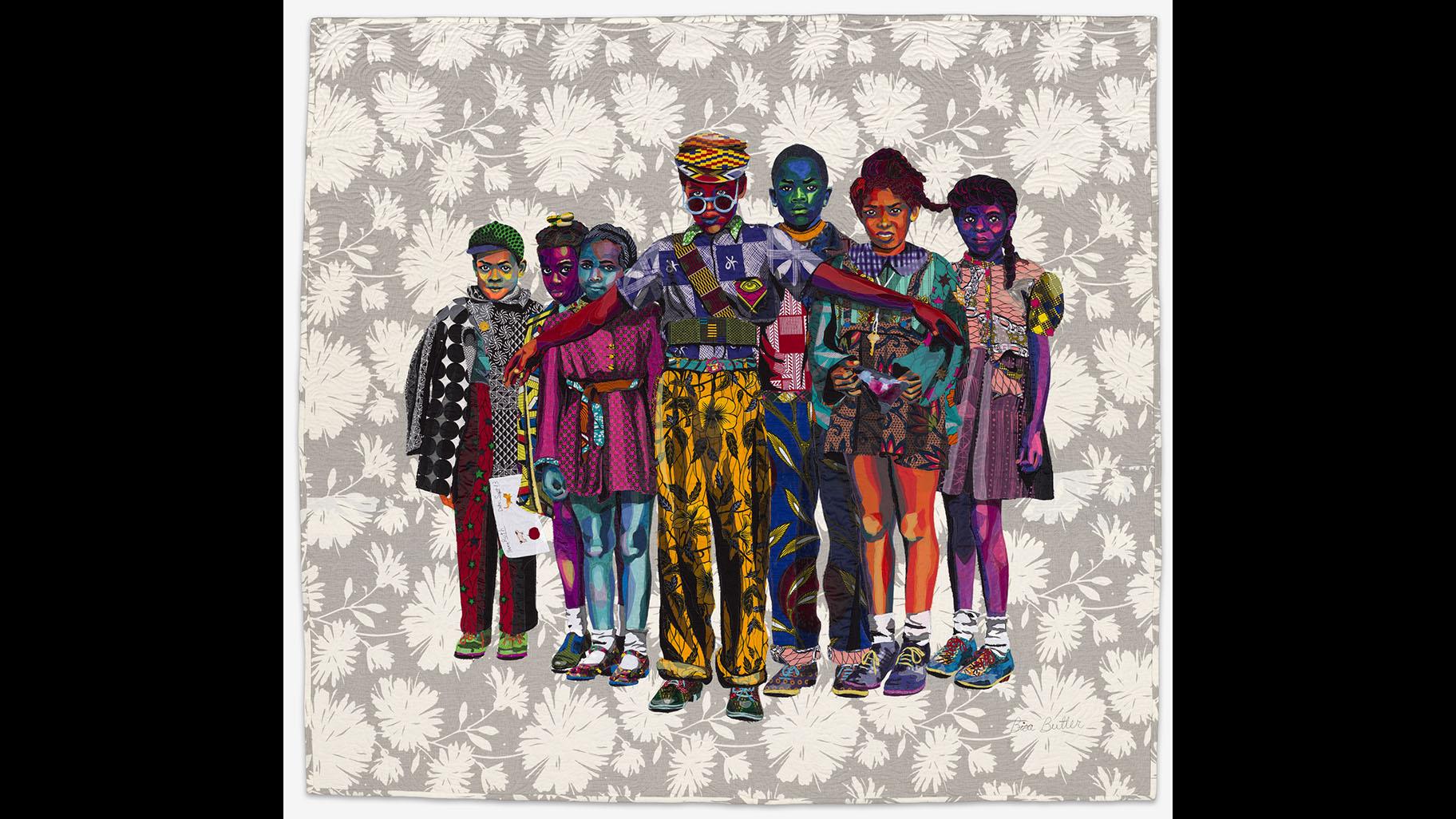 Bisa Butler. "The Safety Patrol," 2018. Cavigga Family Trust Fund. © Bisa Butler.
And they're comprised of all these layers of fabric and pieces, meticulously cut, and collaged together to form these extraordinary compositions.
Vitali: Butler also pays tribute to AfriCOBRA, the influential Chicago art collective that emerged in the 1960s.
Butler: I went to Howard University, and our professors in the painting faculty mostly came from the AfriCOBRA group. AfriCOBRA basically represented, I'd say, one of the visual artistic arms of the Black Power movement, and the philosophy that they had was that artists work should reflect the community, and the colors in your palette, the colors that you're putting in your palette should reflect an African American aesthetic. So they were taking those colors from the continent of Africa, like what the textiles looked like, those bright and intense colors in the inks. 
This is a glimpse into how African American people, how Black people, would like to be seen and acknowledged, and I think that it does connect what is happening in today's world. Somebody mentioned the other day, she said it's interesting that people feel drawn to your work in certain figures, but if that person were in real life, they might cross the street when they saw that person. I hope that my work can inform and educate people and also speak to people's sensibility of looking into each person as they pass as a real human being who deserves respect and recognition, just the same way as you'd look at a piece of artwork.
---
More on this story
"Bisa Butler: Portraits" is on view at the Art Institute of Chicago through Sept. 6. And her artwork is currently being projected onto the Merchandise Mart each evening as part of the "Art on the Mart" series.
Follow Marc Vitali on Twitter: @MarcVitaliArts
---