Increase The Peace youth leader Anahi Botello led a peace walk in Little Village on Sunday to memorialize Adam Toledo, the 13-year-old who was fatally shot by police in the neighborhood on March 29.
"That was very empowering because I am a Little Village citizen and in a lot of ways I empathize with Adam," Botello said. 
While she's glad she was able to use her voice, Botello feels she didn't do enough. The peace walk was just a starting point for change, she said.
Photos: Little Village Peace Walk Memorializes 13-Year-Old Adam Toledo
This weekend, protesters took to the streets, in Little Village and other parts of the city, after the Civilian Office of Police Accountability released police body camera footage of the shooting.
For weeks, Little Village has been in the spotlight, as have conversations about gang violence and disinvestment. Community organizations, some based in Little Village and others that include the community in their service areas, are working to help residents heal and address the systemic issues the neighborhood faces. 
"Our residents are strong. They're resilient. It's a strong neighborhood," said Baltazar Enriquez, president of the Little Village Community Council. "Seeing the video did hurt us a lot. It broke us down to the core."
Solomon Martinez said residents are coping in lots of different ways. Martinez is the youth program manager at the Erie Neighborhood House in Little Village, which serves young people between fifth and 12th grades, offering support like mentorship, counseling and development programs. Young people guide the program and help determine what resources and services are necessary.
"This is a single incident in a long history of community violence and state violence in Little Village," Martinez said. "A lot of what youth are trying to do is find that space where they feel good, where they feel whole because this hurts."
Martinez said people are also trying to grieve and are looking for opportunities to turn their rage and passion into change.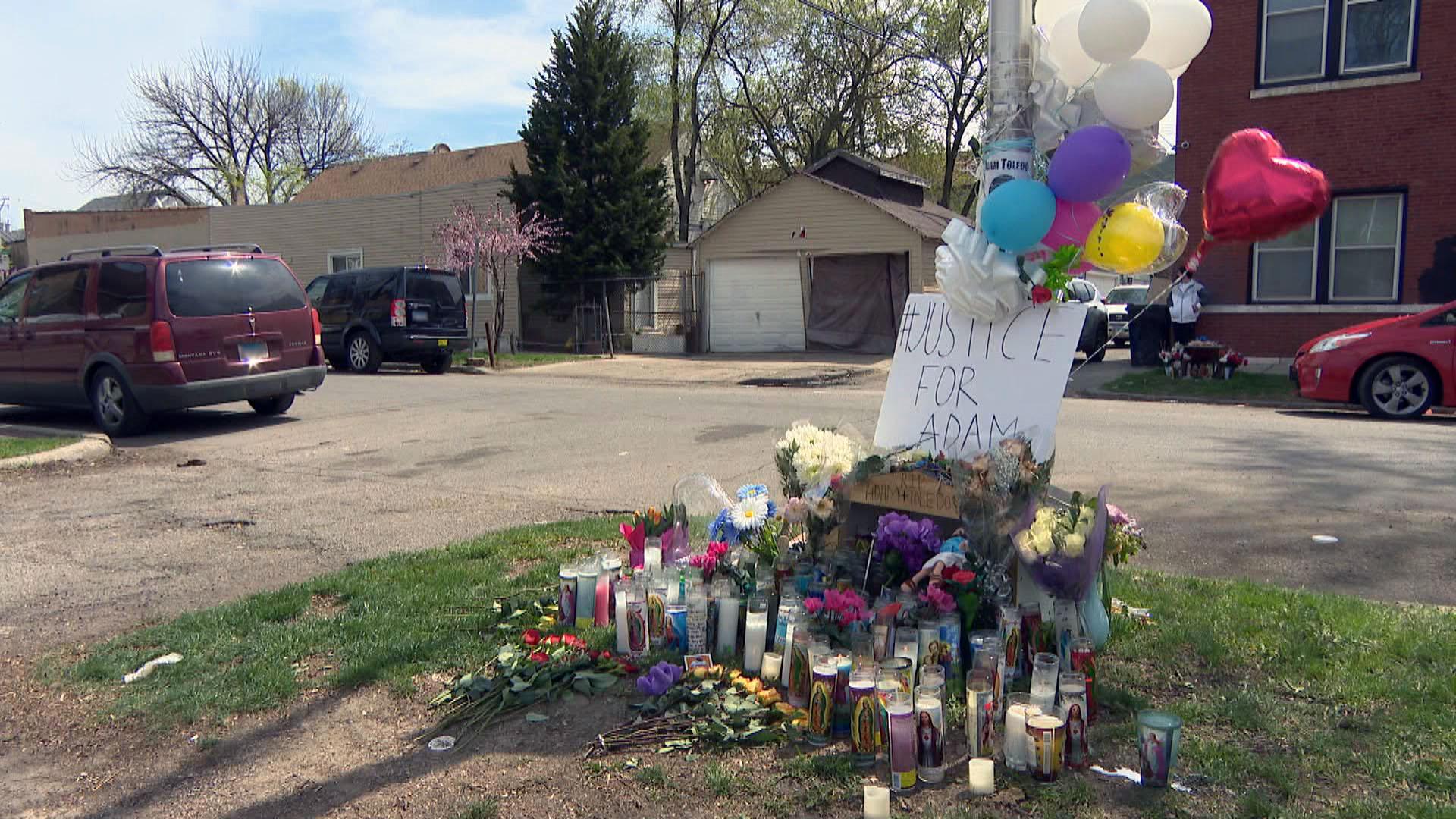 A memorial of candles and flowers for 13-year-old Adam Toledo sits near the alley where he was killed March 29 by a Chicago police officer. (WTTW News)
Increase The Peace, a violence prevention organization, operates on the Southwest Side, with a chapter in Little Village. Executive Director Berto Aguayo said investment in neighborhoods like Little Village is critical, including funds for violence prevention initiatives, jobs for young people, housing and wraparound services. 
"Police and gang violence, street violence, have the same common denominator: disinvestment," Aguayo said. "When you look at communities like Little Village, like Back of the Yards, like Englewood, communities that have high levels of violence, they're also the very same communities with high levels of youth unemployment, where it's harder to find an after-school program to engage in, where it's a lot harder to find a mental health center."
He said youth need to be invested in — with opportunities, mentorship and guidance so that gangs don't fill that void. 
"Gang involvement is way more complicated than, 'There's not a job so I'm joining a gang,'" Martinez said. "A lot of what we're trying to do is create a community where people can dream and those dreams have an impact. That the thing that a youth wants to do is available to them. That's one of the things that youth in Little Village are constantly navigating is, 'I want to do this, but I don't have this option, this is not available to me.'"
Botello also said Little Village needs more resources, including funding and mental health resources. 
"We need people who are for our people, not against our people," Botello said. "We need people that can empathize, can sympathize, that understand why we are the way we are and what we are going through and actually see potential in us."
---