People who have stayed away from public transit because of the coronavirus pandemic—so-called lapsed riders—expect to return to buses and trains, but the shift toward working from home is likely to change when, why and how often people ride. 
That's according to a survey of 5,637 current and lapsed riders by the Regional Transportation Authority, which oversees the CTA, Metra and Pace.
Among people who weren't taking transit at the time of the survey, only 80% said they expect to "fully" return after COVID-19 health concerns are no longer dominant. The RTA report says the "lingering impact of telecommuting" is likely to change how often people take transit and why they ride, meaning rush hours may not return to pre-pandemic peaks.
Despite that potential shift in transit patterns, RTA Executive Director Leanne Redden says the response from lapsed riders is still hopeful news for CTA, Metra and Pace, and that having the survey's wealth of data will be a valuable tool as they plot a path to recovery.
"Eighty percent of riders are expecting to return to their pre-pandemic, pre-COVID level use of transit—I think that's a really good response. … We knew people would come back, we just didn't really have a good number around that," Redden said. "It narrows down the universe of the people we need to think about, and the responses … to grow that number and make sure we can get back as many people as we can."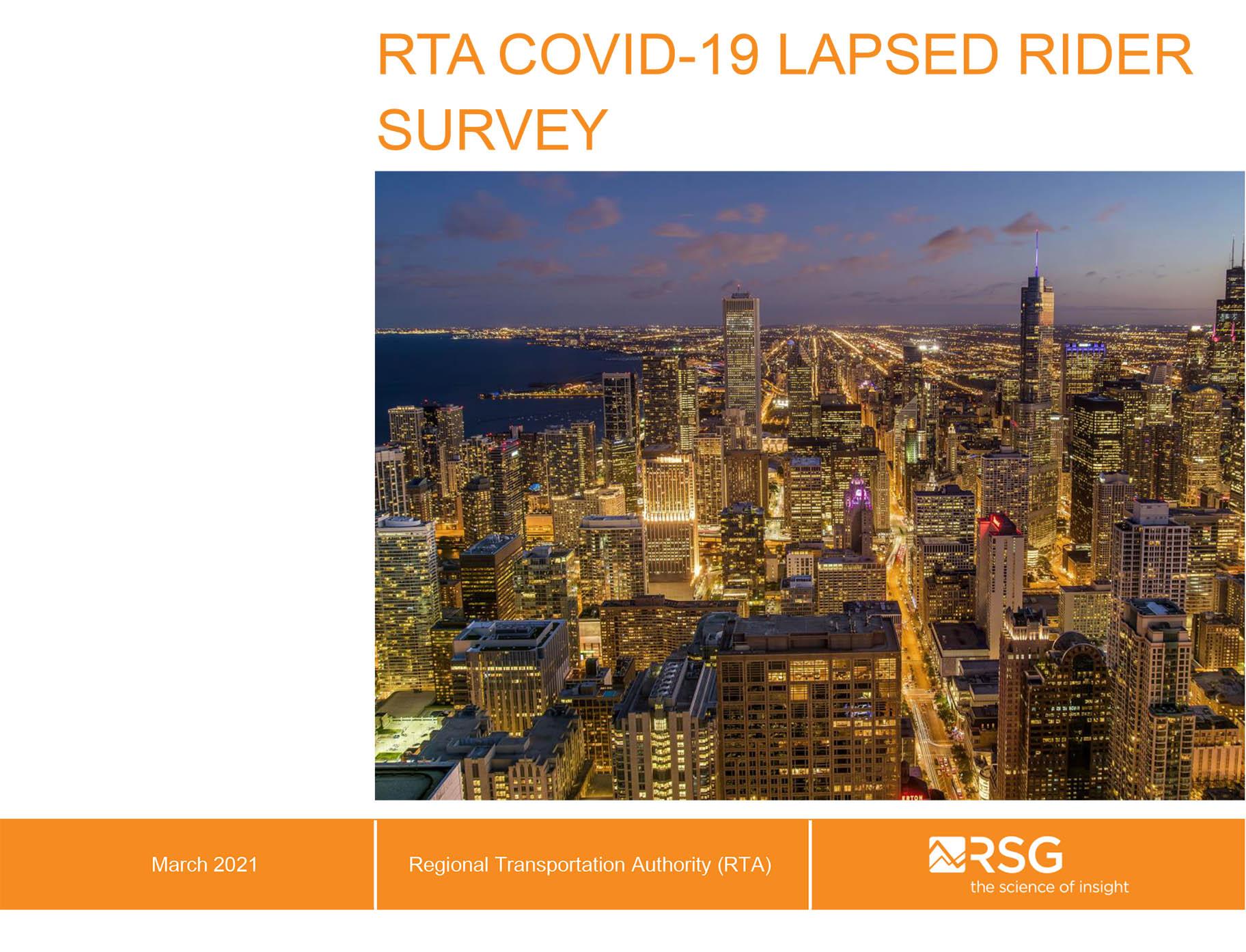 Document: Read the RTA report The survey was conducted in two waves, with information gathered in November 2020 and January 2021, and paints a picture of what current and lapsed riders want to see from public transportation. Ventilation, cleaning and other health and safety measures rank high. So too do some pre-pandemic priorities, such as increased speed and reliability; better connections among CTA, Metra, and Pace; improved suburb-to-suburb service; and better access to so-called "shared mobility" options like Divvy bikes and e-scooter rentals.
"They're not asking for major changes," said Jessica Hector-Hsu, RTA's director of planning and market development. "They're asking for us to make their lives a little bit easier."
The survey results also confirmed that people who still rely on public transit are disproportionately low-income, essential workers and/or Black or Latino. Redden says the results highlight just how critical transit is to the Chicago area.
"Even though we've lost a good chunk of ridership across the operators during the pandemic … we still were providing close to half a million rides every weekday," she said.
The survey also found that people who avoided transit were more likely to skip the trip altogether, rather than replace a transit ride with car travel. And results from the January wave of the survey showed that the future of working from home is still in flux.
"There was some variance between specific industries, but overall it seems like as vaccines are becoming more available … the anticipated future rates of telecommuting have reduced a little bit from the first wave of the survey," said Hersh Singh, the RTA's principal analyst. "However, it's important to take into account that future rates of telecommuting will likely be higher than they were pre-pandemic."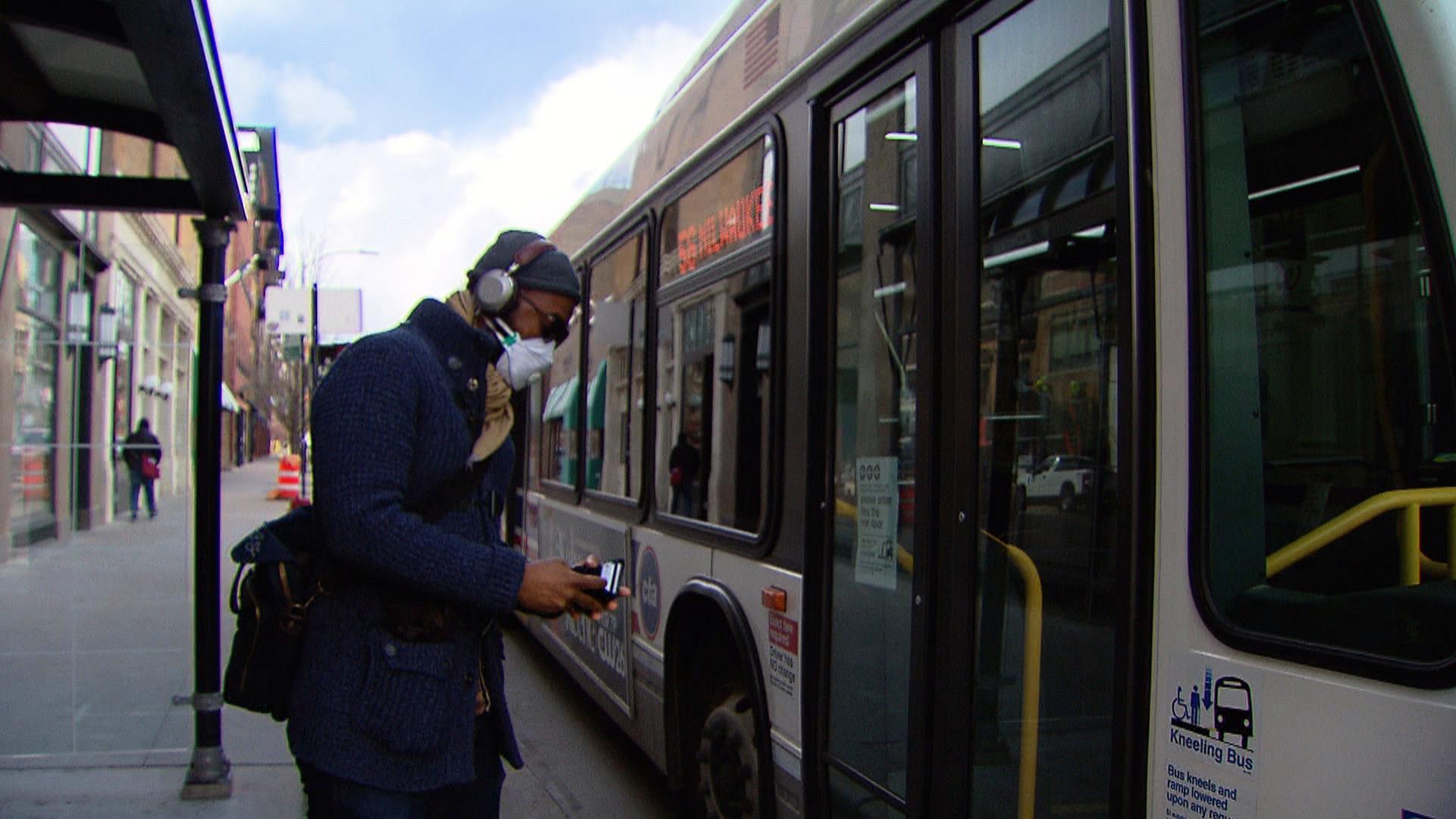 A passenger wearing a face mask boards a CTA bus in Chicago. (WTTW News)
Redden says with federal stimulus cash making up for lost revenue from fares and better-than-expected sales tax receipts, Chicago's three transit agencies can start moving beyond the immediate COVID-19 budget crisis into planning for a hopeful recovery in the coming years. While the RTA's report doesn't contain specific policy recommendations, Redden says it's a valuable tool for making decisions based on data.
"Because of that flexibility in people's schedules, they might be traveling throughout the day on a more consistent basis. And so, do we have to think about tweaking or modifying schedules going forward?" Redden said. "Transit ridership may flatten out in those peak windows, but that doesn't mean that transit goes away."
Note: This story was first published April 15, 2021. It has been updated to include our "Chicago Tonight" conversation with RTA Executive Director Leanne Redden.
---