Fanny Medina on Thursday watched body camera footage showing the March 29 police shooting of 13-year-old Adam Toledo, not because she wanted to, but because she felt she needed to be informed about what was happening in her community.  
Mayor Lori Lightfoot called the videos "excruciating" before their release earlier Thursday.
Medina is a mother, a Chicago Public Schools second grade teacher and lifelong Little Village resident—except for when she went to college. She's aso raising her children in the neighborhood.
"It's enraging," Medina said outside Gary Elementary School, where both she and Adam Toledo went to school. "As a mother of two boys, I can't imagine what Adam Toledo's mom is going through."
Medina hopes this serves as a wake-up call for everybody. 
"I mean regardless of the situation, regardless of whether this 13-year-old boy had a weapon on him or not, he's still a boy. Visibly a boy," Medina said. "This is not a little boy that looks like a grown man. And even then, police have to … it's not their job to take matters into their own hands and, you know, make the decision to shoot and kill somebody based on what they think is happening."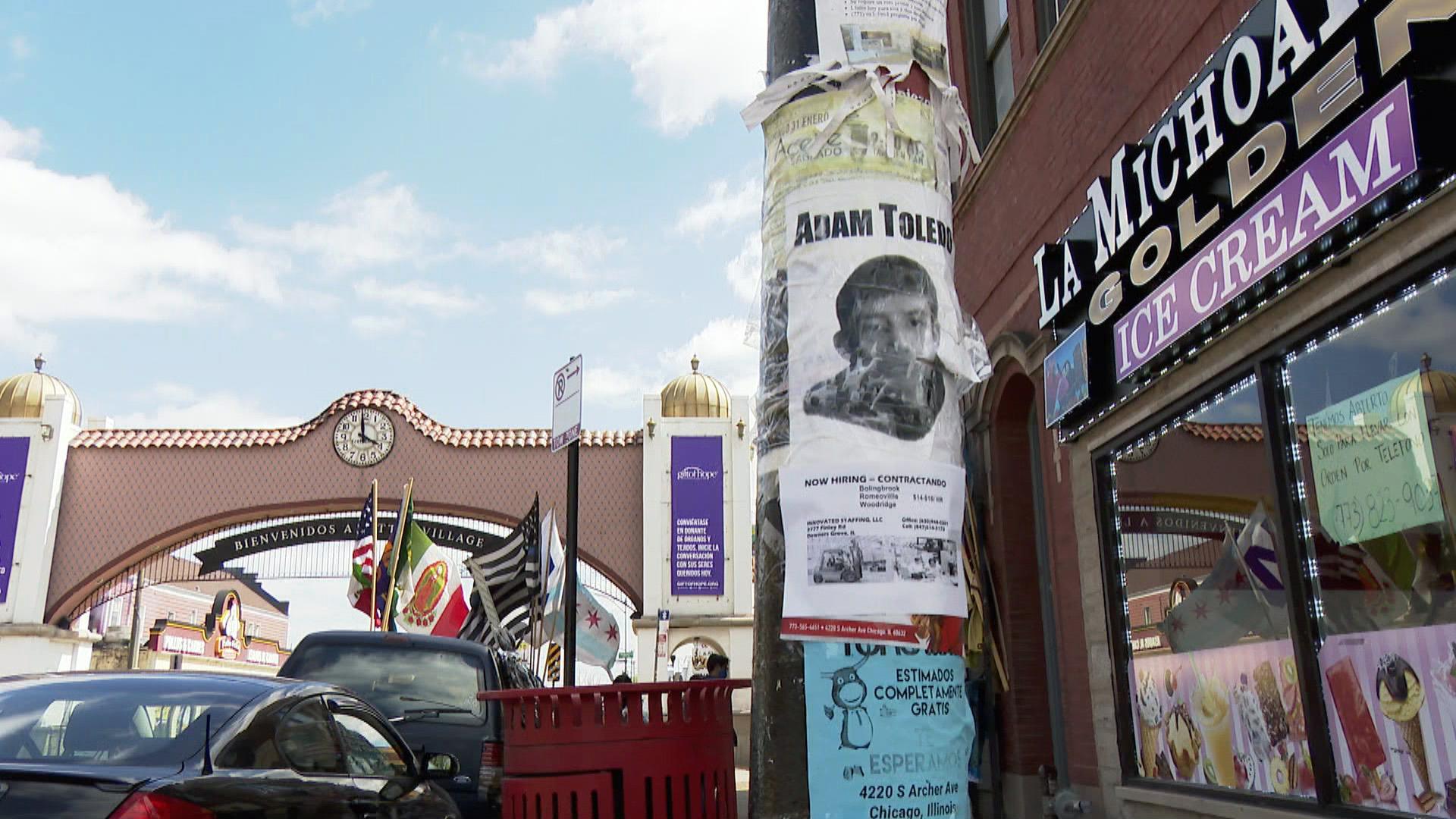 A flyer with the name and face of Adam Toledo, the 13-year-old boy who was fatally shot by a Chicago police officer on March 29, is shown on a lamppost in the Little Village neighborhood, where he lived and died. (WTTW News)
Jesse Huerta is the violence intervention manager at Enlace Chicago, which has three outposts in Little Village.  
"The community's hurting. The community's asking questions. The community's asking for support. Our youth are asking for support," said Huerta on Thursday morning, before the videos were released. 
Huerta was careful choosing his words, not wanting to put words in the mouths of the 13- to 24-year-old he works with. He said there's anger, fear and confusion about how and why this happened. 
Thursday afternoon and evening, Huerta said he and other Enlace Chicago violence prevention case managers planned to reach out to the youth they work with about the video showing Toledo's death. He said youth need to know they have a space to have the difficult, but critical, conversation about what's going on.
"The Chicago Police Department is an occupying force in communities of color, Black and brown communities—colonized communities that have been forcibly migrated. So like, it's like having sharks in a fish tank, all day, every day. Just waiting for an opportunity to attack, to go in, to murder, jail or drag someone away," said Bárbara Suarez Galeano, a  Little Village resident and a volunteer with Organized Communities Against Deportations.
She said the Toledo shooting was like pouring salt in an open wound. Suarez Galeano said she didn't plan to watch the videos.
"It's important to not focus too much on the surveillance camera videos and that whole narrative, because we feel like sometimes it's a distraction from the issue at hand. Which is that every time police are interacting with Black and brown people, they find themselves violating their rights and sometimes murdering them," Suarez Galeano said. 
Suarez Galeano said she and others at OCAD aren't calling for better training or new policies. She wants CPD defunded and the money invested into communities, including Little Village.
Baltazar Enriquez, the leader of the Little Village Community Council, also says the city needs to invest in Little Village. He said the community has lost a trade school, a Head Start program, and that residents have had to fight for what they do have. He says Little Village has so much to offer, from its banks, food and music to its hardworking families. 
"This is the best community there is, but yet we get treated like animals. Yet we get marginalized. Yet we get called names," Enriquez said. "Just like they're attacking Adam's mom, just like they're attacking Adam and shame on those people for attacking us."  
Kim Wasserman of the Little Village Environmental Justice Organization says it continues to be a traumatic time. She watched the video Thursday afternoon. 
"It's horrific, it's absolutely horrific," she said. "Our neighborhood has been traumatized. Not just with this, but with repeated racist and violent acts at the hands of the city, at the hands of the Chicago Police Department, at the hands of local industry."
"We're expected to bounce back as communities, and it's hard," Wasserman said. "It's almost impossible because, again, we continue to have our bodies and our community devalued because of who we are, and so it's really about how do we support this family, how do we support each other."
Video: Our full interview with Kim Wasserman.
Dr. Howard Ehrman, who has lived in the community for decades, called the shooting of Toledo a murder. He's a part of the community organization Mi Villita. 
"There's about one second between the time that a Chicago policeman says to raise your hand and he shoots Adam in the chest," Ehrman said.
He said the officer should be tried for murder.
"That policeman shouldn't have shot at all, but if he was, he could have shot Adam in the leg, he could have shot him in the foot—not that I'm proposing that's what should have been done," Ehrman said. "This is not a question of training. This is a question of over-policing and defunding the police and cutting it down and giving that money to social services, health and education is what's needed.
Ehrman said he also wants justice from the mayor and CEO of Chicago Public Schools. He is calling for both to invest in communities and education, like putting a nurse and counselors in schools and removing school resource officers.
The shooting happened several blocks from Ald. Michael Rodriguez's office in Little Village. He represents the 22nd Ward, which includes parts of the neighborhood. While the shooting occurred outside of his ward, Toledo and his family lived in it. 
Video: Our full interview with Ald. Michael Rodriguez.
"We mourn Adam and we grieve as a community," Rodriguez said. "I watched the tapes, they were brutal. They were very hard to watch."
He said the Chicago Police Department needs to have an elected oversight board, noting a recent proposal, which was a compromise between two organizations: the Civilian Police Accountability Council and the Grassroots Association for Police Accountability.
Earlier in the day, Lightfoot said during a news conference that Thursday is for grieving and Friday is for reform.
But Huerta of Enlace Chicago says there's no time to wait.
"We don't have a tomorrow for some kids, right. The Adam Toledo situation should have never happened. So there is no tomorrow for him or his family," Huerta said. "If we keep putting that narrative out there, that there's a tomorrow … for some people there's not. There's a today to start doing that work." 
Note: This story has been updated to correct the spelling of Dr. Howard Ehrman's name and how long he has lived in Little Village.
---