Mayor Lori Lightfoot pleaded for calm Thursday, hours before city officials released body camera footage showing the police shooting of 13-year-old Adam Toledo in Little Village late last month.
Lightfoot said Toledo did not shoot at police, but she declined to discuss the details of what the videos show in advance of their release. 
The officer who shot and killed Toledo attempted to revive him and called for medical assistance, Lightfoot said. 
About 2:30 p.m. Thursday, the Civilian Office of Police Accountability released footage captured by cameras worn by the officers who chased Toledo in the early morning hours of March 29 in the 2300 block of south Sawyer Avenue following a ShotSpotter notification of eight gunshots in the area.
MORE: COPA Publishes Video Showing Fatal Police Shooting of 13-Year-Old Adam Toledo
That agency continues to investigate the shooting. 
The man who was with Toledo, Ruben Roman, 21, has been charged with child endangerment, aggravated unlawful use of a weapon and reckless discharge of a firearm. During Roman's bond hearing Saturday, an assistant state's attorney said Toledo turned toward the officer with a gun in his right hand before he was shot and killed. 
Sarah Sinovic, a spokesperson for State's Attorney Kim Foxx, said that was not correct.
"An attorney who works in this office failed to fully inform himself before speaking in court," Sinovic said. "Errors like that cannot happen and this has been addressed with the individual involved."
In addition, the Chicago Police Department released "a slowed-down compilation of the events" that occurred March 29. 
When they arrived, officers found Toledo and Roman, who both ran away. While chasing the teen, there was an "armed confrontation" during which the officer shot Toledo once in the chest, police said. 
The videos "are incredibly difficult to watch, particularly at the end," Lightfoot said at a news conference before the videos were released.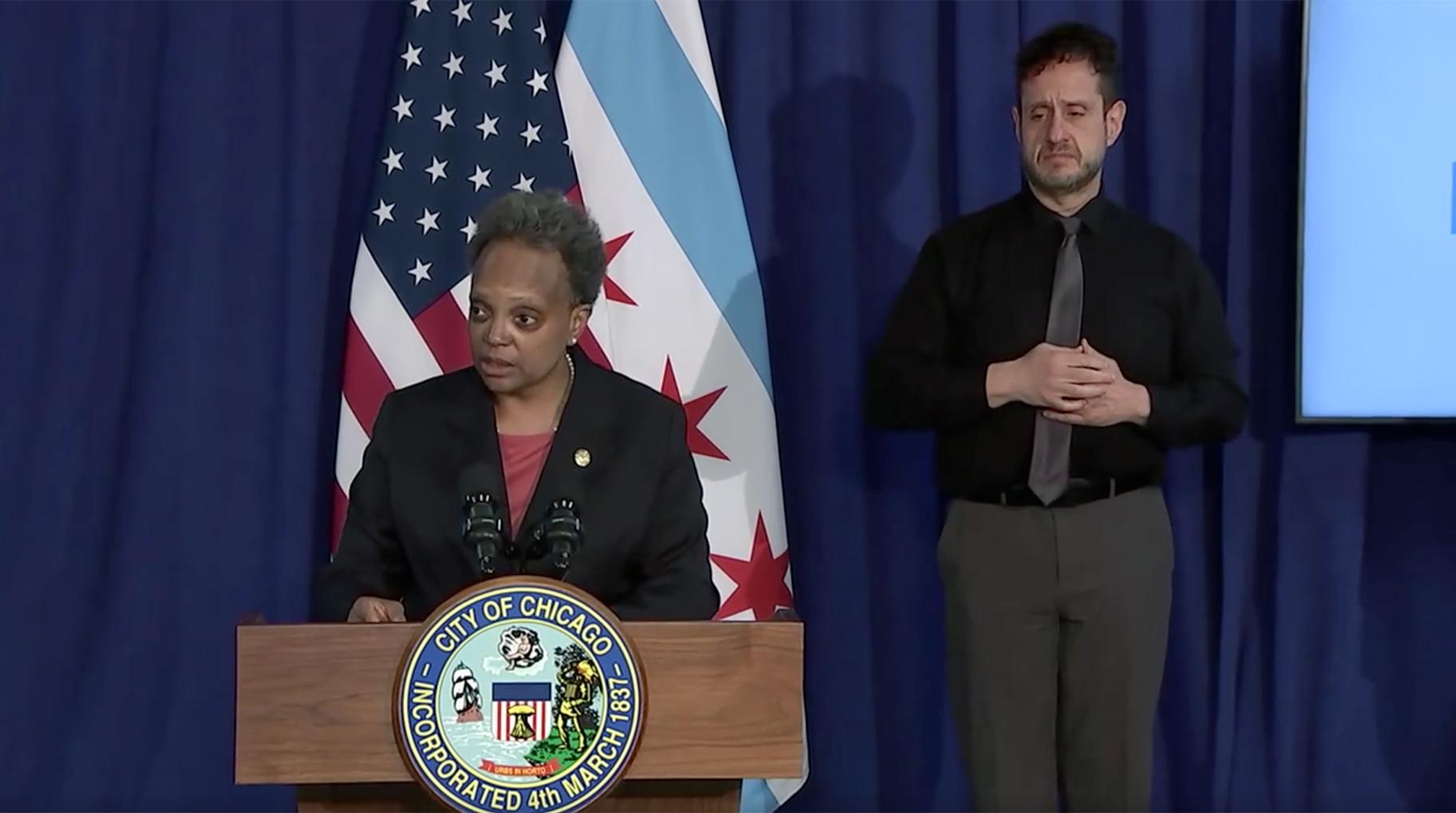 Mayor Lori Lightfoot delivers remarks at a news conference Thursday, April 15, 2021 ahead of the release of police body camera video showing the March 29 death of 13-year-old Adam Toledo. (WTTW News via Chicago Mayor's Office livestream)
"Even as our understanding of this incident continues to evolve, this remains a complicated and nuanced story," Lightfoot said. "And we all must proceed with deep empathy and calm and, importantly, peace." 
The mother of a 13-year-old daughter, Lightfoot twice struggled to maintain her composure during the City Hall news conference, once when she said that no parent should have a video of their child's last moments broadcast widely and once when she recounted the trauma suffered by young Chicagoans who experience gun violence regularly. 
Lightfoot called the videos "excruciating." 
"Simply put, we failed Adam," Lightfoot said, calling for more social services for children and families who are struggling. 
While mourning Toledo's death and calling for calm, Lightfoot sought to shift the focus from his death at the hands of a Chicago police officer to the systemic forces that led to him being confronted by officers at 2:38 a.m. March 29. 
"First, in the middle of the night, this child was in contact with an adult who had a gun, and then ended up being shot and killed by a police officer," Lightfoot said. "The second: There are too many young people in our city, boys and girls alike, who have been left vulnerable by systemic failures that we simply must fix. These two realities urge us to reckon with and address the relationship between police, our communities and especially our young people." 
At a news conference April 5, Lightfoot twice said an adult "put a gun in [Adam's] hand." 
Lightfoot again called for a new policy to govern when Chicago police officers can chase a suspect on foot and demanded that the Biden administration do more to stop the flow of illegal guns into Chicago. 
"There are too many damn guns," Lightfoot said. "We are awash in illegal guns." 
Contact Heather Cherone: @HeatherCherone | (773) 569-1863 | [email protected]
---