Video: Vice President Kamala Harris spent the day in Chicago as the city agreed to meet the White House's plan for COVID-19 vaccine eligibility. Amanda Vinicky reports on "Chicago Tonight."
---
Chicago will make all residents ages 16 and older eligible for the COVID-19 vaccine on April 19, meeting a deadline announced Tuesday by President Joe Biden, Mayor Lori Lightfoot announced hours later.
Chicago residents will become eligible for the coveted vaccine one week later than all other residents of Illinois, who will be eligible under state rules as of Monday. Originally, Chicago's vaccine rollout plan called for all residents to become eligible May 31.
Lightfoot's announcement that she would accelerate Chicago's vaccine rollout came after Vice President Kamala Harris visited a mass vaccination site for union workers on the city's Near West Side.
However, Chicago needs more vaccine to meet the sky-high demand for the life-saving shots, Lightfoot said. All Chicagoans will not be able to get an appointment right away, she added.
"We need more vaccine from the federal government, but we're optimistic, based upon conversations, that that opportunity will happen," Lightfoot said.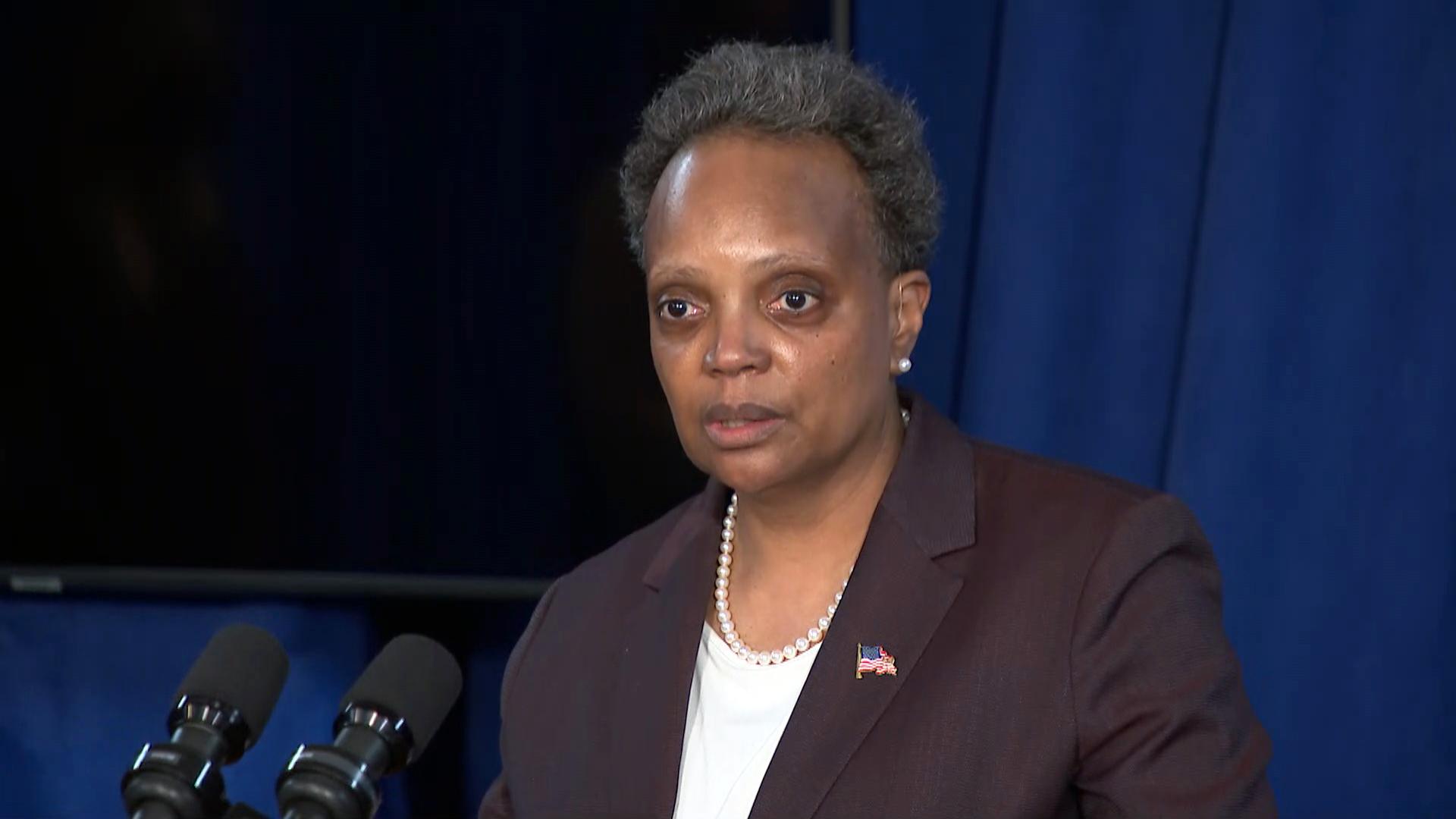 Chicago Mayor Lori Lightfoot announces that all Chicagoans will be eligible for the COVID-19 vaccine as of April 19 at a news conference on April 6, 2021. (WTTW News)
Approximately 20% of Chicagoans are fully vaccinated, while approximately 40% have gotten their first dose of the vaccine, said Dr. Allison Arwady, the commissioner of the Chicago Department of Public Health. Approximately 65% of all Chicagoans older than 65 have gotten at least a first dose — and officials are working to increase that number as quickly as possible. Statewide, more than 70% of all residents older than 65 have gotten at least one dose of the vaccine.
An average of 597 Chicagoans have been diagnosed each day with the coronavirus during the past week, an increase of 24%, and the city's test positivity rate has risen to 5.1%, according to city data. A test positivity of 5% or more indicates the virus is spreading unchecked, officials said.
Arwady said she was hopeful that expanding vaccine eligibility to all Chicagoans regardless of age, health condition or employment could help tamp down that increase, which is concentrated among white Chicagoans younger than 40.
The city has asked state officials to send more vaccine to Chicago and northeastern Illinois, where demand is outstripping supply. Vaccine is widely available elsewhere in Illinois, Arwady and Lightfoot said. Chicago gets its own supply of vaccine from the federal government.
Conversations with state health officials are ongoing, Arwady said.
"We hope those conversations will, in fact, result in more vaccine coming to Chicago, suburban Cook, and the surrounding area," Lightfoot said.
The state is operating 11 mass vaccination sites located in Lake, McHenry, Kane, DuPage, Will and Cook counties, which offer COVID-19 vaccines to all eligible Illinois residents, state officials said.
As the state gets more vaccine from the federal government, additional doses will be sent "to high-demand areas where at-risk eligible residents face long waits for appointments," according to the governor's office.
Local health departments have the final decision on vaccine eligibility rules.
Lightfoot's announcement came after a whirlwind afternoon that saw the mayor cancel a news conference at Ping Tom Park in Chinatown where she was set to appear with Gov. J.B. Pritzker and U.S. Sens. Dick Durbin and Tammy Duckworth.
However, neither Lightfoot nor Pritzker appeared at the event which was protested by a group of activists from Pilsen Alliance, who decried Lightfoot's public safety policies and at times drowned out the two senators and U.S. Rep. Danny Davis, D-Chicago, who spoke in favor of Biden's $2 trillion infrastructure plan.
Pritzker's security team was informed that the news conference had been canceled while he was on his way to the event, so he turned around, said Emily Bittner, the governor's communications director.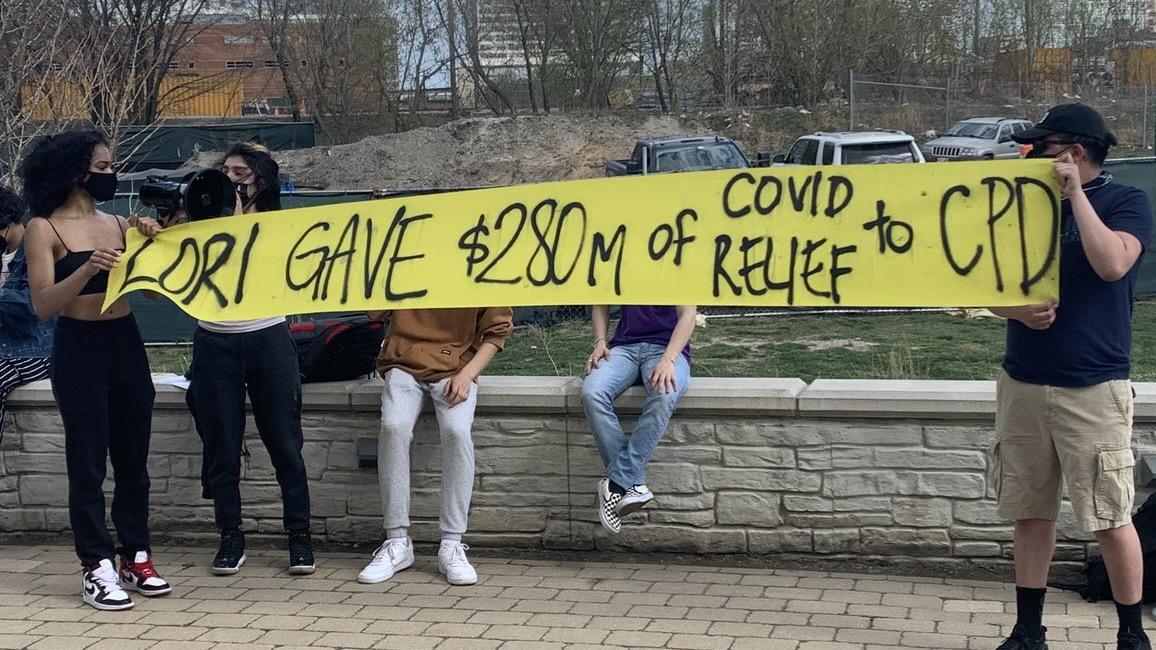 Protesters outside Ping Tom Park in Chinatown on April 6, 2021. (Heather Cherone / WTTW News)
Lightfoot said her decision not to appear at the previously scheduled event at Ping Tom Park and to relocate her news conference to City Hall and reschedule it for 90 minutes later had nothing to do with the protesters — or a reluctance to appear alongside Pritzker, who signed two bills over her objections earlier this week.
"I had a pull-aside with the vice president and the press conference started without me," Lightfoot told WTTW News. "I suspected that folks wanted to hear from me, so we decided to have this [news conference] here at City Hall."
The governor did not join the mayor at City Hall.
"The governor and I may not agree on every policy issue, but we have worked very hard over the time I have been mayor to make sure we have a very good working relationship, and we do," Lightfoot said.
Contact Heather Cherone: @HeatherCherone | (773) 569-1863 | [email protected]
---