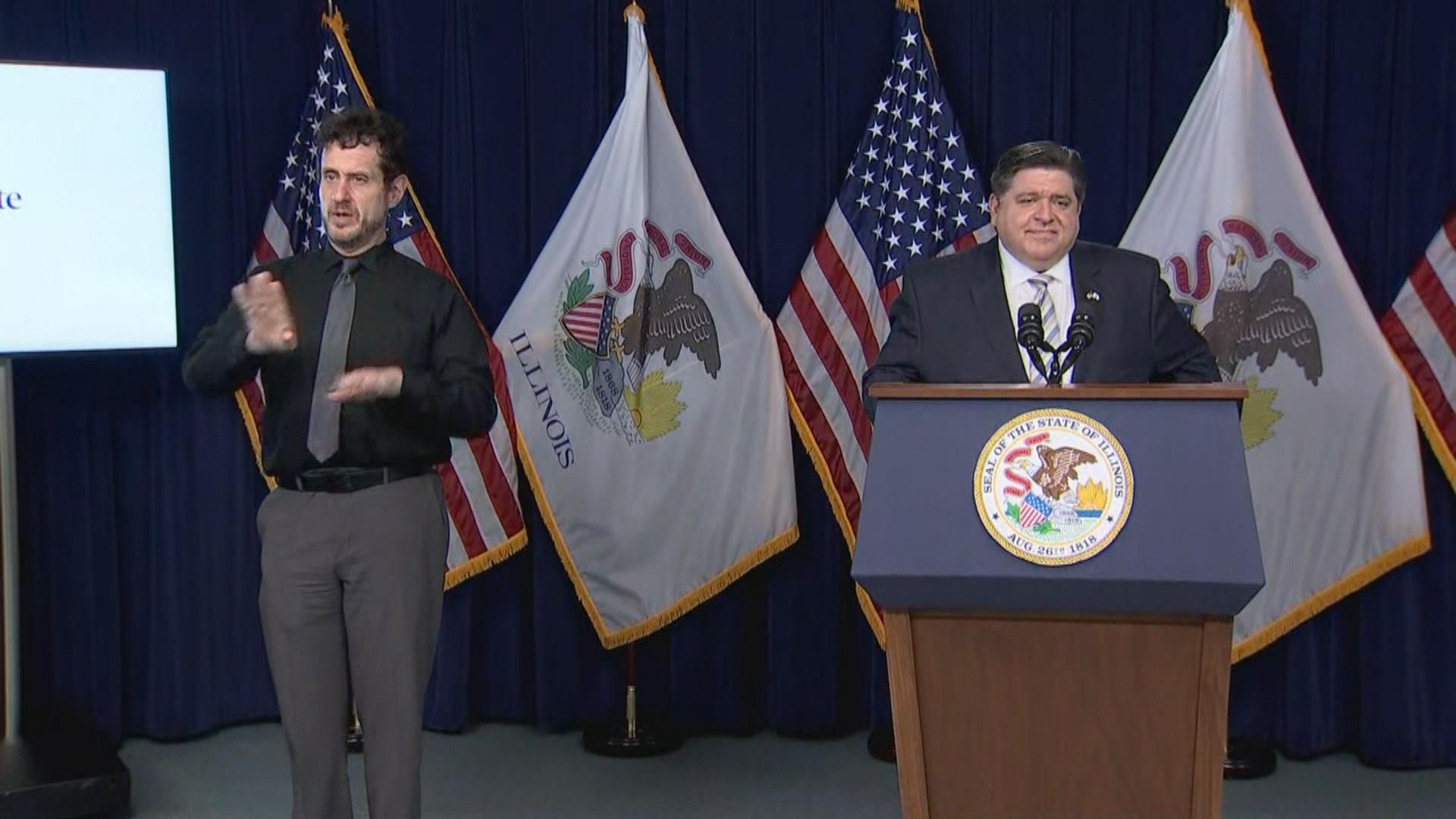 Gov. J.B. Pritzker gives an update on the coronavirus and announces new reopening guidelines on Thursday, March 18, 2021 (WTTW News)
In less than a month, all Illinois residents ages 16 and older will be eligible for the coronavirus vaccine.
Gov. J.B. Pritzker announced that plan Thursday. It is set to begin April 12.
The governor also announced a "bridge phase" for the state's reopening guidelines that will serve as a transition between phase 4 — which currently applies to all regions of the state — and phase 5, which is free of restrictions aimed at curbing the spread of COVID-19. 
This new phase loosens some restrictions currently in place as more Illinois residents get vaccinated.
"COVID-19 has not gone away, but the light we can see at the end of the tunnel is getting brighter and brighter as more people get vaccinated," Pritzker said. "It's time to begin to cautiously move toward normalcy, and it's imperative that we do so in a way that maintains all the progress we've made to date."
The state will not lift its mask mandate until the Centers for Disease Control and Prevention recommends it, Pritzker said.
In order to move into the bridge phase, at least 70% of all Illinois residents ages 65 and older must have received at least a first dose of the COVID-19 vaccine, and the entire state must maintain at least 20% availability of intensive care unit beds while holding steady on COVID-19 hospital admissions, mortality rates and case rates over a 28-day monitoring period.
As of Thursday, 58% of the state's senior residents have been vaccinated, according to Pritzker, who declined to set a date for entry into the bridge phase but said he envisioned it would be "relatively soon."
The bridge phase raises capacity limits from 50% to 60% for offices, personal care services, retail and service counters. Health and fitness centers will also be allowed to operate at 60% capacity and provide group fitness classes for up to 50 people indoors and up to 100 outdoors, according to the guidelines.
At bars and restaurants, diners must remain 6 feet apart and groups will be limited to 10 people under the bridge phase, but capacity limits will be increased from 25% to 30% indoors and up to 50% outdoors.
Museums and zoos can move from 25% capacity to 60% capacity under the bridge phase.
Updated phase 4
Fully vaccinated individuals or those who have a negative COVID-19 PCR test up to three days prior to an event will not be included in capacity counts during phase 4 mitigations, the governor announced Thursday.
Other updates to phase 4 that are now in place: new capacity limits at social events and meetings, conferences and conventions. Indoor social events are now capped at 50 people or 50% capacity, whichever is less; outdoor events are capped at 100 people or 50% capacity, whichever is less. 
The bridge phase will further increase capacity for these types of events to 250 people indoors and 500 people outdoors, according to the guidance.
To advance to phase 5, at least 50% of all Illinois residents ages 16 and older must be vaccinated and the state must meet the same metrics and rates required to enter the bridge phase over an additional 28-day period, according to the governor's office.
To prevent a surge in new COVID-19 cases, the state will revert back to an earlier phase if there is an increase in COVID-19 hospital admissions, a decrease in ICU bed availability, and increases in the mortality rate and case rate over a 10-period.
Expanding vaccine eligibility
Pritzker said extending vaccine eligibility to all adult residents of the state starting April 12 will make the vaccination process simpler.
On Feb. 25, the state expanded eligibility to people ages 16 and older who have certain underlying health conditions and complicating factors but were not otherwise eligible for the vaccine.
Pritzker said additional groups could be made eligible for the vaccine between now and April 12, such as state employees or vulnerable essential workers who haven't been included in a previous phase of the rollout.
"Three and a half weeks in the world of vaccinations is like is a lifetime. We have the opportunity to expand and focus on pods of people that we think are most vulnerable and should try to get vaccinated before we move to the full-blown population," Pritzker said.
During a prime-time address earlier this month, President Joe Biden set a May 1 target for all adults to be eligible for the COVID-19 vaccine and said his administration is working to ramp up supply of the vaccine.
The state has received nearly 6 million vaccine doses and administered more than 4.3 million doses as of Thursday, according to Illinois Department of Public Health vaccine data. More than 1.6 million Illinois residents, or 12.9% of the state's population, have been fully vaccinated.
While the state is asking all health departments to meet its April 12 target, there are reports that the city of Chicago will not do so.
Chicago gets its own vaccine supply from the federal government and sets its own eligibility rules. On Wednesday, Mayor Lori Lightfoot said the city would expand eligibility to all essential workers and those with underlying health conditions on March 29.
Suburban Cook County residents with underlying conditions will be eligible for the COVID-19 vaccine starting Monday. County officials have not yet announced when all essential workers will be eligible for the vaccine.
Pritzker said he hopes that city will work expeditiously to meeting the April 12 target date, noting that it could be hard if people "who live just beyond the city borders" are allowed to make vaccine appointments while city residents are not "because they haven't opened that up," Pritzker said.
Chicago officials have previously estimated the city would open up eligibility to all Chicagoans 16 and older by May 31. But on Thursday, Pritzker said the city is working toward meeting Biden's May 1 goal.
Heather Cherone contributed.
Contact Kristen Thometz: @kristenthometz | (773) 509-5452 |  [email protected]
---