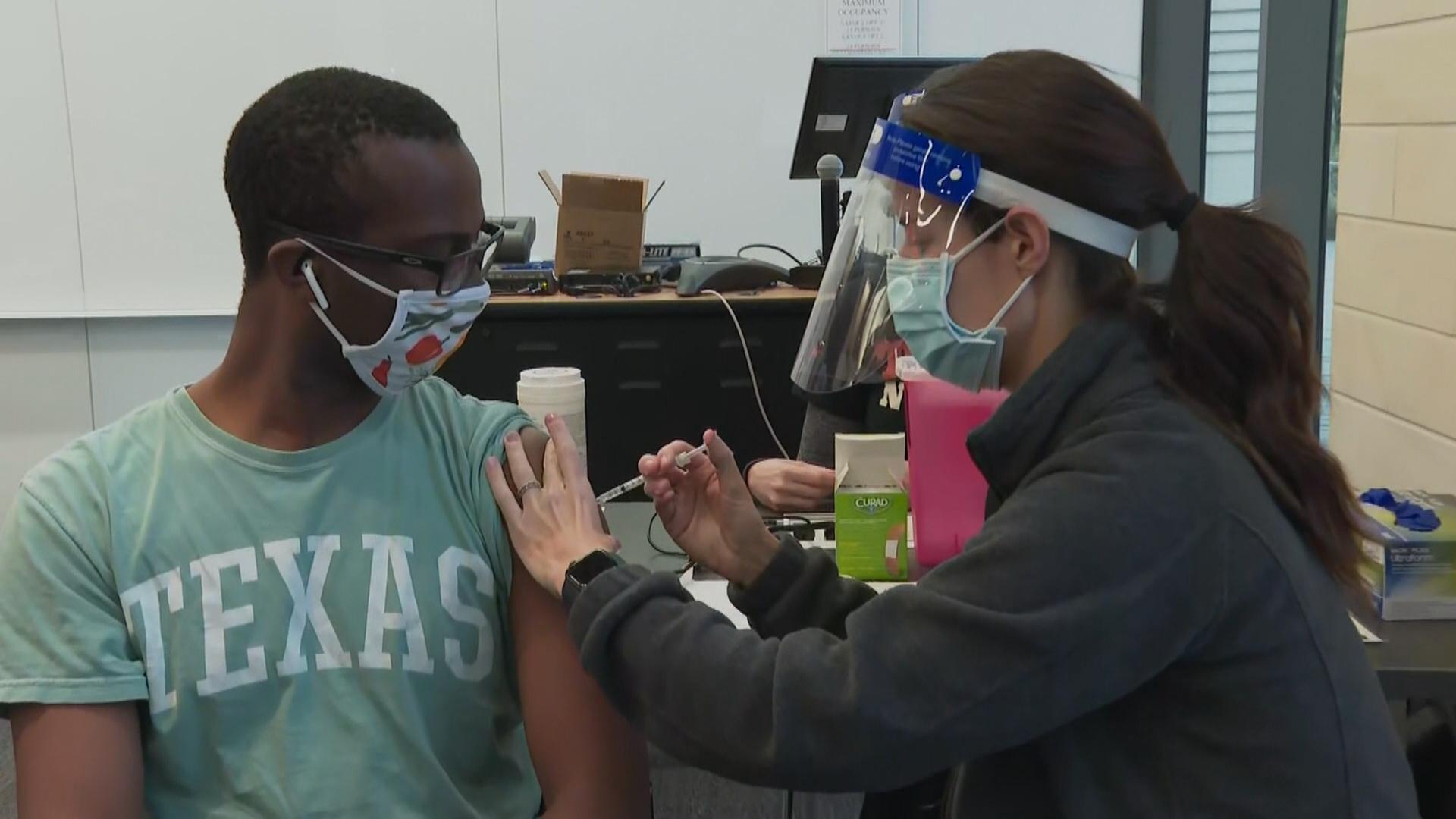 (WTTW News)
All essential workers and those with underlying health conditions are now eligible in Chicago for the COVID-19 vaccine.
However, supplies of the three vaccines approved by federal officials are still limited, and officials have said there will not immediately be enough doses for everyone who wants the COVID-19 vaccine. Chicagoans who are older than 65 and health care workers remain eligible for the vaccine.
Approximately 84% of all Chicagoans are now eligible for the vaccine, as Chicago enters the third phase of the vaccination effort that began in mid-December.
The health conditions that qualify Chicagoans for the vaccine are: cancer; cardiac and cardiovascular disease, high blood pressure, kidney disease, cystic fibrosis, moderate to severe asthma, pulmonary fibrosis, emphysema, Type 1 and Type 2 diabetes; physical, developmental, visual, hearing or mental disabilities; dementia, Down syndrome, immune deficiencies, HIV, hepatitis, pregnancy, obesity, schizophrenia and sickle cell disease.
Restaurant and bar servers as well as hair stylists and nail technicians are also eligible for the vaccine along with those who work in the media, energy, finance, higher education, information technology, retail, government, public safety, hotel, transportation and water industries, according to the city's rules.
Chicago is administering approximately 10,500 doses of the vaccine per day, officials said.
Since the effort began, Chicago providers have administered more than 1.1 million vaccine doses, and 23.7% of Chicagoans had gotten the first dose of the vaccine while 12.2% are fully vaccinated, according to data through Thursday.
President Joe Biden said his administration is working to ramp up the supply of the vaccine and will order states to make all adults eligible for the vaccine by May 1. Chicago officials have said they expect to meet that deadline, but Illinois officials said state rules will make everyone eligible for the vaccine as of April 12.
Illinois officials expect the state will receive nearly 1 million doses next week for distribution, an all-time high, prompting state officials to act to ensure all available doses are administered.    
Gov. J.B. Pritzker announced Friday that all Illinois residents age 16 and older are now eligible for the vaccine in counties where demand for the vaccine is dropping amid a surge in cases. That is not the case in Chicago, where demand continues to outpace supply.
The seven-day statewide positivity rate for cases as a percentage of total tests is 3.2%, according to data from the Illinois Department of Public Health. The state's test positivity rate is 3.6%.
Mayor Lori Lightfoot said Thursday that the increase in COVID-19 cases is concentrated among young adults ages 18-39 in North Side neighborhoods including Lincoln Park and Old Town, and Far Northwest Side neighborhoods including Dunning, Portage Park and Old Irving Park.
An average of 438 Chicagoans has been diagnosed each day with the coronavirus during the past week, a 28% increase from the previous week, according to Chicago Department of Public Health data. The city's test positivity has risen to 4% from 3.1% during the past seven days, according to city data. 
The last time the city's rolling seven-day average of confirmed COVID-19 cases rose above 400 cases per day was mid-February, before city officials allowed restaurants and bars to expand the number of customers they could serve indoors and before Chicago Public Schools reopened in-person classes for elementary school students.
Dr. Allison Arwady, commissioner of the Chicago Department of Public Health, has repeatedly said a steady increase of new daily cases that surges to more than 400 new cases per day is cause for serious concern.
Arwady told aldermen on Thursday she expects half of all Chicago residents older than 16 will have received the first dose of the vaccine by late April or early May.
Local health departments have the final decision on vaccine eligibility decisions.
Since the vaccination effort began in Chicago, 36% of first doses of the COVID-19 vaccine administered went to white Chicagoans, while 30% went to Latino Chicagoans and 24% to Black Chicagoans through March 17, according to city data.
Contact Heather Cherone: @HeatherCherone | (773) 569-1863 | [email protected]
---