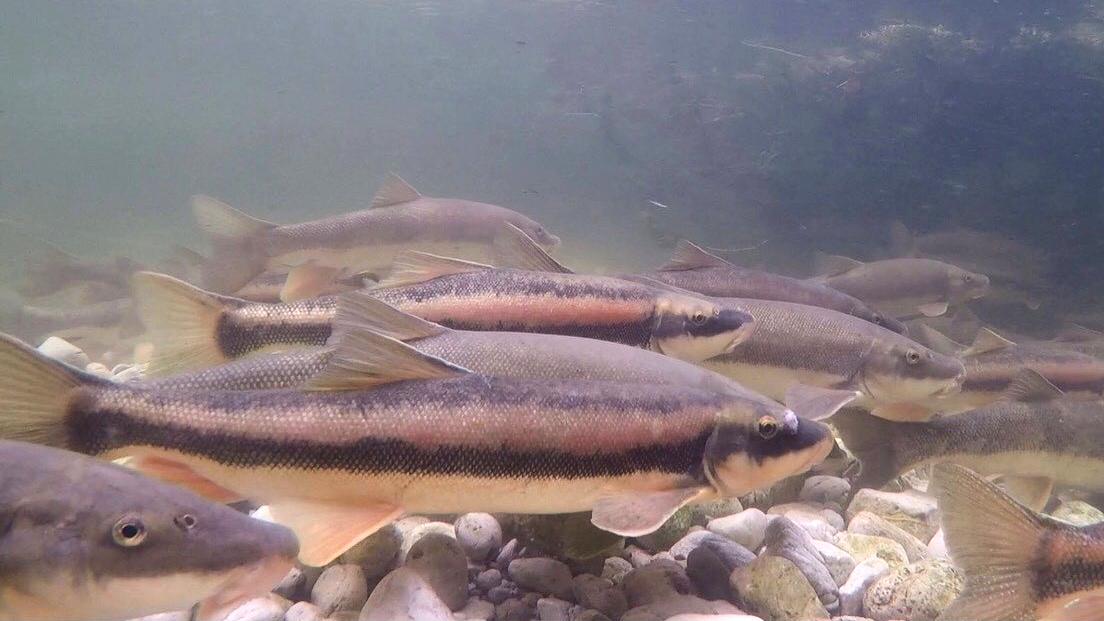 A group of suckers on the move in Door County, Wisconsin, during a previous migration. (Courtesy of Shedd Aquarium)
Shedd Aquarium researchers are officially on #SuckerWatch2021.
With the arrival of spring, the aquarium's freshwater scientists are eagerly anticipating the annual migration of sucker fish, as tens thousands of them are on the move from their home in the Great Lakes to spawning sites in rivers and other tributaries. 
The sucker's mighty migration has earned it the nickname "the wildebeest of the Great Lakes."
Shedd biologist Karen Murchie, who's been tracking the flow of suckers for the past few years, set up monitoring stations over the weekend at numerous streams and creeks, sharing images on social media. Volunteer community scientists will record when the suckers arrive, as well as how many. 
What Murchie is investigating via the project is the potential effects of climate change on the Great Lakes, specifically whether temperature, among other environmental cues, serves as a trigger for the fish to begin migrating. By accumulating documentation on the timing of the spring arrival of the suckers in tributaries, Murchie should be able to discern whether or not the fish are prompted to start their journey earlier in the year due to warming.
Beyond the Shedd's research, people can contribute to the knowledge base surrounding the little-studied sucker by recording their own sightings of migratory suckers in tributaries. To log the information, download the i-Naturalist app (available in the App Store and Google Play) and search for Great Lakes Fish Finder under "projects."
Flowing into the weekend like this beautiful tributary that will soon be abuzz with migrating suckers! #suckerforsuckers #drabisthenewfab #suckerwatch2021 pic.twitter.com/88KbLH2ebE

— Shedd Research (@SheddResearch) March 19, 2021
---
Contact Patty Wetli: @pattywetli | (773) 509-5623 |  [email protected]